* Please note that while this speaker's specific speaking fee falls within the range posted above (for Continental U.S. based events), fees are subject to change. For current fee information or international event fees (which are generally 50-75% more than U.S based event fees), please contact us.
Top25 Speaker Voting

Nic Marks needs 8 vote(s) to make it into the Top 25 speakers on Speaking.com!
Speaker Booking Tip
"Tip: speakers bureaus can provide: speaker fee negotiation, insurance, smooth logistics and value add-ons such as extra sessions. "
For Event Planners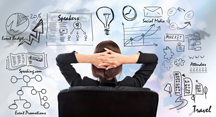 • Keynote Speaker Booking Toolkit.
• Booking a Celebrity Speaker.
• How to Find and Book the Right Speaker.
• Google+ Event Planning Forum.
• Tips for International Clients Booking U.S. Based Speakers.
Similar Speakers
Vince Papale

In the course of a few months, Vince Papale went from being a part-time bartender, nightclub doorman, and substitute teacher to an NFL star and…

Isaac Lidsky

Over the course of 12 years, Isaac Lidsky gradually went blind due to a rare genetic disease. Though he initially viewed his diagnosis as a…

David Logan

Dave Logan is co-founder and senior partner of CultureSync, a management consultancy specializing in cultural change, strategy and negotiation for clients including Intel, Colliers International,…

THANK YOU for your consistent communication, organization, and hard work. It truly has been a pleasure partnering with you too, we would love to stay connected with you for future events.
National Human Resources Association
About SPEAKING.com
Established in 1994, we are exclusive agents for some of the world's leading experts, celebrities and professional speakers.
We offer event planners a fully staffed speaker logistics planning team, plus a personal SPEAKING.com Account Executive – a knowledgeable and trustworthy partner. We guarantee your satisfaction with your speaker and a smooth booking process.
Contact us today to book your favorite speaker.

"Marks urged politicians to pay more attention to life satisfaction over GDP. 'The big message of [the HPI] rankings is that we have to produce a system that makes people happier without costing the Earth,' he said."
Louise Gray, Telegraph
"Nic Marks' voice, deeply based in research and endowed with unusual creativity, is a rare beacon of hard-earned common sense much needed for the intensifying discussions. Nic is an unusually charming and accessible speaker who manages to truly engage the audience, not least because he is himself unusually credible with his subject."
Director of the open source think tank: milliongenerations.org and organizer of the Club of Amsterdam, 2010, The Netherlands
"Nic Marks is an inspirational speaker, who imparts his extensive knowledge of well-being in an entertaining and engaging style. We have used his services on a number of occasions and have been extremely pleased with the results."
Head of Mental Health Promotion, South London and Maudsley NHS Foundation Trust
"Nic Marks has an idea worth spreading – that promoting sustainable happiness and well-being should be the aim of nations and people alike. We were very happy at TED to give him a platform to share his worldview which he did with eloquence, passion and charm."
TED Curator

A Happier Way of Life
Happiness is a common human aspiration—what can the new emerging science of well-being teach us about how to live happier lives both now and in the future? Nic Marks shows how by understanding the dynamic nature of human well-being it allows us to think about what interventions we can make as individuals, organizations and institutions to create happier lives.
Happiness is a Serious Business
Understanding employees' well-being and happiness can have serious benefits for organizations. Based upon work carried out for the UK Government Office for Science, Nic Marks presents a dynamic model of organizational well-being that managers can easily understand. Evidence is cited from the latest research into positive psychology and systems theory about how enhancing well-being at work can improve not only the bottom line but also create a more resilient organization
Measuring Progress from Quantity to Quality
How should we understand progress when there are so many global challenges? The economic and political orthodoxy is that if economic growth is increasing, life must be getting better—but is this still true? Today, economic inequalities stubbornly persist both within nations and globally, and climate change looms over our tomorrows. How can we reimagine the progress of nations and the success of organizations? Nic Marks will suggest that we need to not only consider how we can create good lives that don't cost the earth but also how we can measure progress towards that target.
Happiness Doesn't Have to Cost the Earth
Does thinking about promoting happiness make sense in an unjust unsustainable world? Are there not more serious issues to concentrate on? Nic Marks will argue that it is only by thinking about human well-being and happiness that we will unlock the solutions to the persistent problems we face. Positive emotions, including happiness, have evolved to help human beings grasp opportunities and are directly linked to creativity, innovation and resilience.
Five Ways to Happiness
Nic Marks will present the five ways to well-being and happiness. The five ways were created for the UK Government Office of Science as the mental health equivalent of five-a-day. Simply messaged as an invitation for individuals to take positive actions, they have the potential to positively impact people's lives whatever their circumstances. The five ways are Connect, Be Active, Take Notice, Keep Learning and Give. What would be the implications for your life if you did these more? What are the implications for organizations and even policymaking? The five ways open a new way of thinking about how to positively intervene in people's lives.
Nic Marks, Happiness Works Founder: TEDxWarick,
We know that anger and fear played a big role in our primitive ancestors' survival, but what about happiness? Nic Marks examines the purpose of happiness and how employers might leverage it in the workplace to dramatically change our world.
"Happiness is more about helping us thrive than survive," Nic explains the functionality of happiness. Citing numerous statistics, he makes the case that the organizations with happier people are the ones that are doing significantly better. "If organizations could harness the positive power of the human emotion of happiness, then we'd make the world of work a better place for us, for organizations, and society."
Happiness Works
TED talk
Happiness works' at Happiness & Its Causes