* Please note that while this speaker's specific speaking fee falls within the range posted above (for Continental U.S. based events), fees are subject to change. For current fee information or international event fees (which are generally 50-75% more than U.S based event fees), please contact us.
Top25 Speaker Voting

Neil Rackham needs 1 vote(s) to make it into the Top 25 speakers on Speaking.com!
Speaker Booking Tip
"Tip: speakers bureaus provide added value that you cannot get by booking speakers directly. "
For Event Planners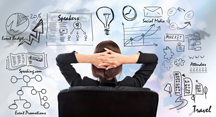 • Keynote Speaker Booking Toolkit.
• Booking a Celebrity Speaker.
• How to Find and Book the Right Speaker.
• Google+ Event Planning Forum.
• Tips for International Clients Booking U.S. Based Speakers.
Similar Speakers
Robert Richman

Robert Richman is a culture architect and the founder of Zappos Insights, the Zappos Family company that helps business leaders, managers and entrepreneurs discover how…

Eric Siegel

Over a decade before big data became a big topic, Eric Siegel was serenading graduate students and non-engineering majors with catchy original tunes that conveyed…

Lior Arussy

The recipient of CRM Magazine's "Influential Leader Award", Lior Arussy is known as a man who gets results in the fields of customer experience and…

SPEAKING.com / Core Agency were very helpful in every way possible. I would recommend them to others and we will most definitely secure all our future conference speakers through them again.
Babcock & Wilcox
About SPEAKING.com
Established in 1994, we are exclusive agents for some of the world's leading experts, celebrities and professional speakers.
We offer event planners a fully staffed speaker logistics planning team, plus a personal SPEAKING.com Account Executive – a knowledgeable and trustworthy partner. We guarantee your satisfaction with your speaker and a smooth booking process.
Contact us today to book your favorite speaker.

"An outstanding presentation. Full of substance. He made us think, gave us lots of take home value and did it an entertaining and involving way."
Becky Maybry, Viasys

"Our top people are an impatient and demanding group. At the end of a long day they were not an easy audience. Neil took a very complex subject and held our folks on the edge of their seats with his insights, world class expertise and engaging manner. They were unwilling to let him go."
Beth Koltz, Hewlett-Packard

"As always he was a major hit. He′s a living legend in the sales field because of his research and his deep understanding of selling. He wrote the book, so our participants came expecting to hear a well known expert . But they left with much more. He made his topic sparkle. He never talked down to the audience, or dodged complex issues. He brought clarity to complexity and his participative and informal style changed the way people felt. An "A plus" for take-home value."
Verne Harnish, Gazelles, Inc

"Neil did a terrific job of aligning the 'Art and the Science' of both the selling organization but more importantly allowing us to question the concept of true partnerships and some of the discipline required both personally and organizationally to achieve them. In addition to the insight gained by the selling organization, Neil helped us look at our entire strategic approach to the market."
Jeff Connor, ARAMARK
Rethinking the Sales Force written Neil Rackham


In today′s markets, success no longer depends on communicating the value of products or services. It rests on the crucial ability to create value for customers. Sales forces need to retool current strategies by recognizing the customer′s dominant power in today′s economy and what that means for those who sell. Capitalizing on research into the practices of cutting edge companies, the authors show how the successful sales force breaks away from traditional thinking and transforms themselves into complex business processes with multiple sales approaches and selling mdoels that meet the demands of today′s sophisticated customers.




In a keynote, half-day or full-day session with Neil Rackham, attendees can expect a dynamic, interactive, high-content program based on years of objective research by the "world′s greatest sales voyeur." Based on years of intense research around the globe while working alongside some of the world′s best sales forces, Neil will energize and equip your sales professionals to succeed in today′s ever-changing and increasingly complicated marketplace.
The following presentations can be customized for maximum relevance to your organization′s unique situation:
NEW!! Ending the War Between Sales and Marketing
(as featured in the July-August 2006 issue of Harvard Business Review)
MOST POPULAR!! Rethinking the Sales Force: Selling for the Future
The Origins of SPIN® Selling
Partnering and Building Enterprise Sales Relationships
Selling Professional Services
New Thinking for Sales Managers
World Class Sales Forces
After one of these programs, audience members will leave with a greater understanding of the current marketplace and what they and their sales force must do to not only thrive, but survive, in it. Individuals will leave with practical, actionable ideas to create sustainable competitive advantage for their company/companies. They will leave enthusiastic about the future for their business.
Looking for a residual return on investment from your next speaker? Neil Rackham delivers.

Neil Rackham Interview
In this speech, Neil explains why his book, SPIN Selling, says that entrepreneurs are traditionally "bad at selling." He says that entrepreneurs have "a deep enthusiasm for what they do," and that "the best selling isn't all about your products and what you can offer," but that it's "about your customers and what they need." He goes on to say that research shows "that in a sales call, the more time a customer talks, the higher the probability that the call will succeed," and that entrepreneurs tend to "want to tell the customer the story."
Neil goes on to explain that entrepreneurs listen "very selectively." He says that "highly effective sales people talk about solutions… very late in the sales process," but that "entrepreneurs are impatient people, and often they'll jump in too quickly and start talking about answers." The problem, Neil says, is that "customers have to start with what they need."
Neil Rackham Speech Excerpt
Neil Rackham Speech Excerpt