* Please note that while this speaker's specific speaking fee falls within the range posted above (for Continental U.S. based events), fees are subject to change. For current fee information or international event fees (which are generally 50-75% more than U.S based event fees), please contact us.
Top25 Speaker Voting

Murray Banks needs 6 vote(s) to make it into the Top 25 speakers on Speaking.com!
Speaker Booking Tip
"Tip: speakers bureaus provide added value that you cannot get by booking speakers directly. "
For Event Planners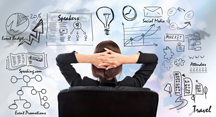 • Keynote Speaker Booking Toolkit.
• Booking a Celebrity Speaker.
• How to Find and Book the Right Speaker.
• Google+ Event Planning Forum.
• Tips for International Clients Booking U.S. Based Speakers.
Similar Speakers
Rocky Bleier

The extraordinary life story of Rocky Bleier is an inspirational one of a man who overcame terrible adversity to achieve his dreams. From the football…

Robin Sieger

Originally from Scotland, he studied science at the University of Glasgow before going on to fulfill a childhood ambition by becoming a successful comedian, appearing…

Sharon Wood

Mount Everest was a culmination of an odyssey that began at age twelve when her father took her up her first mountain. By the time…

This has been one of the most outstanding speaker agencies I have had in my 25+ years in the hospitality industry. They have helped my company secure speakers for years to the delight of my attendees. They have secured high profile speakers, even within the confines of a tight turnaround and an even tighter budget. I recommend their services without hesitation. They are truly leaders in their profession looking out for their clients: excellent is all I can say!
AHIMA
About SPEAKING.com
Established in 1994, we are exclusive agents for some of the world's leading experts, celebrities and professional speakers.
We offer event planners a fully staffed speaker logistics planning team, plus a personal SPEAKING.com Account Executive – a knowledgeable and trustworthy partner. We guarantee your satisfaction with your speaker and a smooth booking process.
Contact us today to book your favorite speaker.

"Murray Banks is a class act. He is exactly what I had expected from his videos. If you're looking for a professional speaker who can tailor to your event theme, he's the one for you. His humor and real-life stories kept the audience engaged throughout his key note. Great Job Murray!!"
Supply Force
(Engagement Arranged by Speaking.com)

"Murray – You nailed it! I really thought the delivery and energy was perfect for our team. I couldn't have written the script any better myself. Thanks again, it was exactly what we needed."
COO,
Executive VP,
PS Business Parks

"Your message was clearly a homerun! We are very appreciative of how you used 'Energy Systems Group' not only at the beginning of your message, but throughout the presentation noting the importance of energy, passion, empathy and enthusiasm. Your use of humor and real life examples kept the audience fully in tune with your message of leadership."
Account Executive,
Energy Systems Group

"I want to thank you for getting our annual conference off to such a terrific start! When this happens, it carries the remainder of the event. Our members were so happy with this year's conference, I had to use cold packs on my back for two days to get the swelling down from being patted so often!!!"
Executive Director,
COSA

"Thank you Murray for your outstanding presentation at our meeting in Las Vegas. So many of the attendees came up to me before departure and said that you were the best speaker they had heard at any conference, any time!"
Vice President,
Citigroup

"DMV is still abuzz after your dynamic presentations. Not only was your presentation fun and enlightening, it also was chock full of specific references to our agency. Our staff was impressed with your knowledge of DMV and your ability to weave our special characteristics into your presentations."
Commissioner,
DMV,
Commonwealth of Virginia

"WOW! What a fabulous job you did!!! Thank you so much…for sharing yourself and your wisdom with us all! It was just the perfect way to start the day!!! I will enthusiastically share your name with my fellow state association Executive Directors across the country! From a quick look at the evaluations, everyone felt just as I did."
Executive Director,
VRPA

"We have been inundated with e-mails from our managers who said how much they enjoyed the presentation and how nice it was to learn things that they could actually apply on the job and use in their personal lives. Murray, you did an excellent job customizing your presentation to OMM. Your prep work truly showed in the final product. I want you to know that I have already used the Richter Scale of Stress and the 10/90 rule last night and today. Thanks so much for a wonderful presentation."
Conference Planning Chairperson,
N.Y.S. DFAJ

"Bam! Bam! Bam! That is the recent sound of the hammer hitting the nail on the head! What a great start to our summer conference! There were so many complimentary remarks passed along to me and the sponsor of the keynote had many people stop by their both to thank them."
Washington Principals Association

"Murray, You were just awesome! Thank you so much for starting off our convention with such a bang. Our members loved you and the kids were in such awe. The extra time you spent with those students meant so much to them."
Director of Conferences,
Colorado Association of School Boards

"Your closing keynote was right on target and was by far the highest rated closing speaker we have ever had! Thank you for understanding our needs, working closely with me, and for your great sense of humor!"
Ohio School Improvement Institute

"What a great session! I really enjoyed listening to you this morning. Thank you so much for bringing your words of wisdom and humor to us. I am new to the department but my background is teacher/elementary principal. If your session didn't energize all of them today, they have no business being in the profession."
School Improvement Consultant,
Iowa Dept of Education

"I especially appreciated all of the personal touches that you included in your presentation. This is out of the ordinary for many speakers and it made such a difference to our leadership team."
Pasadena I.S.D.

"Your message couldn't have been better tailored for our group of 1,200 faculty and staff. The glowing feedback hasn't stopped pouring in! I think you'll be glad to know that while your humor was greatly appreciated, your message was also clearly communicated. Staff have called the morning "the best opening day ever." Your energy, enthusiasm, and genuine positive attitude concerning all of our learners was a pleasure to share. Thank you, from all of us!"
Assistant Director of HR,
Chester County Intermediate Unit

Partial Client List:

Teva Pharmaceuticals
Maxwell Systems Users Conference
Siemens Corporation
Wyeth-Ayerst Pharmaceuticals
3M Corporation
American Express Users Conference
Citi Corp
Syniverse Technologies Users Conference
Bank of America
5th 3rd Bank
Boeing Aerospace
McGraw Hill Publishing
Deloitte of Canada
Armstrong World Industries
BASF Corporation
LEGOS, Inc
Aetna Insurance
Bristol Myers Squibb
B.F. Goodrich Aerospace
AT&T
BankNorth
MTL Insurance
Bell Atlantic
Allstate Insurance
Wirtz Corporation
National Life Group
Sylvan Learning Systems
South Shore Hospital System
Florida Healthcare Association
NY Healthcare Association
Marriott Hotels
Georgia Bankers Association
Consumer Energy Corp
Oregon Bankers Association
Computer Guidance Corp
State Farm Insurance
UC San Diego Medical Center
Texas Banks Association
GE Healthcare Users Conference
Pennsylvania Bankers Association

An honored educator and world champion athlete, Murray knows how to craft and deliver an engaging and motivational message. His unique and interactive style merges skills, inspiration and fun to create thought provoking presentations for business leaders.
Murray's three signature topics connect work and leadership performance to focus, adaptability and life balance. Each can be custom tailored for a keynote or workshop session. His signature topics are easily customizable and include...
For Business Audiences:
(These presentations are also popular with and easily customizable for audiences at School Board Association and School Administrator conferences.)
PERFORMANCE UNDER PRESSURE
Focus In Our Work, Balance In Our Lives
Working with focus and intensity, yet keeping our lives in balance is a subject that fascinates everyone and Murray delivers it with a medley of science, humor and inspiration. As he weaves your conference theme through his keynote, he will hit these key points…
The 10/90 RULE to keep meetings focused
Why pressure changes persona and persona affects communication style
How the physiology of food, fitness & fun offsets pressure and fatigue
What you focus on expands, so focus on the outcome you want
Quotes you will likely hear in this presentation…
"The main thing is to keep the main thing, the main thing!"
"Who you are may be more important than what you know!"
"You can tell a lot about a person by what they take two at a time… pills or stairs!"
THE TROUBLE WITH THE FUTURE IS, IT'S NOT WHAT IT USED TO BE!
Keeping Our Focus In Changing Times
In a world of change, most people prefer stability and consistency. So Murray presents a small dose of sympathy and leaves organizational change to the consultants… then presents five personal skills for being agile, resilient and adaptable. Change pushes people out of their comfort zone and Murray gives a skilled push with these key points…
Using the "Lava Lamp Philosophy" of continuous change
Know when to go to the "B.A.R."
Implementing the "RICHTER SCALE OF STRESS" for perceived crisis
Using a Switching Skill for change-resistant colleagues
Preventing "Pyschosclerosis"
Quotes you will likely hear in this presentation…
"You can tell your susceptibility to Pyschosclerosis by the amount of pain you feel when you come in contact with a new idea!"
"The illiterate of the future are not those who cannot read or write, but those cannot learn, unlearn and relearn!"
"When you are finished changing, you are finished!"
TOUGH TIMES, TOUGH TEAMS
These are tough times and successful organizations need tough teams… colleagues who pull together, work hard, stay positive and are resilient. A challenging economy and uncertain future make it difficult to give our work teams the reassurance they need to stay focused, so our leadership skills will be critical to our success.
This isn't the time for a walk through the theoretical wonderland. Murray provides practical, real world skills for being optimistic and staying focused on performance. This tough presentation inspires and energizes while providing four actionable skills for…
Turning problems to solutions with the 10/90 RULE
Preventing "G.G." in tough times
Communicating a tough message in a positive framework
Keeping your focus when things don't turn out as planned
Quotes you will likely hear in this presentation…
"When you are going through Hell… keep going!"
"Tenacity is easier when you have no choice!"
"If being good were easy, we'd all be champions."
For Educators:
AT OUR BEST EVERY DAY
Engaging Our Students With Passion And Style
An outstanding educator is unique…. That wonderful blend of intellect, experience and style! But, high stakes testing, teacher accountability and student engagement are challenging the best of us. Teaching with focus and intensity, yet keeping our lives in balance is a subject that fascinates everyone and Murray delivers it with a medley of science, humor and inspiration. As he weaves your goals through his keynote, he will hit these key points…
The 10/90 RULE to keep classes and faculty meetings focused
Why pressure changes persona and persona affects teaching style
How the physiology of food, fitness & fun offsets pressure and fatigue
What you focus on expands, so focus on the outcome you want for your students
Demo Video
In his inspiring and frequently hilarious presentations, Murray Banks combines the extraordinary positivity which has made him a world champion in two different sports with the experiences of a lifetime as an educator to give audiences a new perspective: "It's exhausting," he says, "to teach to every child's special needs, but here's what I think: the best teachers in your school district have been differentiating their instructions ever since they started because that's all they know inherently; teach to the child, get each child to the level they can achieve."
Murray explains how you can influence others so that you can work better with them: "Let me explain, your persona is key to influencing those around you, could you imagine, working on the school board, being a teacher, having colleagues, friends, family… you need to be alive. Imagine working with someone who died but continued to show up for work for 10 years afterwards… How can you keep that fire alive?"