* Please note that while this speaker's specific speaking fee falls within the range posted above (for Continental U.S. based events), fees are subject to change. For current fee information or international event fees (which are generally 50-75% more than U.S based event fees), please contact us.
Top25 Speaker Voting

Mitch Gaylord needs 6 vote(s) to make it into the Top 25 speakers on Speaking.com!
Speaker Booking Tip
"Tip: some speakers might provide one of their popular book titles as a free gift to your audience. "
For Event Planners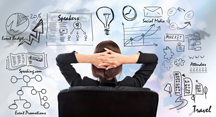 • Keynote Speaker Booking Toolkit.
• Booking a Celebrity Speaker.
• How to Find and Book the Right Speaker.
• Google+ Event Planning Forum.
• Tips for International Clients Booking U.S. Based Speakers.
Similar Speakers
Susan Keane Baker

With wide-ranging practical experience in healthcare gained from 17 years as a vice president at New York and Connecticut hospitals, as well as directing a…

Dave Mitchell

Dave Mitchell turned over a decade of managerial and leadership experience in the corporate world into a means of helping people better understand others' needs.…

C.J. Huff

After a late spring tornado flattened a third of Joplin, Missouri, killing 161 people, and damaging or destroying 12 out of its 16 schools, Superintendent…

This has been one of the most outstanding speaker agencies I have had in my 25+ years in the hospitality industry. They have helped my company secure speakers for years to the delight of my attendees. They have secured high profile speakers, even within the confines of a tight turnaround and an even tighter budget. I recommend their services without hesitation. They are truly leaders in their profession looking out for their clients: excellent is all I can say!
AHIMA
About SPEAKING.com
Established in 1994, we are exclusive agents for some of the world's leading experts, celebrities and professional speakers.
We offer event planners a fully staffed speaker logistics planning team, plus a personal SPEAKING.com Account Executive – a knowledgeable and trustworthy partner. We guarantee your satisfaction with your speaker and a smooth booking process.
Contact us today to book your favorite speaker.

"The standing ovation was well deserved…Not only is Mitch Gaylord an Olympic Gold Medalist, but he is also an 'All American" speaker.'"
All American Life Insurance
"Outstanding! The personal touch he added to our reception following the meeting was extremely well-received."
Merck-Medco
"…interesting, informative and motivating. The insights that Mitch provided will leave a lasting impression on our group."
MCI
"His Olympic stories were so vivid that you could picture yourself in Los Angeles at the Games. And you could feel the emotion surrounding each competitive moment…the most realistic speaker we've presented in several years…He delivered everything I asked for and more!"
Allstate Insurance Company
"…A perfect10! Packed with real-life experiences that we can all draw from to grow both personally and professionally."
Sprint
Clients Include
ALL AMERICAN LIFE INSURANCE
KRAFT, INC.
ALLSTATE INSURANCE COMPANY
M&M MARS
MCI
ANHEUSER BUSCH
MERCK-MEDCO
AT&T
MERRILL LYNCH
ATLANTA BAR ASSOCIATION
MOTOROLA
BANK OF MONTREAL
NAPA AUTO PARTS
COCA COLA
NEWCASTLE FINANCIAL
EQUITRON MEDICAL
PARKE DAVIS
FLORIDA POWER & LIGHT
SPRINT
HOME DEPOT
TAYLOR MADE GOLF
U.S. OLYMPIC COMMITTEE
IBM
U.S. POSTAL SERVICE
IICM CONFERENCE
VIDAL SASSOON

INTERNATIONAL PAPER
IOMEGA CORPORATION
JOHN HANCOCK
STONEFELD/JOSEPHSON
DFK INTERNATIONAL
PIMCO
Imagine learning and then applying
Mitch Gaylord′s Gold Medal Mindset™
to your individual and/or Company goals.
In this presentation, Mitch shares with audiences the ten elements within the
Gold Medal Mindset™
that lead him and his teammates to the ultimate Olympic achievement. These ten elements are the keys to success in any endeavor and will unlock the potential within each and every one of us to achieve your own personal Gold Medal. Mitch explains the ten elements of his
Gold Medal Mindset™
, which make up the Motto of
Dream It. Live It. Get It.™
The four elements under "Dream It" are Desire, Vision, Belief, and Truth. The five elements under "Live it." are Courage, Strength, Commitment, Persistence, and Patience. The tenth element of Grace goes under "Get It." Holding ourselves to a higher standard of excellence inspires us with the passion and determination to manifest our deepest desires. Audiences will learn how to apply the
Gold Medal Mindset™
to their dreams and goals to get the Champion Results we′re all looking for in our personal and professional lives. He demonstrates how these ten elements, so common among world class athletes, can be incorporated into the lives of high achievers in any walk of life.
RAISING THE BAR
Inspire and Invigorate Your Audience
Bringing together leadership insights from his entrepreneurial ventures with universal lessons from his Olympic journey, Mitch Gaylord inspires both individuals and corporations to raise the bar in their pursuit of excellence. Audiences will walk away with a greater desire, determination and dedication to their vision.
Your Audience will…
GET FOCUSED – Clearly defne your objective. Concentrate and visualize the end goal with an emotionally charged physiology.
GET COMMITTED – To yourself, your team, and the process. Accountability, integrity, and consistency ensure productivity.
GET STRATEGIC – Build an intelligent game plan together. Create the blueprint for the successful completion of your goal.
GET GOING – It's "GO" time. Get out of your comfort zone and push yourself beyond past limitations.
GET RESILIENT – Employ mental toughness - A Gold Medal Mindset.
GET IN THE ZONE – Reach for peak performance.
GET "IT" – Success, Achievement, ultimate Fulfillment.
FOCUS
The Mindset of Excellence
In a perfect world, organizations would effortlessly move toward their short- term and long-term goals, overcoming obstacles, breaking through barriers and taking on challenges. Employees would show up everyday with great attitudes, energized, and ready to contribute with eager anticipation. Productivity would be at a high level of excellence and results would be the byproduct of a thriving Company.
Regardless of the economy or the economic climate of the day, companies that have the ability to focus with a mindset of excellence will always find their path to success. It was through FOCUS: The Mindset of Excellence that enabled Mitch Gaylord, America's first "Perfect 10," along with his Teammates to defeat the heavily-favored People's Republic of China and take home the Gold in the 1984 Olympic Games.
Drawing off of his Olympic background, entrepreneurial ventures and business expertise, Mitch will share with your audience his unique perspective on:
Clarity of Purpose: Vision, Mission, and Result
Raising the Bar: Courage, Belief, and Strength of Character
Embracing Change: Innovation, Growth, and Taking Risks
Passing the Torch: Leadership, Team, and Accountability
Sticking the Landing: Peak Performance, Mental Toughness, and Mastery
Do the actions that you and your Team take on a daily basis produce the results you desire?
EMBRACE YOUR GREATNESS
How to Ignite the Fire Inside
In today's world, individuals and businesses are facing challenges they've yet to encounter. Mitch Gaylord, motivational keynote speaker, entrepreneur, and Olympic Gold Medalist, will share with your audience key insights and strategies to breakthrough unique challenges that face us today and help you turn personal and professional dreams into reality.
Known for being the first American Gymnast in history to receive a "Perfect 10", Mitch's rise to the top didn't come without its own challenges, obstacles, and adversity. Prior to becoming the number one gymnast in the country, Mitch was viewed by his competitors as the guy with incredible natural talent that you could always count on to choke under pressure.
In the 1981 World Championships in Moscow, Russia (just 3 years before the 1984 Games), Mitch found himself watching from the sidelines as his teammates competed because he missed the cut during the trials and became the "Alternate" – the guy who goes in only if someone gets injured. Although devastating at the time, the experience ignited the fire inside and success became imminent.
On the flight home, Mitch met his soon to be coach - a man who would teach him how to Embrace his Greatness and become the Champion he was meant to be. With this new mindset, intense training, and the lessons he learned, Mitch became the number one gymnast in the Country within two years, putting him on track towards Olympic Gold.
In this powerful presentation, Mitch Gaylord shares with audiences inspiring insights regarding:
Overcoming limiting beliefs preventing you from achieving your Dreams
Breaking through your Fears, once and for all, to ignite the Fire Inside
Creating an Unstoppable Drive toward Success
Applying the "Gold Medal Mindset" to your Goals
Finding what's worth Fighting For – For YOU!
Harnessing the Power of the 3 C's: Commitment, Consistency, and Character
"Melt it OFF with Mitch"
Want something completely unique at your next meeting? Well now you can have it!
Based on his highly successful fitness program, "Melt it OFF with Mitch," Olympic Gold Medalist Mitch Gaylord will take your group through this fun-filled introductory workout at your next event. Perfect for all fitness levels, this unique workout only requires 30-45 minutes of your time, a 2-pound Medicine Ball (provided), and a willingness to have a good time.
Attendees will walk away feeling energized and ready to take on the day! Not to mention, they'll get to tell all their friends that they worked out with an Olympian!
With Health, Fitness and Wellness awareness finally going mainstream in Corporate America, it's now time to put it into action and make this part of your next event.
This special program can be done as a breakout session or a morning workout to kick-start the day. Either way, people will be glad they participated!

Mitch Gaylord: Demo Video
History-making Olympic champion, Mitch Gaylord breaks down his guidelines to making goals happen. He highlights the indispensability of visualization, reporting that other athletes had commented publicly that when they won gold medals they were not surprised, because they had imagined that moment thousands of times before.
"Visualization is one of those things that we really need to educate kids on and teach them how to do," Mitch stresses the value of this ability and its role in propelling people to take action and ultimately achieve success.
Mitch Gaylord - Hospice Interview