* Please note that while this speaker's specific speaking fee falls within the range posted above (for Continental U.S. based events), fees are subject to change. For current fee information or international event fees (which are generally 50-75% more than U.S based event fees), please contact us.
Top25 Speaker Voting

Mike Walsh needs 9 vote(s) to make it into the Top 25 speakers on Speaking.com!
Speaker Booking Tip
"Tip: find a speaker in your local area to save on travel costs. Most speakers will also reduce their keynote fee for local events. "
For Event Planners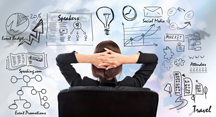 • Keynote Speaker Booking Toolkit.
• Booking a Celebrity Speaker.
• How to Find and Book the Right Speaker.
• Google+ Event Planning Forum.
• Tips for International Clients Booking U.S. Based Speakers.
Similar Speakers
Ian Goldin

A world expert in economics, finance and global affairs as well as innovation and social issues, Ian Goldin is currently Director of the Oxford Martin…

Jake Knapp

Google Ventures design partner, Jake Knapp compressed a 6-month-long product development process into 5 days. To date "Sprint," his accelerated method for taking abstract ideas…

Kevin Harrington

Known as the original Shark on ABC's hit show Shark Tank Kevin Harrington is an internationally acclaimed speaker, coach, celebrity entrepreneur and one of the…

SPEAKING.com / Core Agency were very helpful in every way possible. I would recommend them to others and we will most definitely secure all our future conference speakers through them again.
Babcock & Wilcox
About SPEAKING.com
Established in 1994, we are exclusive agents for some of the world's leading experts, celebrities and professional speakers.
We offer event planners a fully staffed speaker logistics planning team, plus a personal SPEAKING.com Account Executive – a knowledgeable and trustworthy partner. We guarantee your satisfaction with your speaker and a smooth booking process.
Contact us today to book your favorite speaker.

"Dynamic, highly relevant and stimulating, with fresh and unique insights."
Nirvik Singh, Chairman & CEO, Grey Group Asia Pacific
"An eye opener!"
Cyril Rickelton-Abdi, Director, Technology Development,Disney ABC Television Group
"Thank you for contributing to FOXTEL's success!"
Peter Tonagh, Chief Financial Officer, FOXTEL
"An ideal contribution."
Mark Scott, Managing Director, ABC
"Highly inquisitive and original. I recommend him highly."
Tony Faure, CEO, nineMSN
"Relevant, thought provoking content, and a dynamic delivery."
Beth Etling, Marketing & Content Director, ad:tech
"I would highly recommend Mike Walsh to any company who wants to get a clearer understanding of not what might be, but what is very likely to be."
Dave Marshall, Managing Director, Fujifilm Australia
"A real visionary."
Rob Antulov, Director of Strategy, Fairfax
"Insightful, clever, entertaining and informative."
Megan Brown, Head of On Air, XYZ Music Channels
"Inspiring!"
Linda Bracken, Head of National Networks, ABC
"Fascinating! You should also write books on presenting technology topics to non-technology people. It's a skill very few technologists have."
Nick Nero, Director of New Technology Strategy, Walt Disney Studios Home Entertainment
"Your presentation was unbelievable. Scary but enlightening and challenging!"
John Kukla, VP Creative Services, Fox
"Great session! To be perfectly honest, I′m sort of lost between being very excited and very frightened."
Andrew Donohue, Director, On-Air Promotions, NYCTV / NYC Media Group
"Enjoyed your presentation!"
Gordon Ho, Executive Vice President of Content, Marketing and Business Development Strategy, Walt Disney Studios Home Entertainment
"Great session, really insightful."
Joe Earley, EVP Marketing, Fox
"WOW!"
Tom Lucas, Director of Marcomms, UKTV
"How bloody fantastic was your recent presentation here – loved it! Really accessible and with an excellent engaging delivery. The best such trot round the digital multi-media and multi-platform blah blah blah landscape I have ever heard – and I've heard lots of blah over the years – and not in a good way - unlike your blah! Smashing."
Richard Brunskill, Department Coordinator, ABC TV Arts, Entertainment & Comedy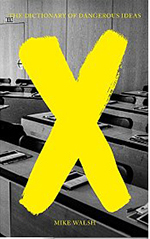 The Dictionary Of Dangerous Ideas
The Dictionary Of Dangerous Ideas is a collection of the most challenging concepts facing business leaders at the dawn of the 21st century. At the intersection of emerging technologies and new patterns of human behaviour, the ideas in the Dictionary have been chosen for both their potential to transform the way companies operate, and inspire new forms of thinking.
What makes an idea dangerous is often not so much the idea itself as the troubling questions that it raises. Questions about the nature of reality, authority, society, and the boundaries between truth and heresy.
Global futurist and innovation expert Mike Walsh presents 88 scientific breakthroughs, emerging technologies and disruptive business models—all with the potential to shake the foundations of the world we know.
What if we could design smarter, healthier people?
What if we could build things one atom at a time?
What if medicine was personalized for our unique genetic code?
What if there was no such thing as privacy?
What if we could re-program nature?
What if the future of the Web was in the emerging world?
What if we could reverse-engineer the human brain?
What if companies had no bosses or titles?
Each of the ideas are concisely explained in a single page, with references to the latest case studies and research, as well as some useful 'mind grenade' questions to prompt further discussion.
Fully illustrated with a custom typographic alphabet and original black and white photographs—The Dictionary of Dangerous Ideas is the essential companion for any leader who wants to understand what it will take to survive and thrive in the near future.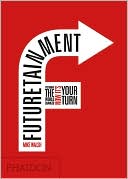 Futuretainment
Over recent years seismic changes have taken place in the structure and direction of the media and entertainment industries. Since the launch of the first commercial web browser, to the advent of broadband, digital downloads and online virtual worlds, patterns of consumer behavior have adapted and evolved enormously, embracing new opportunities and having an indelible impact upon the commercial nature of media.
Mike Walsh has been at the heart of this consumer revolution from its beginning and has been helping some of the world′s leading companies and brands embrace new ideas for the past decade. The 23 insights in Futuretainment reveal how the rise of the Internet, mobile devices, social networking, audience networks, user generated content, ubiquitous networks and the 'adaptive web', amongst other advances, has affected the worlds of media and entertainment forever.
Futuretainment is a dynamic visual handbook offering an accessible approach to this complex and evolving subject. It is a must-read for any individual or business that wants to understand how to maximize their position in this new era.

THE NEXT GENERATION
The greatest challenge for any company is not just keeping its current customers happy, but anticipating the needs of its future consumer base. Exposed to a childhood of disruptive technology, your next generation of customers will discover, share and make brand decisions in ways you least expect. But that is only half your challenge.
Generational change in your workplace is also inevitable. Your future co-workers and employees will both test the limits of your management models as well as challenge your traditional beliefs about your company culture.
Will you be ready for them?
DURING HIS PRESENTATIONS ON THIS TOPIC, MIKE SHARES:
How your next generation of customers will think, talk and transact
The next wave of companies, technologies and applications empowering the youth market
What your business will need to recruit, retain and motivate tomorrow's employees
The skills and mindsets that will characterize the future's successful hire
THE NEW MARKETING MODEL
What will the marketing strategies of the future look like? The modern consumer is more complex, more informed and more in control than ever before. To win their hearts and minds requires new ideas, new tools and a whole new marketing playbook.
With original research, practical evaluations of consumer behavior and case studies from some of the world's most innovative firms, Mike Walsh's analysis of 21st century marketing will give you the inspiration you need to totally re-imagine your engagement model.
DURING HIS PRESENTATIONS ON THIS TOPIC, MIKE SHARES:
How to use digital anthropology and real-time data to profile your customers
Transforming your marketing department into a company-wide engagement platform
Insight into how the Internet of Things turns real-world behavior into the clickstream of the future
Case studies on designing immersive, omnichannel customer experiences
UNLOCK YOUR HUMAN POTENTIAL
The world's most innovative companies don't let culture happen by accident, they code their culture for success. Great culture powers your people to perform at their best.
The secret to "hacking" culture at your company starts with Network Capital, or the social graph of how your employees collaborate to achieve results. Forget the organizational chart. Your future depends on creating a fluid network of motivated and capable people, empowered to re-invent the way they do business.
DURING HIS PRESENTATIONS ON THIS TOPIC, MIKE SHARES:
Understanding Network Capital and today's employee engagement crisis
Why great workplace culture attracts the best talent
How to leverage enterprise social networks to solve real business problems
Big Data, emergent leadership and the future of the HR department
RE-IMAGINING IT
The IT strategies that made you successful until now are also the biggest threats to your future. Upgrading your systems is easy. How will you upgrade the DNA of your people?
Yesterday's IT organization was defined by a "break-fix" mentality. Today, a new era of automation, virtualization and cloud IT service management means that your technology teams must flip from managing risk and downtime, to delivering innovation and enablement. This is a business revolution no CEO can ignore.
DURING HIS PRESENTATIONS ON THIS TOPIC, MIKE SHARES:
The 21st century CIO and the traits IT leaders will need to succeed
Why the Cloud should challenge the way you think about your organizational design
Aligning IT and business to deliver continuous innovation for your end customers
How to apply speed, agility and the new lean IT mindset to your technology teams
HUMAN-SCALE INNOVATION
If you want to break the rules in a traditional business, you need patience and a bit of strategy. The best place to start is by learning to think like an anthropologist and exploring how technology impacts us as people. Human-scale innovation happens when we learn from how people actually use our products, regardless of what we intended for them to do.
The world's most innovative companies apply human-scale thinking in the way they approach everything from product to experience design. You can too.
DURING HIS PRESENTATIONS ON THIS TOPIC, MIKE SHARES:
Shanzhai and lessons from China on customer-led innovation
Anticipating tomorrow's trends in wearables and human scale technologies
Unleashing people power, from crowdfunding to crowdsourcing
Immersion tactics to help your team see the world through their customer's eyes
GLOBAL BY DESIGN
The future is already here, you just need to know where to look. From disruptive mobile technology from China and India's low-cost business models to next-generation mobile banking in Africa and social consumerism in South America, global innovation is shifting to a new geography.
How we interact, transact and entertain ourselves in the future will be shaped by a billion new consumers from emerging markets. Mike Walsh can deliver you a road map to navigate the growth potential of tomorrow's world.
DURING HIS PRESENTATIONS ON THIS TOPIC, MIKE SHARES:
Why the multicultural web of tomorrow will be different from the one we use today
How the virtual global organizations of the future will compete on supply chain, talent mobility and tax structures
Understanding the emerging market consumers and their impact on your global growth
Why every company, regardless of size, should globalize at least one part of its operations
DATA-DRIVEN LEADERSHIP
Big Data, once just the domain of technology professionals, will soon be the number one issue for all business leaders. Tomorrow's leaders will make better decisions, not from experience, charisma or intuition but through their ability to integrate real-time data into their thinking.
Based on first-hand research, analysis of disruptive strategies and real-world examples from some of the most innovative companies, Mike Walsh shows you why the real revolution is not just about how big your data is, but a mindset change about how data gets used in the enterprise.
DURING HIS PRESENTATIONS ON THIS TOPIC, MIKE SHARES:
Why the future of smart leadership will be small decisions informed by data
How to cultivate a management culture of experimentation, risk and feedback loops
Learning to speak the language of data, and translating insights into stories that inspire change
Identifying the critical data pivots in your business, the real-time numbers no leader can afford to ignore
Mike Walsh: Demo Video
Mike Walsh explains and explores the generational shifts in approaches to business and particularly the internet. With a whole generation having grown up with the Web from birth now becoming adults, he details how companies must learn that generation's expectations and aspirations if they are to remain at the forefront of technology-based business.
Mike Walsh: The Future Is Now
The Divergence: Part I - Mike Walsh Keynote
Keynote Speech Clip
Big Data Keynote