* Please note that while this speaker's specific speaking fee falls within the range posted above (for Continental U.S. based events), fees are subject to change. For current fee information or international event fees (which are generally 50-75% more than U.S based event fees), please contact us.
Top25 Speaker Voting

Mike Robbins needs 6 vote(s) to make it into the Top 25 speakers on Speaking.com!
Speaker Booking Tip
"Tip: find a speaker in your local area to save on travel costs. Most speakers will also reduce their keynote fee for local events. "
For Event Planners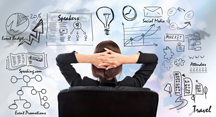 • Keynote Speaker Booking Toolkit.
• Booking a Celebrity Speaker.
• How to Find and Book the Right Speaker.
• Google+ Event Planning Forum.
• Tips for International Clients Booking U.S. Based Speakers.
Similar Speakers
Michelle Gielan

Michelle Gielan, national CBS News anchor turned positive psychology researcher, is the bestselling author of Broadcasting Happiness. Michelle is the Founder of the Institute for…

Tammy Hughes

Tammy Hughes is the President of the Heim Group, one of the nation's premier consulting firms for gender differences and communication in the workplace. As…

Lior Arussy

The recipient of CRM Magazine's "Influential Leader Award", Lior Arussy is known as a man who gets results in the fields of customer experience and…

My Account Executive was able to work within my quick turn around time and price limitations to find the perfect speaker for the job. Although I thought finding and booking a speaker for our sales meeting would be the most difficult part of the planning process, your agency made it the easiest.
Ales Group USA, Inc.
About SPEAKING.com
Established in 1994, we are exclusive agents for some of the world's leading experts, celebrities and professional speakers.
We offer event planners a fully staffed speaker logistics planning team, plus a personal SPEAKING.com Account Executive – a knowledgeable and trustworthy partner. We guarantee your satisfaction with your speaker and a smooth booking process.
Contact us today to book your favorite speaker.

"Mike Robbins has a unique ability to open people's minds, touch their hearts, and teach valuable lessons about life and business. I have personally benefited from his work, as have so many of the people on my team."
– Jack Calhoun, President, Banana Republic
"Mike is a gifted storyteller and talented speaker. His talks on authentic leadership and appreciation, and his exercises to 'lower the waterline' and build trust have been incredibly effective to both my management team as well as an international audience of 600. I have consistently received rave reviews from colleagues on Mike's various efforts within Google."
– Alan Moss, VP of U.S. Sales, Google
"You gave each of the 1,600 people within our group tips and techniques for enhanced success – individually and collectively. Thank you for the positive impact you have had on our business."
– John Montero, VP Human Resources, Wells Fargo Bank
"Mike Robbins is an amazing speaker! His powerful message resonates with our players, coaches, and front office staff, which is why we have invited him in to speak numerous times. He truly has helped us be a championship team."
– Leilani Gayles, Chief People Officer, San Francisco Giants
"Your enthusiasm and passion were contagious. Your understanding and empathy for many of the obstacles these people face connected you to the group. I am confident that those in attendance were effectively given a vision of what they can become in the future through your example."
– Steve Braden, VP Pacific Zone, New York Life Insurance
"You gave us so much to think about and many good pieces of advice that will help all of us to be more successful on and off the field."
– A.J. Hinch, Assistant General Manager, San Diego Padres
"Your remarks had a direct impact on the attendees, as they now know that in order to succeed we must appreciate ourselves and those we work with."
– Joe McGarry, Director, Human Resources, Kaiser Permanente
"Your presentation was excellent and highly informative. Your openness and enthusiasm made it very easy to relate to the information you shared."
– Susan Simoni Burk, Assistant Athletic Director, Stanford University
Mike Robbins, CSP, is a dynamic, engaging, and action-oriented speaker. His motivational keynotes and seminars provide practical strategies that inspire people and teams to bring out the best in themselves and others; and generate measurable results!
His unique approach and ideas empower people with the knowledge that success can be achieved no matter the obstacles. Mike speaks to diverse audiences around the world within a variety of industries. His clients include Google, Wells Fargo, the US Department of Labor, Charles Schwab, the American Business Women's Association, Gap, Stanford University, Adobe, the San Francisco Giants, eBay, Kaiser, Twitter, and many others. Mike's customized programs cover topics such as:
• Enhancing engagement and productivity through the power of appreciation
• Empowering relationships and trust through authentic communication
• Overcoming negativity, adversity, and challenges
• Enhancing emotional intelligence for leaders, teams, and individuals
• Developing the skills of a true "championship team"
Focus on the Good Stuff: The Power of Appreciation - Inspire success, engagement and perspective by being appreciative.
Appreciation is one of the most powerful, yet overlooked aspects of successfully motivating and empowering people and teams. According to the latest research in the fields of positive psychology and strengths-based leadership, when individuals and teams put more attention on what is working and their strengths, instead of focusing on problems and perceived weaknesses, they thrive. Through this program, which is based on the key principles of his book Focus on the Good Stuff, Mike Robbins illustrates exactly how appreciation impacts productivity, morale, and success.
Be Yourself, Everyone Else is Already Taken: The Power of Authenticity Create trust, confidence and team unity by being real
Authenticity is fundamental to relationships, communication, and success. Now more than ever, people, leaders, and teams must utilize the power of authenticity in order to build trust, resolve conflicts, and create cohesion. Some fascinating research in the field of emotional intelligence is proving that being real, honest, and even vulnerable are key elements to success and engagement. Through this program, which is based on the core principles of his book, Be Yourself, Mike Robbins illustrates exactly how authenticity impacts relationships, trust, and productivity.
Nothing Changes Until You Do - Navigate change and enhance resilience by taking ownership
Wherever we go in life, there we are. The one constant in the midst of all of the change, stress, and uncertainty we face in business and life is us. When we take ownership and responsibility for our experience, we not only make it easier to navigate the changes we face, we can empower ourselves and those around us to be authentically successful, regardless of the circumstances. This program, which is based on the core principles of Mike Robbins' latest book, Nothing Changes Until You Do, illustrates exactly how individuals, leaders, and teams can thrive in the midst of change.
Creating a Championship Team - Enhance loyalty, attitude, & success by doing what winning teams do
A "championship team" is a group of people who can effectively handle adversity and conflict, trust one another, communicate clearly and authentically, and appreciate each other in a positive way. In this program, which is based on key principles from all three of Mike Robbins' books, as well as his background as a college and professional baseball player, he teaches people, leaders, and groups the fundamental aspects of creating successful teams that truly win.

TEDx Talk
Mike Robbins discusses how our ability to be authentic and vulnerable allows us to connect with others in a real way. He explains that in his 15 plus years of coaching and speaking, he's learned that succeeding as both an individual and group depends on people's capacities to bring their whole selves – "all the gifts, all the talents, the fears, the doubts, the insecurities" – to work with them.
Pointing out that everyone has experienced disappointments and heartbreak, he notes that these same vulnerabilities are the basis of the empathy and trust that bind people together. "Vulnerability is the key driver in human trust fundamental for leaders, fundamental for all of us, to build trust," Mike reports. "And also it's the birthplace of innovation and change and risk of all the things that are important to us. If we're going to do anything new or different, if we're going to grow, we've got to be vulnerable."
Google Talk
Keynote Speech
Speaking Reel