Purpose is the most powerful motivational force on the planet.
* Please note that while this speaker's specific speaking fee falls within the range posted above (for Continental U.S. based events), fees are subject to change. For current fee information or international event fees (which are generally 50-75% more than U.S based event fees), please contact us.
Top25 Speaker Voting

Mike Rayburn needs 19 vote(s) to make it into the Top 25 speakers on Speaking.com!
Speaker Booking Tip
"Tip: ask your speaker to do a book signing or attend a VIP meal with your guests. "
For Event Planners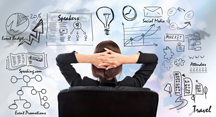 • Keynote Speaker Booking Toolkit.
• Booking a Celebrity Speaker.
• How to Find and Book the Right Speaker.
• Google+ Event Planning Forum.
• Tips for International Clients Booking U.S. Based Speakers.
Similar Speakers
Mitchell Ditkoff

President and co-founder of Idea Champions, Mitch Ditkoff is a consultant specializing in creative thinking, innovation, team development, leadership, and the power of storytelling in…

Doug Lipp

Disney University training veteran, Doug Lipp is sought after for his expertise in helping organizations build adaptive, world-class service cultures that fuel growth and long-term…

Robert Tucker

Having studied the topic of innovation and the world's greatest innovators for over three decades, Robert B. Tucker has been an adjunct professor at UCLA…

Everyone at your speakers bureau was incredibly attentive and easy to work with; you have been a conference organizer's dream!
ABS Capital Partners
About SPEAKING.com
Established in 1994, we are exclusive agents for some of the world's leading experts, celebrities and professional speakers.
We offer event planners a fully staffed speaker logistics planning team, plus a personal SPEAKING.com Account Executive – a knowledgeable and trustworthy partner. We guarantee your satisfaction with your speaker and a smooth booking process.
Contact us today to book your favorite speaker.

"The feedback from the attendees was unanimous: 'This was the best Opening Session I have ever been to!' We wholeheartedly recommend you to any meeting planner looking for fun, laughter, and a great message from a unique speaker."
Meeting Professionals International

"Mike exceeded all expectations"
William Newton Memorial Hospital

"Mike is a great start to any meeting! He made me look very good and I appreciate that! I cannot recommend him enough…FANTASTIC!"
Lincoln Financial Group

"I′ve worked with a great many performers over the last 20 years of doing this; some with much greater marquee value, but the ease of integration into the meeting, the quality of performance and Mike′s comfortable, easy style made this one of the best talent experiences I′ve ever had. Great work!"
Discover Card

"Mike was a perfect combination of talent, entertainment, and inspiration."
VHA Georgia

"As we search out and secure speakers/entertainers for our dealer EXPO′s, we are continually challenged with determining the right message for our diverse attendees. Finding that right person and message to challenge both the intellect and emotions can be difficult at best. Mike Rayburn did just that. His incredible talent, humorous delivery, stage presence and ability to connect with the group kept us all engaged and entertained. I cannot remember the last time one of our speakers concluded to a thunderous standing ovation like Mike did. I continue to receive "thank you" calls from our attendees on Mike′s behalf."
Purina Mills

"I could not have asked for anything better than Mike Rayburn!"
Amerisourcebergen

"Too bad we didn′t have another hour to give him!"
Michigan Farm Bureau

"Mike was AWESOME!"
Max & Erma's Restaurants, Inc.

"Mike was quoted several times throughout the meeting. What a compliment! Thanks for starting the meeting off with so much positive energy and passion."
Texas Pharmacy Association

"Mike was the best entertainer I have ever booked! This is the first time I have ever had unanimous approval from all 280 plus attendees. Mike is truly an entertainer for everyone. I am happy to endorse this A+ entertainer!"
AFLAC

"Mike was truly one of the best and most memorable speakers I have ever seen!"
Destination Nashville

"It's hard to find entertainment that's fun, but workplace appropriate. Mike is that rare but perfect combination!"
Selective Insurance

"Mike provides a unique presentation appropriate for a wider ranging audience. EXCELLENT!"
Missouri Bar Association

"The musical inclusion as an alpha and omega focus on the value of children′s innocence and desire to become all that they can be and the educator′s purpose for encouraging and inspiring America′s future was effective and heartfelt. I became re-inspired to do a better job!"
Texas Elementary Principals & Supervisors Assoc.

"OH My Gosh! What else can I say! It was incredible - I have been hearing from the employees allllll day and everyone wants an encore performance next year."
Chemplex

"Mike was fabulous! The attendees loved his energy and pizzazz! He was definitely a high-point of the conference! "
Cendant Mortgage

"HUGE SUCCESS!!! STANDING OVATION!!!!!! Thanks again for helping us look good!"
Coldwell Banker Burnet

"Our meeting was quite a success, mainly due to Mike. He was fantastic. I received more compliments and positive comments about his show than I have about any speaker in a long time."
Healthplus
What If....?
Inspiring Innovation and Performance
In a tight economy (or any economy), you need the most from your people. You need innovation. You need each associate to reach beyond and become, and create, and generate more than they (or you) ever thought possible. You need transformation.
That′s exactly what Mike Rayburn teaches... no, inspires in his amazing keynote, "What If...?"
Mike Rayburn is regularly cited in evaluations as "the best part of the whole conference," and "exactly what we needed and we didn′t even know it." One Fortune 500 telecommunications company said, "Mike′s ′What If...?′ message has gone viral through our entire organization... and it′s working!"
It′s simple, powerful and memorable. Oh, and it′s hilarious!
You Will Learn...
Three simple, powerful, tools you can use immediately and forever to access your gold mine of unrealized potential; the tools which took Mike from playing bars to Carnegie Hall.
The most powerful motivational force on this planet. (Hint... it is not power, sex, money, or fame).
The most basic human brain function and how to harness it for positive change.
That managing change is not only stupid, it′s dangerous; the only way to manage change is to create change, to define the curve rather than follow it.
How to stop majoring in minor things and overcome time poverty.
How to set and achieve bold goals which take you as far and as high as your imagination will allow.
The power of your sense of purpose and how to draw on it to effect exponential change.
A simple, powerful 10-minute exercise which will show you how to become a virtuoso, and master the things that matter.
#2 "Classically Trained, Comically Derailed… "
Named Solo Artist of the Year by American Entertainment Magazine
Standing ovations at all 8 Carnegie Hall performances
Mike can also focus his program completely on entertainment. "Classically Trained, Comically Derailed" is Mike Rayburn's critically acclaimed odyssey of masterful guitar; clever, universally appealing comedy; and musical combinations God never intended.
"A comic genius... enough wit and talent to jumpstart a pacemaker!" raves the Aspen Daily News.
When your attendees have had an intense day of break-out sessions and need to relax and unwind, or when they need an energy lift in the beginning or middle of the day, Mike Rayburn is the answer.
"If Victor Borge played guitar (and drank too much coffee) he'd sound like Mike," says Carnegie Hall promoter, Mark Johnson.
"Classically Trained, Comically Derailed" is perfect for after-dinner presentations, awards shows, and anywhere your event needs to be energized and totally entertained!

Demo Video
"You know what we do with problems? We deify them! We put them on a pedestal, and it drives me nuts!" exclaims Mike Rayburn as he outlines his unique method for cutting problems down to size. "You can't," he says, "make fun of something unless you stand outside of it, and when you stand outside of it, you come up with a better solution because you have a better perspective."
Sizzle Reel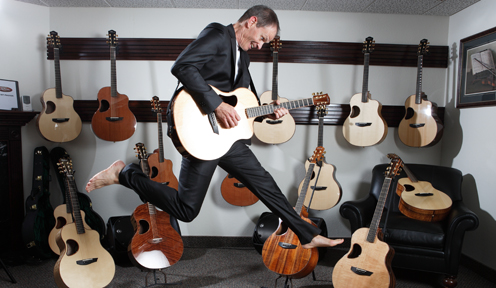 Three-time Carnegie Hall headliner, keynote speaker, humorist and captivating musician, Mike Rayburn uses his multifold skills to deliver inspirational and motivational speeches. Mike's unique style and message have been profiled in, among others, USA Today, Newsweek, Billboard, Gig, Programming, American Entertainment, and Successful Meetings. Most people never make the choice to become their personal best ... more