* Please note that while this speaker's specific speaking fee falls within the range posted above (for Continental U.S. based events), fees are subject to change. For current fee information or international event fees (which are generally 50-75% more than U.S based event fees), please contact us.
Top25 Speaker Voting

Mike Lipkin needs 8 vote(s) to make it into the Top 25 speakers on Speaking.com!
Speaker Booking Tip
"Tip: speakers bureaus provide added value that you cannot get by booking speakers directly. "
For Event Planners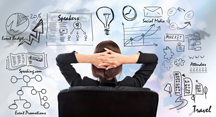 • Keynote Speaker Booking Toolkit.
• Booking a Celebrity Speaker.
• How to Find and Book the Right Speaker.
• Google+ Event Planning Forum.
• Tips for International Clients Booking U.S. Based Speakers.
Similar Speakers
Jonathan Salem Baskin

For more than 30 years Jonathan Salem-Baskin has been studying the motivators of consumer purchase intent in order to help brands to create the strongest…

Chris Helder

Chris Helder's high energy, humor, and powerful one-step "Useful Belief" system have made him one of the world's busiest speakers. The sought-out communication expert equips…

Amanda Gore

Communications and performance expert Amanda Gore uses the latest psychological research to transform behaviors, cultures, and attitudes so that employees can reach greater heights when…

Our account rep was great to work with. He helped facilitate some specific requests on our part, kept us in the loop of any issues, and promptly replied to all communications. Thanks for making this a great event!
Foundation for Economic Education
About SPEAKING.com
Established in 1994, we are exclusive agents for some of the world's leading experts, celebrities and professional speakers.
We offer event planners a fully staffed speaker logistics planning team, plus a personal SPEAKING.com Account Executive – a knowledgeable and trustworthy partner. We guarantee your satisfaction with your speaker and a smooth booking process.
Contact us today to book your favorite speaker.

"Your energy and message had a great impact on everyone. You should be very proud of the change you initiate in how people perceive their role and contribution."
Cara Banasch,
Director Global Sales Washington,
Starwood Hotels & Resorts Worldwide

"One of the great pleasures of our work is that it allows us to work with people of remarkable insight and intelligence; individuals able to tackle even the most complex issues and reduce them down to their basic nature with unerring precision. Mike Lipkin is such an individual."
Don Heathcote,
Creative Director,
The Wynford Group

"Mike Lipkin′s session was rated as ′very effective′ by 86% of our participants. This is the best result we have ever had by an outside speaker."
Greg Gulyas,
Vice President of Sales & Marketing,
IBM Global Services

"I know we can always count on Mike Lipkin to deliver motivational perspectives, to add value, and to energize the team."
Jerry P. Leamon,
Global Managing Partner and Member of the Executive,
Deloitte Touche Tohmatsu

"Mike Lipkin is the hottest speaker in the country. Not only is he a terrific speaker, but he also provides great content."
Martin Perelmuter,
President,
Speakers Spotlight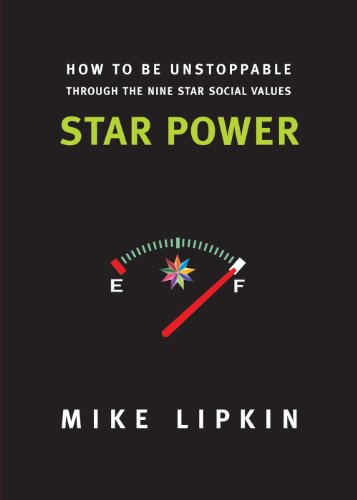 Star Power - How To Be Unstoppable Through The Nine Star Social Values
In this remarkable handbook, Mike Lipkin uses the acclaimed Environics research and his engagement with over a million people to define the Nine Star Social Values. These are the traits that enable preeminent performance against all odds. Lipkin coaches you on how to own and integrate each Star Social Value to create your own extraordinary breakthroughs.
Star Power is an electric fusion of motivational mantras and personal explorations. You will find out how good you really are and how amazing you can be – in every aspect of your life.
Lipkin has created a highly entertaining learning experience that will excite you into immediate action. Star Power is a fast, enjoyable read that is designed to be shared with everyone around you. Enjoy it and pay it forward.
Mike Lipkin is founder and chief partner of Environics/Lipkin, an internationally acclaimed motivation company based in Toronto, Canada. He is also a global motivator who has spoken to over a million people in 43 countries. This is his fourteenth book.

Live Above The Line – Lipkin′s Ten Laws for Sales and Service Preeminence
In today′s brutal marketplace, sales and service excellence won′t cut it. Excellence merely give you the right to be in the game. To win the sales and service game, you have to achieve preeminence. You have to become the symbol of superior performance, the benchmark by which all others are judged.
Every year, Mike Lipkin talks to over 100 000 people in 60 companies in twelve different countries. Through his company, Environics/Lipkin, he also researches the traits, attitudes and actions of Preeminent Performers. He has discovered Ten Laws that determine Sales and Service Preeminence:
1. Focus on Success
2. Own The Business
3. Prepare To Win
4. Be Courageous
5. Care Deeply about your Customers and Clients
6. Listen Intensely
7. Communicate with Confidence
8. Be a Teamplayer
9. Be Hungry for Kaizen
10. Be Disciplined
Mike customizes this program to the profile of the audience and the nature of your audience. Through his unique instant survey facility, see The Main Thing, Mike will also help you pinpoint what your people feel about the key challenges facing them so you can take effective action.
This program can be delivered as a keynote, half-day or full day program. It comes with a workbook for each delegate where they can record their personal commitments to being extraordinary. Mike will inspire and empower your people to pursue preeminence in every aspect of their professional and personal lives.
The Ultimate Skill: How to Create Something from Nothing
In this fascinating program, Mike Lipkin will show your people how to acquire the Ultimate Skill. This is the skill that will captivate their clients, wow their customers and differentiate them from their competition.
It′s the capacity to transform their environment into opportunity through Motivation, Innovation and Execution. In today's commoditized environment, everyone is looking for the Distinctive Difference. But most of us are running so hard just to catch up that we've lost sight of being extraordinary.
Now Mike Lipkin has introduced a simple model that will help your people achieve the breakthrough with their clients and customers. Using examples from Toyota, Google, Virgin, Honda, Yahoo, IBM, IKEA, GE, Southwest Airlines, Procter & Gamble, Nike, Apple, and Starbucks, Mike demonstrates how to consistently create new possibilities from existing realities that yield extraordinary rewards.
Specifically, Mike will help your people master the six researched components of The Ultimate Skill:
A Specific Inspirational Possibility
An Inner Fire
A Conscious Game-Plan
Imaginative and Disciplined Execution
Transformation through Learning
An Environment of Workability
Mike Lipkin tailors his message directly to your people and their challenges. Delegates will leave with an immediate ability to apply The Ultimate Skill to the benefit of their clients and colleagues. They'll also be inspired to take themselves to a whole new level in both the workplace and the homespace.
Keeper of The Flame: How to Inspire Others on the Cusp of Change
I know what you want. It′s what I want. It′s what we all want. To Thrive. On The Cusp. That′s what this book is about: Thriving On The Cusp, with a passion that helps others do the same.
The New Normal is pushing me to the edge. I′m being squeezed up against my limits professionally, mentally, emotionally, financially, socially and physically.
If you′re instinctively excited about Thriving On The Cusp, you′re a natural Keeper of The Flame. This program will give you the insights and strategies to burn even brighter for the people around you. If you′re instinctively threatened by the thought of Thriving On The Cusp, you′re holding back. You′re not using all of your gifts. Too much of you is being held in reserve. Your flame is still unlit. This program will help you catch fire and ignite others as well.
In the New Normal, it′s not good enough just being excellent. Excellence merely gives you the right to play. On the Cusp of Change, you have to be Brilliant. You have to be A Keeper of The Flame: Someone who goes first; Someone with a heightened awareness of her impact on others; someone who is her own best coach; someone in total sync with her environment; Someone embedded with the authority of both competence and character; Someone who inspires others to be their Personal Best; Someone like you. Someone like the person you will become. Or Someone like the person you need to rediscover.
In this program, Mike Lipkin leverages the proprietary Environics Social Values Research, and his own personal contact with over 100 000 people a year, to deliver an imagination-stretching view of the future. Specifically, he identifies the Nine Life-Transforming Trends shaping the way you live, work and play.
Then, in his role as Motivator-in-Chief, he coaches you on how to master the Six Nuclear Dimensions to become a Keeper of The Flame. You will learn how to massively increase your personal leadership through Focus, Strategy, Learning, Emotional-Power, Action and Social Kudos. Mike Lipkin makes the complex simple. He makes understanding the future easy. And he inspires people to do what they have to do to achieve what they dream of achieving.
The Power to Persuade: How To Communicate, Collaborate and Motivate Like a Leader
The new reality is that everyone is a leader. Everyone has been charged with the responsibility of adding value, building the franchise or finding a better way. HVPs – Highly Valued Professionals – understand that the Power To Lead comes from The Power To Persuade. They communicate concisely, collaborate closely and motivate consistently. As the President of Environics/Lipkin, Mike will introduce you to The Ten Insights that will imbue you with the power to win people over by helping them win as well. This is a high-energy, highly-interactive session where you will literally get the opportunity to walk the talk while being coached by Mike.
Three learner outcomes:
Discover your Personal Sweet Spot of What, Why and How
Learn How to Understand and Connect with Others at The Deepest Level
Develop Your Personal Signature Style of Motivation and Persuasion
Speech Excerpt
Mike Lipkin breaks down the "6 Stages of New" and explains why "beginner's luck" is actually a valid concept. One of the advantages that beginners have is a lack of knowledge which often propels them to take more risks while at the same attracting sympathetic parties to their side who are willing to show them the ropes.
However after that initial period of breakthroughs, novices hit Stage 2, or what Mike refers to as "the Wall." "You haven't been through the ups and downs. You haven't been through the seasons," Mike explains. "And so what happens is you hit your limit. You become overloaded and there's a slowdown."
Keynote Speech
Mike Lipkin, Motivational Speaker: Keynote, How to Be Unstoppable