* Please note that while this speaker's specific speaking fee falls within the range posted above (for Continental U.S. based events), fees are subject to change. For current fee information or international event fees (which are generally 50-75% more than U.S based event fees), please contact us.
Top25 Speaker Voting

Mike Abrashoff needs 8 vote(s) to make it into the Top 25 speakers on Speaking.com!
Speaker Booking Tip
"Tip: ask your speaker to do a book signing or attend a VIP meal with your guests. "
For Event Planners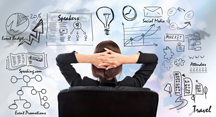 • Keynote Speaker Booking Toolkit.
• Booking a Celebrity Speaker.
• How to Find and Book the Right Speaker.
• Google+ Event Planning Forum.
• Tips for International Clients Booking U.S. Based Speakers.
Similar Speakers
Gail Blanke

A recent presidential candidate once remarked to Gail Blanke, "What a difference you made… if I'd met you 10 years earlier, I'd be President by…

Subir Chowdhury

Selected multiple times by Thinkers 50 as one of the "top 50 management thinkers in the world," Subir Chowdhury's thoughts and techniques on performance improvement…

John Rossman

An unmatched authority on disruptive innovation, John Rossman pioneered Amazon.com's third-party service business, which now accounts for more than 50% of the multi-billion dollar company's…

The retreat was extraordinary, professional, and personable. Everyone is still raving about it. They said it was the best experience of their lifetime. And, I would have to agree. I most certainly hope we have the opportunity to work together in the future.
YPO: Young Presidents' Organization
About SPEAKING.com
Established in 1994, we are exclusive agents for some of the world's leading experts, celebrities and professional speakers.
We offer event planners a fully staffed speaker logistics planning team, plus a personal SPEAKING.com Account Executive – a knowledgeable and trustworthy partner. We guarantee your satisfaction with your speaker and a smooth booking process.
Contact us today to book your favorite speaker.

"Mike Abrashoff was terrific. His message resonated with our members. He was also so easy to work with. The best way to describe his presentation is the book signing. It is the first time that we have sold out the books of the keynoter!"
Massachusetts Municipal Association
"Excellent presentation AND presenter. Captain Abrashoff was very believable...REAL! Captain Abrashoff′s ideas of leadership could be used within any organization. This was an excellent motivational talk!!"
Scott & White
"The ′day after′ is over and the impact is reverberating throughout the organization. The feedback was clear - your presentation ranked #1 for most valuable - just above our CEO! I truly appreciate the effort you obviously made to incorporate our issues and to position the call to action for them as leaders of teams."
Nokia Siemens Networks
"Mike Abrashoff was an outstanding speaker and really connected with the audience. Not only was he wonderful to listen to, but his messages resonated."
The Episcopal Church
"Mike Abrashoff′s remarkable story regarding the transformation of USS Benfold was extremely well received and appreciated by our event participants, who found great inspiration and practicality in his remarks. These are challenging times for many and his perspective on leadership and leading during difficult times is timely as well as thought provoking."
California Bankers Association
"Mike Abrashoff was terrific. His message resonated with our members. He was also so easy to work with. The best way to describe his presentation is the book signing. It is the first time that we have sold out the books of the keynoter!"
Massachusetts Municipal Association
"Excellent presentation AND presenter. Captain Abrashoff was very believable...REAL! Captain Abrashoff′s ideas of leadership could be used within any organization. This was an excellent motivational talk!!"
Scott & White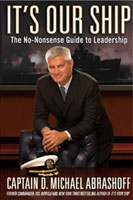 It′s Our Ship: The No-Nonsense Guide to Leadership
The story of Captain Abrashoff and his command of USS Benfold has become legendary inside and outside the Navy. By governing his ship with his unique management techniques, Abrashoff turned the Benfold into a model of naval efficiency, with amazing cost savings, the highest gunnery score in the Pacific Fleet, and a highly motivated and top performing crew.
In IT′S YOUR SHIP, he first demonstrated how to bring his successful management techniques from the ship to the boardroom. Now, in his newest book IT′S OUR SHIP, in the same rugged, can-do voice, Abrashoff will focus on the leadership, motivational, and management insights and tips that he has learned from his last six years of addressing business and corporate audiences.
Abrashoff′s timely advice will be eminently prescriptive, and will feature anecdotes and insights from leaders of businesses large and small and from public and non-profit sectors.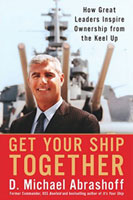 Get Your Ship Together: How Great Leaders Inspire Ownership from the Keel
Former U.S. Navy Commander Michael Abrashoff attracted worldwide media attention for his success in turning around a struggling ship, the USS Benfold—the subject of his acclaimed bestseller, It's Your Ship. Since then, he's been a fixture on the business lecture circuit, spreading an empowering message that any organization can be turned around with compassionate but firm leadership. He is now nearly as popular a speaker as Rudy Giuliani, Jack Welch, or Jim Collins.
Abrashoff never claimed to have all the answers. He also knew that there were plenty of other creative leaders in the navy, army, air force, marine corps, and even the coast guard who could teach businesspeople how to motivate, inspire, and get great results under pressure. So he asked around, found some fascinating people in every branch of the U.S. military and the business world, and interviewed them about leadership and teambuilding. The result is Get Your Ship Together—a book that will be just as valuable as It's Your Ship.
For example, Abrashoff introduces us to a working-class enlisted man who rose rapidly in the navy for his creative leadership under fire; an army platoon leader who fought in Afghanistan; the first woman to fly an Apache helicopter in combat; a former commander of the air force's elite Blue Angels; and many other unsung heroes. Abrashoff distills their stories into fresh lessons that can be applied in the business world, such as:
Make a contract with your people and honor it
Develop your subordinates better so you can buy back a little quality of life
Conduct the battle on your terms, not those of your adversary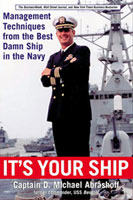 It′s Your Ship: Management Techniques from the Best Damn Ship in the Navy
The story of Captain D. Michael Abrashoff and his command of USS Benfold has become legendary inside and outside the Navy. Now Abrashoff offers this fascinating tale of top-down change for anyone trying to navigate today′s uncertain business seas.
When Captain Abrashoff took over as commander of USS Benfold, a ship armed with every cutting-edge system available, it was like a business that had all the latest technology but only some of the productivity. Knowing that responsibility for improving performance rested with him, he realized he had to improve his own leadership skills before he could improve his ship. Within months he created a crew of confident and inspired problem-solvers eager to take the initiative and take responsibility for their actions. The slogan on board became "It′s your ship," and Benfold was soon recognized far and wide as a model of naval efficiency.
How did Abrashoff do it? Against the backdrop of today′s United States Navy-Benfold was a key player in our Persian Gulf fleet-Abrashoff shares his secrets of successful management including:
See the ship through the eyes of the crew: By soliciting a sailor′s suggestions, Abrashoff drastically reduced tedious chores that provided little additional value.
Communicate, communicate, communicate: The more Abrashoff communicated the plan, the better the crew′s performance. His crew would eventually call him "Megaphone Mike," since they heard from him so often.
Create discipline by focusing on purpose: Discipline skyrocketed when Abrashoff′s crew believed that what they were doing was important.
Listen aggressively: After learning that many sailors wanted to use the GI Bill, Abrashoff brought a test official aboard the ship-and held the SATs forty miles off the Iraqi coast.
From achieving amazing cost savings to winning the highest gunnery score in the Pacific Fleet, Captain Abrashoff′s extraordinary campaign sent shock waves through the U.S. Navy. It can help you change the course of your ship, no matter where your business battles are fought.

IT'S YOUR SHIP – ACHIEVING BREAKTHROUGH PERFORMANCE
When Mike Abrashoff took command of the USS Benfold, morale was low, turnover was high and performance ranked at the bottom of the Pacific Fleet. Twelve months later the ship was the benchmark for performance – the shining star … using the very same crew. This inspiring talk is based on the vital leadership lessons Abrashoff learned as he led the remarkable turnaround of the ship.
The first lesson was Abrashoff's realization that before the ship's performance could improve, his own leadership style had to change from the traditional command and control model. When the crew would present a problem, Abrashoff became known for responding "What would YOU do? It's YOUR ship!"
His Leadership Roadmap principles created a high performance culture and empowered his crew to take charge and use ingenuity and initiative to improve every aspect of the way things were done. Abrashoff's presentation leaves audiences with the tools and inspiration to lead differently and elevate organizational performance to new levels.
IT'S OUR SHIP – PUTTING THE LEADERSHIP ROADMAP TO WORK
For organizations that want to get serious about improving performance, this presentation delivers examples of the Leadership Roadmap in action. Abrashoff brings to life stories of how the principles that led the transformation of the USS Benfold have been put into action at companies and organizations looking to harness the power of their most important asset – their people. He shows real leaders achieving dramatic results as they work to address their most pressing people challenges: collaboration, commitment, cohesion, accountability, engagement, rapid and continual innovation and diversity in the workforce.
In example after example, the lessons from the Benfold clearly translate across all kinds of organizations – corporations, small business, non-profits and government. Abrashoff shows audiences, by example, how to use their new leadership toolkit. "It's Our Ship" goes deep into the how-tos of creating a culture where everyone takes ownership and responsibility for taking performance to the next level.
TAKE ACTION BREAKOUT SESSION
Meant to deepen the learning from Mike Abrashoff's keynote talk, Take Action sessions provide attendees with additional powerful tools and strategies to apply in their work environment. Facilitated by a senior strategist from Abrashoff's firm, GLS Worldwide, and taking place immediately following the keynote, Take Action sessions create an exciting atmosphere that examines the key components of high performing leaders, teams and organizations. Participants will experience innovative, fast-paced individual and group exercises tailored to the leadership and cultural issues most relevant to the organization. They'll learn practical application of principles outlined in the keynote and build a roadmap to achieve the personal and organizational goals they've outlined. Take Action sessions are customizable to meet time and resource-sensitive needs and require a minimum of 2 hours.

Demo Video
Mike Abrashoff brings his extraordinary story of transforming the worst performing ship in the US Pacific Fleet to a civilian audience. He demonstrates that whatever is outside your control, there is always that one variable for which you as a leader must be responsible: "I don't get to pick and choose the people that are assigned to me, I have zero input into the budget we're given to accomplish our mission: my opportunity was to engage our crew and connect with them."
Abrashoff explains the philosophy that is at the heart of his leadership strategy; giving his crew the privilege of taking responsibility. As he says, "I can order my team to get a mission accomplished, but I can't order excellence; the excellence only comes about when us leaders, the captains of our own ship, lead those engaged associates and connect with them so they take just as much ownership of the business as we have."
Keynote Speech