* Please note that while this speaker's specific speaking fee falls within the range posted above (for Continental U.S. based events), fees are subject to change. For current fee information or international event fees (which are generally 50-75% more than U.S based event fees), please contact us.
Top25 Speaker Voting

Michio Kaku needs 6 vote(s) to make it into the Top 25 speakers on Speaking.com!
Speaker Booking Tip
"Tip: speakers bureaus provide added value that you cannot get by booking speakers directly. "
For Event Planners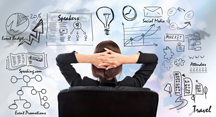 • Keynote Speaker Booking Toolkit.
• Booking a Celebrity Speaker.
• How to Find and Book the Right Speaker.
• Google+ Event Planning Forum.
• Tips for International Clients Booking U.S. Based Speakers.
Similar Speakers
Margaret Cho

Margaret Cho's comedy has been called "ahead of its time." Sixteen years ago Cho began an entertainment career with a straightforward style of stand-up that…

Michelle Rhee

As a third grade teacher in Baltimore, a member of Teach for America and the founder of StudentsFirst, Michelle Rhee has spent the last 18…

Lisa Ling

Throughout her career, Lisa Ling has reported from some of the most dangerous locations from the world in an attempt to bring attention, aid, and…

My Account Executive was able to work within my quick turn around time and price limitations to find the perfect speaker for the job. Although I thought finding and booking a speaker for our sales meeting would be the most difficult part of the planning process, your agency made it the easiest.
Ales Group USA, Inc.
About SPEAKING.com
Established in 1994, we are exclusive agents for some of the world's leading experts, celebrities and professional speakers.
We offer event planners a fully staffed speaker logistics planning team, plus a personal SPEAKING.com Account Executive – a knowledgeable and trustworthy partner. We guarantee your satisfaction with your speaker and a smooth booking process.
Contact us today to book your favorite speaker.

Select Clients Include:
Microsoft
Hewlett-Packard
HSBC Bank
NCR International
Deloitte-Touche
Deloitte Consulting
Cisco Corp.
Credit Suissse
BMC Software
State Street
Morgan Stanley
Chase Bank
Charles Schwab
SONY
Symantec
Andersen Consulting
Siemens
Les Echoes (Paris)
Business Week
Nokia
GE Smallworld
Swatch Corp.
SAP
Institutional Investors
Ericsson
European Institute
Information Week
Bindview Corp.
Bank Sarasin
Young President's Organization
Citrix Systems
RSA
Chicago Board of Trade
Institute of Chartered Accountants (Australia)
NAFSA
European Space Agency
Telindus (Belgium)
L'Oreal (Paris)
Iforce (Greece)
Futuract (Paris)
Financial Planners Assoc. (Australia)
SAPPI (South Africa)
ABA Insurance
JEC (Paris)
EVCA Venture Capitalists
CIO-Connect
JEC (Paris)
Credit Suisse
Essilor
Kingdom of Saudi Arabia
CLSA (Asia)
Alain Affelou (Paris)
Walt Disney
MedTech (Brussels)
Barclay Bank
Swiss Innovation Forum
---
Testimonials:
Comments from Dr. Kaku′s speaking engagements include:
"He's a spellbinding speaker. He had the crowd mesmerized."
"He electrified the audience with his glimpse into the next 20 years."
"His visionary look into the next 20 years was the highlight of the conference."
"People couldn't stop talking about his speech. It was truly a tour de force."
"This was the best speech at a business conference that I have ever heard."
"All our clients thoroughly enjoyed listening to this remarkable speaker."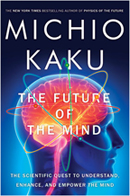 The Future of the Mind: The Scientific Quest to Understand, Enhance, and Empower the Mind
The Future of the Mind gives us an authoritative and compelling look at the astonishing research being done in top laboratories around the world—all based on the latest advancements in neuroscience and physics. One day we might have a "smart pill" that can enhance our cognition; be able to upload our brain to a computer, neuron for neuron; send thoughts and emotions around the world on a "brain-net"; control computers and robots with our mind; push the very limits of immortality; and perhaps even send our consciousness across the universe.
Dr. Kaku takes us on a grand tour of what the future might hold, giving us not only a solid sense of how the brain functions but also how these technologies will change our daily lives. He even presents a radically new way to think about "consciousness" and applies it to provide fresh insight into mental illness, artificial intelligence and alien consciousness.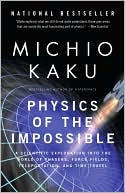 Physics of the Impossible: A Scientific Exploration into the World of Phasers, Force Fields, Teleportation, and Time Travel
A fascinating exploration of the science of the impossible—from death rays and force fields to invisibility cloaks—revealing to what extent such technologies might be achievable decades or millennia into the future.
One hundred years ago, scientists would have said that lasers, televisions, and the atomic bomb were beyond the realm of physical possibility. In PHYSICS OF THE IMPOSSIBLE, the renowned physicist Michio Kaku explores to what extent the technologies and devices of science fiction that are deemed equally impossible today might well become commonplace in the future.
From teleportation to telekinesis, Kaku uses the world of science fiction to explore the fundamentals—and the limits—of the laws of physics as we know them today. He ranks the impossible technologies by categories—Class I, II, and III, depending on when they might be achieved, within the next century, millennia, or perhaps never.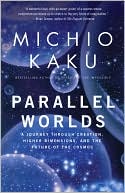 Parallel Worlds: A Journey Through Creation, Higher Dimensions, and the Future of the Cosmos
In this thrilling journey into the mysteries of our cosmos, bestselling author Michio Kaku takes us on a dizzying ride to explore black holes and time machines, multidimensional space and, most tantalizing of all, the possibility that parallel universes may lay alongside our own. Kaku skillfully guides us through the latest innovations in string theory and its latest iteration, M-theory, which posits that our universe may be just one in an endless multiverse, a singular bubble floating in a sea of infinite bubble universes. If M-theory is proven correct, we may perhaps finally find answer to the question, "What happened before the big bang?" This is an exciting and unforgettable introduction into the new cutting-edge theories of physics and cosmology from one of the pre-eminent voices in the field.
The Future of the Mind
In this talk based on his book The Future of the Mind: The Scientific Quest to Understand, Enhance, and Empower the Mind, Dr. Kaku illustrates stunning breakthroughs in neuroscience that are beginning to unravel the mysteries of the most complex object in the known universe—the human brain. Dr. Kaku takes audiences on a grand tour of what the future might hold, explaining how the brain functions and how technologies are changing our daily lives. He presents a radically new way to think about "consciousness" and provides fresh insights into mental illness, artificial intelligence and alien consciousness.
Physics of the Future
This presentation based on his book, Physics of the Future: How Science Will Shape Human Destiny and Our Daily Lives by the Year 2100, offers a stunning and provocative vision of the future. Based on interviews with more than 300 of the world's top scientists, Dr. Kaku presents revolutionary developments in medicine, computers, energy, quantum physics, and space travel that are changing our lives and altering the course of civilization.
The Physics of Extraterrestrial Civilizations
Sure, we have our technology: airplanes, the internet, satellites. But what would an advanced civilization millions of years old look like? Learn about the different types, and why our civilization ranks a measly Type-0.
The Physics of Interstellar Travel
What would it take to reach the stars? Explore the real physics behind interstellar travel.
A Trip as Far Away as Space-Time Will Allow
When you want to explore the cosmos, do it in style by folding space-time! Read about the symposium sponsored by George Washington University and the Sci-Fi Channel.
The Physics of Time Travel
It looks easy in the movies, but time travel is still theory. Learn about the physics behind navigating time travel.
So You Want to Become a Physicist?
Becoming a physicist in 3 exciting steps! What more could you want?
Hyperspace and a Theory of Everything
How would a ′carp scientist′ explain the 3rd dimension, to his 2 dimensional pond inhabitants? Learn about higher dimensions from Dr. Kaku′s well known childhood story - the Japanese Tea Garden.
Black Holes, Wormholes and the Tenth Dimension
What lies on the other side of a black hole? Discover the quest to find a ′theory of everything′, which could finally explain some of the strangest objects in the cosmos and beyond.
M-Theory: The Mother of all Superstrings
What makes M-Theory a mother of all theories, and when will scientists be able to verify it? Learn about the people and concepts behind the M-Theory.
Hyperspace: A Scientific Odyssey
A vivid and exciting look at higher dimensions and their role in a ′theory of everything′.

Dr. Michio Kaku Speech
"I want you to open your mind to the concept that one day we may make contact with a civilization from outer space which may be thousands, millions of years ahead of us in technology," asks Dr. Michio Kaku as he makes typically fascinating predictions about potential human interactions with extraterrestrials. He makes the astonishing but persuasively justified prediction that "by mid-century we might have made contact with an intelligent extraterrestrial civilization."
Dr. Michio Kaku: Lecture
THE FUTURE OF THE MIND by Michio Kaku
Dr. Michio Kaku Speech
Dr. Michio Kaku: The Universe in a Nutshell