* Please note that while this speaker's specific speaking fee falls within the range posted above (for Continental U.S. based events), fees are subject to change. For current fee information or international event fees (which are generally 50-75% more than U.S based event fees), please contact us.
Top25 Speaker Voting

Michael Soon Lee needs 7 vote(s) to make it into the Top 25 speakers on Speaking.com!
Speaker Booking Tip
"Tip: ask your speaker to do a book signing or attend a VIP meal with your guests. "
For Event Planners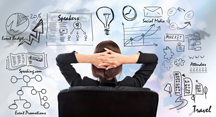 • Keynote Speaker Booking Toolkit.
• Booking a Celebrity Speaker.
• How to Find and Book the Right Speaker.
• Google+ Event Planning Forum.
• Tips for International Clients Booking U.S. Based Speakers.
Similar Speakers
Hilka Klinkenberg

Hilka Klinkenberg is the founder and managing director of Etiquette International, and author of At Ease…Professionally. She is a certified coach, Emotional Intelligence practitioner, and…

Sondra Thiederman

Sondra Thiederman, Ph.D., is President of Cross-Cultural Communications, a San Diego-based training firm. She has served as a consultant to the University of California and…

Joy Harjo

Throughout her lengthy career, legendary poet, author, and musician Joy Harjo has broken many barriers to become one of the first female indigenous voices to…

SPEAKING.com / Core Agency were very helpful in every way possible. I would recommend them to others and we will most definitely secure all our future conference speakers through them again.
Babcock & Wilcox
About SPEAKING.com
Established in 1994, we are exclusive agents for some of the world's leading experts, celebrities and professional speakers.
We offer event planners a fully staffed speaker logistics planning team, plus a personal SPEAKING.com Account Executive – a knowledgeable and trustworthy partner. We guarantee your satisfaction with your speaker and a smooth booking process.
Contact us today to book your favorite speaker.

"My team learned a great deal of very specific and useful cultural information from your presentation!"
Carol A. Long,Vice President National Sales, Subway Account Team, Coca-Cola North America

"You are an outstanding and accomplished speaker and we were privileged to have you share your experiences, viewpoints, and knowledge while delivering a motivational and strong message."
Miriam Lopez - Chevron Corporation.

"Our salesepople and managers found your information to be both unique and valuable. I think your program will really improve our relations with and increase sales to customers from other cultures."
Mike Newman - Ryland Homes

"We enjoyed the dynamic and engaging manner in which you presented the material on how the different cultures view the home buying process. I had no idea there was so much to know about people from different parts of the world!"
Joan Arazny - Home Builders Association of Mid-Florida

"A dynamic and charismatic professional speaker."
Sandi Zeitman, Owner – Speaker Services.

"The best speaker in the country on all areas of cultural diversity."
Diane B. Hardie, Chairperson – California Association of Realtors' Cultural Diversity Committee

"Michael Lee was fantastic! Not only was he a captivating and entertaining speaker but he had so much valuable information to share."
Wendy Ney Manley, Director of Sales and Marketing – Anderson Homes
Black Belt Negotiating: Become a Master Negotiator Using Powerful Lessons from the Martial Arts
The best martial artists know what they want when they enter the arena, they know how to get it, and they′re not afraid to go after it. The same could be said of great negotiators. This book uses the principles of martial arts to guide readers step-by-step, from basic techniques through advanced strategies, all the way to achieving their "black belt" in negotiating. Packed with quizzes, scripts, checklists, and even a Negotiating Rating Sheet for continual self-assessment, the book trains readers in martial arts–based negotiation fundamentals, including:

Don't Fear the Blow — Black belts aren′t afraid of being hit or they would never step onto the mat. Get over your fear of bargaining, and the fight is already won.
Identify Vital Striking Points — Weaken others′ positions by identifying what′s most important to them...and bring down even the biggest opponent.
Read Your Opponent — Counter an opponent's moves by honing in on what technique they're using — and hit them with the perfect response.

Grounded in authentic martial arts tactics, this book turns novice bargainers into black belt negotiators who can get whatever they want out of any situation.
Order Here




Cross-Cultural Selling For Dummies (Paperback)
Want to reach out to multicultural customers? Cross-Cultural Selling For Dummies is packed with everything you need to know to tap into multicultural markets, from establishing solid relationships to adapting your advertising to meeting the needs of your new clientele. You'll acquire key cross-cultural skills and build a coordinated effort that engages all aspects of your business.

This practical, easy-to-understand guide shows you how to measure the purchasing power of other cultures and change the way you market to them. You'll learn how to do multicultural research, develop a marketing campaign with wide appeal, pick the right media, tune your materials to the market, and establish a presence in the community. You'll find tips on identifying generational differences with in a culture, pronouncing names correctly, and determining customer motivation
REALIZING THE PROMISE OF DIVERSITY
Today, one-third of all workers in America are minorities and this number is growing fast. Most companies have read studies showing that having a diverse workforce can increase profitability and decrease expenses. The problem is that few companies know how to reap the benefits of diversity. In fact, without the proper training, diversity can lead to challenges with cross-cultural communications, building diverse teams and increased discrimination lawsuits. Attend this program to find out how to realize the promise of diversity in your company.

Doing Business in China
Today, China has over a billion people and a Gross Domestic Product of $1.65 trillion. This is a huge and growing market for businesses that are willing to adjust their practices and products to meet the unique needs of the Chinese people and government.

Selling to Multicultural Customers
Once you have attracted new customers to your business through a planned multicultural marketing campaign then what do you do with them? Hispanics, African Americans, Asians and Middle Easterners do not buy products and services in the same way as Caucasian customers. If you do not customize your products, services, sales presentation and more to meet the unique need of the fastest-growing consumer group in America - you are wasting your marketing dollars!

Black Belt Negotiating
We Americans tend to be rather poor negotiators compared to people in Mexico, China and the Middle East. We walk into stores and pay whatever is asked. In other countries they would never consider doing such a crazy thing! People from negotiating cultures never pay full price for anything. Learn the secrets of how to haggle efficiently and effectively to save yourself and your company tens of thousands of dollars.

Marketing to Multicultural Customers
If you want to reach the nearly $2 trillion multicultural market in the United States you must develop a culturally-sensitive marketing campaign. When minorities are exposed to ads that are not designed for them that ad is virtually invisible to them. Learn how to market to Hispanics, African Americans, Asians and Middle Easterners in the most efficient and effective media. Stop wasting your money on ads that don't work!

Multicultural Customer Service
Everyone knows that great customer service brings buyers back over and over saving the company money and time in marketing. However, the definition of what constitutes fabulous customer service is different when dealing with Hispanics, African Americans, Asians and Middle Easterners. You must customize your customer service to meet the unique need of the fastest-growing consumer group in America.

Advantages in Diversity
Forty percent of all people entering the workforce today are minorities. For companies who embrace people from diverse cultures they offer the advantage of language skills, negotiating savvy, global awareness and new processes in addition to creative solutions to difficult problems. However, to reap these benefits companies must effectively deal with the challenges that multicultural workers can pose including miscommunication, cultural conflict and other differences.
Michael Soon Lee: Speaking Clip
Michael Soon Lee recounts how he came to speak on diversity tying it to common misconceptions people had about him throughout his life due to his physical appearance. As a novice speaker, he tried to position himself as a motivator like Zig Ziglar or Tony Robbins. While no one was interested in hiring him as a motivational or inspirational speaker, organizations and meeting planners were always eager to know if he spoke on diversity.
Michael found it an odd connection since he was a fifth-generation Chinese American who spoke two languages: English and Spanish. However, after much insistence from potential clients asking him to help them understand consumers from various ethnic backgrounds, he set foot in a niche that skyrocketed his career. "What I learned from all of this is that if you listen to your customer they will tell you what they want," he reflects. "We think we know, but they know better."
Michael Soon Lee: Demo Video