Top25 Speaker Voting

Michael Rogers needs 4 vote(s) to make it into the Top 25 speakers on Speaking.com!
Speaker Booking Tip
"Tip: find a speaker in your local area to save on travel costs. Most speakers will also reduce their keynote fee for local events. "
For Event Planners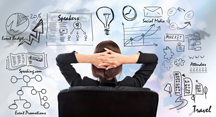 • Keynote Speaker Booking Toolkit.
• Booking a Celebrity Speaker.
• How to Find and Book the Right Speaker.
• Google+ Event Planning Forum.
• Tips for International Clients Booking U.S. Based Speakers.
Similar Speakers
Inma Martinez

Hailed as one of the world's top digital media strategists by Time, Fortune and Fast Company, experienced brand builder and serial entrepreneur, Inma Martinez delivers…

Sam Richter

Sam Richter is an internationally recognized expert in sales intelligence and online reputation management. He is the founder and CEO of the Social Selling Institute…

Mikko Hypponen

Tagged as "the Code Warrior" by Vanity Fair, Mikko Hypponen is one the world's most sought-out experts on technological security and privacy issues. The Finnish…

Working with your speakers bureau has been a pleasure. Everyone on your team was extremely responsive and informative, and really helped us to customize our event. I will be sure to reach out to your agency again in the future with any speaker needs that I may have.
The Advisory Board Company
About SPEAKING.com
Established in 1994, we are exclusive agents for some of the world's leading experts, celebrities and professional speakers.
We offer event planners a fully staffed speaker logistics planning team, plus a personal SPEAKING.com Account Executive – a knowledgeable and trustworthy partner. We guarantee your satisfaction with your speaker and a smooth booking process.
Contact us today to book your favorite speaker.

The Practical Futurist
Thank you so very much for your wonderful presentation at last weeks Electronic Services Conference. I had a great number of people come up to me and remark how thought-provoking and entertaining they found your speech. From an organization that does a good number of these types of sessions every year, the remarks were that yours was one of the best ever!
Law School Admission Council
(Event booked by Speakers Platform)

I have not seen a standing ovation come from this group in the past! There were more times when I think you actually had them spell-bound.
System One Amadeus [travel industry]

Thank you for the excellent talk you gave to our audience here at the Federal Reserve Bank of New York yesterday. The range of topics you addressed was thought-provoking and exactly on target with the theme, "Building Bridges to the Future."
Federal Reserve Bank of New York

Your talk was exactly what I had hoped for in a keynote speech and many people sought me out to personally to tell me how much they enjoyed you.
National Association of State Workforce Agencies

Thanks for such a great presentation at our conference. Your remarks fit the conference perfectly and widened out audience's understanding of technology into new areas, all with humor and insight. The evaluations and buzz were excellent.
American Society for Training & Development

Your remarks were timely, thought-provoking and to the point. A number of the attendees considered your presentation the highlight of the conference.
Mortgage Bankers Association of America

Many of the delegates mentioned that your session was the most informative of the program--many expressed that they especially appreciated your warmth and wit, and found the Newsweek Interactive demo absolutely fascinating. We were very pleased that your remarks were so carefully tailored for our audience, and that you delivered exactly the message we had planned.
National Association of Federal Credit Unions

Lucent′s Mid-Atlantic marketing team has conducted these seminars for the past 18 months with quite a few outside speakers. It is my opinion that you have done the best job of conveying our message by using specific industry examples.
Lucent Technologies

Your opening keynote address to the 80th Annual Conference of the National University Continuing Education Association at Anaheim earlier this month was the best NUCEA members have heard in many years. Thank you! I can′t tell you how many people made a point of telling me, as program co-chair, how much they appreciated your presentation.
National University Continuing Education Association

You were a great success at our annual Kentucky Bankers Associations Bank Directors Conference. We believe that a significant reason for your strong evaluation marks was your willingness to customize your presentation for our bank directors.
Kentucky Bankers Association

The evaluations were superb. In almost every case, your presentation was mentioned as the most enjoyable and useful facet of the conference.
State University of New York Health Education Conference

Thanks again for a very interesting and thought-provoking presentation at our Anheuser-Busch National Sales Convention in New Orleans. The demonstration of your interactive Newsweek magazine format was especially interesting and appropriate for our audience.
Anheuser-Busch, Inc.

You did an excellent job of clearly explaining the future of technology in terms that those with varying degrees of experience could understand.
American Association of Museums

Your speech was very well received by our audience. You certainly did an excellent job in making them think about print′s role in the future of communications.
Association for Printing and Publishing Technologies
These are suggested topics and may be combined in any fashion. In his work for
The New York Times
and his Practical Futurist consultancy Michael stays current on numerous topics ranging from technology and demographics to management and education. In each appearance he brings not only his own experience and expertise, but the journalism and research skills to customize up-to-the-minute presentations for every audience interest. Prior to booking, Michael will confer with a client about his or her needs, and offer a customized topic and approach.
Management Meets the Future
Managers are facing multiple new challenges: virtual work forces, flattened corporate structures, a new generation of ambitious and cyber-savvy workers, a heightened atmosphere of public scrutiny— not to mention the perennial pressure to do more with less. How are smart managers coping and what's next to come?
The State of Trust
In many ways, modern technology has temporarily eroded trust, as bloggers blow the whistle on corporate cover-ups or catch the big media companies in mistakes or misrepresentations. In families it has created a new tension between parents and children, as kids seek freedom in the Internet world while parents worry, quite rightly, about the dangers that lie online. But there are also some methods emerging wherein new technology can be used to increase trust among families and communities.
The Virtualization of America
Over the next decade, more and more of our work, what we care about and how we interact with others is going to move into the virtual world, mediated by computers and the Internet. In addition, we're seeing the rise of a new generation of "digital natives" who are remarkably comfortable with virtual relationships. What will this mean for how our businesses and organizations must grow and evolve in the years to come?
The Digital Lifestyle
Computers, the Internet and the digitization of all media are changing many aspects of the American lifestyle—from how we work, where we shop, how we entertain ourselves and even how we meet our mates. It is also beginning to reshape the way our homes are built, furnished and lived-in. What does the digital lifestyle mean for what companies must do to reach their customers and how products must change to meet new needs? It's necessary to tie together strands from pop culture, consumer electronics and even home décor to understand fully the scope of the transformation.
Telecommunications and Media
The rise of the Internet and the digitization of all media are having a profound effect on both the telecom and media industries. The relationship between the creators of content and the owners of "the pipes" has never been more complex or volatile. And new technologies such as wireless broadband and VOIP are only now arriving. What will the next decade see in content and services delivery, customer expectations, the protection of intellectual property, and the role of traditional media?
Globalization
We have only seen the beginning of how globalization will change our world over the next decades. The democratization of information via the Internet, the rise of middle class consumers in the developing world, the spread of outsourcing to professions like law and medicine, new competitors dislodging Fortune 500 firms in global markets, increased pressure on natural resources…the list will only grow longer as market forces and technology spread across our planet.
Health Care
Information technology and genetic science are combining to create a fundamental shift in the way we think about and treat disease. At the same time, however, prices continue to rise and there is as much pressure to use technology to cut costs as to advance health science. How do we balance the enormous potential of advancing technology with the real world questions of delivering affordable health care?
The Next Generation
The first generation never to know a world without an Internet is rapidly approaching adulthood. It is a cohort that has fundamentally different ideas and expectations about how to relate to businesses, employers, the media and each other. How do we market to this new breed? How will we manage them? What will they expect from products and services, and what new skills—or deficits—will they bring to the workplace?
Demographics
It's common knowledge that the US population is graying—but what's less noted is that the United States is also the fastest growing industrialized nation on earth. Between now and 2050, our population could increase by as much as 40%—and the drivers of that increase are already in place, ranging from the largest K - 8 population in history to longer lifespans and liberal immigration policies. Fixed resources— waterfront property, elite educations, room on our roadways, suburban open space—will be under increasing pressure. How will population shape our nation in years to come?
Education
After creating the award-winning Parents' Guide to Children's Software in 1996, Rogers has followed education and technology issues closely. He often speaks to audiences of both parents and educators about technology and learning—and specifically how the rise of computers and the Internet has actually increased the importance of the thinking skills that underlie the traditional three R's. Too much emphasis on technology, especially in early grades, may actually interfere with the lifelong learning skills that this century will demand from every worker.
Energy Futures
Rogers has followed the world energy picture since he shared the National Headliners Award for coverage of the Chernobyl disaster and its implications for nuclear energy. He has written extensively on alternative energy and recently participated in the United Nations conference Bridging the Divide on bringing new energy technology to developing countries.

Keynote Speech
In this presentation at Pressing Ahead at the Reynolds Journalism Institute, Michael opens by discussing his background in new media, beginning back when he was 10 years old. "I was a nerd," he says. "I was a complete nerd, only we weren't called nerds then. We were called 'the unpopular kids.'" He says that as a student at Stanford he spent his spare time writing science fiction stories.
Eventually, he says, he turned down an internship at Intel to write for Rolling Stone. "My two sides of the brain came together again when I started the technology column for Newsweek, and realized right away, in the 80s, that digital was going to change everything about media," he says.
He goes on to discuss his experience working on a project with Apple in 1989. "When I think back to that time in 1989, I knew that we were in for a long ride when it came to figuring out how we were going to make this into the next wave of journalism," he says, "but if you had told me then that almost 25 years later we would still be struggling to figure it out, I would not have believed you." He adds that nothing prepared him for what happened over the last 20 years. "What all of this has made me realize is that what has happened is an enormous sea change."
Interview
Speech Excerpt
Media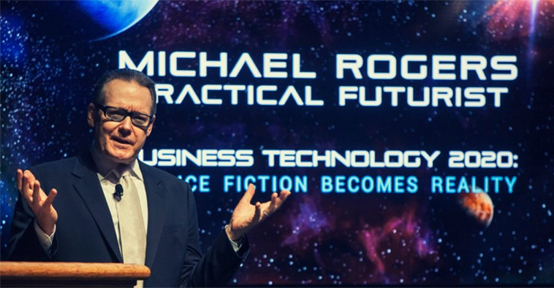 Michael Rogers helps people think about the future, with clients ranging from startups to Fortune 500 companies, from universities and government agencies to the general public. He has worked with companies ranging from FedEx, Boeing and GE to Microsoft, Pfizer and American Express, as well as both NASA and the Department of Defense. Recently, he ... more