Top25 Speaker Voting

Michael Perman needs 5 vote(s) to make it into the Top 25 speakers on Speaking.com!
Speaker Booking Tip
"Tip: some speakers might provide one of their popular book titles as a free gift to your audience. "
For Event Planners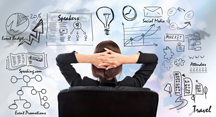 • Keynote Speaker Booking Toolkit.
• Booking a Celebrity Speaker.
• How to Find and Book the Right Speaker.
• Google+ Event Planning Forum.
• Tips for International Clients Booking U.S. Based Speakers.
Similar Speakers
Andy Stefanovich

Andy has earned a reputation as one of the most disruptive and effective advisors in business. He is a thought leader and thinking partner to…

Sam Parker

Leadership authority, Sam Parker is the co-founder of InspireYourPeople.com and the author of 212° the extra degree, the groundbreaking book that has sold over 1…

Aaron Beam

Since 2009, Aaron Beam has impacted the lives of thousands of students and business people with his personal story of how a few poor seemingly…

My Account Executive was able to work within my quick turn around time and price limitations to find the perfect speaker for the job. Although I thought finding and booking a speaker for our sales meeting would be the most difficult part of the planning process, your agency made it the easiest.
Ales Group USA, Inc.
About SPEAKING.com
Established in 1994, we are exclusive agents for some of the world's leading experts, celebrities and professional speakers.
We offer event planners a fully staffed speaker logistics planning team, plus a personal SPEAKING.com Account Executive – a knowledgeable and trustworthy partner. We guarantee your satisfaction with your speaker and a smooth booking process.
Contact us today to book your favorite speaker.

"Michael has a rare combination of analytical skills and creative intuition that combine to create compelling results and collaborate with teams to achieve their highest potential."
- Mary Alderete, CMO at Modcloth
"Michael was definitely our most innovative Master of Ceremony. He turned our Design Thinking Forum into a masterpiece. Michael won't just speak on your program—he will transform it!"
- Heather McKenzie, Senior Producer, Marcus Evans
"Michael was amazing at delivering the humor and insight our audience loves and other people gravitate to. He's an incredible speaker and has great presence with the audience."
- Jeffrey Friedman, Head of Production, Brain Exchange
"Michael connects with an audience, opening up their minds by opening up his heart. We crave innovation, we fear complexity, but we find comfort in connection; and Michael helps us with all three."
- John Harris, President and CEO, Worldwide Partners, Inc.
Building Creative Cultures
For organizations that want to drive more creativity and innovation in their culture, leading to growth and employee satisfaction. Michael will reveal the right behaviors, tools, insights and ways of working that lead to more innovative, growth-oriented cultures. The presentation, accompanied by music, film, interesting graphics and stories will inform and entertain your audience. This presentation is for organizations who want to see creativity flourish and people motivated.
Mindful Innovation
"Mindful Innovation" is an advanced level of Design Thinking that accesses deeper levels of empathy and collective consciousness - liberating more holistic ideation. The technique also leverages meditation and social consciousness as contemporary tools that enable organizations to develop more purpose-driven cultures where employees thrive in greater harmony. In this presentation, Michael Perman shares ideas from years of experience implementing Design Thinking. You'll learn how your organization can evolve and thrive amidst a higher level of consciousness. You'll also feel really peaceful, relaxed and inspired to create what's next.
Juicing the Middle Brain
Innovation emerges from deep insights about WHAT PEOPLE CRAVE. These sensations are triggered by hormones such as dopamine, cortisol and oxytocin. In this presentation, Michael Perman shares his experience, wisdom and advice from conducting hundreds of insights sessions and dozens of innovation workshops that drive creativity and innovative thinking with teams. You'll hear curious stories about seeing alternative possibilities and heart-warming stories about courage. This presentation is great for organizations trying to transform, grow and innovate.
When we Create:
In this experience, Michael combines live music and imaginative graphics to share moments of creation that helped organizations to thrive. He'll provide stories about creativity and innovation that helped Levi's business transformation after almost going bankrupt in the 2000's. You'll also here about the creative transformation at Gap Inc - what worked and where they struggled. For years, Michael has studied the art and science of creative cultures and will also share the wisdom he's derived from dozens of interviews with innovation luminaries. Plus, you'll enjoy the surprising intersection between sensory experiences and creativity - likely with interesting live music on stage. It's a memorable experience where you're audience will learn tools and techniques they can use in their own business.
Curious Clues: About What's Next
William Gibson once said, "The future is already here, it's just not evenly distributed." In this presentation, Michael Perman shares emerging trends through his careful analysis and pattern recognition of "CURIOUS CLUES." Michael can customize his presentation for your industry, and share concepts about what's emerging. Michael is an experienced futurist and will share exciting possibilities about what's coming next in your industry.
BIG MUSE + C'EST WHAT? Live Music Experience
Music and song are vital to the creative process. They humanize our intellect and give voice to our emotions. Lyrics and stories connect us to something greater, opening up a world of possibilities. In this experience your people will learn to create songs and have a full rock band play their stories live and improvisational. Creativity is what happens when we are deeply engaged in the things we believe in - and they will be engaged!
In this magical event, Michael collaborates with GRAMMY and EMMY nominated musician, author, and Kellogg School of Management alumnus, Peter Himmelman and his BIG MUSE team to create a quick, fun, and effective way to unleash creativity in your team. This is a game-changing set of experiences and tools to drive creativity and innovation for your event, conference and your organization.
This powerful duo will craft a memorable experience that ignites energy among thousands of people. And, then take that energy to enable a very focused and strategic perspective for a core team of leaders. People who attend your event will record this as one of the most memorable and powerful experiences of their career. Your team will depart inspired to create what's next!

Michael Perman, Innovation Speaker: Sizzle Reel
Innovation keynote speaker, Michael Perman reveals the source code of revolutionary innovation and how you can cultivate a state of mind conducive to creativity. In order to envision and create a successful service or product that doesn't yet exist, he suggests we need to deeply understand three vital factors: what do people crave, what are they concerned about, and what brings them comfort.
In addition to being able to imagine an "alternative reality," Perman notes that we need to have the courage to test that idea and see it through the development process. Fostering a culture of empathy, he claims, is instrumental to removing fears that block that process. "Once you start to care for each other and understand that you are cared for as well, you end up in a safe place," Perman explains. "So that spike in the heart, that fear is gone, and now you're in the place of being able to create and create without judgement."
Michael Perman, Innovation Speaker: Highlight Reel
Michael Perman, Innovation Speaker: Panel
Michael Perman, Innovation Speaker, and Peter Himmelman, Musician: Intro to Big Muse Collaboration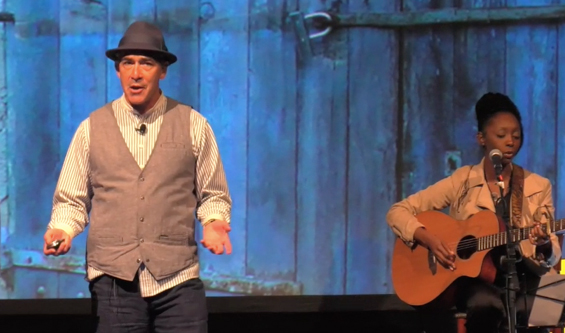 Innovation keynote speaker, Michael Perman helps teams crack the innovation paradox to generate actionable ideas, breakthrough products, and revolutionary customer experiences. The founder of C'EST WHAT?, a firm dedicated to cultivating "mindful innovation," Perman has a proven track record of leading senior executives and inspiring thousands of employees to capitalize on their collective creativity. He ... more