* Please note that while this speaker's specific speaking fee falls within the range posted above (for Continental U.S. based events), fees are subject to change. For current fee information or international event fees (which are generally 50-75% more than U.S based event fees), please contact us.
Top25 Speaker Voting

Michael Heppell needs 5 vote(s) to make it into the Top 25 speakers on Speaking.com!
Speaker Booking Tip
"Tip: some speakers might provide one of their popular book titles as a free gift to your audience. "
For Event Planners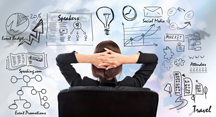 • Keynote Speaker Booking Toolkit.
• Booking a Celebrity Speaker.
• How to Find and Book the Right Speaker.
• Google+ Event Planning Forum.
• Tips for International Clients Booking U.S. Based Speakers.
Similar Speakers
Costas Markides

Repeatedly ranked among the globe's top business thinkers by the Thinkers50, Professor Costas Markides is recognized as one of the world's foremost experts on strategy…

Inder Sidhu

Inder Sidhu is senior vice president of Strategy and Planning for Worldwide Operations at Cisco, the $40 billion worldwide leader in networking for the Internet.…

Martha Rogers

Martha Rogers, Ph.D. is one of the leading authorities on customer-focused relationship management strategies, an acclaimed author, business strategist and a founding partner of Peppers…

Our account rep was great to work with. He helped facilitate some specific requests on our part, kept us in the loop of any issues, and promptly replied to all communications. Thanks for making this a great event!
Foundation for Economic Education
About SPEAKING.com
Established in 1994, we are exclusive agents for some of the world's leading experts, celebrities and professional speakers.
We offer event planners a fully staffed speaker logistics planning team, plus a personal SPEAKING.com Account Executive – a knowledgeable and trustworthy partner. We guarantee your satisfaction with your speaker and a smooth booking process.
Contact us today to book your favorite speaker.

"What can I say, except Wednesday was BRILLIANT! The feedback I have received from the 120 Managers, who were privileged enough to be present on Wednesday, has been outstanding. From my perspective you comprehensively met my expectations and objectives, as well as delivering hundreds of great messages in a fun, interactive and entirely memorable way. I defy anyone not to be positively influenced. Once again many thanks for your contribution to a great day at HSBC, North West London Area. You have certainly helped me break mindsets, change behaviours and in time further improve performance."
Mark McEvitt,
Area Director,
North West London Area

"I would like to take this opportunity to thank you for your valued participation and effort at the Personal Finance Society′s Annual Conference last week. This was once again an overwhelming success and we couldn′t have done it without you."
Tim Eadon,
Chief Executive

"Michael′s communication and preparation leading up to the event was very impressive, the 90-minute keynote was absolutely brilliant and left the whole team buzzing with excitement and energy. In my opinion there is no better motivational speaker."
Jonathan Raggett,
Managing Director

"From beginning to end, the team at Michael Heppell LTD have been an absolute pleasure to work with. The energy that Michael and Christine brought to the event, still has people being positive 5 months later. The feedback that I received from the multi-cultural team was that the content was easy to consume, yet powerful enough to motivate for change. It was an absolute pleasure having Michael and Christine be part of the annual kick-off."
Mohammed Seedat Business Manager, MVP Award Programme. Microsoft

"With a conference themed around 'Being Brilliant' we couldn't invite anyone else but Michael and he more than lived up to his billing. Fun, insightful, memorable and totally relevant to the challenge facing the business, Michael ticked every box. We will definitely be inviting him back for the next installment when even being brilliant ceases to be good enough!"
Mark Fox MD UK Delivery, Pizza Hut

"The approach of a high energy presentation that mixes humor and audience participation resulted in a brilliant response from the team on the day but has continued to do in the weeks that have followed. This event has made a positive difference to my business."
Charles Courquin Business Partner North-East Europe. IBM
Five Star Service: How to Deliver Exceptional Customer Service
Create magic moments that get you noticed, remembered and referred

Providing excellent customer service is the surest way to greater success for your organisation and a more successful career for you. And it′s not half as difficult or time consuming to achieve as you might think!

Neither does it have to cost a fortune. There′s a common misconception that five star customer service carries a hefty price tag - this is simply not true! Many of the essential components of Five Star Service cost little or nothing to achieve.

Five Star Service, 2nd edition, by bestselling author Michael Heppell, shows you exactly how to deliver amazing service, as an individual and as an organisation, and at very low cost. With over 100 instant tips, 50 examples of best practice and over a dozen brand new strategies you'll be equipped to wow your customers every time.

This book is perfect if you′d like to:

Deliver remarkable results that will keep clients coming back for more
Win the hearts and minds of new customers without spending a fortune
Receive repeat orders and positive referrals from your customers


Order Here




Five Star Service, One Star Budget: How to Create Magic Moments for Your Customers that get You Noticed, Remembered & Referred
Everybody loves Five Star Service. It′s the surest way to a more successful career for you and greater success for your organization. What′s more, it′s not half as difficult or time consuming to achieve as you might think!

Neither does it have to cost a fortune. There′s a common misconception that Five Star Service carries a hefty price tag - this is simply not true! Many of the essential components of Five Star Service cost little or nothing to achieve.

In this simple but hugely powerful little book, bestselling author Michael Heppell shows you exactly how to deliver Five Star Service, as an individual and as an organization, and at very low cost.

This book is for if you′d like to:

make your customers (and your colleagues) happier, more often
deliver remarkable results that will fast track your career
win more customers without spending a fortune
get repeat orders and referrals from everyone you encounter

Are you ready to shine?
Order Here




How to Be Brilliant: Change Your Ways in 90 Days
For many of us, being 'good' isn't really good enough. We want to make the very best we can out of our lives – to achieve all we can achieve and be the best we can be. We want to be Brilliant. This book will give you tools to find out what point you are at now, understand where it is you want to get and develop strategies and powerful methods to get you there. As quickly as possible and as economically as possible with as much fun as possible. The book uses many clear examples and stories to show you how to overcome barriers that hold you back. You'll learn how to develop a clear vision for a brilliant future and communicate with your friends, family and colleagues at a higher level.
Order Here





How to Be Brilliant!
How to have the ultimate personal development experience
Take positive action to achieve your goals
Go from good to brilliant
Grasp every opportunity with enthusiasm
For many of us, good isn't really enough. We want to be the best we can be and seize every opportunity with energy and enthusiasm. After all, why be good when you can be brilliant?
Michael Heppell has equipped people and organisations with his tools to be brilliant for over ten years. At this inspirational event, discover how you too can achieve your goals and leave with that all important spring in your step.
Michael will offer practical, simple steps to help you and your team embrace every day and every opportunity with positivity, energy, enthusiasm and inspiration. Find out where you are now, where you want to be, and how to get there as quickly and economically as possible (while having fun!).
5 Star Service – 1 Star Budget
The very best customer service costs nothing financially but you have to know exactly what to do to create the incredible interactions that lead to loyal customers.
Michael has spent 20 years studying the very best customer service organisations and has distilled what thy do that others don't.
Flip It – how to get the best out of everything
The perfect feel good keynote. Based on the Sunday Times No. 1 best selling book.
After learning the tools and techniques from Flip It Michael guarantees you'll never have a bad day ever again. Flip It is excellent for organisations going through change and who need a different way of thinking, acting and doing.

Speech
Integrating supportive visual images and a very special bacon sandwich into his presentation, Michael Heppell hits home that we don't have to be Steve Jobs or J.K. Rowling to up our game and leave a lasting impact on the world. He shares the story of Jenny, who lured her company's sales staff a half hour early to work with free bacon sandwiches so that she could teach them how to properly fill out sales forms that were often erroneously completed resulting in losses for the company and the sales people themselves.
One meeting turned out not to be enough; in fact, she had to treat the crew to bacon sandwiches a few times, but eventually her guiding efforts did yield long-term results. "I think so often we talk about these grand schemes and these grand people who do amazing things," Michael points out. "But actually sometimes it's the simplest things that make a difference."