Top25 Speaker Voting

Michael Gelb needs 8 vote(s) to make it into the Top 25 speakers on Speaking.com!
Speaker Booking Tip
"Tip: some speakers might provide one of their popular book titles as a free gift to your audience. "
For Event Planners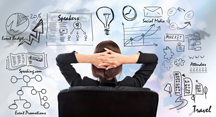 • Keynote Speaker Booking Toolkit.
• Booking a Celebrity Speaker.
• How to Find and Book the Right Speaker.
• Google+ Event Planning Forum.
• Tips for International Clients Booking U.S. Based Speakers.
Similar Speakers
Ann Bancroft

An inspiration to women, girls and aspiring explorers across the world, Ann Bancroft shares her stories of travel and adventure in her motivational speeches in…

Braden Kelley

Braden Kelley is the author of two best-selling books, Charting Change and Stoking Your Innovation Bonfire and has been advising companies on how to increase…

Doug Shulman

Doug Shulman was Commissioner of the Internal Revenue Service from 2008 until his term expired in 2012. He is currently a Senior Fellow at Harvard…

Working with your speakers bureau has been a pleasure. Everyone on your team was extremely responsive and informative, and really helped us to customize our event. I will be sure to reach out to your agency again in the future with any speaker needs that I may have.
The Advisory Board Company
About SPEAKING.com
Established in 1994, we are exclusive agents for some of the world's leading experts, celebrities and professional speakers.
We offer event planners a fully staffed speaker logistics planning team, plus a personal SPEAKING.com Account Executive – a knowledgeable and trustworthy partner. We guarantee your satisfaction with your speaker and a smooth booking process.
Contact us today to book your favorite speaker.

What Clients Say About Michael...
"We use Michael Gelb′s mind mapping for all our strategic planning... it works!"
Mary Damsma, Director Pension Fund Administration, Amoco Corporation
"For me personally, Michael Gelb′s approach to mind mapping is more powerful than the computer. It gives me a way to intermix creativity, logic and planning to make better use of what the computer can do."
Linda Schultz, Precess Re Engineering Expert, Hercules Corporation
"Inspiring and educational... Michael Gelb brings out the best in people. I recommend his program wholeheartedly."
Delano E. Lewis, President of National Public Radio
"It′s never been so easy for me to come up with incredible solutions and ideas. My entire family including my children now use Michael′s techniques."
Anne Callahan, Senior Product Manager, Nightngale-Conant-Corporation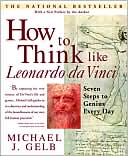 How to Think like Leonardo Da Vinci: Seven Steps to Genius Every Day
Michael Gelb′s
How to Think Like Leonardo Da Vinci
is an inspiring and inventive guide that teaches readers how to develop their full potential, using the principles of Da Vincian thought identified by the author.
Beginning with a brief historical biography of Da Vinci and an overview of the astounding advances made in the arts and sciences during the Renaissance, Gelb illustrates the seven fundamental elements of Da Vinci′s thought process:
Questionare: A questing, insatiably curious approach to life
Dimostrazione: A commitment to test knowledge through experience
Sensazione: The continual refinement of the senses, especially sight, as the means to clarify experience
Sfumato: A willingness to embrace ambiguity, paradox and uncertainty
Arte/Scienza: The development of the balance between science and art, logic and imagination. "Whole-brain" thinking
Corporalita: The cultivation of ambidexterity, fitness and poise
Connessione: A recognition and appreciation for the interconnectedness of all things and phenomena. "Systems" thinking.
Loaded with practical exercises, quotes, sidebars, illustrations and material drawn directly from Da Vinci′s personal notebooks, How to Think Like Leonardo Da Vinci is both a tribute to his great achievements and a call to carry on his legacy in our everyday lives by utilizing our potential to the best of our ability.
Order Here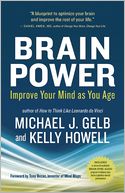 Brain Power: Improve Your Mind as You Age
Brain Power presents practical, evidence-based information on improving your mind throughout life. Michael J. Gelb and Kelly Howell present an accessible and fun-to-read survey of the leading experts in the field of healthy aging, including physicians, gerontologists and neuroscientists. They′ve also studied the habits and practices of men and women who are paragons of healthy aging. Their approach isn't just based on scientific theory and academic research. They actually apply everything they recommend in these pages and will guide you to apply these methods so that you will improve your mind every year of your life.
Order Here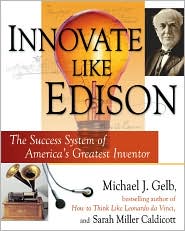 Innovate Like Edison
Innovate Like Edison presents Edison′s world-changing innovation methods as a cohesive, practical, and immediately applicable system. Based on three years of research, Innovate Like Edison offers readers an in-depth view of Edison′s comprehensive innovation approach - an analysis which has never previously been documented. Readers will learn to apply Edison′s Five Competencies of Innovation™ either to their work lives or their personal lives, following the timeless principles Edison used to generate his record-breaking 1,093 U.S. patents.
How to Think Like Leonardo da Vinci
Audience: Leaders, managers, professionals, people working in teams (special adaptations for trainers, engineers, financial services, marketers and salespeople)
Competencies: Creativity, accelerated-learning, leadership
Program formats: Keynote speech, half-day to two-day workshop
Based on the book How to Think Like Leonard da VinciThinking creatively, learning faster and leading change, these abilities are at a premium in a highly competitive global business environment. What if you could call on history's greatest genius, Leonardo da Vinci, to be your personal mentor in cultivating these highly prized elements of human capital? Anatomist, architect, botanist, city planner, chef, humorist, engineer, equestrian, inventor, geographer, geologist, military scientist, musician, painter, philosopher and raconteur, Leonardo da Vinci (1452 – 1519) helped bring the Western world out of the Middle Ages and into the Renaissance. Now, as we move from the Bureaucratic/Industrial Age into the Information/Imagination Age, his approach to optimizing human potential is more relevant than ever.
This dynamic, highly-interactive program brings da Vinci's genius to life through fascinating biographical and historical information, setting the stage for an introduction to seven principles for thinking "a la Leonardo."
Participants are then guided to apply the principles, through a proven series of practical exercises, to your organization's greatest challenges. Participants will learn how to:
Think creatively.
Cultivate independent thinking.
Improve learning ability with age.
Find opportunity in uncertainty.
Improve memory and problem solving.
Balance mind and body to reduce stress.
Nurture creativity and innovation in the workplace.
Leonardo invented the parachute before anyone could fly! Imagine what your organization could accomplish with that kind of innovative thinking.
Innovate Like Edison
The 5-Step System for Breakthrough Business Success
Audience: Leaders, managers, professionals, people working on innovation teams
Competencies: Individual innovation literacy, cultivating an organizational culture that supports innovation
Program formats: keynote to three-day workshop
Leonardo was probably the most creative person who ever lived but Thomas Edison is history's greatest practical innovator. Beyond his invention of the phonograph, motion pictures and a system to light the world, Thomas Edison invented the rigorous, disciplined process of innovation.
In addition to creating the world's first Industrial Research and Development laboratory, Edison was also a master at promoting a culture of innovation. Moreover, he understood that the principles of personal success and organizational innovation go hand-in-hand. Personal success and fulfillment requires you to learn how to think like an innovator; and, for your organization to be successful, innovation is now more important than ever.
This program introduces Edison's Five Competencies of Innovation™. They are:
Solution-Centered Mindset
Kaleidoscopic Thinking
Full-Spectrum Engagement
Master Mind Collaboration
Super-Value Creation
Each competency will be brought to life with specific, practical "take-home" applications. This program is readily adaptable to specific organizational challenges. It can also be combined with "How to Think Like Leonardo Da Vinci" to focus on optimizing creativity AND innovation.
BRAIN POWER: Improve Your Mind as You Age
Audience: Anyone with a brain who is aging
Competencies: Creative longevity, memory improvement, wellness
Program formats: Keynote speech, half-day to three-day workshop
In the last 30 years the scientific evidence supporting the notion that your mind can improve through the years has become overwhelming. Clearly, the question is no longer whether your mind can improve with age, but rather how you can optimize your mental powers as you get older.
This program presents practical, evidence-based information on improving your mind throughout life. Most of us were raised with faulty ideas about our mental capacity – such as the notion that IQ is fixed at age 5, that brain cells degrade yearly after age 30, and that memory and learning ability inevitably decline with age.
These notions, based on the scientific understanding that was prevalent in the 1950s, are myths – dangerous myths that can stifle our ability to flourish in the second half of life.
Just as Copernicus overturned the myth that the earth was at the center of the universe, so contemporary neuroscience has revolutionized our understanding of the potential to improve mental functioning as we age.
In this compelling, inspirational and supremely practical program you'll be presented with the evidence for this new paradigm and, most importantly, you will learn to incorporate this new way of understanding aging so you can improve your mind every year of your life.
Topics include:
The New Paradigm: A Whole New Brain
Think Counterclockwise: Adopting the Most Adaptive Attitudes
Be a Life-Long Learner: How to Improve Your Memory and Learning Ability
Exercise for More Brain Power: The Most Beneficial Activities
Mind Your Diet to Nourish Your Mind: 7 Simple Elements of a Brain-Friendly Diet
How to Create a Brain-Enhancing Environment
Investing in Your Social Wealth: Cultivate Healthy Relationships (and Stay Sexy!)
Sleep, Naps and Meditation: Rest Peacefully to Delay Resting in Peace
Applied Neuroplasticity: The Brain That Changes Itself
Conscious Capitalism: The 8 Characteristics of Transformational Leaders
Audience: Leaders interested in Conscious Capitalism
Competencies: Transformational leadership
Program formats: Keynote speech, half-day to two-day workshop
The 8 Characteristics of Transformational Leaders are:
Authenticity
Passion
Creativity
Self Knowledge/Awareness
Interpersonal Intelligence/Sensitivity
Integrity
Clarity of Purpose
Global Awareness
Michael J. Gelb provides inspiring examples and practical guidance on how to cultivate these traits individually and organizationally.
Juggling in Business and Life: Five Keys to High Performance
Audience: Managers, professionals, people working in teams
Competencies: Accelerated learning, teamwork
Program formats: Keynote speech or half-day workshop
This program creates a fun, cooperative learning environment. Participants coach one another in the art of juggling, and pick up the balls for each other as they drop! In the process, everyone learns the core principles of accelerated learning and organizational high performance.
The ability to learn is life's most important skill. This delightful program uses juggling as a metaphor for learning how to learn.
Participants will learn how to:
Manage complexity and thrive on chaos by gracefully keeping a number of things "up in the air" at the same time.
Approach mistakes creatively as you learn to "let the balls drop."
Use teamwork to create a cooperative learning environment.
Learn anything you want to as well and as fast as you can.
Apply the principles of accelerated learning to become a more effective coach for your colleagues, subordinates, family, and friends.
Juggle!
Discover Your Genius
How to Think Like History's Ten Most Revolutionary Minds
Audience: Leaders, managers, professionals, and employees working in teams
Competencies: Manage change, develop creative thinking skills, cultivate emotional intelligence, promote "learning organization"
Program formats: Keynote speech, half-day to two-day workshop
In this compelling, multi-media presentation you will have the opportunity to get to know ten of the most amazing people who have ever lived. Each of these extraordinary individuals embodies a special "Genius" characteristic that you will be invited to integrate into your daily life and apply to your most important organizational challenges. Each genius will be introduced through specially commissioned original watercolor portraits and a brief biography illustrating the role of the key principle in his or her life and work. You will then explore how that principle can and does relate to you and your organization.
The full Genius "Dream Team" includes:
Plato (circa 428 – 348 BC): "Deepening your love of wisdom"
Filippo Brunelleschi (1377 – 1446): "Expanding your perspective"
Christopher Columbus (1451 – 1506): "Going perpendicular: Strengthening your optimism, vision and courage"
Nicholas Copernicus (1473 – 1543): "Re-organizing your vision of the world"
Queen Elizabeth I (1533 – 1603): "Wielding your power with balance and effectiveness"
William Shakespeare (1564 – 1616): "Cultivating your emotional intelligence
Thomas Jefferson (1743 – 1826): "Celebrating your freedom in the pursuit of happiness"
Charles Darwin (1809 – 1882): "Developing your power of observation and cultivating an open mind"
Mahatma Gandhi (1869 – 1948): "Applying the principles of spiritual genius to harmonize spirit, mind and body"
Albert Einstein (1875 – 1955): "Unleashing your imagination and 'combinatory play"
The "Genius Modules" are easily customized to focus on your most important concerns. A recent program for a global construction management group, for example, emphasized the life of Filippo Brunelleschi, the world's first design-builder; while a program for a computer sales force emphasized Columbus' optimism and Shakespeare's "Emotional Intelligence."

Demo Video
This is what we call the chutzpah principle of intelligence–I had six months to make it up!" says Michael Gelb, explaining the genus of his "How to Think Like Leonardo da Vinci" program. Speaking of his childhood hero, da Vinci, he explains, "I went to where he was born, I went to where he died. I literally walked in his footsteps." Gelb details how a total immersion in the life of Leonardo led him to develop an awareness of how genius thinking can be applied to everyday life.
Speech Excerpt
Keynote Speech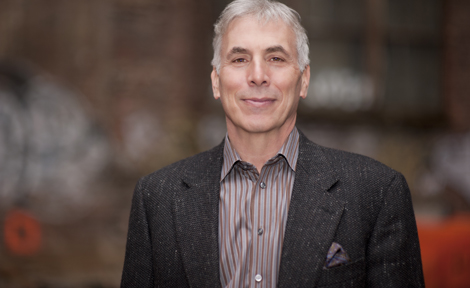 Leading authority on the practical application of genius thinking, Michael Gelb is a pioneer in the fields of creative thinking, change management, accelerated learning and innovative leadership. Gelb has authored a dozen books relating to the application of genius to everyday creativity and innovation. His international bestseller How to Think Like Leonardo Da Vinci: Seven ... more