* Please note that while this speaker's specific speaking fee falls within the range posted above (for Continental U.S. based events), fees are subject to change. For current fee information or international event fees (which are generally 50-75% more than U.S based event fees), please contact us.
Top25 Speaker Voting

Matthias Gelber needs 6 vote(s) to make it into the Top 25 speakers on Speaking.com!
Speaker Booking Tip
"Tip: speakers bureaus can provide: speaker fee negotiation, insurance, smooth logistics and value add-ons such as extra sessions. "
For Event Planners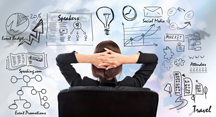 • Keynote Speaker Booking Toolkit.
• Booking a Celebrity Speaker.
• How to Find and Book the Right Speaker.
• Google+ Event Planning Forum.
• Tips for International Clients Booking U.S. Based Speakers.
Similar Speakers
David Wann

David Wann specializes in the topic of sustainable lifestyles and designs. His bestselling book, Affluenza, is now available in nine languages. It is part of…

David Wann

David Wann specializes in the topic of sustainable lifestyles and designs. His bestselling book, Affluenza, is now available in nine languages. It is part of…

SPEAKING.com does a wonderful job! Our AE always responds promptly and is very professional, thank you!
AlphaNet
About SPEAKING.com
Established in 1994, we are exclusive agents for some of the world's leading experts, celebrities and professional speakers.
We offer event planners a fully staffed speaker logistics planning team, plus a personal SPEAKING.com Account Executive – a knowledgeable and trustworthy partner. We guarantee your satisfaction with your speaker and a smooth booking process.
Contact us today to book your favorite speaker.

"Matthias is one of the most powerful, compelling and inspiring speaker that I have ever met! When he talks, you can sense his energy and his stories make his message relevant and credible. For most of the students in my college this was the first time that they heard an interesting and relevant talk about environmental issues – this has made a huge long term impact."
Chong Beng,
English Lecturer,
Hanxing Academy of Journalism,
Competent Toastmaster

"Matthias is one of the best speakers I′ve seen for a long time. His mix of information, entertainment, visual imagery and delivery style provides a powerful, entertaining and memorable message."
Frank Furness,
Former President of the European Professional Speakers Association
Greening your Business
Matthias will give examples of what are the fastest and most cost effective steps to turn your business, your products or services green. The audience will learn how to save money, how to deliver green innovation that makes them more competitive.
Due to his comprehensive past experience with many organizations and from industrial-based knowledge within private, public or governmental sectors, Matthias is able to provide authoritative examples that your employees from all walks of life will be able to relate to at this session.
How to succeed with a Green Business!
Matthias has successfully started a small environmental business in 1999 selling it to a listed engineering company in 2001. Again in 2007 he was involved in a new green start up Maleki GmbH. He gives deep insight with his talks into the challenges facing green business and green technology. He outlines some key points how you can make your green business a success.
The Day after Today
The talk starts off with Matthias showing images of his youth as a little village boy. The pictures focus initially on the pleasure he has with continuous snow during the winter months.
Then the focus shifts over to the current generation of boys in the same little village, in the form of the son of the brother of Matthias. He is a young boy and a keen skier; however he is facing the problem that nowadays during the winter there is a continuous change between rain and snow. This prevents him from being able to enjoy the same winter sports as Matthias did during his days as a young little village boy. Matthias draws the audience to consider why this is the case. Subsequently, more global problems related to climate change are addressed by further pictures. Matthias then addresses the audience directly on what they can do to contribute with their own daily decisions to improve the environment. The focus on future generations with regards to environmental conditions is the center piece of the personal challenge presented to the listeners.
This presentation has been delivered to environmental professionals, business people, students and professional speakers. All audiences have been consistent in affirming that the talk has the power to impact people and change their thinking. At a quality conference in Mexico, the talk was the only one out of more than 100 that received a spontaneous second round of applause after delivery in the plenary session to nearly 1000 attendees.
Living to the Greenest with the Green Man
This motivational, talks focus on what we can do in our lives to go green. How can you live without public transport and a small electricity bill? What about recycling and other green day-to-day action? Matthias gives an insight into his low carbon footprint live style and reveals his "biggest environmental sin". This is all about giving the audience practical examples that they can implement in their lives.

OPPORTUNITIES for you in Green Technology
Offering key tips on launching eco-friendly products and businesses, Matthias Gelber warns that the label "green" by itself doesn't sell. In fact, entrepreneurs delving into green technology need to be masters at creating and executing business plans that will test their product on a small scale before it can truly take off on a larger scale – similar to any other business venture.
Not only does your product need to show results, ideally it needs to work better than a conventional product that serves the same function. "If you have green technology that saves people money and has superior performance and actually solves people's problems, then you're in business," Matthias shares.
5th Green Technology Asia seminar
Speech to Youth