* Please note that while this speaker's specific speaking fee falls within the range posted above (for Continental U.S. based events), fees are subject to change. For current fee information or international event fees (which are generally 50-75% more than U.S based event fees), please contact us.
Top25 Speaker Voting

Matt McFadyen needs 6 vote(s) to make it into the Top 25 speakers on Speaking.com!
Speaker Booking Tip
"Tip: speakers bureaus provide added value that you cannot get by booking speakers directly. "
For Event Planners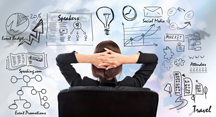 • Keynote Speaker Booking Toolkit.
• Booking a Celebrity Speaker.
• How to Find and Book the Right Speaker.
• Google+ Event Planning Forum.
• Tips for International Clients Booking U.S. Based Speakers.
Similar Speakers
Dr. Jeff Salz

A recognized expert in the field of Cultural Anthropology, Dr. Jeff Salz has traveled to the furthest corners of the globe - from Patagonia to…

Murray Banks

Murray Banks combines his natural flair as a speaker with the skills of an experienced educator who has taught at every level from grade school…

James Mapes

Author of the acclaimed book Quantum Leap Thinking, James Mapes is the authority on the psychology of applied imagination. Drawing from his unique background in…

Our speakers were absolutely outstanding and top class. Once again, thank you for making this happen for us. You have been outstanding and the best speakers bureau we have ever worked with!
Volkswagen
About SPEAKING.com
Established in 1994, we are exclusive agents for some of the world's leading experts, celebrities and professional speakers.
We offer event planners a fully staffed speaker logistics planning team, plus a personal SPEAKING.com Account Executive – a knowledgeable and trustworthy partner. We guarantee your satisfaction with your speaker and a smooth booking process.
Contact us today to book your favorite speaker.

"I recently had the opportunity to hear Matt McFadyen deliver his presentation on his personal Antarctic journey. I was thoroughly memorized by Matt's subject matter, style, and engagement with the audience. He is able to bring every one of the participants along with him as he experienced the triumphs and epic challenges of his journey. Adding interactive "what would you do" moments into the presentation adds to the immersiveness of the experience and mandates full attention. Matt was able to skillfully leverage his story of leadership, courage, and perseverance to underscore our core meeting objectives through an entertaining and gripping presentation. The collaborative nature of Matt makes him a pleasure to work with, and provides an unparalleled audience experience—seamlessly marrying our core content and goals with his high-energy, creative, and engaging style.
Marty Boyzuck , HEWLETT PACKARD

"Recently we updated our Stage & Gate process and provided a cross-functional training to approx. 350 employees across several workshops. The focus was on changing behaviour and mindset to move us from process to performance. Matt fitted right into our Explorer's theme and was invited to present as the inspirational ending to two packed training days. Matt exceeded our expectations by engaging extremely well with the audience and integrating our key messaging into his delivery. Each session was delivered with the same enthusiasm and energy that earned him excellent ratings from all participants. The ability to interact and become an integral part of the journey or presentation was well liked by the audience and differentiates Matt from many other more lecturing speakers I have encountered. The result? Energized and inspired teams taking the right messages from the workshop back into the office."
Kristina Czepl, NESTLE

"Our brief was to inspire. Our challenge was to be more courageous. Matt was the embodiment of both those things. Grounded, accessible, honest and real…..and yet overwhelmingly impressive and charismatic. He left his mark on our team and will continue to do so for a very long time. When we extend our comfort zone, it will be in large part to him!"
Nicole Sparohott , UNILEVER

"Matt's presentation was terrific. He cleverly articulated to our executive team the mission, challenges and ups and downs of a polar expedition. He did this in a manner which grabbed the attention of everyone in the room, through his confidence and ability to get everyone emotionally involved with the enormity of his task to get to the North Pole. Importantly also, the learning's coming out of Matt's presentation were applicable at both a personal and business level; which meant that Matt's presentation was not only engaging, but also generated real value."
Simon Brookes , TELSTRA

"Matt's presentation was engaging and relevant. Not easy to capture and hold the attention of an audience of 300 plus senior executives, but Matt did just that. Many people have since commented to me about the personal and business learning's they took away from the session. Matt was professional, easy to do business with and responsive to our specific needs."
Peter Jamieson , TELSTRA

"Thank you for your presentation to the Visa staff in Singapore, you totally encapsulated the room, inviting the audience to share in your journey, moving from highs to lows and giving the audience an insight into both the physical and mental strength that it takes to turn a dream into reality. Challenging the audience to accomplish their own goals whilst underpinning the importance of teamwork, the presentation was extremely well received, relevant both in the work place and at home and thought provoking. Your life experiences are testament to your determination in your life journey and we wish you all the best with your future endeavours."
Bruce Mansfield , VISA INTERNATIONAL

"Matt had our entire DDB/Continental team enraptured as he gave a very personal account of how his idea was born, the meticulous planning that went into getting it to the 'start line', and the amazing highs and lows he experienced during the actual voyage. He answered tough questions from the group and always tried to draw relevance back to why he was presenting to us in the first place. Matt is a truly inspiring and engaging speaker – we're still talking about him several days later!"
Kate O'Brien , DDB INTERNATIONAL
Antarctica - Ignite the Fight
Deep in the Great Southern Ocean, the crew on board Solo Globe Challenger is locked in a battle for survival, 1000 miles from land. The storm is intensifying. It is 2 AM. Matt McFadyen is alone at the helm when the wave hits. A fifty-foot wall of water explodes in the darkness and throws the tiny yacht upside down. Matt is tossed overboard. He is pinned underneath the boat and unable to surface. So begins an epic fight that would change the lives of all onboard.

Adventurer and master storyteller Matt McFadyen will take you on this amazing journey. From the dizzying heights of success to the deep troughs of despair Matt will lead you through the full spectrum of raw human emotions.

Along the way you will learn what is required to ′Ignite the Fight′, both personally and as a team. What is required to overcome adversity. And above all what it feels like to be truly inspired, motivated and moved to act.

Themes include:

Building a team on strengths
Leading through a time of crises
Communication
Team Values
Taking action through ambiguity

The North Pole - Win every day!
Imagine waking up at 5am. You are lying on the frozen Arctic Ocean. It's minus 45 degrees...inside your tent.

You have come to one of the most remote and inhospitable places on the planet with one goal, to ski to the North Pole. But overnight whilst you slept, the ice underneath you has drifted over 4 miles, backwards! It will take you all day, dragging a 200lb sled, to simply get back to where you went to sleep last night.

Adventurer Matt McFadyen knows this feeling all to well, having been part of 3 successful expeditions to the North Pole. Matt also knows what it takes to get out there and win, to win each and every day.

Join him as he leads your team on their own unique North Pole adventure and revels the secrets to winning each day. Through powerful stories and real life footage Matt will guide the audience through this landscape of constant change.

Themes include:

Building and maintaining a high performance team
Leading through change
Proper planning for success
Execution
Critical communication

The Power of Partnership

In 2007, looking to drive their leading reputation in the environmental industry PricewaterhouseCoopers (PwC) Australia partnered with adventurer & leadership consultant Matt McFadyen. The partnership, an 18 month long, firm wide engagement program. Testing the true meaning of the word partnership, the program would climax with Matt teaming with a PwC senior partner to reach the end of the earth, the North Pole.

Initially engaged by PwC to deliver a national roadshow of keynote presentations, Matt soon found the partnership expanding in scope and scale. The results of the program have been called" The most successful staff engagement event to date".

Why would a firm like PwC partner with an adventurer? The Power of Partnership explores this question. Matt will lead you through the risks and rewards to partnering in business and in life.
Demo Video
Antarctic explorer Matt McFadyen details how a 50-foot-tall wave knocked over his ship and led to his crew's 72-hour fight for survival – one of the many experiences he shares to help teams reach a higher level of performance. Matt connects his stories to interactive exercises that place groups in some of the same situations he and his team were in, giving them the opportunity to make decisions and then compare those choices with what really happened.
Before embarking on an adventure together, Matt and his audiences reflect on the qualities they need to exhibit in order to achieve the optimum outcome. Referring to a list of six different traits, he ranks "open and honest communication" as the most important, pointing out that "without that guiding principle the rest wouldn't work."