* Please note that while this speaker's specific speaking fee falls within the range posted above (for Continental U.S. based events), fees are subject to change. For current fee information or international event fees (which are generally 50-75% more than U.S based event fees), please contact us.
Top25 Speaker Voting

Matt Marcy needs 8 vote(s) to make it into the Top 25 speakers on Speaking.com!
Speaker Booking Tip
"Tip: speakers bureaus provide added value that you cannot get by booking speakers directly. "
For Event Planners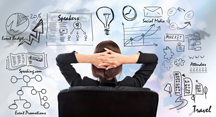 • Keynote Speaker Booking Toolkit.
• Booking a Celebrity Speaker.
• How to Find and Book the Right Speaker.
• Google+ Event Planning Forum.
• Tips for International Clients Booking U.S. Based Speakers.
Similar Speakers
Dave Caperton

Selecting an uplifting, informative and motivational speaker is critical to the success of any conference or meeting because that decision will determine the emotional impact…

Our account rep was fantastic; he is very responsive, handled registration for our speaker, submitted the contract and invoice quickly - so easy to work with. Thank you!
Deloitte
About SPEAKING.com
Established in 1994, we are exclusive agents for some of the world's leading experts, celebrities and professional speakers.
We offer event planners a fully staffed speaker logistics planning team, plus a personal SPEAKING.com Account Executive – a knowledgeable and trustworthy partner. We guarantee your satisfaction with your speaker and a smooth booking process.
Contact us today to book your favorite speaker.

"Thanks again for a great show, Matt. Your memorable presentations were not only baffling, but they kept the audience howling with laughter and made the entire event a smashing success. Best of all, you made me look good."
Ronald Sugar, CEO
Northrop Grumman

"It was truly great having you Matt. You clearly were the best entertainment we have ever had."
Ron Scott, Dir. of Human Resources
Chicago Title Insurance

"One of the most original comedy magicians I have ever seen. His performance is nuanced, goofy, broad, full of humor on multiple levels, and his magic is baffling to the point of swearing off drink forever."
Jacques Lord
Brown Club of San Diego Newsletter

"You could tell Matt is a seasoned pro.... This young man can work anywhere. Matt′s got talent, he′s just that good!"
Article for Linking Ring Magazine

"Matt, [you have] that rare ability to combine the art of illusion and the art of storytelling; [you made us] laugh, then [took our] breath away with [your] bag of tricks."
John Solomon, Vice-President
Walt Disney Imagineerin

"We′ve hired Matt for the last 3 years for our organization and he′s bar none the best entertainer we′ve ever had. He′s personable, hilarious, everyone loved his show, and we′d love to have him back year after year."
Josh Parker, President
Parker-Anderson
Matt′s shows have been seen in all types of venues: From hotel ballrooms to trade show floors to casino showrooms; from restaurants to country clubs to private residences; from the smallest of club stages to the largest theater stages (and even to Hollywood soundstages), Matt′s show is flexible enough to fit into nearly any environment. Or, if you′ve already scheduled your event and you′re just looking for a host to add that extra special touch, Matt displays the same quick wit and easy going style — with or without magic — in his copious emcee work as he does in his regular shows.

Corporate Magic
Have you ever wanted to hire an entertainer who would have your guests or clients thanking YOU for providing an unforgettable experience?

Join Sony, Toshiba, Northrop Grumman, PDNB, Bank of America, Oracle, Kaiser Permanente, Mercury Insurance, Ernst & Young, Comcast, and hundreds of other companies, groups,and organizations who have been amazed and enthralled by one of the country′s leading corporate entertainers!

Your corporate event entertainment decision is very important. The performer you choose will be remembered long after the event is over, so what better than a show that inspires gasps of astonishment and sidesplitting laughter? With nearly two decades and over 2,000 shows worth of performing experience, Matt can provide the unforgettable entertainment that will have your guests or clients thanking YOU the next day.

High-Energy, Clean, Hilarious Magical Entertainment for your Next Corporate Event...Guaranteed!

Hosting and Emcee Work
There are few things that can help make an event more successful than a good host...and you′ve finally found one! To learn more about hiring Matt as a host or emcee for your next event, contact him here. References are available. If you′re looking for a host or emcee for your next event, Matt is the performer for you. Having hosted nearly 1,000 shows in both the theatrical and corporate worlds, Matt has the experience to guarantee that everything will run smoothly. In fact, Matt′s success as an emcee has recently taken him from Los Angeles to Minneapolis to Atlanta (and everywhere in between) as he′s hosted shows and events around the country.

An expert at introductions, act coordination, interviews, and audience interaction, Matt will keep things entertaining while ensuring that all the necessary parts of your program come off as planned. What′s more, he can work with event coordinators to help with staging, can advise on technical matters, and can even mix in some of his original, award-winning comedy-magic, if appropriate. (And he can even custom-tailor it to your event!)

There are few things that can help make an event more successful than a good host...and you′ve finally found one!

Close-up and Strolling Magic So you really want to add a magical touch to an upcoming event, but a full stage show just doesn′t seem appropriate? Fear not, dear friend. That′s why, in addition to his regular stage material, Matt also performs close-up and strolling magic to complement whatever function you can imagine. Combining world-class sleight-of-hand with the same comedy and personality that has made him so popular onstage, Matt has performed his close-up and strolling magic at corporate events, private celebrations, fundraisers, and other functions for groups ranging in size from 10 people to 10,000 people.

For the uninitiated, the term "close-up magic" refers to magic performed for small groups using everyday objects such as cards, coins, money, silks, and balls. Entirely reliant on sleight-of-hand, close-up magic happens just inches away from the audience. Additionally, Matt always uses audience participants while performing his close-up, thereby giving spectators a very special "hands on" magical experience.

What is "strolling" magic? Well, if your event will have a small number of people in attendance, a single close-up show is fine. However, many events have dozens or hundreds or even thousands of people. Under these circumstances, Matt will perform "strolling" magic in which he will move between tables or small groups of people and perform a few minutes of close-up magic for each group. Strolling magic is appropriate for nearly any event, including corporate or office parties, birthday parties, cocktail parties, anniversaries, fundraisers, restaurant shows, and receptions.
Matt Marcy, Comic-Magician: Demo Video
Matt Marcy's self-awareness of the common stereotypes surrounding magicians is highly evident from the hilarious way his own routine plays off those images. From moving the card you picked into a balloon, and then getting it out again, to calling a magician hotline in which an automated message states, "If you have actually sawed a person in half, hang up and dial 9-11," Matt consistently takes his magic to unexpected and ironic places, while at the same time demonstrating his sharp ability to read his audience.
For example, during his original "Matt Libs" act, derived from the popular rainy day word game "Mad Libs," he asks the audience for an adjective. After one member confidently yells out "run," Matt adds, "Adjectives are descriptive words…like 'confused.'"
Matt Marcy, Comic-Magician: Live Performance, LA