* Please note that while this speaker's specific speaking fee falls within the range posted above (for Continental U.S. based events), fees are subject to change. For current fee information or international event fees (which are generally 50-75% more than U.S based event fees), please contact us.
Top25 Speaker Voting

Marti Barletta needs 6 vote(s) to make it into the Top 25 speakers on Speaking.com!
Speaker Booking Tip
"Tip: speakers bureaus provide added value that you cannot get by booking speakers directly. "
For Event Planners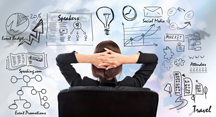 • Keynote Speaker Booking Toolkit.
• Booking a Celebrity Speaker.
• How to Find and Book the Right Speaker.
• Google+ Event Planning Forum.
• Tips for International Clients Booking U.S. Based Speakers.
Similar Speakers
Moran Cerf

Hacker turned neuroscientist, Moran Cerf is conducting some of the world's most cutting edge research on what happens inside our brains. He's set up the…

My account executive was very professional as well as patient with us. The entire experience of working with your agency was cordial and professional, with attention to all the, sometimes complicated, important details.
U.S. Department of Agriculture
About SPEAKING.com
Established in 1994, we are exclusive agents for some of the world's leading experts, celebrities and professional speakers.
We offer event planners a fully staffed speaker logistics planning team, plus a personal SPEAKING.com Account Executive – a knowledgeable and trustworthy partner. We guarantee your satisfaction with your speaker and a smooth booking process.
Contact us today to book your favorite speaker.

"Your session really wowed our delegates and is one of the strongest we have had at an ESTO conference. Our delegates found your session "Thought provoking," "A real home run!," and "Great and illuminating." You ranked very highly in relevance of content and presentation style. Thanks for making us look so good and for contributing to the success of ESTO 2007!"
Patty Hubbard. Vice President National Councils, Travel Industry Association

"Congratulations on being voted the Best Speaker of M2W ′07. The audience said you were compelling, dynamic, relevant and factual. We will see you in ′08!"
Nan McCann, President, PME Enterprises LLC and Producer, M2W®, M2Moms® and Good And Green

"Thank you for your powerful presentation at our 10th anniversary seminar. The assesment by the audience was excellent and your presentation topics are still hot topics of conversation."
Sachiko Fujii, Head of Diversity, Novartis

"The 2008 RECON was one of the most exceptional conventions we have had..and that was due solely to speakers like you! It was great having you speak at another ICSC event."
Lorraine Mazza, Staff Vice President, International Council of Shopping Centers

"Marti Barletta′s presentation on PrimeTime Women was fascinating and entertaining. It was a coup for us to have Marti speak at our Understanding Women conference and she didn′t let us down, the feedback has been incredible. What a high note to end the conference on!"
Meredith Jordan, Conference Producer, Strategy Magazine

"My first exposure to Marti was a defining one. That is why I invited her to speak to the WNBA league staff and team management. Her insights, wit and delivery of the important messages are unique. She has an amazing ability to deliver business information that people can not only hear but take away and apply to their business plans. She is talented, approachable and fun. That′s why I sought her out. I am glad I did!"
Donna Orender, President, WNBA

"Inviting Marti to speak in front of 400 service contractors at our annual meeting was a huge success. In the home services industry, we know that 80% of the purchase decisions are made by, or strongly influenced by, women while 80% of the businesses are owned by men. Marti opened our eyes and minds and showed us how to better target and improve our marketing messages. Our members are still talking about Marti′s presentation 30 days after our event. Thank you Marti."
Greg A. Niemi President / CEO Nexstar, Inc.

I′d never seen Barletta before but I came away impressed. Her style -- down-to-earth, engaging and wickedly funny -- didn′t obscure her important point: if PMPs fail to understand how to communicate with women, they will lose business."
Frank Adorka – Editorial Director, Questex Media

"Your presentations were a huge hit at our top producer conferences. They were everything I anticipated and more. I'm glad I paid close attention to Tom Peters when he spoke [at an earlier conference]…He gave a glowing endorsement of your book."
Keith Hartstein, Executive VP, Sales & Marketing, John Hancock Funds, LLC
Marti′s presentations are tailored to meet your specific needs. Current industry trends, statistics and examples are incorporated to reflect the needs of your audience and to bring GenderSavvyTM principles to life for your company.
GenderTrendsTM: How Men and Women Think, Feel, Buy and Communicate Differently
Learn why these differences matter to you and your brand and how to adapt your products and services to meet, and exceed, her expectations. Marti demonstrates how to win women's business without ever alienating men and reveals why Marketing to Women is the ticket to increased sales and share.
PrimeTime WomenTM : How to Win the Hearts, Minds, and Business of Boomer Big Spenders
Baby Boomers who said, "Never trust anyone over 30," are turning 60. Research shows they are eager to embrace new experiences and just as willing as younger consumers to try new brands and products. Is your brand evolving to appeal to the women who live in households with per capita spending 2.5 times the national average? If not, Marti will show you how and why you must.
Selling to Women -- Face-to Face With Your Female Customer
Are you doing everything right in the field when you selling to your most important customers -- women? Does your sales force understand how to communicate with them? Getting your brand nominated is only half of the story. Closing the sale, building loyalty and retention and gaining referrals are pivotal. Marti uses the GenderTrends Spiral PathTM to demonstrate how.
Getting Your Marketing to Women Initiative Approved and Launched
You understand the opportunity but does your boss? Marti demonstrates how to build the business case, identify a champion (and the ideal gender for your champion!) and what types of programs lead to measurable success. She′ll explain how to build buzz and how a successful internal communications program works. Whether you are trying to gain buy-in for your first Marketing to Women initiative or getting ready to expand your current efforts this session will provide you with a set of action steps.
Women in the Workplace
It is no secret that men and women have different management styles. Marti reveals how you can effectively leverage both for maximum success. Recruiting, Retention and Internal Communications are hot topics as Boomers are looking for flexibility and women are exiting large corporations to become entrepreneurs. Marti applies TrendSight′s proprietary GenderTrendsTM Communication Strategies to your business delivering insights that will lead your team to success.

Speech
Marti Barletta brings her expertise in marketing and deep knowledge of and research into women's issues to a speech that demonstrates to her audience just why hiring women makes sense for companies. She says, "Women bring in more than their husbands in their working lives in about 30% of US households, and about the same in about 20%."
She points out that if you ignore US women in your marketing plans, you are ignoring a demographic that has control of consumer spending which is larger than the entire economy of Japan. Asking whether you can afford to do this, she remarks, "Women spend way more than any other sector. There are entire subsections of the advertising industry, for example, focused on how you focus marketing to certain niche populations…I'm sorry, it [women] is not a nice little niche."
Remarking on the enormous efforts made to market to teens, she shows that marketers are missing what is right in front of them: "People talk about the billions spent by teens, I say billions, shmillions, I'm talking [in the women's markets] trillions here."