Martha Stewart has always drawn inspiration from her surroundings. Raised in Nutley, New Jersey, in a family with six children, she developed a passion for cooking, gardening, and homekeeping in her childhood home on Elm Place. Her mother, a schoolteacher and homemaker, taught her the basics of cooking, baking, canning, and sewing; her father, a pharmaceutical salesman and avid gardener, introduced her to gardening in the family′s small but orderly backyard garden when she was 3.

While earning a bachelor′s degree in history and architectural history at Barnard College, Martha worked as a model to pay tuition. She married in her sophomore year, and upon graduating, she became a stockbroker on Wall Street, where she gained business training. After moving to Westport, Connecticut, in 1972 with her husband and daughter, Alexis, she developed a catering business that was unlike any other. The business′s unique visual presentation of food and the elegant recipes created for various catered events were the basis for her first book, Entertaining, published in 1982.

Martha′s creative vision is the blueprint for Martha Stewart Living Omnimedia and the expansive multimedia and merchandising portfolio that includes award-winning magazines such as Martha Stewart Living and Martha Stewart Weddings; the nationally syndicated, Emmy Award-winning television series The Martha Stewart Show; Martha Stewart Living Radio on Sirius XM; the marthastewart.com website; best-selling books like Martha Stewart′s Cooking School and Martha Stewart′s Homekeeping Handbook; the Martha Stewart Collection of products for the home at Macy′s; Martha Stewart Everyday mass-market merchandise at Kmart; Martha Stewart Crafts with EK Success; Martha Stewart Furniture with Bernhardt; Martha Stewart-designed homes and communities with KB Home; Martha Stewart Rugs with Safavieh; and more.
Martha Stewart Speaker Videos
Martha Stewart Acceptance Speech
Google Talks
Keynote Speech
Commencement Address
Speeches / Speaking Engagements
Suggested Programs:
An Evening With Martha Stewart.
Martha Stewart′s Guide to Stylish Living.
Branding and Social Media.
* Please note that while this speaker's specific speaking fee falls within the range posted above (for Continental U.S. based events), fees are subject to change. For current fee information or international event fees (which are generally 50-75% more than U.S based event fees), please contact us.
Top25 Speaker Voting

Martha Stewart needs 6 vote(s) to make it into the Top 25 speakers on Speaking.com!
Speaker Booking Tip
"Tip: speakers bureaus can provide: speaker fee negotiation, insurance, smooth logistics and value add-ons such as extra sessions. "
For Event Planners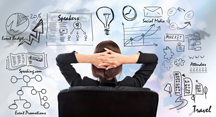 • Keynote Speaker Booking Toolkit.
• Booking a Celebrity Speaker.
• How to Find and Book the Right Speaker.
• Google+ Event Planning Forum.
• Tips for International Clients Booking U.S. Based Speakers.
Similar Speakers
Joe Gebbia

Chief Product Officer & Co-Founder at Airbnb, Joe Gebbia reinvented the hospitality industry, breaking down biases against strangers and skyrocketing the growth of the Shared…

Magic Johnson Jr.

Earvin "Magic" Johnson went from being one of the most powerful players on the NBA court to one of the most influential business figures in…

Marcus Lemonis

CNBC business superstar, Marcus Lemonis is America's doctor for small businesses. The charismatic serial entrepreneur and owner of the multi-billion dollar company, Camping World, shot…

THANK YOU for your consistent communication, organization, and hard work. It truly has been a pleasure partnering with you too, we would love to stay connected with you for future events.
National Human Resources Association
About SPEAKING.com
Established in 1994, we are exclusive agents for some of the world's leading experts, celebrities and professional speakers.
We offer event planners a fully staffed speaker logistics planning team, plus a personal SPEAKING.com Account Executive – a knowledgeable and trustworthy partner. We guarantee your satisfaction with your speaker and a smooth booking process.
Contact us today to book your favorite speaker.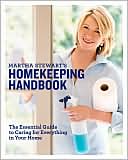 Martha Stewart′s Homekeeping Handbook: The Essential Guide for Caring for Everything in Your Home
Whether your home is small or large, an apartment in the city or a country cottage, it is a space that should be at once beautiful and livable. The key to that is managing the upkeep without feeling flustered. Until now, there has never been a comprehensive resource that not only tells how to care for your home and everything in it, but that also simplifies the process by explaining just when. With secrets from Martha Stewart for accomplishing the most challenging homekeeping tasks with ease, this detailed and comprehensive book is the only one you will need to help you keep your home looking its best, floor to ceiling, room by room.
In Martha Stewart's Homekeeping Handbook, Martha shares her unparalleled expertise in home maintenance and care. Readable and practical–and graced with charts, sidebars, illustrated techniques, and personal anecdotes from Martha's decades of experience caring for her homes–this is far more than just a compendium of ways to keep your house clean. It covers everything from properly executing a living room floor plan to setting a formal table; from choosing HEPA filters to sealing soapstone countertops; from organizing your home office to polishing your silver and caring for family heirlooms.
Martha Stewart's Homekeeping Handbook is organized for clarity and maximum practicality:
Room by Room covers the upkeep of the appliances, tools, furnishings, and surfaces found in each room, from the entryway to the kitchen, from the attic to the laundry room.
Throughout the House instructs the reader on the proper ways to routinely clean and periodically maintain everything in the home, including dusting, sweeping, vacuuming, polishing, scrubbing, waxing and much more.
Comfort and Safety focuses on techniques to ensure your home is running properly and safely, such as recognizing when to clean vents, fixing a leaky faucet, and eradicating pests.
A-to-Z Materials Guide provides an invaluable resource that explains the unusual materials that many favorite objects are made of–from abalone to zinc– and how to care for them so they last.
Encyclopedic yet friendly, Martha Stewart's Homekeeping Handbook is a seminal work–a must-have for everyone who wants a well-cared-for home that will endure for generations.
Order Here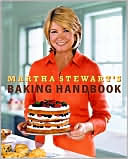 Martha Stewart′s Baking Handbook
For the hundreds of thousands of readers who′ve always turned to Martha for the most authoritative, beautiful books, she′s back with her first book in 6 years!
Nobody does the domestic arts better than Martha Stewart and her unparalleled team at Martha Stewart Living, and the subject for which they′re best-known and most-respected is this book′s: baking.
Taking the same comprehensive approach as her bestselling Hors d′Oeuvres, The Baking Handbook provides over 250 time-tested, foolproof recipes for the best -- and most beautiful -- baked goods. Each chapter begins with the basics, detailing the batterie de cuisine (the tools, gadgets, and ingredients) and general troubleshooting for the chapter. Then the recipes progress from the simplest to the most ambitious, satisfying every level of home cook. And since Martha is known for nothing if not thoroughness, the Baking Handbook also offers:
Icons that signal whether the recipe is best for beginners, intermediate cooks, or more advanced bakers.
Step-by-step photographs of techniques.
Tips specially designed to help readers make the best-looking desserts possible.
Make-ahead information, storage techniques, freezing instructions, and troubleshooting tips.
The recipes themselves are for not only the favorite time-honored classics, but also the creative twists and interpretations for which Martha is known, covering the full breadth of categories that any home-baker could want.
Order Here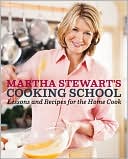 Martha Stewart′s Cooking School: Lessons for the Home Cook
Imagine having Martha Stewart at your side in the kitchen, teaching you how to hold a chef's knife, select the very best ingredients, truss a chicken, make a perfect pot roast, prepare every vegetable, bake a flawless pie crust, and much more.
In Martha Stewart's Cooking School, you get just that: a culinary master class from Martha herself, with lessons for home cooks of all levels.
Never before has Martha written a book quite like this one. Arranged by cooking technique, it's aimed at teaching you how to cook, not simply what to cook. Delve in and soon you'll be roasting, broiling, braising, stewing, sautéing, steaming, and poaching with confidence and competence. In addition to the techniques, you'll find more than 200 sumptuous, all-new recipes that put the lessons to work, along with invaluable step-by-step photographs to take the guesswork out of cooking. You'll also gain valuable insight into equipment, ingredients, and every other aspect of the kitchen to round out your culinary education.
Featuring more than 500 gorgeous color photographs, Martha Stewart's Cooking School is the new gold standard for everyone who truly wants to know his or her way around the kitchen.
Order Here
Suggested Programs:
An Evening With Martha Stewart.
Martha Stewart′s Guide to Stylish Living.
Branding and Social Media.

Martha Stewart Acceptance Speech
Google Talks
Keynote Speech
Commencement Address