* Please note that while this speaker's specific speaking fee falls within the range posted above (for Continental U.S. based events), fees are subject to change. For current fee information or international event fees (which are generally 50-75% more than U.S based event fees), please contact us.
Top25 Speaker Voting

Mark Victor Hansen needs 6 vote(s) to make it into the Top 25 speakers on Speaking.com!
Speaker Booking Tip
"Tip: speakers bureaus provide added value that you cannot get by booking speakers directly. "
For Event Planners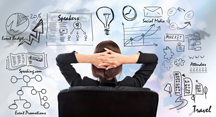 • Keynote Speaker Booking Toolkit.
• Booking a Celebrity Speaker.
• How to Find and Book the Right Speaker.
• Google+ Event Planning Forum.
• Tips for International Clients Booking U.S. Based Speakers.
Similar Speakers
Joseph Jaffe

Author of best selling book Flip the Funnel Joseph Jaffe has a new way of looking at things. He is an outspoken leader on innovation…

Kevin Harrington

Known as the original Shark on ABC's hit show Shark Tank Kevin Harrington is an internationally acclaimed speaker, coach, celebrity entrepreneur and one of the…

Sally Hogshead

Sally Hogshead is an expert in achievement of peak performance, marketing and most notably is the world's leading expert on fascination. A Hall of Fame…

Our agent was great to work with. Very easy to reach when needed and promptly returned messages. Thank you for making our event such a big success, we are looking forward to working with you again soon!
American Lung Association
About SPEAKING.com
Established in 1994, we are exclusive agents for some of the world's leading experts, celebrities and professional speakers.
We offer event planners a fully staffed speaker logistics planning team, plus a personal SPEAKING.com Account Executive – a knowledgeable and trustworthy partner. We guarantee your satisfaction with your speaker and a smooth booking process.
Contact us today to book your favorite speaker.

"Your presentation was a valued segment of our meeting and was instrumental in helping us achieve our objectives. Your lively presentation provided a REFRESHING CHANGE OF PACE with emphasis on balancing business priorities and the individual′s important personal life and well being."
DAVID KNIBBE, HERMAN MILLER, INC.

"THANK YOU FOR TAKING THE TIME TO CUSTOM TAILOR your presentation to our Product and Strategy Meeting. Your continuous questions about our company, concerns and issues really showed us you are a speaker who was actually interested in doing more that collecting your fee. Thank you for making sure you delivered a speech for us and not just to us."
BEVERLY TILDEN, AMFM, INC.

"AWESOME, INSPIRING, DYNAMIC, MOTIVATIONAL!" Our Managers and Consultants came away from your session with a renewed sense of drive and determination...I especially want to thank you for taking the extra time to learn more about our organization to customize a program to fit our very specific needs."
RITA DAVENPORT, ARBONNE INTERNATIONAL, INC.

"IT WAS THE PERFECT SEND-OFF!" Your presentation included all the necessary ingredients, including enthusiasm and caring that made for a great closing session. We were extremely pleased with the preparation you exhibited through incorporating as much about our organization as you did."
CAROL PERLSTEIN, ASSOCIATION FOR QUALITY AND PARTICIPATION

"I knew you would be the perfect speaker for our group, but I was surprised by the incredible interaction you had with the audience. I was amazed at how you kept them INVOLVED, RESPONSIVE and LAUGHING for the entire 90 minutes! The left our 20th Anniversary Convention truly energized!"
LAURIE VAN HORN, DISCOVERY TOYS

"WOW! You did such an amazing job. The Turner employees felt especially honored to have met you. YOU MADE US ALL FEEL LIKE WE COULD MORE FORWARD IN SUCH A POSITIVE WAY IN LIFE with your creative exercises for personal and professional focus. You were a major hit!"
ROBYN SPIZMAN TURNER BROADCASTING
Motivation:

How to Outperform Yourself Totally
or Dare to Win

In this popular program, Mark will inspire you to believe that life has much more to offer... if you only dare to reach for it. Mark offers a plan for doing just that - by helping you developing the confidence and self-esteem that allows you to think like a winner. These are winning life strategies Mark′s personally learned from some of the world′s greatest success stories-athletes, business greats, civic leaders and others. You′ll learn to conquer your fears, accept life′s challenges and achieve the happiness and success you deserve.

The Aladdin Factor...
How to Ask for
and Get Everything You Want

Now bestselling motivational author Mark Victor Hansen introduces us to The Aladdin Factor - and help us put it into effect in our own lives for untold enrichment and success. You′ll learn not only how to ask for what you want, but how to ask and what to ask for. You′ll discover the five barriers we all face in asking for what we want and how to overcome them, and you′ll read about the seven characteristics of those who ask successfully.

It′s an important process business and industry leaders have already learned - and want to impart to you. And, it′s a concept you′ll use - everyday - to move outside your comfort zone and seize the prosperity, fulfillment and happiness you deserve. The Aladdin Factor is a practical guide for taking control of your life, realizing better business and personal relationships, having and giving more love, maximizing your talents and skills - and enriching your lifestyle like never before.

Visualizing Is Realizing...
What You See is What You Get!

In this powerful program, you′ll discover that visualizing the results you desire is the most important step you can take in achieving them. Not only will you learn to stop living under limited reality, you′ll actually learn to amplify your thinking - and - once you′ve fully developed your goals, you′ll discover how to instruct your subconscious mind to actually bring them to fruition!

The Secret of the Super-Successful...
Mastering the Mastermind Principles

It′s a proven fact that we grow and prosper from the people and projects we associate with. In this practical program, Mark Victor Hansen brings you the ultimate tool in improving your associations and achieving your goals - the Mastermind Group. Long used by business leaders, the Mastermind concept actually insures you′ll have the keenest, brightest minds working to support you, empower you and help you achieve.

Members of your Mastermind Group can contribute time, money, inspiration, contacts, education and other attributes you may lack, while you in turn support and empower them in the fulfillment of their goals. Secret of the Super-Successful shows you how.

How To Think Like An Entrepreneur

Entrepreneurs are the pioneers of our time. Their ideas, talents, resources and abilities drive the world forward and upward. Mark Victor Hansen, one of America′s leading personal development trainers, has developed the ultimate program to stimulate the minds of those who are ready to make a profound difference in their lives. Mark will demonstrate how to apply easy-to-understand methods and techniques that will increase your results...immediately! Mark will move you to take ACTION with your ideas and assist you to find the hidden opportunities in everyday life.

Marketing / Sales:

Sell Yourself Rich
A Proven Path to Financial Freedom

Designed specifically for commissioned salespeople and independent professionals, Sell Yourself Rich will help you attain the time, money, freedom and respect you want - and deserve - with principles, laws and concepts that are proven to earn six-figure... even seven-figure incomes.

The Fine Art of Closing Sales

Sales experts know that over 70% of all sales interviews end in a failure to ask for the transaction. In one of the most practical programs ever developed for professional salespeople, Mark Victor Hansen reveals secrets that have been used, time-tested and proven by top sales professionals for closing sales easier, faster and more lucratively. Not only will you learn to study, master and then actively employ these techniques and technologies, Mark will show you how to use them to enjoy even greater prosperity, freedom, acclaim and rewards. You′ll learn the three aspects of selling: prospecting, presenting and closing - and how to fine-tune your approach to each for maximum leads and closures. You′ll learn to handle any one of the 30 to 50 known objections... how to make your offer irresistible... and how to push emotional hot buttons for even greater sales. You′ll listen as Mark walks you through a proven four-point qualification process and gives you six ways to be unique, novel, innovative and creative in getting the appointment. And, you′ll discover the Erroneous Conclusion Question and how to use it to stimulate buyers to make a decision now.

Prospecting and Networking
for Qualified Leads

With effort, personality and the skills you′ll learn in this powerful video from Mark Victor Hansen, you too can create a steady stream of highly qualified leads that convert into lucrative sales and profitable, long-term customers. In Prospecting & Networking for Qualified Sales Leads, you′ll discover twelve fail-safe networking principles to help you become a confident, competent networker. Not only will learn to enroll others to become great networkers on your behalf, you′ll learn the smart way to keep in touch with leads, how to create functions and events they′ll want to attend, how to become a great problem-solver and opportunity-maker - and how to multiply your selling activities many times over. Once your lead generating program is churning out enthusiastic new leads by the dozens (or even hundreds), Mark′s Law of Compensation will show you how to actually guarantee you′ll become prosperous as you stretch and grow into sales goals that are bigger than you are.

Get Rich in Your Niche

A specific niche or micro-market is all you need to earn an unlimited income. Master the fine art of profitably harvesting a niche market, and spend a lifetime selling to this market. Hear how 23 superstar salespeople discovered their niches and in one year made over $1,000,000 each! These concepts are easily learned, completely transferrable and totally duplicatable.

The Referral Road To Riches

Without leads, there are no sales. Finding new customers is the key to an expanding sales career. Finding new QUALIFIED customers is THE key to a fulfilling and prosperous sales career. Why cold-call when you have hot leads right in front of you? Selling by referrals is a fold-mine of an opportunity for those who take advantage of, and master, this rewarding method of prospecting. In this program, Mark Victor Hansen will reveal everything he knows about referral selling. His concepts are proven time and time again, he has consistently used referral selling to build his multimillion dollar speaking and consulting business. Let Mark give you the tools you need to boost your sales NOW!
The Future of Entrepreneurial/Enlightened Leadership
Mark Victor Hansen looks at leadership as having the unwavering ability to not look at the world as it is, but as it can be. Leadership is about discovering what is inevitable, transformative, and in alignment with all the resources; and using them to prosper greatly now.
The wisest man of all time, Solomon said: "Without vision people perish," Mark says: "With vision people, companies, and associations flourish, grow, expand and vastly improve immediately!" Mark enlightens his audience about achieving the qualities of limitless vision to achieve their ultimate potential, creating practical, measurable progress by elevating everyone's successes.
Mark understands from leading his own empires, that the gold standard of leadership is leaders that consistently and effectively re-invent themselves and their organizations. He inspires everyone to fulfill their destiny and fully utilize their potential, starting by overcoming all obstacles, challenges, and resistance. One must master the fine art of self-leadership, so they can lead all others. Mark discusses the principles that work and are time tested and those that don't work in business and in life. Attendees quickly take ownership and mastery of the four great principles of leadership. He will show that all great leaders are focused. They are insistent, consistent, and persistently passionate and purposeful. Mark has proven to audiences worldwide, that every person can foster and embrace a magnificent obsession to achieve beyond their limitations, no matter what.
Bringing America Back
America's success depends on your success. A successful country starts with independent, successful individuals who are groomed and inspired to lead. Success is organizing, prioritizing, and orchestrating macro to micro-goals and accomplishments. We must recognize our role individually and collectively to serve greatly the total world population of seven billion.
The business of America is business. With massive innovation and marketing we can, again, create a super strong economy. Mark delivers seven principles to get America going and keep it going. As Mark has traveled around the world, he has found everyone, everywhere wants to sell into our market, yet American's are here are under-served and can easily and profitably sold to. Mark will make what is invisible—visible—that which is hidden in plain sight. He brings to audiences the ultimate roadmap to the riches and potential that can be had achieved by focusing on the proper principles. He shows how to do that right here and right now; in the most affluent country in the world, America.
Social Entrepreneurship
Mark teaches that Social Entrepreneurship starts with the idea of doing business, which creates more than enough for everyone by building enterprises, dedicated to doing just that. Nobel Prize Winner, Dr. Yunus invented Social Enterprise and Entrepreneurship with Micro-Credit and Micro-Finance. Mark has expanded it to be useful to every business, company, and association to vastly multiply its respective effectiveness and imprint on the world.
With Mark's vast experience working with audiences and people around the world, he believes that everyone has a soul level need to contribute and give back; thus, creating legacy wealth and a heritage worthy of remembering. Whatever is given comes back multiplied, magnified, and magnetized. He teaches that social entrepreneurship signals the imperative to drive social change, and it is that potential payoff, with its lasting, transformational benefit to society, that sets the field and its practitioners apart, opening gateways to a much bigger global presence for every business.
Like most entrepreneurial endeavors, social enterprises start with an innovative idea that has the potential to solve a community or societal problem. Mark teaches that as we create more abundance, more individuals will be willing to take on the risk and effort to create positive changes in society through their initiatives.
Social Enterprise is the gift that truly keeps giving.
Mark Victor Hansen Speech
"I think seminars can change your life, make you happier, teach you wondrous things…" says Mark Victor Hansen. The man behind Chicken Soup for the Soul explains how anyone who is prepared to listen and act on his teaching will be able to transform his or her life. He sums up his teaching philosophy in a line: "We're gonna have a lot of fun and slip in a little information too."
Keynote Speech
Mark Victor Hansen: Speech Excerpt