* Please note that while this speaker's specific speaking fee falls within the range posted above (for Continental U.S. based events), fees are subject to change. For current fee information or international event fees (which are generally 50-75% more than U.S based event fees), please contact us.
Top25 Speaker Voting

Mark van Rijmenam needs 7 vote(s) to make it into the Top 25 speakers on Speaking.com!
Speaker Booking Tip
"Tip: speakers bureaus can provide: speaker fee negotiation, insurance, smooth logistics and value add-ons such as extra sessions. "
For Event Planners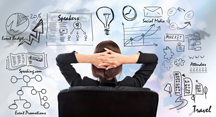 • Keynote Speaker Booking Toolkit.
• Booking a Celebrity Speaker.
• How to Find and Book the Right Speaker.
• Google+ Event Planning Forum.
• Tips for International Clients Booking U.S. Based Speakers.
Similar Speakers
Scott Steinberg

Ranked the #1 technology expert by Google, TechSavvy Global CEO, Scott Steinberg has a talent for wearing many hats. The author and international speaker's trends…

Inma Martinez

Hailed as one of the world's top digital media strategists by Time, Fortune and Fast Company, experienced brand builder and serial entrepreneur, Inma Martinez delivers…

Ford Saeks

Ford Saeks is an entrepreneur with over 25 years of "street smart" experience, and one of America's "Top Marketing Mentors." Ford got his start in…

I'm extremely impressed with your speakers bureau's follow-through, responsiveness and willingness to understand our needs so that he could match the best speakers with what we are looking for. I will definitely work with you again in the future. Thank you for all that you did to help us create an exceptional learning experience for our attendees.
American Society of Association Executives
About SPEAKING.com
Established in 1994, we are exclusive agents for some of the world's leading experts, celebrities and professional speakers.
We offer event planners a fully staffed speaker logistics planning team, plus a personal SPEAKING.com Account Executive – a knowledgeable and trustworthy partner. We guarantee your satisfaction with your speaker and a smooth booking process.
Contact us today to book your favorite speaker.

"I invited Mark to join one of our International Congresses as the main speaker for BigData2015 World Insights. As a person he is great to treat, responsible and compromised human. As a leader he shared his knowledge with all attendees and the organizers. After the event the attendees' satisfaction survey showed Mark had one of the best keynotes and the majority of them wanted him back for our next conference. This shows the professional and important knowledge he can share. His pitch involved people and he invited them to connect with the topic."
- Fernando Masmela Diaz – Big Data World Insights
"Capgemini asked Mark to support us for a customer workshop on Big Data roadmap. Mark was instrumental in setting up the workshop format and structure. During the workshop he shared his views on Big Data and a possible way forward. Mark combines big data content with a personal drive to create an inspiring Big Data story."
-Jorgen Heizenberg, Chief Technology Officer NL – Insights & Data
"Thanks to Mark, Africa's retailers now have invaluable in-depth insight into the need for Big Data and the multiple ways retailers can make use of the trend. Our delegates loved him and so did his fellow speakers. As the Conference Manager for Retail World Africa 2015, I would recommend Mark to any other event organizer or industry who is looking for insights into Big Data and the many ways Big Data can bring big rewards to you."
- Jerodé Moodley, Conference Manager Retail World Africa 2015
"I know Mark is a true expert in the field of Big Data, 'the oil of the 21st century'. Mark was one of the keynote speakers at the National Publishing Day 2014, organized by the dutch b2b platform Mediafacts. His 45 minute speech on how publishers should strategically approach 'Big Data' was well received; it got high scores in our post event online summary. Mark knows the way in the complicated 'Big Data' landscape and is able to serve companies from different sectors well when the aim is setting up a Big Data strategy and providing the means to implement it."
- Wim Damhof, Chief Editor, Mediafacts
"Mark is very knowledgeable on the subject of Big Data and has the capability of explaining complex matter in laymen's terms. I have worked with him in different settings, most recently organizing a business event where Mark was the main speaker. The roadmap he spoke about, from his book Think Bigger has proven to help organizations in developing their own strategy. Mark is a great presenter who is able to show the audience where we are at today and also gives the public an insight into a possible and very likely future. He is ranked as one of the top Big Data influencers for a good reason. If you have a strategic Big Data challenge or an event around Big Data I can highly recommend Mark."
- Paul Muller, Manager Alliances & Business Development, IS Group
"Mark recently did a presentation on Big Data for the regional circle of the Nyenrode Alumni Assocation. In the presentation he talked about the strategical aspects of Big Data and gave us various interesting examples. Mark is very knowledgeable and an interesting speaker to listen to."
- Jocelyn Vlaar, Nyenrode Business University Alumni Association
"Mark is an inspirational and creative business consultant. He has deep knowledge in the area of Big Data and helped our organization to draw its data strategy. Highly recommended and reliable business consultant."
- Martin Gramatikov, Head of Measurement and Evaluation, HiiL
"Mark has a valuable independent view of the total spectrum of the Big Data scene and has a versatile and extensive network. He has detailed knowledge and proved highly efficient during our short period of working together."
-Diederik Meijerink, Analist, Schiphol Group
"Within an academic context as well as in a business context, Mark is able to explain the essence and possibilities of big data in a clear and concise manner. He has many examples, he is up-to-date and he is able to frame the commercial applications for organization." - Ed Peelen, ICSB, The Netherlands
"Using concrete examples Mark is able to explain big data and its potential and its impact for organization and societies."
- N.H. Van Buren, Managing Director, Kennisalliantie, The Netherlands
"With an understandable presentation, Mark is able to captivate the attendees on the subject of big data, which he is able to explain clearly and thoroughly. He uses interesting concrete example that make his story very understandable."
- D. Wiebes, Chairman, Knowledge Network VOR/RWS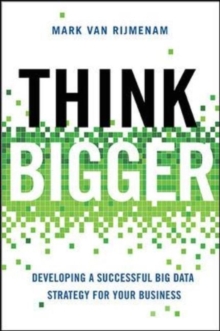 Think Bigger – Developing a Successful Big Data Strategy for Your Business
Big data - the enormous amount of data that is created as virtually every movement, transaction, and choice we make becomes digitized - is revolutionizing business. Offering real-world insight and explanations, this book provides a roadmap for organizations looking to develop a profitable big data strategy ...and reveals why it's not something they can leave to the I.T. department. Sharing best practices from companies that have implemented a big data strategy including Walmart, InterContinental Hotel Group, Walt Disney, and Shell, Think Bigger covers the most important big data trends affecting organizations, as well as key technologies like Hadoop and MapReduce, and several crucial types of analyses. In addition, the book offers guidance on how to ensure security, and respect the privacy rights of consumers. It also examines in detail how big data is impacting specific industries - and where opportunities can be found. Big data is changing the way businesses - and even governments - are operated and managed. Think Bigger is an essential resource for anyone who wants to ensure that their company isn't left in the dust.

You can book Van Rijmenam to speak on the following topics:
Big Data in Business; How to be ready for a data-driven future.
A Changing Society; Accelerated change is the only constant, which trends will affect your organization the most.
Inspiration and Motivation; how to prepare your business for the unknown.

Boardroom Sessions


Every C-level executive should have heard about Big Data by now. But how can you really turn your organization into a data-driven business? Where should you start and what does Big Data mean for your organization in particular? After all, Big Data means something different for every organization and every industry.

How can you build a product/service that is truly customer-centric and is based on data if you don't know were to start? In two-hour boardroom sessions, Van Rijmenam will guide executives into the world of Big Data and explain how they should change their organization to be ready for digital revolution that is upon us.

Some of Van Rijmenam's Past Appearances include:

Inergy – Talking Dinner – Rotterdam, The Netherlands
Rabobank Real Estate Seminar – Utrecht, The Netherlands
Data Quality Asia Pacific Congress 2014 – Melbourne, Australia
European Academy of Innovation – Nice, France
National Publishing Congress – Utrecht, The Netherlands
Business Analytics Seminar – Utrecht, The Netherlands
Communication Network Limburg – Heerlen, The Netherlands
CIO Network – Huizen, The Netherlands
Africa's Payment, Banking and Retail Show – Johannesburg, South-Africa
Opening Keynote Big Data World Insights – Medellín, Colombia
Big Data Bridgeing Workshop – Omaha, United States
Half-day workshop Data Quality Asia Pacific Congress 2014 – Melbourne, Australia
Full-day workshop Capgemini, developing a Big Data roadmap – Utrecht, The Netherlands
Two masterclasses, Nyenrode Business University – Breukelen, The Netherlands

Mark van Rijmenam: Keynote Big Data Disney
Mark van Rijmenam explains why the future of your business hinges on harnessing unstructured Big DATA - such as social media, word documents, and blogs - and how you can gain a competitive edge by starting today.
Projections show that while we are just at the beginning of "Big Data," the rate at which it is expanding is accelerating. The same amount of information that was created from "the dawn of civilization" to 2003 is now created every two days. The shift from structured data – such as "rows and columns in excel sheets" -- to unstructured data is also monumental. "Getting insights from that unstructured data is difficult," Mark admits. "But it is very much required if you want to stay ahead and be here ten years from now."
Mark van Rijmenam: Introduction to Big Data
Mark van Rijmenam - Keynote Speech on Big Data, Blockchain, AI and Disruptive Innovations