* Please note that while this speaker's specific speaking fee falls within the range posted above (for Continental U.S. based events), fees are subject to change. For current fee information or international event fees (which are generally 50-75% more than U.S based event fees), please contact us.
Top25 Speaker Voting

Mark McGinnis needs 1 vote(s) to make it into the Top 25 speakers on Speaking.com!
Speaker Booking Tip
"Tip: speakers bureaus provide added value that you cannot get by booking speakers directly. "
For Event Planners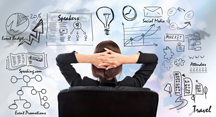 • Keynote Speaker Booking Toolkit.
• Booking a Celebrity Speaker.
• How to Find and Book the Right Speaker.
• Google+ Event Planning Forum.
• Tips for International Clients Booking U.S. Based Speakers.
Similar Speakers
Dan Pallotta

Humanitarian entrepreneur, Dan Pallotta is one of the world's most forward voices on philanthropy and innovation. A pioneering leader in social enterprise, he invented the…

Sara Blakely

Starting out with just $5000 in savings, Sara Blakely, entrepreneur and designer, is now one of the most famous names in the 2 billion-dollar hosiery…

Bill Moyers

For over four decades Bill Moyers has been public television's most visible intellectual. One of the most impactful journalists of our time he has witnessed…

Our client rep was a pleasure to work with. He was well organized and kept me updated every step of the way. The level of professionalism and the quality of the materials received were excellent. I will be in touch for future speakers!
Mattel
About SPEAKING.com
Established in 1994, we are exclusive agents for some of the world's leading experts, celebrities and professional speakers.
We offer event planners a fully staffed speaker logistics planning team, plus a personal SPEAKING.com Account Executive – a knowledgeable and trustworthy partner. We guarantee your satisfaction with your speaker and a smooth booking process.
Contact us today to book your favorite speaker.

"Commander Mark McGinnis has made a major contribution in the development of culture in our Golf Program at the University of Houston. Mark helped our guys paint a picture of who we are, who we want to become, and how to get there. Mark's track record, life experiences, and verbal delivery is second to none.
Seal Leadership is something that any team, business, or organization can benefit from. His ability to relate the fundamentals of leadership along with Navy Seals applications will have you wanting to earn your Trident every day!"
- Jonathan Dismuke Head Golf Coach University of Houston
"Many times, you hear a motivational speaker and the message goes in one ear and out the other by the next day. Mark McGinnis' message goes in one ear and stops directly at your heart… It becomes part of your lifeline. Quite simply, it's amazing and inspiring. If you are FOCUSED on improving the play of your team or of yourself then let Mark show you how simple it all is. He's a big time Leader with a big time message that is important for everyone! It will change lives. "
- Billy Lange Assoc. Head Men's Basketball Coach Villanova University
"I was very fortunate to be a part of Mark McGinnis's presentation on leadership to our men's golf team at St. Edward's University. With his background of being a student athlete at the Naval Academy, his time in the marines, and being a Navy Seal he brings instant credibility to any group. He has led men on the gridiron and into battlegrounds and his passion and knowledge for leadership comes through within five minutes of meeting him. I believe his message is desperately needed in today's society. His message will help you to truly build a TEAM by giving you tools to help you put the good of the team in front of the individual. Mark has lived it!! I am definitely going to have Mark come back to St. Edward's and deliver his message to our men's basketball team".
- Andre Cook Head Men's Basketball Coach St. Edward's University
"I recently had the opportunity to hear Commander McGinnis address a group of area CEO's and community leaders on leadership the SEAL way. I found his remarks to be captivating and most interesting, and his translation of the leadership principles he learned as a SEAL to business and civilian life was spot-on. I look forward to having Commander McGinnis speak to my leadership team at St. David's North Austin Medical Center".
- Donald H. Wilkerson, FACHE Chief Executive Officer St. David's North Austin Medical Center
"Mark recently gave a talk at an event my company hosted for over 60 athletic directors from major college athletic departments around the country. Mark discussed leading in challenging times and right off the bat, he grabbed hold of the audience's attention and had them for the entire presentation. Mark's message on leadership was simple and focused. His delivery was amazing. He broke down his message into easy, simple terms that everyone could learn and apply. Everyone loved how he wove in personal experiences and stories – they were incredibly entertaining and very impactful.
One of the biggest testaments was the audience's engagement – Mark's presentation started at 6:30, finished at 7:30 and had Q&A that lasted nearly 90 minutes. I am still getting "thanks" from the attendees. In fact, a number of those AD's are asking for Mark's information to have him come in and speak to their staff and students.
Personally, I appreciated the professionalism Mark exhibited in his preparation as well as his delivery at the event. His attention to detail was outstanding – he took the time to understand our company's interests for hosting the event and what we were expecting to get out of the evening. Mark is a bright, intuitive guy that weaved our corporate message in beautifully. Nothing was over the top – it never felt like an infomercial on Game Theory. Mark made the event easy and incredibly successful."
- Vin McCaffrey Game Theory Group International
Afterburner Black Ops
Afterburner Black Ops provides experiential, high-impact team building seminars and workshops led by U.S. Navy SEALs, 160th SOAR and other Special Forces and Special Operations team members who utilize real-world mission examples to train your corporate teams to close execution gaps, improve performance and drive accountability.

The Black Ops corporate team building program will train your teams in the zero-tolerance-for-error Flawless Execution℠ methodology developed by James D. Murphy, CEO and founder of Afterburner Incorporated. Murphy, a U.S. Air Force fighter pilot, founded Afterburner in 1996, after he realized that the zero-tolerance-for-error tools used in the world of military aviation could benefit and revolutionize the way many companies do business. Murphy, in tandem with key Afterburner personnel, developed the "Flawless Execution" model by combining real-life business experiences with strategic and tactical military processes to create a powerful methodology designed to teach clients how to execute and win in any business scenario.

Special Operations Team Building Seminars
Over 1.5 million managers and executives have been trained in the Flawless Execution℠ continuous improvement process through a variety of experiential team building seminars, keynote speeches and workshops. Since its launch, Afterburner has been featured twice in Inc. Magazine′s "Inc. 500 List of America′s Fastest Growing Companies," with appearances in a variety of publications, including Newsweek, The Wall Street Journal, Business Week, Financial Times and Meetings and Conventions Magazine. The company has also appeared on Fox News, CNN, CNBC and Bloomberg News. Murphy has also authored two books, Business Is Combat and Flawless Execution, the former of which is in its third printing, and has shared the podium with notable speakers such as Bill Clinton, Condoleezza Rice and Colin Powell.

Afterburner has since expanded its global presence by opening up offices in Canada, Europe, Australia and Asia, and the company has executed its services in over 34 countries. Today, Afterburner is considered the world′s leading authority on organization execution, with an impressive client list that includes 23% of the U.S. Fortune 500 as well as numerous global 1000 companies who benefit from the company′s unique experiential workshops and keynote seminars.

Mark McGinnis, Navy SEALS commander: Speaker Intro
Navy seal Mark McGinnis touches on the principles conveyed in the elite force's training that make the difference between life and death as well as success or failure. These principles have been proven time and time again as they've guided over 50 years of combat, not to mention the most dangerous missions in history.
"Our missions start when other special operation forces say, 'We can't do that. It's outside of our capabilities,'" Commander McGinnis hints at the level of performance SEALs must achieve. However, the principles that make this possible are not limited to special ops teams. The former Navy SEAL leader specializes in bringing "these simple, yet extremely effective principles" to businesses, athletic teams, and other groups so that they can transform their performance "from good to great."
Mark McGinnis Puts the University of Utah Basketball Team through Hell Week