* Please note that while this speaker's specific speaking fee falls within the range posted above (for Continental U.S. based events), fees are subject to change. For current fee information or international event fees (which are generally 50-75% more than U.S based event fees), please contact us.
Top25 Speaker Voting

Maria Marin needs 7 vote(s) to make it into the Top 25 speakers on Speaking.com!
Speaker Booking Tip
"Tip: ask your speaker to do a book signing or attend a VIP meal with your guests. "
For Event Planners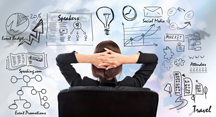 • Keynote Speaker Booking Toolkit.
• Booking a Celebrity Speaker.
• How to Find and Book the Right Speaker.
• Google+ Event Planning Forum.
• Tips for International Clients Booking U.S. Based Speakers.
Similar Speakers
Kelly McDonald

Kelly McDonald is your go-to-guide on how to connect to today's most influential consumer groups. The nationally recognized authority on consumer trends and marketing, Kelly's…

Guillermo Perry

One of the most trusted authorities on Latin America, Guillermo Perry provides in-depth analysis of the region's economic and energy policies, and how they play…

Ichiro Fujisaki

Having served as Japan's top diplomat for issues concerning economy, trade, politics, and security, the honorable Ichiro Fujisaki is one of the most well connected…

My Account Executive was able to work within my quick turn around time and price limitations to find the perfect speaker for the job. Although I thought finding and booking a speaker for our sales meeting would be the most difficult part of the planning process, your agency made it the easiest.
Ales Group USA, Inc.
About SPEAKING.com
Established in 1994, we are exclusive agents for some of the world's leading experts, celebrities and professional speakers.
We offer event planners a fully staffed speaker logistics planning team, plus a personal SPEAKING.com Account Executive – a knowledgeable and trustworthy partner. We guarantee your satisfaction with your speaker and a smooth booking process.
Contact us today to book your favorite speaker.

"Maria, your seminar completely changed my perspective on life, from how I behave in my private life to how I behave at work. I don't believe I will ever 'attack' and 'confront' situations in my life the same way again. If I see myself losing perspective, I put on your CD and get it back again!"
Angelica Morales
Dallas, Texas

"Maria is one of the best instructors I have ever had for any seminar or class. Her enthusiasm and knowledge about the seminar were fantastic. Her delivery was electric and made the seminar very informative and easy to follow."
Latane Ware Jr.
Moore Brothers Company, Inc.
Project Manager, Washington D.C.

"You are such a delight! I want you to know that you bring out the greatness in people. Thank you for doing that for me. I think your life is amazing, and would love to pick your brain sometime! What you have to say needs to be heard by Latinas."
Dreena Bryan
Los Angeles, California

"My life has changed ever since I attended your "Mujer Sin Límite" seminar. I feel so much better about myself and I am pushing forward in my life. Thank you for everything that you are doing for all of us women who need help."
Ana Elizabeth Rodriguez
Los Angeles, California

Partial Client List...


Financial Women International (FWI)
Pfizer
Young Entrepreneur's Association
ALPFA - Association of Latino Professionals in Finance and Accounting
Blue Cross
WBENC (Women Business Enterprise)
California State Fullerton University
American Diabetes Association
LULAC
JP Morgan Chase
Mexican American Opportunity Foundation (MAOF)
Hispanic Women's Conference - Phoenix
National Latina Business Women's Association (NLBWA)
Nordstrom Stores
NMSCD - National Minority Supplier Development Council
full list available upon request
Mujer sin limite/ Women without Limits
Making significant changes in our lives is, without a doubt, one of the most important objectives for women today. Regardless of whether we are talking about our significant other, our personal finances, our profession, or our health, there is always an aspect of our lives that we wish to improve upon. In this work, Marà a Marà n addresses all women who find themselves in a process of evolution and who need to find self confidence, as well as those who are in search of the tools and strategies that will assist them in achieving their goals. The author teaches us how to overcome obstacles, how to leave all excuses aside, and how to conquer the fear that paralyzes us. By establishing a serious commitment to personal knowledge and development, the reader will find the answer to all their questions and will learn to discover their purpose in life. Mujer Sin Là mite covers, among other topics, the Law of Attraction an essential tool to achieve all that we wish for: love, money, health, recognition, etc. If you truly desire it, it is yours.
The Power of Commitment & Self-Confidence
The objective of this program is to motivate and empower you to succeed, but most importantly, to believe in themselves. Whether it is in a relationship, your career, or fulfilling your dreams, you need confidence.

Commitment is a choice. If you are sincerely committed to achieving your dreams, there is nothing in the world that can stop you. However, you must still choose to take action and pursue what you want if you ever intend to unlock your true potential.

Believing in yourself will give you faith in your ability to make decisions and to take control of your life. Maria will provide you with the essential steps to develop self-confidence and understand what has stopped you from making positive changes in your life.

How to Negotiate In Business & In Life
In this program, Maria Marín will provide you with the techniques, strategies, tactics and psychological aspects of negotiation. Negotiating principles are universal; the same concepts that apply to sellers, buyers, project managers, or legal matters also work with your boss, your partner, or your family. She will train you in the competitive aspect of negotiating and at the same time how to build the foundation for a creative win-win agreement.
Maria Marin, Motivational Speaker: Interview
Motivational speaker and expert in women's issues, Maria Marin discusses her book If I'm so Fabulous How Come I'm Single? in which she covers 7 common errors women make when looking for a significant other. She explains that falling in love is easy; however, maintaining that love over the long term is what presents the biggest challenge for most couples.
"Most of our errors stem from a lack of self-love," Maria explains, noting that when women have low self-esteem, they attract and date the type of people they feel they deserve, which often turns into a recipe for disaster.
Maria Marin, Motivational Speaker: Speech Excerpts