Top25 Speaker Voting

Margie Warrell needs 1 vote(s) to make it into the Top 25 speakers on Speaking.com!
Speaker Booking Tip
"Tip: ask your speaker to do a book signing or attend a VIP meal with your guests. "
For Event Planners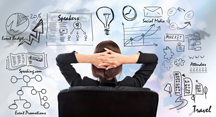 • Keynote Speaker Booking Toolkit.
• Booking a Celebrity Speaker.
• How to Find and Book the Right Speaker.
• Google+ Event Planning Forum.
• Tips for International Clients Booking U.S. Based Speakers.
Similar Speakers
Christian Rangen

Christian Rangen is an entrepreneur, business school lecturer, author, strategy and innovation consultant and a lifetime adventurer who loves kitesurfing deserted Brazilian beaches, trekking across…

Scott Duffy

A successful serial entrepreneur, Scott Duffy has had the rare opportunity to learn from some of the most brilliant innovators and business professionals working today.…

Harry Broadman

Hundreds of organizations have turned to Harry G. Broadman for his vast geographical expertise and experience in multinational corporate strategy and operations. For over 35…

Finding the appropriate speaker for an event is a challenge. Your stellar speakers agency made the process extremely easy. I would recommend your agency to anyone.
Mercury University
About SPEAKING.com
Established in 1994, we are exclusive agents for some of the world's leading experts, celebrities and professional speakers.
We offer event planners a fully staffed speaker logistics planning team, plus a personal SPEAKING.com Account Executive – a knowledgeable and trustworthy partner. We guarantee your satisfaction with your speaker and a smooth booking process.
Contact us today to book your favorite speaker.

"Our best speaker ever!"
- ROSS STANGE, Sage Micropay
"Margie left the leaders are our national conference re-energized, refocused and emboldened to build a bigger and better business."
- GEORGIA BARTHOLOMEW, Body Shop
"Margie's ability to engage, educate and embolden people is inspirational. Her nuggets of wisdom are both profound and practical for anyone wanting to be a more confident communicator and enjoy greater success in their workplace and beyond."
- PROFESSOR REBECCA HEINO, Columbia University
"Margie's content was great and her delivery was absolutely awesome. I've never had so much positive feedback from an audience - not one negative comment, not one. Everyone just raved about it and believe me, this was a tough crowd."
- ROBERT GOSLING, Managing Director, Oracle New Zealand
"Margie is a dynamic keynote speaker! Her message really hit home, and set an excellent foundation for the rest of our leadership campaign. We were engaged by her dynamic delivery, entertained by her personal stories, and inspired by her ability to tie it all back to our core personal and organizational values."
- DONNA VITALIE, AOL
Dear Margie,
Thank you for your recent Courageous Conversations program here at NASA headquarters. You brought both an impressive depth of knowledge and genuine passion to support our staff. Once again, the feedback we received from those who participated in your program was outstanding.
- KIM HANEY, DIRECTOR, CAREER MANAGEMENT NASA
"Margie sets herself apart with a powerful and inspiring message. She helped me craft my own vision for leading a more forward leading workplace. We welcome her back anytime."
- KATHY CALVIN, President & CEO, United Nations Foundation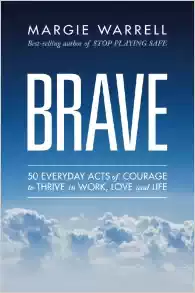 Brave: 50 Everyday Acts of Courage to Thrive in Work, Love and Life
Live every day with greater clarity, confidence and courage.
Brave is a handbook for being more courageous. Written for busy people on the go, its short, focused chapters provide practical tools and empowering perspectives to help you build your 'courage muscles' in your work, relationships and life.
Drawing on her background in business, psychology and coaching, author Margie Warrell will guide you in moving past the fears, doubts and beliefs that keep you from making the changes, and taking the chances, you need to enjoy the fulfillment and success you desire.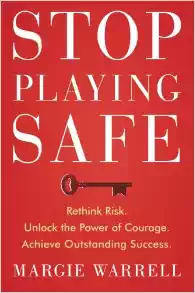 Stop Playing Safe
Drawing on positive psychology and interviews with trailblazing leaders and entrepreneurs (NASA, Qantas, UN Foundation, Ernst & Young), Stop Playing Safe provides strategies to help people reconnect to a bigger purpose, and engage in their work and careers with greater clarity, confidence and courage.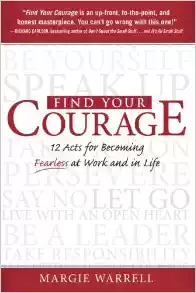 Find Your Courage: 12 Acts for Becoming Fearless in Work and in Life
Best-selling book and finalist in the USA BEST BOOK AWARDS, Find Your Courage is a handbook for achieving your goals and meeting your challenges with greater clarity, confidence, and courage.

Stop Playing Safe: How to take smarter risks in an uncertain world
Every day we make countless decisions that impact our performance, productivity and ability to build trust and grow influence. Yet many decisions are guided by fear – fear of failure, rejection, confrontation or change. Based on Margie's book Stop Playing Safe (Wiley 2013), this program will help you to rethink risk and the cost of playing safe, find opportunity in adversity, and adapt more successful to the changes and challenges of an increasingly competitive, uncertain and fast changing world.

Leadership Courage: Build leadership influence and impact beyond your comfort zone
Leadership begins on the inside, and starts with making a courageous choice. For those wishing to expand their leadership competence, influence and impact, this program will challenge the beliefs that can undermine effectiveness and stifle leadership potential, outline the crucial conversations leaders need to have more frequently, and guide audience members towards expanding their vision and engaging in their work and world with greater purpose and courage.

Courageous Conversations: Build influence and grow trust
The inability or unwillingness to address issues that undermine performance, damage relationships and limit success can be profound. What doesn't get talked out, gets acted out – and the price you pay for not speaking up far exceeds the discomfort you feel in doing so. This program will provide a proven and practical frame work for engaging in difficult conversations, along with the inspiration to get started. Crucial for anyone who wants to communicate more effectively, grow their influence, and build more rewarding, trust-filled relationships

The Resilience Advantage: Stay focused on what matters most during uncertain times
How well you handle pressure, bounce back from setbacks, adapt to change and navigate uncertainty has a significant impact on your ability to do your job well and deliver strong results. In order to face the challenges of an increasingly complex, competitive and changing world, you must be equipped with practical strategies for bolstering resilience and staying strong when pressures mount and adversity strikes. In this program you'll learn to recognize the causes of your stress, expand your capacity for it, and build the resiliency skills necessary to soar above the stressors that pull others down.

Leading Women: Own Your Power, Embrace Your Difference & Never Underestimate Your Worth
Women make great leaders yet despite all the advances of recent decades, there is still a paucity of women in senior leadership roles. In this powerful, practical and inspiring program Margie will share how women (and men) can work to close the gender gap and grow their influence at all levels. She will shine light on the ways women hold themselves back, helping them see themselves as every bit as deserving as men of leadership, and every bit as capable of handling its pressures and challenges.

Margie will draw on her own experiences as a working mother of four who has worked with transformative women leaders around the globe, discussing ways women can better manage the conflicting demands of family and career, how they can build their leadership brand, grow their influence regardless of their position, all while embracing the invaluable feminine leadership strengths.
Margie Warrell, Motivational Speaker: Keynote
Margie Warrell takes a look at how we can live and lead by spotting change ahead of time and making it work for us. She highlights courage, an attribute necessary to taking risks and trying new things.
While many think of courage as saving your comrade on a heated battle field, Margie points out we encounter opportunities to be brave every day. "It could be just that little conversation you have with someone. It could be you saying 'no' to an opportunity, because you want to wait for something bigger," she states. "It could be you owning your work, quelling your self doubts, and then stepping forward more boldly, more purposely."
Margie Warrell, Motivational Speaker: Demo Reel
Margie Warrell, Motivational Speaker: Keynote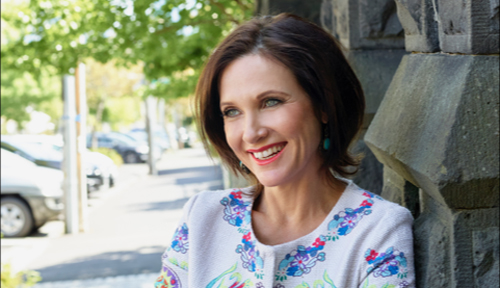 Coach, author, and mother of four Margie Warrell is constantly sought by conferences, corporations, and media outlets for her advice on taking risks, living courageously, and building resilience. Margie is a renowned leadership and change management keynote speaker and an international thought leader in human potential who is passionate about inspiring people to live and ... more