* Please note that while this speaker's specific speaking fee falls within the range posted above (for Continental U.S. based events), fees are subject to change. For current fee information or international event fees (which are generally 50-75% more than U.S based event fees), please contact us.
Top25 Speaker Voting

Marcus Buckingham needs 8 vote(s) to make it into the Top 25 speakers on Speaking.com!
Speaker Booking Tip
"Tip: ask your speaker to do a book signing or attend a VIP meal with your guests. "
For Event Planners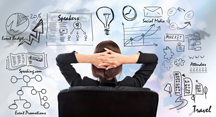 • Keynote Speaker Booking Toolkit.
• Booking a Celebrity Speaker.
• How to Find and Book the Right Speaker.
• Google+ Event Planning Forum.
• Tips for International Clients Booking U.S. Based Speakers.
Similar Speakers
Marshall Goldsmith

Dr. Marshall Goldsmith is a world authority on leadership and employee relations, demonstrating how good management of human resources can achieve positive, lasting change in…

Ken Dychtwald

Deemed the "Prophet of the Coming Age Boom" by Forbes magazine, Dr. Ken Dychtwald has spent over 30 years exploring the demographic shift caused by…

Marshall Goldsmith

Dr. Marshall Goldsmith is a world authority on leadership and employee relations, demonstrating how good management of human resources can achieve positive, lasting change in…

I'm extremely impressed with your speakers bureau's follow-through, responsiveness and willingness to understand our needs so that he could match the best speakers with what we are looking for. I will definitely work with you again in the future. Thank you for all that you did to help us create an exceptional learning experience for our attendees.
American Society of Association Executives
About SPEAKING.com
Established in 1994, we are exclusive agents for some of the world's leading experts, celebrities and professional speakers.
We offer event planners a fully staffed speaker logistics planning team, plus a personal SPEAKING.com Account Executive – a knowledgeable and trustworthy partner. We guarantee your satisfaction with your speaker and a smooth booking process.
Contact us today to book your favorite speaker.

"Marcus Buckingham spoke two weeks ago and there′s still so much positive buzz around the office about his presentation. He takes complex things and breaks them down. People said, ′How can I take this and make it happen for me?′ People left wanting to do something, wanting to take action."
Rena Holland,
Human Resources,
Coca-Cola North America
"Marcus is the most engaging and useful business speaker working today. His advice is grounded in research and at the same time appeals to common sense."
Peter Cappelli
George W. Taylor Professor of Management Director
Center for Human Resources
The Wharton School
University of Pennsylvania
"Marcus Buckingham′s presentation was thought-provoking and extremely relevant to our clients′ current issues. His presentation style was engaging, entertaining and extremely genuine. We′ve completed the client survey for his speaker agency and have given Marcus Buckingham a "10 out of 10" on every question!"
Mary Jane Grant,
Reed Elsevier
"Marcus Buckingham was GREAT! I got a lot of positive feedback from all our company′s participants, and consider the meeting to be very successful overall. Working with Marcus Buckingham and his team was a fantastic experience."
Jon Murray,
National Retail Operations , Masterfoods
"Marcus Buckingham was just starting to interest and charm 4,000-plus Walgreen store managers when the fire alarm in the huge Las Vegas ballroom went off. Disembodied hotel voices announced all was OK, but the crowd grew noticeably anxious as bright lights continued to flash. Not Marcus and before too long, not our audience. His well-researched and very well-delivered remarks overcame adversity few speakers ever encounter. Our managers ranked Buckingham the #1 speaker of the meeting, topping the perennial favorites - our CEO and president. What impressed us all was how well Marcus had done his homework. This was no generic speech - it related to our business and our people, in a motivating, challenging and useful way."
Polly Bruno,
Walgreens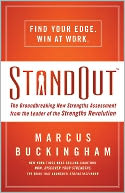 StandOut: The Groundbreaking New Strengths Assessment from the Leader of the Strengths Revolution
StandOut
, the revolutionary new book and online assessment tool from Marcus Buckingham, is the result of extensive research, statistical testing, and analysis of the world′s top performers. From the coauthor of
Now, Discover Your Strengths
and the recognized leader of the strengths movement,
StandOut
unveils your top two Strength Roles and offers sharp, practical ideas that professionals and managers in any organization can use to find their edge and win at work.
Order Here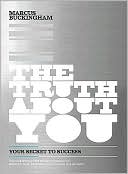 The Truth About You: Your Secret to Success
An Experience to Revolutionize Your Life from Marcus Buckingham - the World′s Leading Expert on Career Success!
Want to know what you are supposed to do with your life? The Truth About You is an experience to unlock life′s toughest questions. The process this revolutionary toolkit teaches will create higher satisfaction and performance in life and work. This cutting-edge product includes:
Enhanced DVD. A high-energy film reveals how and why you must discover and prioritize your strengths and includes access to a wealth of downloadable resources, including five bonus Strength Tip videos.
Interactive Book. With insightful exercises and tried-and-true life wisdom no one else will tell you, the book takes you to the location of your most powerful and unchanging talents.
ReMemo Pad. Designed for a life on-the-go, the ReMemo Pad becomes your companion to complete the task of revealing your strengths using your everyday experiences.
Perfect for high school and college students, young professionals, and people simply wanting to revitalize their career, The Truth About You helps you develop the kind of clarity and passion that drives a successful and satisfying future. Marcus Buckingham will help you discover the real truth, the truth about you . . . it will be your secret to success.
Order Here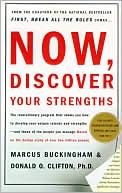 Now, Discover Your Strengths
Unfortunately, most of us have little sense of our talents and strengths, much less the ability to build our lives around them. Instead, guided by our parents, by our teachers, by our managers, and by psychology′s fascination with pathology, we become experts in our weaknesses and spend our lives trying to repair these flaws, while our strengths lie dormant and neglected.
Marcus Buckingham, coauthor of the national bestseller First, Break All the Rules, and Donald O. Clifton, Chair of the Gallup International Research & Education Center, have created a revolutionary program to help readers identify their talents, build them into strengths, and enjoy consistent, near-perfect performance. At the heart of the book is the Internet-based StrengthsFinder® Profile, the product of a 25-year, multimillion-dollar effort to identify the most prevalent human strengths. The program introduces 34 dominant "themes" with thousands of possible combinations, and reveals how they can best be translated into personal and career success. In developing this program, Gallup has conducted psychological profiles with more than two million individuals to help readers learn how to focus and perfect these themes.
So how does it work? This book contains a unique identification number that allows you access to the StrengthsFinder Profile on the internet. This web-based interview analyzes your instinctive reactions and immediately presents you with your five most powerful signature themes. Once you know which of the 34 themes -- such as Achiever, Activator, Empathy, Futuristic, or Strategic -- you lead with, the book will show you how to leverage them for powerful results at three levels: for your own development, for your success as a manager, and for the success of your organization.
With accessible and profound insights on how to turn talents into strengths, and with the immediate on-line feedback of StrengthsFinder at its core, Now, Discover Your Strengths is one of the most groundbreaking and useful business books ever written.
Order Here
Strengths-driven Performance
During Buckingham's years with the Gallup Organization, he helped guide groundbreaking research on what defines the world's best leaders, managers and workplaces. This research was used as a basis for his best-selling books First, Break all the Rules and Now Discover Your Strengths. His subsequent best-selling book Go Put Your Strengths to Work forms the foundation for this keynote address.
Marcus Buckingham presents key data from a number of industries that demonstrate the correlation between performance and engagement. He discusses the factors at play with engaged teams versus disengaged teams, and drills down to the specific lever that recent research indicates most impacts engagement—the extent to which employees have the opportunity to play to their strengths.
Buckingham says when employees have the opportunity to apply their greatest strengths at work, they turbocharge their careers and everybody wins; companies find their employees are more productive and their teams are more effective. Despite this, research shows a majority of people do not fully use their strengths at work. Buckingham examines current corporate levels of engaging the strengths of employees and looks at the psychological and practical obstacles that can get in the way of creating a strengths-based organization. Throughout his presentation, he offers a number of different strategies to support people in leveraging the best of themselves and others in the workplace.
Find Your Edge: Win at Work
Buckingham says that the future of learning and development will focus on only delivering innovations and techniques that fit his or her individual strengths. Excellence happens all the time in an organization, but it can be tricky to harness this excellence and make it work for the organization. So often, when companies try to reproduce what their best performers do, the result is just another lifeless policy that ends up constraining people instead of freeing them to do their best work. Buckingham says the key is to help people put innovative ideas into practice without stifling the personal strengths that give them their edge.
In this speech, Buckingham presents a customized best-practice delivery system for both managers and employees. Using a simple, easy-to-remember scheme to identify each person's unique combination of strengths, Buckingham gives individuals tips and techniques on how to put their particular edge to use. Managers will get lots of raw material to be better coaches based on the specific strengths of their team members. At the end of the speech, you will know how to move beyond the one-size-fits-all approach and find those practices that are best for you.
It's the Team Leader…
In this presentation, Buckingham shares information gathered over decades of interviews with thousands of managers and workers around the world. He says the data reveals one simple truth: there are no great companies. Every company is made up of separate teams, and the performance of those teams—no matter how successful the company may be—varies widely. The manager makes the difference.
Managers play a significant role in creating an environment within which individuals can thrive, discover their talents, and use their best selves daily. Great managers help people to identify and leverage their unique strengths. Buckingham discusses the four key demands a manager must fulfill in order to provide the kind of environment that enables people to achieve peak performance on a regular basis:
Select the right people for the right roles
Clarify expectations of the manager and of the employee
Engage team members by paying constant attention
Accelerate performance by maximizing strengths and neutralizing weaknesses.
In short, his presentation addresses how great managers turn talents into performance.
Demo Video
"How can you persuade people to use their strengths most of the time, which less than 12% of us do?" Marcus Buckingham explains how there are no great companies, only great teams within companies, and the greatest teams are the ones in which team members are allowed to use their strengths to the best possible advantage for the longest possible time.
Keynote Speech