* Please note that while this speaker's specific speaking fee falls within the range posted above (for Continental U.S. based events), fees are subject to change. For current fee information or international event fees (which are generally 50-75% more than U.S based event fees), please contact us.
Top25 Speaker Voting

Marc Prensky needs 6 vote(s) to make it into the Top 25 speakers on Speaking.com!
Speaker Booking Tip
"Tip: find a speaker in your local area to save on travel costs. Most speakers will also reduce their keynote fee for local events. "
For Event Planners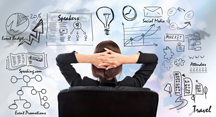 • Keynote Speaker Booking Toolkit.
• Booking a Celebrity Speaker.
• How to Find and Book the Right Speaker.
• Google+ Event Planning Forum.
• Tips for International Clients Booking U.S. Based Speakers.
Similar Speakers
John Wood

Few individuals choose to walk away at the height of their corporate career to dedicate their life to a social cause. At age 35, John…

Robert Ballard

Responsible for perhaps the most extraordinary and certainly the most famous wreck discovery in maritime exploration history, Robert Ballard is the man who discovered RMS…

Harold Ford, Jr.

Harold Ford, Jr. started his political career at age 26 when he went from being the underdog to winning Tennessee's 9th District seat in the…

Our Account Executive is an extraordinary person. Always available, very kind and funny. Eager to help and always quick to respond. I have so much fun working with him. A very delightful experience. I hope continue working together for years to come!
Credicorp Bank
About SPEAKING.com
Established in 1994, we are exclusive agents for some of the world's leading experts, celebrities and professional speakers.
We offer event planners a fully staffed speaker logistics planning team, plus a personal SPEAKING.com Account Executive – a knowledgeable and trustworthy partner. We guarantee your satisfaction with your speaker and a smooth booking process.
Contact us today to book your favorite speaker.

Feedback from Organizers:

"Once again, thank you for inspiring us. I have heard nothing but positive remarks!! I can assure you your comments will have lasting impressions."
(Conference Organizer, 6/10)

"[Your keynote] was inspirational and thought provoking, and delivered with great energy."
(Conference Organizer, 4/09)

"Thank you so much for the wonderful presentation!"
(Conference Organizer / ISD Technology Coordinator 2/09)

"We have heard a lot of wonderful feedback from your presentation."
(Conference Organizer / PD Specialist 1/09)

"I had so many people coming up to me telling me how much they enjoyed your presentation and how it had ′made them think.′"
(Conference Organizer 10/07)

"Thanks again for a most stimulating start for our [conference]. "The 'buzz' is still buzzing."
(Conference Organizer, 10/07)

Feedback from Audience Members:

"Your presentation this week was truly outstanding! ... my sincere compliments to you on both your material and your superb presentation skills."
(Audience Member / Business COO 9/10)

"Wanted to thank you for your presentation at the above event - I was really impressed by the use you made of the 30 minutes both in terms of style and content."
(Audience Member / Business Development manager 9/10)

"I attended your lecture on Monday and found it very interesting. I′ve been talking to my colleagues about it all week and would dearly love to share your slides with them."
(Audience Member / Head Teacher, UK 9/10)

"We attended your presentation today. It was awesome!!!!!!"
(Audience Members / College Professors 5/09)

"Your thought-provoking, inspiring, and very entertaining plenary … has echoed in my mind ever since."
(Audience member / College Faculty 4/09)

"I really enjoyed your talk which was interesting, thought-provoking and funny!"
(Audience member / College Faculty 4/09)

"Greatly appreciated your talk and student panel discussion here, and it has been the catalyst for some interesting discussion in our ranks."
(Audience Member / College Faculty, 3/09)

"Your presentation was very revealing and expressed exactly where we are at in teaching."
(Audience member / College Faculty 4/09)

"You have certainly twisted my head around---in a good way!"
(Audience member / Assistant Professor of Education 2/09)

Client List:

1st Chicago Trust
ABN-AMRO
American Express
Avon
Bank of America
Bank of Montreal
Bankers Trust
Blue Cross of Michigan
Cap Gemini Ernst & Young
Charles Schwab
CIBC
DARPA
Ernst & Young
Estee Lauder
Fidelity Investments
Ford
GE
IBM
JP Morgan Chase
Kraft Foods
LAUSD
Nokia
Nortel
Palm Pilot
Pearson
Pfizer
Providian Financial
Reuters
Springhouse Publishing
Stern Stewart
think3
TIAA-CREF
Toronto-Dominion
The Harvard Business School
U.S Department of Defense
Teaching Digital Natives: Partnering for Real Learning
Prensky presents a model for 21st-century teaching and learning, in which students become learners and creators of knowledge through technology while teachers guide and assess student learning.
Order Here





For corporate audiences: Use Me or Lose Me
Deriving Maximum Value from Today's Younger Workers
After years of debating the limitations of hierarchically-run organizations and the merits of democratization, the end of command-and-control management may finally be here, thanks to the people 25 and younger in our midst. Unprecedented changes in electronics and communications over the past 30 years have led to fresh patterns of thinking in these young digital natives—a new generation of people who are collectively harnessing both new technology and new behavioral skills—often to effect dramatic change within the organizations that employ them. Unfortunately, many Digital Immigrant leaders—including many of those who claim to beplugged in—don't get the fact that digital natives bring unique capabilities to large organizations.

In this talk Prensky highlights these changes and discusses their implications for today's and tomorrow's organizational leaders. If consulted, these young employees can be an enormous force for positive change and success in their companies. If ignored, they spend their brain cycles on the job plotting (in ways managers can't control) how to make their own work lives, not their companies, better.

For educator (and general) audiences:

Teaching Digital Natives: Partnering for Real Learning
(Based on Marc Prensky's latest book from Corwin)
Digital Wisdom: Beyond Natives and Immigrants
Why YouTube Matters: Teaching in the Students' World
Homo Sapiens Digital: Technology is Their Birthright
Engage Me or Enrage Me: Educating Today′s "Digital Native" Learners
Twenty-first Century Teaching: How All Teachers Can Do It
Don't Bother Me Mom – I'm Learning

How computer and video games are preparing your kids for twenty-first century success – and how you can help (based on Marc Prensky's Book)
Overcoming Our Digital Immigrant Accents
Understanding the implications of emerging Digital Native behaviors for education, training and learning
Using Games for Instruction: Where, When and How
Give Them 21st Century Tools

New approaches to learning can bring engagement back to our students
Education and Learning in the Twenty-first Century
How, why, and what we need to do differently
Turning on the Lights: Keeping Up With "After-School
Why schools must compete, and how to do it.
Marc Prensky - Digital Natives
"I have only one place to start, and that's at the place we all need to start, and end, and that's with the students," says Marc Prensky, explaining how educators can engage with the new generation of "digital natives." "We're preparing our students for the 21st-century world, the key is that we do it before the end of the 21st century!"
Marc Prensky: Future-cation: learning with today's powerful technology
Marc Prensky