* Please note that while this speaker's specific speaking fee falls within the range posted above (for Continental U.S. based events), fees are subject to change. For current fee information or international event fees (which are generally 50-75% more than U.S based event fees), please contact us.
Top25 Speaker Voting

Marc Hogan needs 8 vote(s) to make it into the Top 25 speakers on Speaking.com!
Speaker Booking Tip
"Tip: some speakers might provide one of their popular book titles as a free gift to your audience. "
For Event Planners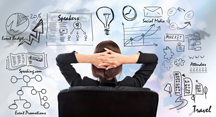 • Keynote Speaker Booking Toolkit.
• Booking a Celebrity Speaker.
• How to Find and Book the Right Speaker.
• Google+ Event Planning Forum.
• Tips for International Clients Booking U.S. Based Speakers.
Similar Speakers
Corey Blake

With over two decades of experience as a master communicator in Hollywood and the fine arts, Corey Blake's talent for creatively and emotionally connecting with…

Bill Conerly

Dr. Bill Conerly connects the dots between the economy and business decisions. He has the unique combination of a Ph.D. in economics from Duke University…

Mallory Brown

Social entrepreneur Mallory Brown represents a new generation of philanthropy. At age 24, she founded World Clothes Line, an online business that donates one article…

I just wanted to send a quick follow-up note to say – THANK YOU! I appreciate your partnership, and perseverance in helping us to find the right speaker for our group. Our speaker was absolutely excellent! The group loved him; it was perfect.
DeVry Education Group
About SPEAKING.com
Established in 1994, we are exclusive agents for some of the world's leading experts, celebrities and professional speakers.
We offer event planners a fully staffed speaker logistics planning team, plus a personal SPEAKING.com Account Executive – a knowledgeable and trustworthy partner. We guarantee your satisfaction with your speaker and a smooth booking process.
Contact us today to book your favorite speaker.

"Marc delivered a very well structured and impactful series of presentations to our network partners, which was extremely well received. His style is very engaging as well as amusing, and his content was tailored to be very relevant to our target audience. Thanks to these talents and his boundless energy, we certainly achieved our aims of opening minds and challenging attitudes in order to seize new opportunities and drive business improvements … with a good dose of fun!"
Ian Plummer – Head of Retail Operations, Volkswagen UK

"A great way to close our day. Engaging, entertaining, very funny and most importantly on message. Marc's story resonated with the business themes and his energy captured the business intent. Excellent!!!"
Mark Richards – Managing Director, Barclays Wealth International

"Marc opened our annual sales conference as we wanted to begin with an entertaining yet uplifting selling skills presentation and he certainly delivered, his delivery and content was exactly what we were looking for. His sales techniques are neatly entwined within his Edinburgh festival experience which in itself is compelling journey to listen to. He included the audience and made several key observations throughout his presentation that prompted you to question your own style or technique. A great start to a great conference – thank you Marc!"
Jim Hutchison – UK National Sales Manager, Honeywell

"Thank you for your engaging and entertaining contribution to our 'Striving for Excellence' event. Your humorous and thought provoking workshop brought with it some very tangible messages for all staff to take away when working through every day challenges within the NHS. Your '7 keys for success' certainly appeared to inspire everyone in the audience for taking service improvement projects forward!"
Dr Lesley Young Murphy – Deputy Director Community Services, NHS Newcastle and North Tyneside Community Health

"Brilliant, inspirational and thought provoking with good use of humour. I would have no hesitation in inviting him back or recommending him."
Jerome Cornwall, Grant Thornton UK LLP

"I wanted a speaker to wrap up our conference who could inspire our sales teams. I didn't want a sportsman a mountaineer or an astronaut. That might be uplifting, but does it truly inspire and drive change? Most of us don't run, row or climb. Marc started where many of us started and then he got brave. Really, really brave. He was funny, challenging and wise. More than that, Marc inspired change; many made promises, several committed to a change in attitude and at least one made a major life change. I would recommend him without hesitation."
Lee Farnsworth – Vice President Neurosciences EAME, Allergan Ltd

"Excellent! Some of the best corporate training I have ever seen!"
Bernadette Rogers – EphMRA

"Marc delivered an extremely thought provoking, interactive and entertaining session which not only challenged our thinking but also exceeded our expectations. He left us feeling empowered and motivated to take action. Simply put, an outstanding performance!"
Graeme McKinnon – Commercial Director, Expense Reduction Analysts

"I just wanted to say a massive thank you for yesterday – you were a complete hit with staff. We thought the way you adapted to make the speech personal to us was superb and the message went out loud and clear that part of giving good customer service is being self-aware. Well done!"
Suzanne Smith – Communications and Marketing Manager, West Kent Housing Association

"Dear Marc, thank you for a brilliant and extremely funny presentation, perfectly tailored to our audience. A lot of the delegates came along, not knowing quite what to expect, and they walked away feeling totally inspired and keen to try out the new techniques they had learnt. Thanks again!"
Kate Serby – Enterprise Officer, University of Hertfordshire

"Marc is a great communicator and has a message that is entertaining to listen to, as well as challenging of the audience. Not only is he funny, but the story is real and Marc's delivery engages everyone. Following Marc's talk the group was in a 'good place' and energised."
Nigel Campkin – Deputy Managing Director, Thomas Sanderson Ltd

"Thank you for doing such a brilliant job!"
Jennie Harnaman – Event Manager, The Institute of Sales & Marketing Management

---

Selected Clients:

Tesco
Barclays
Barclays Wealth
PriceWaterhouseCoopers
Deloitte
Grant Thornton
KPMG
Volkswagen
Virgin Media
Orange
Bechtel
Reebok
BAA Heathrow Express
Select Group
Badenoch and Clark
T-Mobile
Burlodge
Anglian Water
Amgen
The Institute of Sales & Marketing Management
3M
Honeywell
DSGI Business
GCHQ
Royal Sun Alliance
PETA Training and Consultancy Ltd
Allergan
NHS
Takeda
DX Group
Tetra Pa
Bristol-Myers Squibb
Pearson International
Hospitality Industry Training (HIT)
Schroders
University Of Hertfordshire
Q-Cells
National Association of Hospice Fundraisers
Funny Business
Have you ever wondered what it would be like to be a stand-up comedian? To have the crowd roar with laughter at every word you say...or does the thought of dying on stage scare the hell out of you?

Well guess what, it scared Marc too. However, following a challenge from Jim Lawless, of Taming Tigers fame, Marc found himself preparing for the Olympics of comedy, the Edinburgh Festival.

Marc's only weapon in the cut throat world of comedy was his 7 Keys for Success, developed during 10 years of business experience. His journey into comedy, complete with setbacks, triumphs and even a few tears and tantrums, shows just how the skills of stand up comedy can help you change the way you do business.

Funny Business, a 60 minute inspirational and exhilarating speech, will take you and your organisation on a hilarious journey that reveals the home truths of business and comedy, leaving you with a set of practical skills for business and life.

7 Keys to Success
An ex-sales and marketing professional with over 10 years experience, Marc's S.A.L.E.S. and Inspirational Communication programmes have inspired audiences across the UK to improve their communication and influencing skills. They love his unique approach to personal and business achievement underpinned by his 7 Keys for Success.

He will leave your people motivated and energised with a set of skills they can instantly apply.

Marc's 7 Keys for Success:

1. Opportunities are all around us.
2. Edit your editor.
3. Ask and you'll receive.
4. All the world's a stage.
5. If at first you don't succeed... review!
6. Take risks (little ones).
7. Be a compass not a weathervane.

S.A.L.E.S
Whether you are conscious of it or not, we all sell everyday. Some of us are paid to sell a product or service to our customers, others need to present our ideas to the Board, ask for a pay rise, or even try to convince our children to eat their greens.

No one likes to be "sold" to and God forbid that somebody tries to "close" us. So, what if, rather than your customer being "sold to" you could solve their problems for a fair and reasonable fee?

Marc's 5 step S.A.L.E.S. system will not only inspire your team, improve their communication skills and increase their sales. It will also ensure that they and their customers enjoy the process a whole lot more!

Depending upon audience size and organisational requirements, the S.A.L.E.S. system can be delivered as either an inspiring 90 minute keynote speech or for those looking for more in-depth knowledge it can be learnt over a one or two day training event.
Demo Video
Marc Hogan discusses how to cast away self-doubts as he shares the challenges he faced in piecing together an hour-long one-man comedy show from scratch. While he was no professional comic, something inside him had urged him to take on a colleague's bet; on the other hand, he was absolutely terrified that he wasn't going to be able to accomplish it.
Marc applies his ideas and exercises to change people's mindsets across various sectors, building on common emotions and experiences. "We all have those self-doubts," he confesses. "Those moments when the little voice in our head says we can't do the things we really want to do or should do."