* Please note that while this speaker's specific speaking fee falls within the range posted above (for Continental U.S. based events), fees are subject to change. For current fee information or international event fees (which are generally 50-75% more than U.S based event fees), please contact us.
Top25 Speaker Voting

Lynne Lancaster needs 7 vote(s) to make it into the Top 25 speakers on Speaking.com!
Speaker Booking Tip
"Tip: ask your speaker to do a book signing or attend a VIP meal with your guests. "
For Event Planners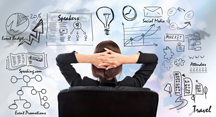 • Keynote Speaker Booking Toolkit.
• Booking a Celebrity Speaker.
• How to Find and Book the Right Speaker.
• Google+ Event Planning Forum.
• Tips for International Clients Booking U.S. Based Speakers.
Similar Speakers
Ann Handley

Ann Handley is a Wall Street Journal best-selling author, keynote speaker, and the world's first Chief Content Officer. A veteran of creating and managing digital…

Connie Dieken

Formerly a broadcast journalist, Connie Dieken brings the insights from her bestsellers Talk Less, Say More and Become the Real Deal to thought leadership presentations…

Kevin Kelly

Internationally acclaimed motivational speaker Kevin Kelley is a foremost authority on entrepreneurship, leadership, sales, creativity and personal excellence. Over the course of two decades, Kevin…

My account executive was very professional as well as patient with us. The entire experience of working with your agency was cordial and professional, with attention to all the, sometimes complicated, important details.
U.S. Department of Agriculture
About SPEAKING.com
Established in 1994, we are exclusive agents for some of the world's leading experts, celebrities and professional speakers.
We offer event planners a fully staffed speaker logistics planning team, plus a personal SPEAKING.com Account Executive – a knowledgeable and trustworthy partner. We guarantee your satisfaction with your speaker and a smooth booking process.
Contact us today to book your favorite speaker.

"Lynne absolutely knocked it out of the park. She was a pleasure to work with and delivered a dynamic, engaging speech that truly exceeded all expectations."
Association of Women in Finance
(Event booked by Speaking.com)

"Your enthusiadm for your topic was evident and much appreciated. In fact, many attendees felt your session was the most valuable of the conference."
Mary Wright Benner,
The Conference Board

"The information and insight you provided regarding the differences in generations were incredibly valuable and useful. I was especially impressed with the amount of research you did on our industry and institution and your ability to tailor your presentation to our audience."
Robyn Pennington,
Director Business Solutions Services,
The California State University

"In all my years of chairing this conference, I have never had a keynote speaker who did such a thorough job preparing content and ensuring that the remarks were highly relevant to our audience. Your deep research and focus were very evident and much appreciated by me and my leadership team. In addition... to a client, there was overwhelmingly positive response to your remarks and presentation style."
Judy Sloan,
Principal,
Deloitte Tax, Deloitte

"Based on results of our post-event survey, your presentation really resonated with employees. All of the respondents indicated that your presentation helped them better understand multi-generational workforces, with 95% saying they plan to utilize the lessons learned in their interactions with co-workers."
Tiffani Orange,
Diversity and Worklife Manager,
Ford Motor Company

Business/Management
American Management Association
American Society for Training and Development
American Society of Association Executives
Council of Growing Companies
Meeting Professionals International
Society of Consumer Affairs Professionals

Business Services
American Rental Association
Ceridian Corporation
Deluxe Check
Lifetouch, Inc.

Civic/Government
American Library Association
California State Association of Counties
League of California Cities
New Jersey Chamber of Commerce

Communications/Media
Newspaper Association of America
Public Relations Society of America

Construction
Home Builders′ Association
Construction Industry Manufacturers

Defense
Lockheed Martin Aeronautics
Tinker AFB

Education
College and University Professionals Association
National Association of College and University Attorneys
National Association of Educational Buyers
National Education Association
Pennsylvania Association of Colleges & Universities
Robert Morris College
Rose State College
St. Louis Community College
Southwestern College
University of Michigan
University of Minnesota

Financial
American Bankers Association
American Express Financial Advisors
Charles Schwab
Consumer Bankers Association
Financial Women International
Fortis Financial Group
PricewaterhouseCoopers
ReliaStar Financial
Southern Employee Benefits Conference
Washington Mutual
Wells Fargo Bank

Food Industry
Buffalo Wild Wings
Floral Marketing Association
Food Distributors International
General Mills
Land O′ Lakes, Inc.
Produce Marketing Association

Healthcare, Medical, Dental
3M Dental
Abbott Laboratories
Adventist Health
American Association of Blood Banks
American Association of Homes and Services for the Aging
American Dental Trade Association
Amerinet Central
Clinical Laboratory Management Association Foundation
California Association of Healthcare Admissions Management
Eli Lilly and Company
Healthcare Human Resources Management Association of California
HealthPartners
Henry Schein, Inc.
Johnson & Johnson
Patterson Dental Supply, Inc.
Sutter Gould Health Foundation
Sutter Health

Legal/Law
Dorsey & Whitney Law Firm
Gray Plant Mooty
Leonard, Street and Deinard
Lowenstein Sandler PC
Maslon Edelman Borman & Brand
Meritas Law Firms Worldwide
National Association of College and University Attorneys
National Association for Law Placement
Pepper Hamilton
Tucker Alan

Manufacturing
3M Corporation
Fibre Box Association
Lockheed Martin Aeronautics
Northrop Grumman Ship Systems, Inc.
Weyerhaeuser

Retail
Best Buy
Ethan Allen
Hallmark
Marshall Field′s
Salon Association
Wilsons Leather

Sales and Marketing
American Marketing Association
Association of Sales & Marketing Companies
Bank Marketing Association
Liberty Database Marketing Services
Photo Marketing Association International

Travel and Leisure
Carlson Companies
Travelodge
Society of Incentive & Travel Executives
National Tour Association

Utilities
National Rural Electric Cooperative Association
Minnesota Rural Electric Association
Alabama Electric Co-operative
Wisconsin Federation of Cooperatives
The M-Factor: Why the Millennial Generation is Rocking the Workplace
The definitive guide to turning the Millennials′ great expectations into even greater results.

The Millennial generation (those born between 1982 and 2000) has rapidly entered the workforce in greater numbers, but its introduction to the workplace has been anything but seamless. In fact, many companies already report attention-grabbing stories about:

the mother who called HR to complain when her Millennial daughter got a mediocre performance review;
the new hire who dialed the CEO directly to tell him what the company could be doing better;
the young employee who revealed a confidential new product on her Facebook page before it was made public.

Clashes like these are happening in workplaces around the world, and they leave leaders and coworkers scratching their heads and wondering, "What do these Millennials want? Why are they so different? How do we get the good ones in the door? How do we keep them there without alienating the other generations?" Going forward, a company′s success will depend upon knowing the answers to these questions, because they are the keys to motivating this new generation and to taking advantage of the amazing potential it possesses.

In The M-Factor, Baby Boomer Lynne Lancaster and Generation Xer David Stillman draw on cutting-edge case studies, findings from large-scale surveys, and hundreds of interviews to identify the seven trends essential for understanding and managing the Millennials: the role of the parents, entitlement, the search for meaning, great expectations, the need for speed, social networking, and collaboration.

Observant, humorous, and savvy, this book—the ultimate guide to Millennials in the workplace—offers valuable insights and practical, take-action tips and solutions that Traditionalists, Boomers, Gen Xers, and even Millennials can use to bridge generational gaps, be more productive, and achieve organizational success like never before.
Order Here





Rocking the Workplace: Managing and Leading Four Generations
If you think you′ve heard the generations topic before, guess again. The team that brought you the best-selling book, When Generations Collide, uses cutting-edge research, multimedia, stats and case studies to highlight what it′s going to take to attract and retain the best and brightest talent of every age.

Find out...


What makes the generations so different?and so perplexing?
How will demographic shifts drastically change the ways we recruit, retain and manage in the next decade?
How do you engage one generation without alienating another?
What can leaders do now to plan for succession and win the war for talent?

The M-Factor: Seven Ways the Millennial Generation Is Shaking Things Up at Work
Eighty million Millennials are flooding into the workplace and clashing with the generations already there. Learn the seven surprising trends that shaped this influential generation and the best tips and techniques for managing them. Based on the best-selling The M-Factor (HarperBusiness 2010).

Learn...


How you can win the war for young talent and become the place Millennials want to work
The keys for bridging communication gaps between texters, tweeters, and traditional communicators
How to handle entitlement?
What it takes to engage Millennials without alienating the other generations.

Selling and Marketing to the Generations
Markets are becoming increasingly segmented and one size no longer fits all clients and customers. This presentation reveals the hot buttons and preferences of Traditionalists, Boomers, Xers, and Millennials that marketers and sales people need to know to connect. This isn′t about inventing a new selling system - it′s about adding a generational lens to your already successful approach.

Learn...


What should sales people do to customize their message to each generation they sell to?
What should managers know to coach all the generations on their sales team?
How can marketers target campaigns to one generation without turning off another?
How can you put a generational lens on your company′s selling system to make it even more impactful?

Just for Associations: Engaging Four Generations of Members
Generation gaps are making it nearly impossible to meet the needs of every generation of members. This program reveals how to connect with each cohort and create loyalty with every generation. You can′t afford not to see the association world through a generational lens.

Topics include...


How do you convince the generations to get involved with your association and stay committed?
How can you connect with loyal traditional members while getting the young ones in the door?
How can you engage four very diverse generations of staff?
Demo Video
"Can we put some stories behind the stats and find out what it really means to be showing up at work with a whole new generation in place?" asks Lynn Lancaster as she explores the implications of having four generations in the same workplace. As she notes, "We're already seeing a trend where companies are having to run etiquette programs, how to dress appropriately, business writing..."
keynote Speech