* Please note that while this speaker's specific speaking fee falls within the range posted above (for Continental U.S. based events), fees are subject to change. For current fee information or international event fees (which are generally 50-75% more than U.S based event fees), please contact us.
Top25 Speaker Voting

Lucien Engelen needs 5 vote(s) to make it into the Top 25 speakers on Speaking.com!
Speaker Booking Tip
"Tip: speakers bureaus provide added value that you cannot get by booking speakers directly. "
For Event Planners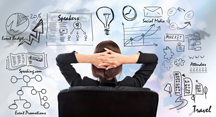 • Keynote Speaker Booking Toolkit.
• Booking a Celebrity Speaker.
• How to Find and Book the Right Speaker.
• Google+ Event Planning Forum.
• Tips for International Clients Booking U.S. Based Speakers.
Similar Speakers
Dr. James Sears

Truly one of the world's most recognized and trusted healthcare experts (his Emmy Award-winning informational talk show The Doctors is syndicated in twenty-two countries), Dr.…

Dr. Stuart Altman

An economic expert specializing in the field of healthcare, Dr. Stuart Altman has worked at the highest academic and governmental levels on policy issues affecting…

Robert Bazell

Emmy winning reporter Robert Bazell was Chief Science and Health Correspondent for NBC, with his reports (of which he has made more than 3500 to…

Everyone at your speakers agency were professional and helpful throughout the process, making it easy to book, communicate, and prepare for our event.
Hewlett Packard
About SPEAKING.com
Established in 1994, we are exclusive agents for some of the world's leading experts, celebrities and professional speakers.
We offer event planners a fully staffed speaker logistics planning team, plus a personal SPEAKING.com Account Executive – a knowledgeable and trustworthy partner. We guarantee your satisfaction with your speaker and a smooth booking process.
Contact us today to book your favorite speaker.

"Dear all, I have become knowing Lucien as one of those people who really stands up for novel fashioned patient empowerment. He has the ability to initiate new ideas and implement them by an authentic enthusiasm. He just knows how to get his 2.0 messages through. Therefore I warmly recommend
Lucien. Kind regards, Prof.Dr.. Nicoline Hoogerbrugge, MD, PhD."
Nicoline Hoogerbrugge, Professor in Hereditary Cancer, Radboud University Nijmegen, worked with Lucien at Radboud University Nijmegen Medical Centre
"Lucien is a man with a mission and a vision. He has a clear vision about the direction health care should develop into and works with passion, knowledge and influence in that direction. He's a frontrunner without losing sight of his followers. He knows that innovation is nothing without implementation."
Erwin Blom, Owner, The Crowds, was with another company when working with Lucien at Radboud University Nijmegen Medical Centre
Lucien Engelen's informative presentations reflect his relentless passion for the healthcare industry and patients. His talks endorse modern technology as a means of giving patients more control over their informal care, explaining the innovations and changes that need to take place so that people can "be part of their own disease again."
Often considered the Steve Jobs of medical technology, Lucien fearlessly introduces and implements new ideas never losing sight of his mission to create a world where healthcare revolves more around patient participation.

Lucien Engelen-Crowdsource your health
Visionary Lucien Engelen demonstrates technological innovations that can save lives by getting more and more people involved. He points to the underuse of digital technologies in regard to medicine, pointing out that people use aps to find the nearest ATM everyday, so why not do the same for emergency healthcare resources?
Demonstrating aps he and his team have created through crowd-sourcing to find the nearest AED or a WIFI scale that sends data to doctors and friends through Google Health and Twitter. Joking that people sometimes tweet him that he needs to eat a light lunch that day, Lucien remarks, "But that's the nicest thing that could happen, since this is peer pressure. Peer pressure used to help patients…It also could be used to get people from out of their chairs and try to work together in some kind of gaming activity to get more control of their health."
Keynote Speech