* Please note that while this speaker's specific speaking fee falls within the range posted above (for Continental U.S. based events), fees are subject to change. For current fee information or international event fees (which are generally 50-75% more than U.S based event fees), please contact us.
Top25 Speaker Voting

Louie Gravance needs 9 vote(s) to make it into the Top 25 speakers on Speaking.com!
Speaker Booking Tip
"Tip: speakers bureaus can provide: speaker fee negotiation, insurance, smooth logistics and value add-ons such as extra sessions. "
For Event Planners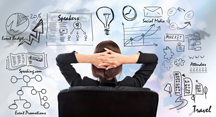 • Keynote Speaker Booking Toolkit.
• Booking a Celebrity Speaker.
• How to Find and Book the Right Speaker.
• Google+ Event Planning Forum.
• Tips for International Clients Booking U.S. Based Speakers.
Similar Speakers
Corey Blake

With over two decades of experience as a master communicator in Hollywood and the fine arts, Corey Blake's talent for creatively and emotionally connecting with…

Mallory Brown

Social entrepreneur Mallory Brown represents a new generation of philanthropy. At age 24, she founded World Clothes Line, an online business that donates one article…

Marc Hogan

A flippant bet that he couldn't become a stand up comedian in a year led Marc Hogan to discover a wealth of skills ending in…

I just wanted to send a quick follow-up note to say – THANK YOU! I appreciate your partnership, and perseverance in helping us to find the right speaker for our group. Our speaker was absolutely excellent! The group loved him; it was perfect.
DeVry Education Group
About SPEAKING.com
Established in 1994, we are exclusive agents for some of the world's leading experts, celebrities and professional speakers.
We offer event planners a fully staffed speaker logistics planning team, plus a personal SPEAKING.com Account Executive – a knowledgeable and trustworthy partner. We guarantee your satisfaction with your speaker and a smooth booking process.
Contact us today to book your favorite speaker.

"You have the remarkable and uncommon ability to use your natural skills in humor and drama to clearly convey the more serious parts of your presentation. You entertained us, but you also used the fact that you'd gotten our attention to drive home key concepts in your presentation. That's a rare skill-you were astonishingly good!"
Elizabeth Lane Lawley Ph.D Rochester Institute of Technology
"You had me in the palm of your hand... I was enthralled by your presentation... I was inspired, and I learned a few things I can apply right here in Columbia S.C."
Beverly Shelley SC Dept. of Parks, Recreation and Tourism
"We were so impressed with Louie's presentation and its relevance to our own customer service...our nearly 1800 customer service associates were treated to a lively, humorous, and uplifting presentation."
Kim Harm Executive Vice President Customer Service Operations Mutual of Omaha Co.
"Louie is an extraordinarily gifted individual who has the capacity to touch the minds and hearts of a room full of skeptical individuals and change their mindsets in one hour and twenty minutes! WHAT A FEAT!"
Kathy Pagliughi Regional Director of Stores Kids 'R' Us
"Thank you for providing an inspiring and entertaining evening for our Fisher Scientific Customer Service management team! My week long meeting wrapped up today and I wanted to share some great feedback with you. Principles you highlighted made a profound impact on several members of my team. Your stories were funny, entertaining, and correlated very well to our exciting initiatives for next year. Again, thank you!"
Angela Blackburn Fisher Scientific
"HOW TO CREATE THE HAPPIEST WORKPLACE ON EARTH"
Ever wonder how a company like Disney maintains "Service Excellence" on a daily basis? I am often asked, "How does Disney manage to have such happy employees?" Discover some of the techniques and themes used to train and motivate thousands of Disney "Cast Members" annually. THESE ARE UNIVERSAL CONCEPTS THAT CAN BE APPLIED TO YOUR ORGANIZATION. Based on over ten years of experience as a Disney Traditions "Professor", this talk is particularly aimed at keeping every employee "Emotionally Connected" to their purpose. You will see the power of GOAL FUSION between you and every member of your team. Either "backstage or onstage performers" from such hardworking areas as call centers, sales, health care professionals, custodians and housekeepers must understand their link to the goals and objectives of their employer. This presentation stresses the alliance between employees both seen and unseen. This talk is often utilized by organizations that ask the very most of their service employees whose rewards are not always obvious in the short term.
"THERE′S NO BUSINESS BUT SHOW BUSINESS!"
ALL organizations, whether they're aware of it or not, are constantly engaging their internal and external customers in a NARRATIVE of sorts. Regardless of what anyone is selling or providing, a STORY is conveyed through every single transaction. This narrative drives everything from customer expectations to employee satisfaction to even your very BRAND ESSENCE.
LET'S GET YOU AND YOUR EMPLOYEES
TELLING THE SAME STORY!
EVERYTHING SPEAKS.
Whether you're a food service professional or a pediatrician, virtually ever vocation requires a "performance technique!" Any business, like any venture of showmanship must ask:
WHAT DO WE LOOK LIKE?
WHAT DO WE SOUND LIKE?
WHAT DO WE FEEL LIKE?
For over 30 years I've appeared on radio, network television, film, stage, in theme parks, as well as worked with corporate trainers in medicine, retail, foods, manufacturing, auto makers, insurance companies to name just a few. They are all the same business! Many people in the workforce ultimately ask themselves, WHAT'S IN IT FOR ME?
This talk stresses that in the workplace, as in life, INVESTING OF YOURSELF IS THE SAME AS INVESTING IN YOURSELF!
Every service transaction is an opportunity to create a "Magic Moment" for both customer and employee.
LOUIE GRAVANCE
HALF AND FULL DAY
TRAIN THE TRAINERS WORKSHOPS

TELL YOUR EMPLOYEES
WHAT THEY NEED TO KNOW
NOT WHAT THE POWERPOINT SAYS!
This is a very interactive workshop that helps introduce story telling and self investment in training. Due to the advances in technology and the demands and regulations of the average workplace, we are creating a generation of trainers that can't get through a day without the aid of a slide presentation. In fact, let's be honest, many FOLLOW the slides to keep them on message. Fine training is emotionally driven as well as data driven. These full and half day sessions get people up on their feet expressing themselves in a new way. I will customize a day that will include humor, story telling, improvisation and techniques for sounding as if your giving every presentation for the first time instead of the hundredth.

Keynote Speech
Louis Gravance makes customer service come to life as he demonstrates the importance of exercising performance technique appropriate for one's field. He half narrates/half enacts a doctor examining a patient, pointing out that even if a doctor sees the most hideous growth imaginable in someone's ear, he maintains composure.
It's key then that people ask themselves what the performance techniques in their field look like, sound like, feel like and even smell like, because these practices are key for a company's success, or what Mr. Gravance calls "transcending being a product." People may ask for a Kleenex instead of a tissue or a Coke instead of a cola, he illustrates. "When a company is an adjective for excellence in its field," Mr. Gravance states, "that is when it's achieved the most admired status."