* Please note that while this speaker's specific speaking fee falls within the range posted above (for Continental U.S. based events), fees are subject to change. For current fee information or international event fees (which are generally 50-75% more than U.S based event fees), please contact us.
Top25 Speaker Voting

Liz Wiseman needs 8 vote(s) to make it into the Top 25 speakers on Speaking.com!
Speaker Booking Tip
"Tip: find a speaker in your local area to save on travel costs. Most speakers will also reduce their keynote fee for local events. "
For Event Planners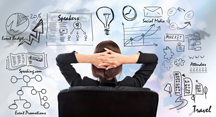 • Keynote Speaker Booking Toolkit.
• Booking a Celebrity Speaker.
• How to Find and Book the Right Speaker.
• Google+ Event Planning Forum.
• Tips for International Clients Booking U.S. Based Speakers.
Similar Speakers
Ron Kaufman

Ron Kaufman is the go-to guy for motivation. He is the world's leading educator and motivator, helping companies to transform their customer service and build…

Kevin O'Leary

Businessman and investor, Kevin O'Leary makes or breaks entrepreneurs' dreams as a venture capitalist on ABC's Shark Tank. The founder of the successful SoftKey Software…

Dave Ulrich

Professor at the Ross School of Business, University of Michigan, Dave Ulrich is a student of the ways in which organizations build leadership, speed, learning,…

It was an extreme pleasure to work with our account rep. She was friendly, flexible, and knowledgeable about all their speakers. She made the process simple. I cannot begin to put into words the impact that our speaker had on our audience. People are still taking about his presentation and his program set a standard on all diversity programs.
FDIC: Federal Deposit Insurance Corporation
About SPEAKING.com
Established in 1994, we are exclusive agents for some of the world's leading experts, celebrities and professional speakers.
We offer event planners a fully staffed speaker logistics planning team, plus a personal SPEAKING.com Account Executive – a knowledgeable and trustworthy partner. We guarantee your satisfaction with your speaker and a smooth booking process.
Contact us today to book your favorite speaker.

This presentation was over the top! Everyone from the warehouse supervisor to the senior executives raved about it. Great presence, wonderful engaging stories, solid concepts for use by leaders at any level and wonderful slides with videos. Liz engaged the audience along the way and ended with a one-to-one exercise that left everyone thinking, talking and involved.
The Alternative Board
"Having secured keynote speakers for close to 30 years, I have Liz Wiseman at the very top of the list. Her energy, knowledge and preparation are second to none. If you want 'take home value' for your teams, book Liz Wiseman... I have twice, and she is off the charts.".
Gary Williams, VP, Franchise Relations, MRI Network.
"You have NO IDEA how great that talk was. I have never been in a Tech Talk here where there wasn't a room full of open lap tops. Never. Twitter is a laptop-open culture and you managed to pull off what I thought was an impossible feat! I was impressed by the level of engagement and the number of questions at the end. You are certainly a powerhouse!".
Janet Van Huysse, Vice President of Human Resources, Twitter, Inc.
"Liz Wiseman has a powerful message and research to back it up Three days later, I'm still processing the content and how it plays out in my company, my personal relationships and in my role as a sales leader.".
Mike Weinberg, SVP, Gabriel Group & Fortune Growth Summit participant
"I'm a newly promoted Vice President and Multipliers has unlocked for me how I need to lead in my new role. It is the leadership approach that will take me through the next 10 years of my career.".
Allison Mast, Vice President, GAP, Inc.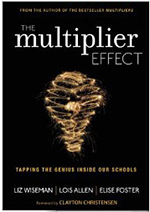 The Multiplier Effect: Tapping the Genius Inside Our Schools
Why do some leaders double their team's effectiveness, while others seem to drain the energy right out of the room? Using insights gained from more than 100 interviews with school leaders, this book pinpoints the five disciplines that define how Multipliers bring out the best across their schools. By practicing these disciplines, you'll learn how to:
Attract top teachers to your school
Create an intense environment that demands people's best thinking
Drive sound decisions by constructing debate and decision-making forums
Give your team a sense of ownership for responsibilities and results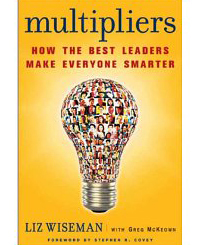 Multipliers: How the Best Leaders Make Everyone Smarter
A thought-provoking, accessible, and essential exploration of why some leaders ("Diminishers") drain capability and intelligence from their teams, while others ("Multipliers") amplify it to produce better results. Including a foreword by Stephen R. Covey, as well the five key disciplines that turn smart leaders into genius makers, Multipliers is a must-read for everyone from first-time managers to world leaders.
Multipliers: How the Best Leaders Make Everyone Smarter
We've all experienced two dramatically different types of leaders. The first type consists of individuals who drain intelligence, energy, and capability from the people around them and always need to be the smartest people in the room. They are the idea killers, the energy sappers, the diminishers of talent and commitment. The second type, on the other side of the spectrum, consists of leaders who use their intelligence to amplify the intelligence and capabilities of the people around them. When these leaders walk into a room, light bulbs go off over people's heads, ideas flow, and problems get solved. They are the leaders who inspire employees to stretch themselves and get more from other people. They are the "multipliers." And the world needs more of them, especially now that leaders are expected to do more with less.
In this highly engaging talk, speaker Liz Wiseman will share the research behind "multipliers" and illustrate the resoundingly positive and profitable effect these multipliers have on organizations - how they get more done with fewer resources, develop and attract talent, and cultivate new ideas and energy to drive organizational change and innovation. She'll introduce the five disciplines that distinguish "multipliers" from "diminishers" and provide practical tips for leading like a "multiplier."
Liz Wiseman Keynote at Microsoft
Liz Wiseman explains how many companies are not taking full advantage of the latent intelligence available to them within their workforce. An employee may be overworked but they could still be underutilized; Liz explains how the best leaders are "multipliers," those who use the full range of their workers' intelligence and abilities and links them together to make the whole greater than the sum of its parts.
Liz Wiseman: 12Gurus:Charity
TEDx Talk
Liz Wiseman: Leading @ Google: Multipliers Book Talk