Top25 Speaker Voting

Lior Arussy needs 5 vote(s) to make it into the Top 25 speakers on Speaking.com!
Speaker Booking Tip
"Tip: some speakers might provide one of their popular book titles as a free gift to your audience. "
For Event Planners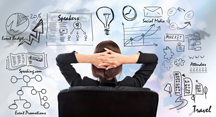 • Keynote Speaker Booking Toolkit.
• Booking a Celebrity Speaker.
• How to Find and Book the Right Speaker.
• Google+ Event Planning Forum.
• Tips for International Clients Booking U.S. Based Speakers.
Similar Speakers
Margie Warrell

Coach, author, and mother of four Margie Warrell is constantly sought by conferences, corporations, and media outlets for her advice on taking risks, living courageously,…

Willie Jolley

Rated the " #1 Motivational & Inspirational Speaker and Singer in America" by Get Motivated Seminars, Dr. Willie Jolley became speaking sensation after being fired…

Jim Murphy

Jim Murphy uses his tales from flying an F-15 at 9G to get business teams focused and aligned around common goals from start to finish.…

Our speakers were absolutely outstanding and top class. Once again, thank you for making this happen for us. You have been outstanding and the best speakers bureau we have ever worked with!
Volkswagen
About SPEAKING.com
Established in 1994, we are exclusive agents for some of the world's leading experts, celebrities and professional speakers.
We offer event planners a fully staffed speaker logistics planning team, plus a personal SPEAKING.com Account Executive – a knowledgeable and trustworthy partner. We guarantee your satisfaction with your speaker and a smooth booking process.
Contact us today to book your favorite speaker.

I want to thank you for delivering a very thought-provoking workshop to the Global Business Services Leadership Team last week. It was way beyond what I could have hoped for; the content was fresh, the concepts were inspiring and the delivery was exceptional.The resounding theme from the leaders was that you are the best speaker they have ever seen and your presentation was the highest rated of the meeting - 9.8 out of 10.
Ginny Danforth, Manager, Customer Satisfaction, Global Business Services of Honeywell International, Inc.
Thank you for an excellent marketing strategy session. Your ideas and recommendations have helped us create a marketing message that has become the exciting new "buzz" in the information security industry. You provided my marketing team with newfound energy and excitement to implement and expand upon your creative ideas. Sometimes we just need that "one person" to guide us with "out of the box" thinking. You did that for us and I thank you.
Roberto Medrano, President and CEO of Polivec, Inc.
Quite simply, Lior delivered an outstanding keynote presentation at our recent G-Force user conference in Orlando. Focused on delighting customers, his message was a perfect fit for the conference theme and the passion with which it was delivered captivated our audience of customer service professionals. Furthermore, Lior took the time and effort to meet with many of our customers after his presentation. This made a huge difference to their event experience.
Paul Roberts, Global Customer Marketing of Genesys Telecommunications
Lior's keynote address at our Call Center Demo & Conference in Orlando was right on target for our audience. It was a skillful blend of valuable insights, fact-filled research and amusing anecdotes that all combined to deliver a compelling call-to-action that resonated with the call center professionals in attendance. Lior made us all think and inspired us to make changes — exactly what a keynote speaker should do.
Ted Hopton, Director, Membership Services of International Customer Management Institute (ICMI)
The seminar on customer centricity you delivered was extremely well received. The content and the delivery were truly exceptional, and the feedback was very positive. Our CEO attended the session and was every bit as impressed as the others.
Joseph A. Accardi, Vice President, Marketing and Corporate Development of Siemens Financial Services, Inc
Your presentation was the most memorable part of the "Doing Business in North America" seminar presented to over 40 business leaders of the Israel Export Institute. The most valuable lesson - even more valuable than the legal, structural, and organizational - was how the customer experience was vital to their success. They now understand that their true competitive advantage is not only through product, but also through customer services.
Thomas N. Sudow, Executive Director of Ohio Chamber of Commerce
Working with Strativity has transformed the way we think about customer experience at Sage. The research techniques employed by Strativity deliver meaningful, insightful and actionable results, which we have found to be invaluable in our own journey to provide customers with a better experience. Above all else, the team at Strativity are a delight to work with – committed, forthright, personable, engaging. I would recommend them wholeheartedly.
Paul Stobart, Managing Director of Sage UK
Strativity Group has been, and continues to be, invaluable in helping us develop and deliver an exceptional experience for our customers. They have been with us since the inception of customer experience at our organization which enabled us to leverage the best practices across many industries to exceed our customer's expectations.
Melissa M. Sturno, Vice President, Marketing of ProCure Treatment Centers, Inc.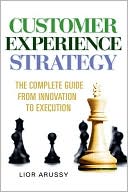 Customer Experience Strategy: The Complete Guide From Innovation to Execution
"Customer Experience Strategy" has penetrated the mainstream corporate agenda. It provides a complete strategic and operational framework for organizations and individuals committed to deploying customer experience. The book has been gleaned from years of designing and implementing customer experience strategies at organizations worldwide. "The most ambitious and successful attempt at a comprehensive text on the practice of customer experience management...refreshingly practical." strategy + business magazine
Order Here
Excellence Every Day: Make the Daily Choice-Inspire Your Employees and Amaze Your Customers
Addressing all levels of the corporate ladder, from customer service to the CEO, this business-savvy handbook explores "The Excellence Myth," revealing a new philosophy of excellence to help individuals and organizations reach their performance potential. Including both personal anecdotes as well as the results of a 23,000-participant study, the book details the keys to expanding leadership skills, improving employee satisfaction and job performance, and securing customer loyalty. The guide also explains how making "The Daily Choice" will empower employees to reach new heights of excellence, creating delightful customer experiences and achieving results from the bottom up.
Order Here

Passionate & Profitable: Why Customer Strategies Fail and 10 Steps to Do Them Right!
Companies are not choosing to build customer relationships nor committing fully to the customer experience. Management strategies that are customer-related activities are undertaken as "initiatives", "programs," or "campaigns," running for a short period of time and never being embraced as a full operational strategy. In this book, customer relationship management consulting guru Arussy demonstrates how the seller′s interest in the buyer′s welfare can be motivated by the desire to seek mutual gain.
Order Here

Lior Arussy′s presentations are full of refreshingly practical advice for creating ′wow′ experiences for your customers, aligning all departments towards customer centricity and being exceptionally relevant to your customers′ needs. Based on his corporate experience where he grew HP′s business by 50% per quarter for 3 consecutive years along with the last 10 years of consulting with top brand companies worldwide, Arussy brings valuable insight, fact-filled research and amusing anecdotes to every presentation. 
"When Customer Experience Success Stops!" or "Everyone Agrees, So Why Are We Not Customer Centric?"
While CX initiatives often start with a great fanfare of awareness and assessment, most organizations' programs end up stalling and fail to completely embrace a customer centric culture. Practitioners are facing a collection of small initiatives and improvements that, at best, fix customer complaints, but do not create exceptional experience or strategic differentiation. Based on lessons learned from 200 transformation programs, this session discusses the gap that prevents organizations from bridging their initial activities to a complete organization-wide transformation.
"The New Frontier of Customer Experience: Purpose" or "What's the Purpose of 'Purpose' in Your Experience?"
After years of trying to improve customer experience, many organizations succeed only in addressing customer complaints and fixing pain points. But addressing pain points is merely a starting point. Loyalty belongs to those organizations who align their values with those of their customers and create a sense of purpose through their products and services. Creating a purposeful experience requires a new way of designing and implementing the customer experience. This session will explore the definition of the purposeful experience and its principle of design.
Pride – The Missing Ingredient in Any Transformation"
Are your employees proud of the company they work for? This is the most critical question for any customer transformation. Based on 15 years of designing customer experiences for organizations, we've learned that a critical component to success is pride in the brand. This session will focus on what it means to create pride in a brand and, specifically, the methods to create authentic pride in your brand.
Transformation – Do Your Employees Believe You?"
Organizational transformation is dependent on a multitude of factors, beginning with its design and implementation. The most neglected factor in transformation is employees' trust and belief in the process. Following years of failed initiatives and a serious "launch and abandon" track record, employees develop a skeptical attitude. This cynical attitude is most likely the most significant obstacle to your transformation. Based on an HBR study, 91% of change programs fail to reach their original goals. The focus of this session will be how to overcome employees' disbelief and cynicism and accelerate transformation. Failing to achieve the transformation goals is failing to implement strategic relevance with customers. Failure is not an option.
Change and Transformation – Address the Past Before You Develop the Future"
Employees' resistance to change is often perceived as a fear of what the unknown of the future holds, as well as an attachment to the known present and the nostalgic past. A Strativity-sponsored HBR study demonstrates that the root cause of failure of business transformation is the human factor. The real issue, however, is the past rather than a fear of the future. In the eyes of employees, change implies that the past was somehow wrong. They cling to the past because it is part of their history, their success. In order to move forward, employees need to contextualize the past and link it to the future. This session explores the lessons learned from over 200 transformation programs and how to create an authentic transformation that will invite employees to accelerate change.
Culture by Design, Not Default" or "Who Defines Your Culture, When You Don't?"
There are two ways to develop a culture; by design or by default. In the absence of design and direction, culture evolves and develops based on organizational decisions and performance. Every failure, change in leadership, reorganization and layoff erodes the trust of employees. Over time, all of these factors develop a very suspicious employee demographic and an organization that focuses on making "safe decisions" that is less likely to be ready for transformation. Past experiences define an organization as opposed to the thirst for a better future. This session explores ways to shift from a culture by default, to a culture by design.
The Fusion of the Digital and Human Experience"
Does your digital experience define your value to customers? If the answer is yes, you are most likely shifting value creation to your customers and reducing the human aspect of your experience. By doing so, you are eroding your perception of value and likely will be exposed to price pressure. Smart organizations are not using their digital presence to replace the human aspect of their experience, but rather, to amplify it. While customer choice and flexibility is powerful, the human role in the experience is now more critical than ever before in creating customer value. This session explores how to fuse your digital presence with human experience to ensure customers' high perception value and loyalty.

Demo Video
Lior Arussy presents his insights into customer-centric transformation, bringing the experience of successfully refocusing hundreds of companies towards their customers for greater satisfaction and reward. He acknowledges that there are differences between industries and between countries, but he says, "There are core principles which you cannot afford to ignore, these are just laws which we absolutely cannot afford to ignore."
He explains that too many companies are focusing on their commodities and expecting their customers to come to them, rather than focusing on customers: "You are sitting here in the banking industry and you are all hoping for the same type of solution…the first thing I'm going to say to you, and please write this down: stop selling! We are busy selling to customers instead of trying to think about how to create a better offer that will come to them naturally."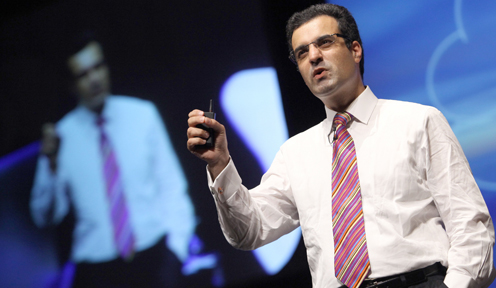 The recipient of CRM Magazine's "Influential Leader Award", Lior Arussy is known as a man who gets results in the fields of customer experience and customer-centric transformation. His knowledge of how to help organizations stop focusing on the product and focus on the customer comes from his experience working with some of the most prestigious ... more