* Please note that while this speaker's specific speaking fee falls within the range posted above (for Continental U.S. based events), fees are subject to change. For current fee information or international event fees (which are generally 50-75% more than U.S based event fees), please contact us.
Top25 Speaker Voting

Leon Logothetis needs 1 vote(s) to make it into the Top 25 speakers on Speaking.com!
Speaker Booking Tip
"Tip: speakers bureaus can provide: speaker fee negotiation, insurance, smooth logistics and value add-ons such as extra sessions. "
For Event Planners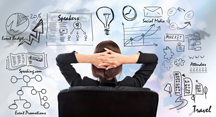 • Keynote Speaker Booking Toolkit.
• Booking a Celebrity Speaker.
• How to Find and Book the Right Speaker.
• Google+ Event Planning Forum.
• Tips for International Clients Booking U.S. Based Speakers.
Similar Speakers
Dr. Jeff Salz

A recognized expert in the field of Cultural Anthropology, Dr. Jeff Salz has traveled to the furthest corners of the globe - from Patagonia to…

Mike Mullane

From combat reconnaissance missions over the skies of Vietnam and Space Shuttle missions, to climbing some of the highest peaks around the world, Astronaut Mike…

Paul Deegan

Paul Deegan is a survivor of the 1996 Mt. Everest fatal "rogue storm" that was the bases of the best-selling book Into Thin Air. Not…

Our agent was great to work with. Very easy to reach when needed and promptly returned messages. Thank you for making our event such a big success, we are looking forward to working with you again soon!
American Lung Association
About SPEAKING.com
Established in 1994, we are exclusive agents for some of the world's leading experts, celebrities and professional speakers.
We offer event planners a fully staffed speaker logistics planning team, plus a personal SPEAKING.com Account Executive – a knowledgeable and trustworthy partner. We guarantee your satisfaction with your speaker and a smooth booking process.
Contact us today to book your favorite speaker.

"His entertaining and thought provoking presentation to our staff left us inspired and determined to tell our students and others on staff that we "see" each and every one. Many discussed after the presentation that this seemingly simple act, when done consistently with all students, has the potential to ripple throughout our school community and ultimately have a positive and profound effect on our educational system."
- PRINCIPAL Table Mound School

"'Engaging, inspiring and authentic', that's what people had to say about Leon's presentation at Inspire Café. Audience members connected to his story and subsequently felt more inspired to embrace adventure, trust more in the goodness of others, and be a positive contribution in the world."
- SCOTT THEISEN Co-owner of Inspire Café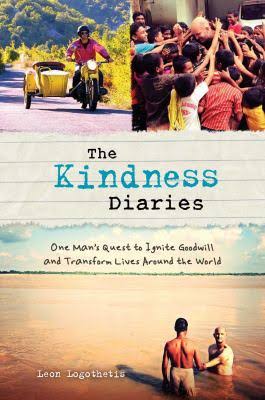 The Kindness Diaries
The incredible journey of one man who sets out to circumnavigate the globe on a vintage motorbike fueled by kindness.
Follow the inspirational journey of a former stockbroker who leaves his unfulfilling desk job in search of a meaningful life. He sets out from Los Angeles on a vintage motorbike, determined to circumnavigate the globe surviving only on the kindness of strangers. Incredibly, he makes his way across the U.S., through Europe, India, Cambodia, and Vietnam, and finally to Canada and back to the Hollywood sign, by asking strangers for shelter, food, and gas.
Again and again, he's won over by the generosity of humanity, from the homeless man who shares his blanket to the poor farmer who helps him with his broken down bike, and the HIV-positive mother who takes him in and feeds him. At each stop, he finds a way to give back to these unsuspecting Good Samaritans in life-changing ways, by rebuilding their homes, paying for their schooling, and leaving behind gifts big and small.
The Kindness Diaries will introduce you to a world of adventure, renew your faith in the bonds that connect people, and inspire you to accept and generate kindness in your own life.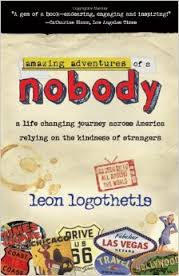 The Amazing Adventures of a Nobody
Tired of his disconnected life and uninspiring job, Leon Logothetis leaves it all behind-job, money, home even his cell phone-and hits the road with nothing but the clothes on his back and five dollars in his pocket, relying on the kindness of strangers and the serendipity of the open road for his daily keep. Along the way, Leon offers up the intriguing and charming tales gathered along his one-of-a-kind journey: riding in trains, buses, big rigs and classic cars; sleeping on streets and couches and firehouses; meeting pimps and preachers, astronauts and single moms, celebrities and homeless families, veterans and communists. Each day of his journey, we catch sight of the invisible spiritual underpinning of society in these stories of companionship-and sheer adventure-that prove that the kind, good soul of mankind has not been lost.

I See You: The Power of Human Connection
"I'm so scared of dying without ever being really seen." - David Foster Wallace
When Leon stumbled across this quote a few years back, it hit him. Hard. To be seen? What a powerful yet at times elusive feeling. The internal engine of his mind started to rumble. He began to muse how many of us could relate to living our lives without this magical, yet crucial emotional delicacy.
We seek it. We yearn for it. We often don't find it. Yet the true magic of Humanity lies in our capacity to connect. To inspire. To belong. There are days when he's sure you do feel seen. There are days when he is sure you feel unseen. It is during the days that we feel seen that our spirit soars. Our life force expands. Our authentic power blossoms. See and be seen, that's the goal of this speech…
Amazing Adventures of a Nobody
This is the story of how Leon quit his high paying job and travelled the world relying on the Kindness of Strangers. He worked as a broker in the city of London. He felt uninspired, depressed and devoid of purpose. After stumbling across the film The Motorcycle Diaries he had an epiphany. Living his life in a box was not going to cut it anymore. He yearned for change. He yearned for connection. He yearned for a real chance at life. He dropped everything and embarked on a life-changing journey across the world meeting amazing people that connected him to his heart.
Travel as the School of Life
Leon wasn't a talented student and left school with a lack of confidence. Travel changed all that. Everything he didn't learn in school he learnt on the road.
He's travelled to over 70 countries and experienced the harshness and beauty of this planet we call home. Traveling across Peru and skipping death by a foot as a Landslide tore the train tracks off the mountainside taught him to live in the moment. When his 1960's Cadillac caught fire in the night in the kidnap capital of India, Bihar Province he was taught conflict resolution. Standing in line for hours at the Haiti/Dominican Republic border taught him patience & gratitude.
Travel has taught him about life. Travel has molded him into be the man he is today. Travel will inspire you to live your greatest possible life.
Go On an Adventure! It's Time to Live Outside the Box
Some of us enjoy our comfort zones. Some enjoy the safety and monotony of life. Some don't. Leon is most definitely one of the latter. As a child he felt trapped. He felt his adventurous spirit extinguished by a conservative upbringing. Don't go too fast. Don't go too slow. Don't do that.
Hell no! Go fast. Do whatever your spirit guides you to do. He has been fortunate to embark on many adventures. Here are a few: Driving from London to Mongolia. Following his dreams and walking across Europe. Driving a vintage London taxi across America giving free cab rides to all. Anything is possible. Adventure is just around the corner. Live. Now.

Speaking Demo Reel
World-traveler and television sensation Leon Logothetis calls attention to the power of words and actions, demonstrating that every person influences the emotional state of those around him. "Simply showing some kindness to someone else is a very powerful thing. Simply showing some meanness to someone is a very powerful thing," he emphasizes both the positive and negative feelings people are capable of generating in others.
The good news is we can change people's lives in a positive way by speaking kindly and showing generosity, simple gestures that set off a chain reaction. Even in the inevitable times that we will feel pain or depression, Leon reminds us that we still have the power to choose how we react and interact with our fellow human beings.
Leon Logothetis, Inspirational Speaker: The Kindness Diaries Keynote
Leon Logothetis, Inspirational Speaker: Nexus Global Youth Summit
Leon Logothetis, Inspirational Speaker: Keynote