* Please note that while this speaker's specific speaking fee falls within the range posted above (for Continental U.S. based events), fees are subject to change. For current fee information or international event fees (which are generally 50-75% more than U.S based event fees), please contact us.
Top25 Speaker Voting

Lenora Fulani needs 7 vote(s) to make it into the Top 25 speakers on Speaking.com!
Speaker Booking Tip
"Tip: find a speaker in your local area to save on travel costs. Most speakers will also reduce their keynote fee for local events. "
For Event Planners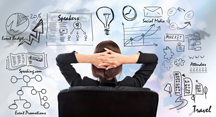 • Keynote Speaker Booking Toolkit.
• Booking a Celebrity Speaker.
• How to Find and Book the Right Speaker.
• Google+ Event Planning Forum.
• Tips for International Clients Booking U.S. Based Speakers.
Similar Speakers
E.J. Dionne

Syndicated columnist E.J. Dionne is one of the most widely read and highly respected political analysts in the country. In addition to writing for the…

Doc Hendley

Doc Hendley is a CNN Hero and President and founder of the organization Wine to Water. He brings his knowledge of civil and human rights,…

Ellen Goodman

For decades, iconic columnist Ellen Goodman has shared her thoughts on the tumult of social change and its impact on families. Describing herself now as…

I will certainly recommend to others that they contact you for guest speakers in the future. It was a pleasure working with you as well. We all appreciate your professionalism and exemplary service.
BASF
About SPEAKING.com
Established in 1994, we are exclusive agents for some of the world's leading experts, celebrities and professional speakers.
We offer event planners a fully staffed speaker logistics planning team, plus a personal SPEAKING.com Account Executive – a knowledgeable and trustworthy partner. We guarantee your satisfaction with your speaker and a smooth booking process.
Contact us today to book your favorite speaker.

"Dr. Fulani′s lecture was not only timely and provocative, but it provided an opportunity for Vanderbilt students to really think about our political system, its problems, and potential solutions. Dr. Fulani challenged the audience to abandon dated notions about what consists of our electoral and policy making institution and to create new alternatives that include Americans in coalitions, instead of excluding them."
Eleanor Fleming, Vanderbilt University
"It was a pleasure hearing from and meeting Dr. Fulani... Dr. Fulani introduced a new perspective on electoral politics. We normally spend a lot of time arguing about Democrat or Republican and forget the most important thing - the people. Dr. Fulani reminds us that a vote is a voice, and we have to use it to express what is important to us and to hold our elected officials accountable."
Alison Moore, Black Law Students Assn., Columbia University Law School
"Thank you for your participation in the Black Political Issues Forum 2000. It certainly would not have been successful without your dynamism, intellectual fervor, and passionate retorts. As we discussed, I would like to make the forum an annual event, and I would absolutely love to have you back again, and again!"
Delonte Gholston, President, Swarthmore College Democrats
"... very, very thought provoking discussion. Many students stayed after and continued to ask questions. Usually students are content to listen and not think for themselves..."
Paula Harrell, Faculty, North Carolina Central University
"I wish the halls of Congress could have such an environment with room for dialogue, debate and disagreement..."
Former Minnesota Congressman Tim Penny, at the 23rd Annual Pan-African Student Leadership Conference at Mankato State University
"Dr. Fulani was a captivating speaker who, through the use of personal experiences, political anecdotes and disturbing statistics, inspired students to seek alternatives to the status quo. She was refreshingly accessible in her interaction with the audience. People will leave believing in the necessity of a third political party in the U.S."
Erin Culbertson, Organization of Women Leaders, Princeton University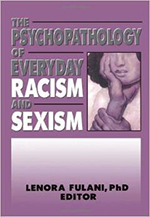 The Psychopathology of Everyday Racism and Sexism (Women & Therapy Series)
In this enlightening book, women of color eloquently and honestly articulate the impact of racism, sexism, and poverty on their personal lives and on the histories of their people. They express anger at the failure of traditional psychiatry and psychology—which tend to advocate assimilation, meaning the denial of one's cultural and historical identity—to understand the struggles and problems in their lives.
The contributors to The Psychopathology of Everyday Racism and Sexism—who come from both inside and outside the psychological disciplines—examine newer therapies in which women are encouraged to identify and express emotional reactions to other people, racism, and abuse and to expose the humiliation they feel. These new therapeutic processes—representing a milestone in psychological theory and practice—help women of color develop their historical identity and reject socially-induced shame and degredation.
The editor of this vital book is Lenora Fulani, a developmental psychologist and an active political leader. Dr. Fulani explores how a lack of power over one's life and deprivation of a sense of oneself as historical are commonly associated with psychological problems. The added stress of low social status, sexual exploitation, poverty, abuse, and drug and alcohol problems, result in an enormous sense of failure and incredible vulnerability to emotional stress. With passion and compassion, The Psychopathology of Everyday Racism and Sexism advocates an empowering sense of community based on the power of and love for the oppressed.
Suggested Speaking Topics:
Black America Goes Independent
New Trends in Voter Alignment: Why Americans Consider Themselves Independents
Women Can't Change Anything: They Can Only Change Everything
Growing Up Black, Female, and Independent
Utilizing Controversiality to Grow the Independent Movement
Speech
Dr. Lenora Fulani addresses the battle for integration and equal rights that is still unfolding in 21st century America. "America is probably as segregated as it was 30, 40 years ago," she claims.
She draws attention to a trend seldom touched by mainstream media outlets: in New York City, economically disadvantaged African-Americans are being pushed out of their homes to make room for lower-class whites, and then sent off to live in cities like Buffalo and Syracuse where they struggle to find housing or jobs. Pinpointing this to the politicians who are allowing contractors to do this, Dr. Fulani calls for greater participation in democracy by poorer communities and the need to disassociate from political parties who ultimately sway politicians' stances and actions.
Keynote Speech
Lenora Fulani of the New Alliance Party
Lenora Fulani: National Action Network Education Panel