* Please note that while this speaker's specific speaking fee falls within the range posted above (for Continental U.S. based events), fees are subject to change. For current fee information or international event fees (which are generally 50-75% more than U.S based event fees), please contact us.
Top25 Speaker Voting

Lee Silber needs 9 vote(s) to make it into the Top 25 speakers on Speaking.com!
Speaker Booking Tip
"Tip: some speakers might provide one of their popular book titles as a free gift to your audience. "
For Event Planners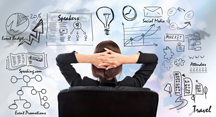 • Keynote Speaker Booking Toolkit.
• Booking a Celebrity Speaker.
• How to Find and Book the Right Speaker.
• Google+ Event Planning Forum.
• Tips for International Clients Booking U.S. Based Speakers.
Similar Speakers
Craig Karges

The "Extraordinist" Craig Karges is an award-winning entertainer, author, and speaker, who has made over four thousand appearances across four continents, seventeen countries and all…

Jeff Tobe

Jeff Tobe is a Certified Speaking Professional with a background as an award-winning sales and marketing entrepreneur. He is the author of the popular book,…

Dr. Allan Hamilton

Dr. Allan J. Hamilton is a highly sought after speaker in the field of health, spirituality and wellness. A Harvard trained brain surgeon and author,…

SPEAKING.com / Core Agency were very helpful in every way possible. I would recommend them to others and we will most definitely secure all our future conference speakers through them again.
Babcock & Wilcox
About SPEAKING.com
Established in 1994, we are exclusive agents for some of the world's leading experts, celebrities and professional speakers.
We offer event planners a fully staffed speaker logistics planning team, plus a personal SPEAKING.com Account Executive – a knowledgeable and trustworthy partner. We guarantee your satisfaction with your speaker and a smooth booking process.
Contact us today to book your favorite speaker.

"You were great! We've heard several comments from our people about how much they enjoyed your presentation."
ANDREA ESPINOZA,
SEMPRA
"I really enjoyed the experience of working with you. Your presentation was great and very well received by the attendees. Thank you for making this years vendor summit a success."
MEGAN BROADHEAD,
PETCO
"Your keynote was stellar! You delivered exactly what you promised . . . only better. I really appreciated your willingness to work with the client to customize your speech, meet their needs, and match it to their goals— proving you are a consumate professional."
MICHAEL MCGUIRE,
BOLLOTTA
"Your presentations and book signing went swimmingly and were well received! Feedback from the attendees was very positive."
MELANIE TRAFTON,
APC
"Thanks for all that you did for us. You were extremely well received in both venues! We particularly appreciated you tailoring the presentations to our audience and your generosity in coming early, speaking to the students at no extra cost, and donating hundreds of books to our attendees! Wow! You are phenomenal!"
NANCY SHEPHERD,
FOUR CORNERS
"The feedback from your session was extremely positive. We really enjoy working with you and our managers love your timely sessions. Thank you for another great presentation. You certainly made our conference a big success."
JASON KOENIGFIELD,
CMAA
"We are so pleased with how everything worked out. The way you built a custom presentation around our founder, came in early and went undercover at several of our properties, and then created custom awards for our people went way beyond what we expected."
GINNY REEFER,
HFP
"Your undercover operation was a huge success. Your program on customer care was perfect. But the fact that you created a YouTube movie to highlight the key points of your presentation (featuring photos and quotes from our own people) went above being above and beyond. Your hard work is greatly appreciated."
ANDREW SIMINOFF,
VQ ACTIONCARE
"You are fabulous! The session was dynamite and we′ve gotten a ton of praise for the whole event."
KIM PASQUALE,
CMAA LLC
"Your energy and enthusiasm are contageous. It was a pleasure to watch a professional presenter at work. Thanks for making the in-store event a success."
TATIANA LAWRENCE,
CRM
"Your presentation was more than I could have ever imagined. You stood and delivered a message so powerful I am certain it changed lives. Every single evaluation and comment regarding Saturday′s program was positive. In the 18 years I have been on the Professional Growth Committee, I have never, ever received such an overwhelmingly positive feedback for a speaker."
LINDA RATZAFF,
DOWNEY UNIFIED
"You were definitely a hit and your sessions were the highlights of a great day."
MARILYN STENOIEN,
UCSD MEDICAL CENTER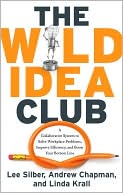 The Wild Idea Club: A Collaborative System to Solve Workplace Problems, Improve Efficiency, and Boost Your Bottom Line
Imagine a workplace where employees don't complain about problems but instead work together in idea-generating clubs to present positive solutions.
The Wild Idea Club will help you get there there, by providing managers with an easy, step-by-step approach that harnesses the collective genius of their people to drive innovation, improve efficiency, and increase morale. In tough times like these-with managers facing increasing pressure to get more done with fewer people and less money-encouraging employees to work together to tackle tough issues on their own is not a luxury, but a survival tool.
When people start seeing possibilities instead of problems-and can present their solutions to decision-makers who care-something amazing happens: They find themselves actually working together toward a common goal that benefits everyone and their organization.
The Wild Idea Club is a guide, a method, and a tool that provides:
Everything a manager needs to get a Wild Idea Club (or three) up and running in his or her organization-and keep it going.
Tips and techniques to help your people generate ideas and select the best ones.
The best ways to capture, record, research, and follow through on the solutions generated by a Wild Idea Club.
Strategies to help your people pitch their ideas.
And much more.
Written in a loose and light style, each chapter presents one facet of the concept, illustrated through a story based on real-life examples of Wild Idea Clubs in action. This book will help anyone learn exactly what′s needed to create a club in his or her company, no matter its industry, size, or history.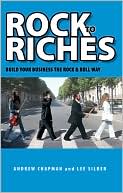 Rock to Riches: Build Your Business the Rock and Roll Way
When business gets tough, the tough get rockin'—rock solid business advice from the world's most solid rock stars.

Engaging. Entertaining. Enthusiastic. Enlightening. Inspiring. Insightful. Innovative. Interactive. These are just a few of the adjectives audiences across the country use to describe presentations by award-winning speaker/trainer, Lee Silber. He has built a reputation for combining entertainment and humor along with skill-building and audience participation.
Lee engages and involves participants in his custom presentations and keeps them laughing and learning throughout the talk. Along with all the fun, attendees learn practical, lasting skills they will implement right away and continue to profit from for years to come. His techniques work!
Lee is probably best known for his innovative whole-brain approach; he loads each topic with a variety of tools and techniques that work for every a audience—no matter how diverse. In addition to being a sought-after speaker, Lee is a popular author with five books to his credit.
Most Requested Topics:
Think Different
Learn how the biggest thinkers and the best companies use innovation to lead.
Take This Job And Love It
This program produces a measurable increase in productivity and employee retention.
Think Small
This popular program focuses on small changes that make a big impact right away.
Beyond Busy
People aren't just busy, they're beyond busy—how to handle it all without the stress.
It's Not You, It's Me
Learn how leaders inspire their people to make positive changes on their own.
The Wild Idea Club
This program pays for itself with improved ways to save your organization time and money.
Superpowers (Passion, Problem-Solving, Planning)
A program full of solutions to common problems delivered in a fun and fast format.
One More Thing... (The Presentation Power of Steve Jobs)
Give the best presentation of your life each and every time you get up to speak.
This hands-on program covers everything from speech preparation to Powerpoint.
Feed Me!
How to give people what they want to get what you need—at work and at home.
Creative new ways to give everyone what they are starving for—recognition and respect.
The Perfect Pitch
The art of the pitch is finding creative ways to get to the point to close the deal.
This program covers everything you need to know to make your pitches perfect.
What Would Jimmy Buffett Do?
Surprise! There's a lot you can learn about business and life from rock stars.
Business and career advice comes to life listening to Jimmy Buffett versus Warren Buffett.
Vibe
Knowing why people buy without thinking makes selling so much easier.
Creating the right vibe is about improving all of our points of contacts with customers.
Fumble!
A look at the ways employees drop the ball on our customers—and what to do about it.
We cover customer care in a way that creates touchdowns with simple (but key) changes.
Hooked on a Feeling
We are all after a feeling, and when we get it from our work, we work our tails off.
This powerful program explains how to create a much more harmonious work environment.
Simplicity—The Eighth Wonder Of The World
Quick and easy ways to simplify your life for more success and less stress.
Finally, a program about how to simplify and streamline things to save time and money.
The Ripple Effect
Doing the right things, for the right reasons, in the right way, moves us in the right direction.
A series of small positive changes that will make a big difference.
The Mentalist
Life is moving so fast we must find ways to slow down so we don't overlook opportunities.
Learn how to use all of your senses to pick up clues others have missed.
Refuse To Lose
We study the greatest comebacks and successes to learn how they refused to lose.
Instilling hope and courage into our people helps them make it through the toughest times.
The We Generation
We all want (and need) to know what makes Millennials go—and this program has it all.
We also bridge generation gaps by finding and focusing on common goals.
The Disruptors
Thought leaders drive change and make things happen despite overwhelming obstacles.
This presentation shares how to use "winnovation" to overcome rules and resistance.
Win From Within
Where we are and want to be are the result of our choices—better choices, better results.
This speech inspires attendees to take control of their careers and shows them how to do it.
A Novel Approach
We know people are both busy and bored, the best way to win them over is with stories.
How to make your message much more compelling by turning it into a good story.
The Ice Cream Cone Speech
How to have people eating out of your hand—and want to come back for seconds.
This is a fun speech that also carries a universal and important message.
The Triple Bottom Line
People. Profits. Passion.
Mastering these three areas is the difference between good and great.
Undercover Boss
Learn who in your organization is doing things right—and where to improve.
Lee goes undercover in your company and builds a custom program for your people.
The Seven Words You Can't Say In Social Media
Making social media marketing work the way you want—and need—it to.
This program is about how to use social media to produce real results.
Organizing For Real People
Finally, organizing ideas that work with people's natural tendencies and in the real world.
Based on his popular books, Silber shares the secrets to staying organized.
Fun-da-mental Training
Let us create the perfect program for your group.
We will work with you to design and develop a customized program just for you.
Lee Silber: Demo Video