* Please note that while this speaker's specific speaking fee falls within the range posted above (for Continental U.S. based events), fees are subject to change. For current fee information or international event fees (which are generally 50-75% more than U.S based event fees), please contact us.
Top25 Speaker Voting

Lawrence Chimerine needs 9 vote(s) to make it into the Top 25 speakers on Speaking.com!
Speaker Booking Tip
"Tip: some speakers might provide one of their popular book titles as a free gift to your audience. "
For Event Planners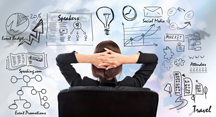 • Keynote Speaker Booking Toolkit.
• Booking a Celebrity Speaker.
• How to Find and Book the Right Speaker.
• Google+ Event Planning Forum.
• Tips for International Clients Booking U.S. Based Speakers.
Similar Speakers
Robert Genetski

A respected voice on the future trends of the economy, Dr. Robert Genetski has been crowned a top-five speaker in the field of Economics and…

Bill Conerly

Dr. Bill Conerly connects the dots between the economy and business decisions. He has the unique combination of a Ph.D. in economics from Duke University…

Chris Thornberg

Dr. Christopher Thornberg is one of California's leading economists and Founding Partner of Beacon Economics, LLC. He holds a Ph.D in Business Economics from The…

Working with your speakers agency on our training projects during the year proved to be a great business choice. I felt that my account reps were always around when I needed them, willing to help and listen. They showed flexibility when it was required and were reliable and dependable.
KPMG, Europe
About SPEAKING.com
Established in 1994, we are exclusive agents for some of the world's leading experts, celebrities and professional speakers.
We offer event planners a fully staffed speaker logistics planning team, plus a personal SPEAKING.com Account Executive – a knowledgeable and trustworthy partner. We guarantee your satisfaction with your speaker and a smooth booking process.
Contact us today to book your favorite speaker.

" Thank you for your outstanding speech at our meeting. Your views on the economic situation and future projections have been right on! "
N. Stephenson
Hickson Corporation, GA

" You gave us excellent insights as to what is happening in the economy and you fostered a discussion that, in fact, took up most of the lunch conversation at several tables!"
G. Grayson
The Conference Board, NY

" The opening session attendees were unanimous in praising your performance. They enjoyed your message and your delivery. In short, you were a hit. "
E. Emmett
The National Industrial Transportation League, VA
Key Business And Economic Trends And Issues:
Dr. Chimerine will discuss the current economic and business situation in the United States and in major foreign markets, and the short term and long term outlook for the U.S. and global economies. Dr. Chimerine will analyze the key factors that will impact economic and business performance in the years ahead, as well as the outlook for financial markets, and for important sectors and industries. Finally, he will discuss the implications of key economic trends for business planning and decision-making.
The New Business Realities:
The business environment in the U.S. and abroad is changing more rapidly and more profoundly than ever before - no business can operate successfully without an understanding of these changes, and without adapting to them. Dr. Chimerine will discuss the origin of these new business realities, and others that are likely to develop in the years ahead, and the implications for key management priorities and strategies.
Competing Successfully In The New Economy:
The U.S. and global economics are currently more competitive than ever in economic history. The intensification of domestic competition in part resulting from the Internet and other new technologies, coupled with growing foreign competition, has changed the competitive balance and mix in virtually every industry. Dr. Chimerine will discuss the new strategies for success in this more competitive environment, including strategies for dealing with the increase in risk and uncertainty that it has created.
Technology, The Internet And The New Economy:
The Internet and other new technologies have not only transformed the U.S. economy but are having profound effects on the way companies produce, market, and distribute their products and services. Dr. Chimerine will discuss how these technologies are affecting the U.S. economy, and how they are altering various economic relationships. He will also discuss how leading edge companies are using the Internet in all major business functions and activities, and the important applications for the future.
Business Planning In The Global Economy:
Spurred by rapidly growing foreign trade and cross-border investment globalization is growing at a rapid pace. This integration of the global economy is already affecting every company in many ways, resulting in new competitors as well as new opportunities. Dr. Chimerine will discuss these and other effects, as well as how various industries can identify the best opportunities that globalization is creating, how to compete successfully against foreign competitors, and how to organize for success in the global economy.
Business Planning In The New Millennium:
The rapid changes in the business environment are forcing companies to become more agile, nimble and proactive to remain successful. They also require a different approach to short term and strategic planning than most companies have employed in the past. Dr. Chimerine will discuss how the planning process is changing, and the new methods that can help companies plan, and deal with risk more effectively.
The Election and Economic Policy
Major economic policy changes are likely in the next several years, after the next Administration takes office. New legislation, and shifts in budget priorities, are most likely in the areas of health care, technology policy, tax rates and incentives, and even social security. Dr. Chimerine will discuss what to expect under different Presidential and congressional election result scenarios, and how they will impact the sectors most directly affected and the economy in general.

Keynote Speech
Dr. Chimerine defends his belief that the 2008 recession will not be as gloomy as journalists and other analysts are talking it up to be. He believes that the unprecedented prosperity of the 1990s and further expansion between 2003 and 2007 has made the perception of the economic slow-down bleaker than the actual slow-down. "While this is not going to be the greatest boom in the history of the United States and while there are some very serious problems in some parts of the economy, it is unlikely in my opinion that this is going to lead to the kind of deep recession and collapse that many of us fear and has happened in the past on occasion in this country. As you'll see in a moment conditions are very different now."
Dr. Chimerine points out that the analysts who are predicting collapse have failed to consider how technology has expanded markets, cut down on business costs, and created more competition. "Now there are competitive forces determining inflation and prices, not monopolies. Not regulation as was the case in large segments of the economy going back...When you look at all of these factors, all the arguments you hear about inflation are just plain wrong."