* Please note that while this speaker's specific speaking fee falls within the range posted above (for Continental U.S. based events), fees are subject to change. For current fee information or international event fees (which are generally 50-75% more than U.S based event fees), please contact us.
Top25 Speaker Voting

Laura Stack needs 6 vote(s) to make it into the Top 25 speakers on Speaking.com!
Speaker Booking Tip
"Tip: some speakers might provide one of their popular book titles as a free gift to your audience. "
For Event Planners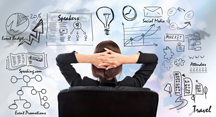 • Keynote Speaker Booking Toolkit.
• Booking a Celebrity Speaker.
• How to Find and Book the Right Speaker.
• Google+ Event Planning Forum.
• Tips for International Clients Booking U.S. Based Speakers.
Similar Speakers
Sam Horn

Intrigue expert, Sam Horn helps others find their unique message and deliver it in a way that cannot be ignored. The communication specialist has assisted…

Dr. Mark DeVolder

Known as "The Change Specialist," Dr. Mark DeVolder has guided some of the most high-stake transitions of recent history, preparing Colombian business leaders for the…

Rob Jolles

With over 30 years of experience and research, Rob Jolles is a leading authority and pioneer on the art of influence and persuasion. The wildly…

THANK YOU for your consistent communication, organization, and hard work. It truly has been a pleasure partnering with you too, we would love to stay connected with you for future events.
National Human Resources Association
About SPEAKING.com
Established in 1994, we are exclusive agents for some of the world's leading experts, celebrities and professional speakers.
We offer event planners a fully staffed speaker logistics planning team, plus a personal SPEAKING.com Account Executive – a knowledgeable and trustworthy partner. We guarantee your satisfaction with your speaker and a smooth booking process.
Contact us today to book your favorite speaker.

"Laura is professional and straightforward in her business dealings and radiates enthusiasm, which has been a key in the success of dealing with our company. She connects with each person in the class such that each individual leaves with a feeling of empowerment and an ability to apply the information received."
Laurinda Crow, Plant Training Manager, Mobil Chemical Company
"You have received nothing short of outstanding evaluations from program participants. Your enthusiasm and dynamic teaching style are contagious and they carry your students through. You have a unique ability to adapt the information to their particular situations and present applicable examples and exercises. Students report that you present with great clarity and were always helpful."
Don Loberg, Supervisor, U.S. Dept. of Agriculture, Training Branch
"You have taken a sensitive subject and introduced it with energy, facts, and employee participation to enhance it's perception. Laura, you have accomplished our goals. Thank you for your inspiration."
Bonnie McGee, Employee Relations Manager, Coca-Cola Bottling Company, Central States
"You captured the hearts and souls of your audience and started our lecture series off with a major success. The enthusiasm and creativity you bring to your program are contagious.
Mary Rose Grant, Gender Equity Coordinator, Belleville Area College
"The seminar was thought-provoking and opened my eyes to everyday issues. Laura was wonderful! She held my interest throughout the entire day. She was able to keep a captive audience without being redundant. Her enthusiasm was a breath of fresh air!"
Chesk Tamra, RN, VA Hospital
"The information presented was timely and immediately applicable for me, both on and off the job. Your high energy and professional, interactive presentation kept the attention and enthusiasm of the audience throughout the day."
Betty Adkisson, Senior HR Representative, BlueCross BlueShield
"Thank you for the excellence in training design and delivery you have provided for Webster University's Center for Professional Development. Your evaluations speak for themselves—participants have consistently given you very high ratings for your seminar delivery."
Kathy Belmer, Director, Center for Professional Development, Webster University
"I was greatly impressed by Laura's enthusiasm and her ability to encourage and motivate the participants. Her presentation style was highly effective for instruction pace, providing clear and comprehensive answers to questions, and she gave excellent overall assistance to participant needs. The seminar materials were well developed and useful for future reference."
Judith M. Roach, Asst. Vice President HR, Mercantile Bancorporation
Partial Client List:
Microsoft
Cisco Systems
KPMG
Nationwide Insurance
Sunoco
Heinz
IBM
Ball Aerospace
U.S. Bank
Chick-fil-A
Aramark
Lucent Technologies
McDonald's
Nestle
Sprint
MillerCoors
EMC Corporation
Oppenheimer Funds
Time Warner Cable
Wells Fargo Banks
VISA DPS
Mobil Chemical Company
Enterprise Companies
Sodexho
A.G. Edwards
Bank of America
IRS
Small Business Administration
UBS
The Denver Broncos
Encana Oil and Gas
Pall Corporation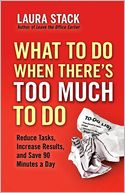 What To Do When There's Too Much To Do: Reduce Tasks, Increase Results, and Save 90 a Minutes Day
These days, everyone is busy. Advances in technology mean there is more information to sort through than ever. Work hours have increased, but to-do lists are endless—schedules get blown in the first five minutes of the day. You could spend more time "planning" and "prioritizing" your list than actually doing the work! At work and in life, we all just have too much to do! And when you have too much to do, it's hard to feel productive.
If you can't do everything, you need to put your time and energy into what will yield the more important results. Laura Stack shows how to hone in on the high-value tasks, protect the time to do them, focus on their execution, and organize your life around the stuff that really matters. Her innovative, step-by-step Productivity Workflow Formula (PWF) allows you to spend less time and achieve greater results than you ever thought possible. We can no longer do more with less—we can't put in more hours or work harder than we are now—we have to work differently and do less to achieve more.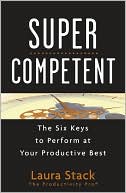 SuperCompetent: The Six Keys to Perform at Your Productive Best
To be successful in the business world and reach your full potential in life, it's not enough to be simply competent. Our modern, super-competitive world is full of opportunities for the go-getter, but to take advantage of them, it's essential to become SuperCompetent." The SuperCompetent person is one that companies fight to get, fight to keep, nurture as team players, and see as future leaders in their business growth.
But SuperCompetence isn't something you're born with—it's something that you can learn, no matter where your strengths lie or what industry you work in. In SuperCompetent, productivity expert Laura Stack identifies the behaviors that build leadership skills, boost organizational efficiency, and blast high-potential producers to the top of their fields. With Stack's Six Keys, you'll be able to consistently improve your performance, develop the confidence that will propel you forward, and achieve breakthrough results in your career.
Activity: The value and importance you place on your tasks and priorities
Availability: The ability to master your schedule and protect your time
Attention: The capacity to focus intently and concentrate on critical activities
Accessibility: The skill to organize your work flow and quickly find information
Accountability: The extent to which you assume personal responsibility for your actions and outcomes
Attitude: The intensity of your motivation, drive, and proactiveness
With worksheets and quizzes that help you evaluate your performance at every stage and invaluable resources for further information, you'll be able to integrate the Six Keys of SuperCompetence into your daily, weekly, and lifetime business practices. From the sales floor to the conference room, from board meetings to informal networking events, SuperCompetent enables you to build your focus, manage your resources, and maximize your ability to deliver at every level.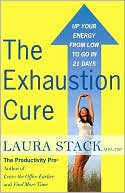 The Exhaustion Cure: Up Your Energy from Low to Go in 21 Days
Feeling fatigued? Wish you could have more get-up-and-go?
If you're like millions of Americans, you get home from a long day with barely enough energy to lift the remote control. But with Laura Stack's comprehensive plan, you can regain your vitality in just three weeks. Let The Productivity Pro help you eliminate the "energy bandits" from all aspects of your life from your diet and your work schedule to your environment and your relationships so you can start living in a way that will boost your energy. Focusing on simple changes that make a huge difference, The Exhaustion Cure presents manageable ways to:
Cut down on "energy bandits" and fill up on "energy boosters."
Stop relying on caffeine, cigarettes and other substances to keep you going.
Avoid letting negative situations or people control your thoughts and actions.
Sneak in time for fitness during the busiest days.
Accomplish your goals and find more time to devote to your family.
Leave the Office Earlier®
Laura's flagship TIME MANAGEMENT keynote shows employees how to be more productive at work and achieve maximum results in minimum time. Laura reviews the top ten characteristics of productive people. Perfect for professionals who work long hours. You'll reduce the number of hours you work each week without compromising output or sacrificing results.
Find More Time
Laura's LIFE BALANCE keynote offers innovative ways to blend work and family without sacrificing either. Laura offers techniques to work smarter at work and balance time across your entire life. Perfect for those trying to juggle work, family, chores, and households, and still make time for self. You'll discover the 8 pillars of productivity that support successful lives.
The Exhaustion Cure
Laura's PERSONAL ENERGY keynote shows you how to be productive when you can't get off the couch. You can know all the productivity tips in the world, but nothing will work if you don't have the energy to give 100 percent. Perfect for the pooped. You'll learn to fight energy bandits with energy boosters and will soon be bopping around with increased vim and vigor.
SUPERCOMPETENT®
Laura's HIGH PERFORMANCE keynote gives key talent proven methods to reach peak performance and achieve breakthrough results. You'll discover the six keys to unlocking your full potential. Perfect for high potentials. Laura contrasts SUPERCOMPETENT® Hero Thinking with Simply Competent Zero Thinking, so you can perform at your productive best.
What To Do When There's Too Much to Do
Laura's EFFICIENCY keynote teaches you to invest your time and energy into what will yield the most impactful results. Laura Stack shows how to hone in on high-value tasks, protect the time to do them, focus on their execution, and organize around the stuff that really matters. Her innovative, step-by-step Productivity Workflow Formula (PWF) allows you to spend less time and achieve greater results than you ever thought possible.
Execution IS the Strategy
Laura's EXECUTION keynote demonstrates why creating a strategy isn't the biggest leadership challenge—it's executing the strategy. If you know your strategy is right on, how do you get your team to nail it? Today, strategizing and execution are in fact the same process. The pressures on an organization to move quickly mirror the pressures individuals face on a personal level. In this innovative program, Stack discusses how her LEAD (Leverage, Environment, Alignment, Drive) strategy helps leaders quickly execute strategic initiatives and get great results from their teams.
Laura Stack: Keynote Speaker Preview
Laura Stack: The Trouble with Multitasking
Laura Stack: Doing the tasks with the most impact