* Please note that while this speaker's specific speaking fee falls within the range posted above (for Continental U.S. based events), fees are subject to change. For current fee information or international event fees (which are generally 50-75% more than U.S based event fees), please contact us.
Top25 Speaker Voting

Laura Schwartz needs 5 vote(s) to make it into the Top 25 speakers on Speaking.com!
Speaker Booking Tip
"Tip: ask your speaker to do a book signing or attend a VIP meal with your guests. "
For Event Planners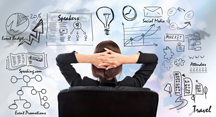 • Keynote Speaker Booking Toolkit.
• Booking a Celebrity Speaker.
• How to Find and Book the Right Speaker.
• Google+ Event Planning Forum.
• Tips for International Clients Booking U.S. Based Speakers.
Similar Speakers
Bryan Clay

The 2008 Olympic Gold Medalist in the decathlon, Bryan joined an exclusive group of American decathletes who earned the title of "World's Greatest Athlete," including…

Jim Craig

Ask any American over the age of forty for their top three memorable sporting moments and it's odds-on that the victory of the USA over…

Alan Bean

One of the very few individuals who have had the extraordinary experience of walking on the surface of the moon, Alan Bean uses the stories…

Our event was what I would call 'over the top'... The survey results were at 92% very favorable. The speakers formed such a good relationship with myself and others at the conference. I am confident we will bring them back to do more. I will definitely contact you when we are in need of additional services. You have been the best!
American Express
About SPEAKING.com
Established in 1994, we are exclusive agents for some of the world's leading experts, celebrities and professional speakers.
We offer event planners a fully staffed speaker logistics planning team, plus a personal SPEAKING.com Account Executive – a knowledgeable and trustworthy partner. We guarantee your satisfaction with your speaker and a smooth booking process.
Contact us today to book your favorite speaker.

"Behind the scenes at the White House, Laura saw firsthand that we can best 'achieve ourselves' by helping others, but that doing so requires us to go beyond our good intentions with a determination not to be distracted and a commitment to building partnerships with those who share our goals."
President Bill Clinton
"Laura is an outstanding communicator as I know from her sparkling appearances on Frost Over The World. I'm sure that her book will be an equal success. As she says 'Your career isn't 9-5, it's 24-7', and she's living proof of just how well that works."
Sir David Frost
"Laura's talent and command of the audience, as well as a well-presented keynote address made the show for all in attendance. I would highly recommend Laura as a keynote and emcee. I am proud to have worked with her and will leverage the fact that I know her in every circle I can!"
Kevin Johnston, Director of Events, Collinson Media and Events
"Laura Schwartz was my favorite speaker for her research into who we were and building that into her presentation."
Attendee of Executive Secretary LIVE Conference, London
"You did a tremendous job emceeing! I have read the book from cover to cover. I especially enjoyed your Power Point reiteration in the back!"
Candi Gilar, Sr. Manager, Business Development, American Express
"Thank you for a phenomenal presentation at the EmCare Annual Kick-off.Your presentation will help move us to the next level. I received comments such as, 'Thank you for an amazing meeting.' 'It is a terrific vision for the company.' 'Best meeting I've ever attended.' 'I'm pumped.' 'Wow!' 'We are changing healthcare.' 'There is no limit to where we can take this company.'"
Jay Taylor, Executive Vice President, Emergency Medicine Services Corporation
"Laura, I can still you see materializing in front of us last Friday to close this very successful EUMA Conference in London. Getting to the podium, you passed by me and brushed my shoulder with your hand, making eye contact. You are very gifted and contagious in your energy, and that, is remarkable to witness. I feel privileged to have been in that room and to have the opportunity to read your very interesting book about networking and how to make sense out of it!"
Angeliki Kallianou, European Commission in Brussels
"Your presentation was wonderful, as always, and our team was fully engaged. We received much positive feedback about you as a speaker and the absolute relevance of the subject for our team. As always, you were a big hit!"
Loretta Abrams, Senior Vice President HSBC
"Laura, you were just terrific at our meeting and we received nothing but rave reviews back from our attending members! I can't remember a time when one of our speakers received such all around praise from this many attendees. Great job and thank you for making us look so smart by booking you for the event!"
Jason Carroll, Director of Events The Florida Aquarium, President Tampa Bay Meeting Planners International
"Before attending Secretary LIVE, I wouldn't know how to strike up a conversation at an event or dinner on an unfamiliar subject. Laura Schwartz was extremely inspirational and provided some really useful tips."
Attendee of Executive Secretary LIVE Conference, London
"Laura's enthusiasm as she presented each and every award kept the audience on their toes. What could have been a lengthy, uneventful program became a true celebration of everyone's work to bring United Way's mission to life. She was flawless! Attendees raved that thisyear's program was by far their favorite due in large part to Laura's energy."
Sarah Frick, Communications Director, United Way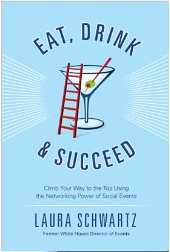 Eat, Drink and Succeed
Communications wunderkind Laura Schwartz networked her way from answering phones for President Clinton's press office at age 19 to producing more than 1,000 events as the White House Director of Events. In her first book, Eat, Drink & Succeed, Schwartz, now a national television commentator and public speaker, shares the secrets that skyrocketed her onto the world stage. Taking a cue from show biz, she presents her strategy in fun and easy-to-follow steps: Setting the Scene, Casting Call, Dress Rehearsal, Showtime and Encore! Eat, Drink & Succeed is an entertaining and enlightening read, appropriate for boardroom or beachside.
There's something to be said for being in the right place at the right time, but if you don't capitalize on the moment, all you've got is a missed opportunity.
Laura Schwartz understands the power of seizing the moment better than anyone. As a 19-year-old college student, she turned a volunteer position in the White House into the opportunity of a lifetime. Using her persuasive and engaging social skills, she went from answering phones to serving as President Bill Clinton's Midwest Press Secretary, Director of Television and, ultimately, Director of Events, where she oversaw 12 state dinners, America's Millennium Celebration and countless other high-profile events.
Laura learned plenty while producing the President's events on the world stage, but one lesson stuck with her: No matter how social an event appears, it's business. She watched huge deals unfold over cocktails at state dinners, but she also watched many White House guests squander chances to turn these seemingly social events into life-changing opportunities. When the Clinton Administration ended, Laura began to realize this lesson extended far beyond the Rose Garden. Whether it's a cocktail party, a Little League game or a casual conversation on the treadmill at the gym, there are powerful possibilities lurking in social situations everywhere we turn.
Through her acclaimed lecture series, "The Networking Power of Social Events," Laura has brought her unique perspective on everyday situations to audiences around the world. Now, with her new book Eat, Drink & Succeed: Climb Your Way to the Top Using the Networking Power of Social Events, her message is readily accessible to the masses.
In Eat, Drink & Succeed, Laura shares how she used the power of her own social scenes in every phase of her life: from her days growing up in Plymouth, Wis., to her time at the White House and in her ongoing role as a television commentator for various outlets including CNN, the CBS Early Show, BBC, Fox News Channel and Sir David Frost's Frost Over the World. In a simple, straightforward style, the book shows readers how to apply those skills to their own lives. In Eat, Drink & Succeed, Laura explains how to:
Identify your social scenes
Harness the power of the guest
Get invited to the right events
Arrive at the event armed with research, knowledge, business cards and everything you need to achieve your goal
Make the right impression
Achieve your goals not by asking what people can do for you, but what you can do for others
Follow up after the event
And much, much more
Laura Schwartz, named one of the Best Keynote Speakers by Meetings and Conventions magazine, is an unforgettable, high-energy speaker who delivers customized keynotes packed with powerful ways to propel your audience to the next level in business and beyond. Drawing on her experience as the White House Director of Events under the Clinton Administration and the guiding principles of her book, Eat, Drink & Succeed, Laura tailors each presentation to the audience at hand—providing concrete tools to unlock the networking power of every meeting and event that attendees can immediately put to work in their professional and personal lives.
Working closely with speaker bureaus and the client, Laura designs a unique program to meet the specific goals and needs for the audience. Whether she is speaking to a room full of entrepreneurs, sales executives, consultants, women business owners or Fortune 500 CEO's, Laura motivates her audience to turn relationships into partnerships and ideas into realities. From sharing relatable situations, encouraging stories and historical anecdotes from the White House to incorporating pop culture references and positive humor, Laura motivates, empowers and inspires each audience to apply the tools and techniques needed to Eat, Drink and Succeed!
In addition to keynoting, Laura also emcees conferences and events large and small, conducts interviews on stage with CEO's and organization leaders and moderates expert panel discussions.
KEYNOTES
Eat, Drink & Succeed!
Based on Laura's book Eat, Drink & Succeed! Climb Your Way to the Top Using the Networking Power of Social Events
In her signature seminar, Laura inspires her audience to unleash their own networking power to achieve their goals and advance their career, industry, company or organization by building positive partnerships. Providing specific tools to maximize not only day-to-day business opportunities—but also how to turn overlooked "optional" social events into career opportunities—Laura provides a clear roadmap that motivates and empowers each audience to Eat, Drink & Succeed!
Through poignant and entertaining anecdotes from her behind-the-scenes experience at the White House, world travels and broadcast career, Laura shares the essential networking tools that helped her rise from Press Office Volunteer to Director of Events for the White House to where she is today. She shows how the same keys that fueled her success have worked for business powerhouses like Steven Spielberg and Oprah Winfrey, as well as CEOs, entrepreneurs, non-profit leaders and small businesses. Most importantly, she demonstrates how they work for the audience at hand—in their offices, communities and beyond.
Flipping the definition of networking on its side, Laura empowers her audience to continue growing in their careers by adopting the networking mantra of "What can I do for you?" instead of the more typical "What can you do for me?" mentality. Through building bridges for others, she explains how positive, powerful networking involves mentoring and leading inside and outside of the office resulting in beneficial outcomes on all sides. She shares useful techniques—including her insider tips about effective follow-ups and how to leverage the powers of preparation, introductions and conversations, among others—and will provide attendees with the means to turn a brief meeting, break room conversation, lunch or social occasion into valuable opportunities. Laura's ultimate goal is to share a finely tailored message with her audience and equip each attendee with the effective tools to help them succeed in their careers, impact their industry and reach their goals.
Get Ready to Eat, Drink & Succeed! A Conference Kickoff
This high-energy, 30- to 45-minute presentation is the perfect way to energize the audience for the conference ahead, while also teaching them valuable tips about how to maximize their time there.
Based on Laura's philosophy that every social and planned interaction is an opportunity for career development, Laura will teach conference attendees proven tips they can immediately put to work to build partnerships and excel both during and in between conference events. Whether approaching registration, attending a class, walking the exhibit hall, enjoying conference happy hours or evening socials, attendees will feel empowered to take every facet of the conference and make it work to their full advantage.
Laura provides the tips, tools and techniques that motivate attendees to capitalize on all social and business interactions at the conference so that they too can turn relationships into partnerships and ideas into realities. She will incorporate your specific conference activities, initiatives and goals into her kick-off presentation, ensuring that the information is topical,relevant and valuable to your audience. Attendees will start the conference engaged, inspired and energized to Eat, Drink & Succeed!
Must be Present to Win
We must be present to win...because we can't afford to miss a moment.
A motivating and thought-provoking keynote based on Laura's 2013 TED Talk, "Invented Here: The Present," in which she focuses on the importance of being present in life, work, play, our communities and beyond instead of simply going through the motions in life. In an age where we are easily distracted by world events, business, family and individual pressures—we must work at being present because when we are; we are more valuable to our companies, organizations, families, relationships and ourselves.
Must Be Present to Win is both re-affirming and eye opening as Laura shows how attendees can embrace and balance technology at the same time. She sheds new light on how being in the moment—from business meetings, client lunches and conference calls to social events and sitting at the family dinner table—will increase your value in your career and personal life. Laura brings this talk to life using strong relatable examples based on her experience working for President Clinton and post-White House years to prove that we must be present to win... because we can't afford to miss a moment.
Empowerment Through Service
A motivating address that shows how giving back can play a key role in the foundation of success for an industry, organization and an individual
The 19th century French social scientist Alexis de Tocqueville once stated that the defining characteristic of America is its commitment to service. In this moving keynote address, Laura puts a modern-day twist on de Tocqueville's statement, showing how giving back today can make a difference in your world and in your organization. Regardless of their role in organization, Laura will empower the audience members to strengthen their commitment, whether that means working harder, becoming more involved or giving greater. As Laura explains, volunteer associations and service organizations are instrumental in our society because they can often do things more effectively than our own government. She communicates the power of service using colorful examples and entertaining anecdotes from her work both in the White House and afterward traveling around the world with the Clinton Global Initiative.Audience members will feel empowered to give and continue to give back through the sponsoring organization because they'll see that their service not only affects the lives of those they help directly, but also their own personal and professional communities.
Laura tailors this keynote address based on the association's objectives and the audience in order to create a completely unique presentation that is appealing, engaging and, most importantly, effective. This presentation has been successfully used to inspire organizations for their annual conference, to motivate donors and raise funds for new non-profit initiatives, and to kick-start membership drives and raise awareness in the community. Corporations have also used this keynote as a way to motivate their employees for their internal campaigns and company-wide philanthropy. Laura has presented customized versions of this address to organizations such as the United Way, YWCA, American Heart Association, Illinois Governor's Conference, General Federation of Women's Clubs, Emergency Nurses Association, and the Junior League of Chicago. Each organization has reported stronger results with this keynote than in previous years.
Setting the Bar
Explores the lives of strong, courageous women, both past and present, to inspire the women of today and tomorrow
This inspiring keynote focuses on the "bars" set by female leaders, both past and present, who have changed history and created the professional and community landscape for women today. Laura takes the audience on a journey that explores the lives of notable women from around the world and across a variety of fields—such as Eleanor Roosevelt, Margaret Thatcher, Rosa Parks, Hilary Clinton, Oprah Winfrey and other females—to better understand how women today are shaped by the skills, strength and struggles of those who came before them. Looking also at those who set the bar for these famous women, Laura shows the audience how they too—as women who are leaders, mothers, spouses, sisters and friends—are setting the bar for themselves, their families and other women everyday, even if they don't realize it.
This motivating message relates to women of all ages in every stage of their career and life and it can be specifically tailored for your organization. Whether it is a corporation, industry association, non-profit or other organization, Laura will ensure her message relates to your audience. She can incorporate your organization's own founders, leaders or other strong females to demonstrate the setting of their bars to develop an even stronger connection with the audience.
THE WHITE HOUSE PRESENTATIONS
The Art of a State Dinner
Drawing on her extensive event experience at the White House, Laura discusses the intrigue and inside secrets of a state visit while unveiling the foundation on which a successful state dinner is created. She shares the social traditions started by Jacqueline Kennedy as well as the small details that make a big impact and most importantly, Laura reveals the most essential element for a successful event—the confident, gracious host. Laura will teach the audience the tricks of the trade and, in doing so, empower them to feel fully secure in that role.
Along the way, Laura colors her presentation with anecdotes from her time in the White House and shares captivating visuals that will inspire and engage. She teaches her audience how to produce an event that is fun and entertaining for guests while also achieving the objectives of the host person or host organization, reminding the audience, "We do not host events. We host guests." And whether hosting a small, personal event with a budget of $50 or a large corporate function with a budget of $5 million, it all comes back to the host—an event with a capable host has unlimited potential.
The Power of the Presidential Inauguration
Laura offers a sneak peak into the deep and colorful history of Presidential Inaugurations, their elements and details, including the swearing in, parade, and of course the balls. It's one of the most coveted invitations in Washington. Laura discusses the power of an Inauguration, from how guests vie for an invitation to how they work the most powerful room in Washington. She also shares the traditional and sometimes unique locations as well as the planning and participation of the First Family that dates back to George Washington at the first Inauguration in New York City. After all, Inaugurations and their balls are so powerful they only happen every four years!
Holidays at the White House
Laura takes her audience on a holiday adventure through her detailed descriptions and visuals of the incredible White House Holiday Celebrations. In this complete behind-the-scenes look at the evolution of the Holiday celebration, Laura leaves not a sprig of holly unturned, sharing all the details from the first planning session in January to the first holiday reception in December. Audiences will be enthralled by stories of the thousands of artisans and craftsmen who work tirelessly to create the White House holiday décor. Laura will provide a glimpse into the top-secret process of designing the Gingerbread House and the hunt for the official White House tree. Audiences of all ages delight in this upbeat presentation, one that promises to enchant, amaze and inspire participants to experience a bit of the White House holiday whimsy in their own home.
The Gardens and Their Glory
Did you know the 18 acres The White House sits on is actually considered a National Park? Laura takes her audience on a journey through the history and development of the White House Gardens and their evolving uses through the decades. While the gardens have long been known as a place of respite and reflection for the most powerful man in the world, they are also the setting for thousands of historic and social events, from bill signings, press conferences and the traditional pardoning of the Thanksgiving turkey to weddings, teas, dinners, concerts and millennium celebrations. Laura offers her audience a glimpse into the secrets of the gardens and perhaps inspire them to grow a rose garden of their own!
Laura Schwartz: Keynote Speaker Reel
Laura Schwartz demonstrates the power of networking with a true story about how Newark mayor Cory Booker almost missed an influential connection by keeping to himself. She narrates that after a long packed day at a conference, Booker just wanted some downtime, so he retired to his hotel room, deciding to skip the optional nighttime dinner that the conference was holding. His quiet evening came to an end when the event planner called him asking where he was; reluctantly Booker headed down to the dinner where he happened to share a table with Facebook founder, Mark Zuckerberg.
"About three months later Mark Zuckerberg wanted to make a splash," Laura tells. "But what was he to do? What was he associated with? What would make the most sense? And he struggled with that until he thought back to that dinner in Sun Valley and how great that mayor was. He really enjoyed the conversation with this man and how he heard of the great struggles they were having in the public school system and he said, 'I'm giving $100 million to the Newark public schools.' Thank goodness Mayor Booker went to that optional dinner."
Laura Schwartz: TEDxStLouisWomen - It's showtime!
Laura Schwartz shares her secret for concentrating on the present, a technique she learned from her boss at the time, former President Bill Clinton. She explains that whenever they were about to begin an event she'd ask the president if he were ready to which he'd respond, "Laura, it's show time." "He wasn't saying, 'It's show time' to be funny," she attests. "He was saying 'it's show time' to get into focus, to effectively communicate his message at hand for the next twenty minutes, the next hour, the next two hours."
Laura emphasizes the significance of this for someone who had as much on his plate as Clinton, deciding that if "it's show time" worked for him, it could work for her, too. She tried the technique out for herself and compared her experience to past events that she had run. "I took all of those thoughts, all of those worries, all of those items, and I put them aside for that next hour, and even though the event went well the day before, this event was even better," she observes. "I enjoyed it more. I gave more. I got back more. I learned from it. It made me better."
Laura Schwartz: Interview - Joe Scarborough (MSNBC)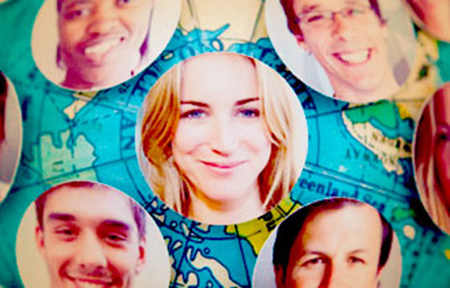 We've all been there… it's Friday evening and you're finally off the clock and ready to kick back and relax. Only problem? You may just miss your next big opportunity by not being ready to network at that black tie event or backyard barbeque you have on your calendar this weekend. A few tips to ... more