* Please note that while this speaker's specific speaking fee falls within the range posted above (for Continental U.S. based events), fees are subject to change. For current fee information or international event fees (which are generally 50-75% more than U.S based event fees), please contact us.
Top25 Speaker Voting

Kristin Baird needs 6 vote(s) to make it into the Top 25 speakers on Speaking.com!
Speaker Booking Tip
"Tip: speakers bureaus provide added value that you cannot get by booking speakers directly. "
For Event Planners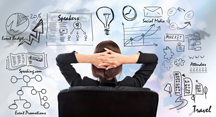 • Keynote Speaker Booking Toolkit.
• Booking a Celebrity Speaker.
• How to Find and Book the Right Speaker.
• Google+ Event Planning Forum.
• Tips for International Clients Booking U.S. Based Speakers.
Similar Speakers
Kathleen Bartholomew

A registered nurse and counselor, Kathleen Bartholomew, RN, MN, is a recognized national authority on the nursing profession. When she managed a 57 bed surgical…

Donna Cardillo

Known as "The Inspirational Nurse," RN, Donna Cardillo travels the world helping women and health care professionals gain the respect and recognition they deserve while…

Richard Lamm

Richard Lamm has been ahead of his time for most of his life. The politician, writer, and professor, has been outspoken since the 1980s on…

Our agent was great to work with. Very easy to reach when needed and promptly returned messages. Thank you for making our event such a big success, we are looking forward to working with you again soon!
American Lung Association
About SPEAKING.com
Established in 1994, we are exclusive agents for some of the world's leading experts, celebrities and professional speakers.
We offer event planners a fully staffed speaker logistics planning team, plus a personal SPEAKING.com Account Executive – a knowledgeable and trustworthy partner. We guarantee your satisfaction with your speaker and a smooth booking process.
Contact us today to book your favorite speaker.

"Kristin Baird delivered exactly what we needed for an uplifting, challenging and motivational keynote at our national convention. I had heard that she would be engaging, entertaining and motivational. She exceeded our expectations on all three!"
Donna Mazyck, RN, MS NCSN
President, National Association of School Nurses
Maryland

"Baird's presentation, "C.S.I. Meets the Flintstones – Using New Information to Change Old Ways," was very well received by our staff. Her personal experiences as well as her mystery shopping stories really reinforced the importance of creating a culture of service excellence for our patients."
Pam Gillespie RN
Quality Improvement Coordinator Harbor Medical Associates
Weymouth, MA

"I first heard Kris speak at the MGMA national conference and knew we had to have her at our local chapter meeting. Her interactive style makes her easy to listen to and her real world examples get you excited to go back to your own practice and take a closer look! She is a fantastic speaker and is current on what we deal with in today's healthcare world."
Sarah Ligon
Past President, Nashville Chapter of MGMA
Old Harding Pediatric Associates,
Nashville, TN


"Recently we had the opportunity to engage Kristin Baird as the speaker for our Nurse's Day celebration. Several weeks later the staff is still talking about her presentation. Kris's personality and passion for the profession were evident throughout the day. She made her talk personal for our staff by talking about our organization's values and was very successful in encouraging our nurses to reclaim their passion for the profession. Through humor and tears, Kris was able to touch the hearts of each one in the audience. As a result, today we have nurses wanting to tell their stories. Thanks to Kris, we had one of the most memorable Nurse's Day we have ever had. "
Krista Kelley, MBA, BSN, RN
Director, Medical Telemetry
Adena Health System, Chillicothe, OH


"Thanks again for a great presentation. I really appreciated your presentation and I especially enjoyed the way you engaged different people in sharing their own stories. Since your presentation I have spoken to several people that attended inquiring about their experience and here are a few quotes:

"I loved Kristin′s presentation and it made me remember all of the wonderful experiences I have had over my 30 years of nursing. It made me wish I was back at the bedside because I always had a sense of the difference I was making for my patients"

"The idea that nurses don′t tell our stories was a great aha. It is so easy to take for granted each day as a nurse and not realize the difference that we have made for a patient, a family member, or a staff person. Kristin helped remind me that I make a difference."

One of our OB staff nurses shared that "Kristin′s presentation reminded me of what a privilege it is for me every time I participate in a delivery and that along with that privilege is my responsibility to make a difference for each of my patients"

I personally loved your presentation. It was a tremendous combination of practicality, years of experience and a sincere sharing of nurses′ stories – both the good times and the difficult times that we share with patients, nurses and the rest of the healthcare team. Thanks again for a great presentation. "
Jeannie M. Eylar
Chief Clinical Officer
Pullman Regional Hospital
Pullman, WA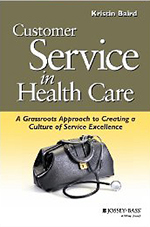 Customer Service in Health Care: A Grassroots Approach to Creating a Culture of Service Excellence
Research confirms that it is six times more costly to attract a new customer than it is to retain an existing one.
Creating a culture of service excellence requires planning, preparation, and persistence. Customer Service in Health Care is designed to provide readers with the fundamental information and skills to start or strengthen a customer service initiative within a health care organization. This book concentrates on action as opposed to theory. It offers a practical, step-by-step process for creating a culture shift toward customer service excellence at all levels of an organization, and presents the essentials to improving performance that will bring the individuals closer to the mission, values, and standards.
Chapters focus on:
Tools for establishing and measuring customer service team goals
Creating customer service standards unique to your organization
Tips on training sessions
Strategies for maintaining top-of-mind awareness of customer service among employees
Customer service techniques for physicians and nurses
An overview of customer service as an essential component of business development and marketing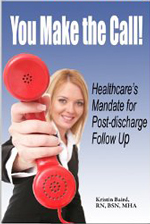 You Make the Call—Healthcare's Mandate for Post-discharge Follow Up
Every day, thousands of people are discharged from hospitals. While relieved to be going home, they are often frightened and insecure about caring for themselves at home. How the hospital manages follow up can make a world of difference in spotting adverse reactions, quelling fears, and providing appropriate direction. Adverse conditions can lead to costly readmissions that hurt the bottom line and dissatisfied consumers who can hurt the hospital's reputation.
You Make the Call presents a solid case for a post-discharge call system to improve clinical outcomes and improve the patient experience. This book provides the rationale and key steps for launching a post-discharge follow-up call process. Kristin Baird offers case examples, models, and tools to help you evaluate the need for follow-up calls as well as tools for integrating them into a comprehensive care plan.
An award-winning author and consultant, Baird's expertise stems from over 30 years as a nurse, executive, and consultant. Her passion for the patient experience has set her career path and is a driving force behind this book.
Are you doing post-discharge follow up? Does it make sense for your organization? Should you devote resources to post-discharge calls? Read Baird's book and then you make the call.
Quality through the Eye of the Beholder
Every encounter with your customers should build trust in your organization, yet countless prime opportunities end up eroding patient trust when employees make certain comments or simply don't engage the patient with the right words and actions at the right times. Knowing how your customers gauge quality and being able to identify specific moments of truth will help you build a loyal following and reap greater personal satisfaction in your work.
This fast-paced, fun session will help you see your organization through your customers' eyes. You'll identify critical moments of truth and determine small steps that will help you make great strides toward service excellence.
What will you learn?
How to identify opportunities for enhancing the customer experience
How to use an experience-mapping exercise to compare patient expectations
How to link the customer experience to organizational mission, vision, and values
Physician Shadowing and Coaching
The physician/patient relationship is vital to a positive patient experience. The highest-performing organizations are those where physicians display core skills that consistently engage patients, resulting in positive outcomes. Physician shadowing and coaching is an effective method for standardizing a positive patient experience while also providing physicians with useful individual feedback.
Our approach is designed to accomplish the following:
Align shadowing and coaching with core strategy
Gain support and buy-in from key stakeholders
Identify and learn from internal best practices
Be self-sustaining by using a train-the-trainer approach
The Nurse/Patient Partnership
Nurses are pivotal to the patient experience. As America's most trusted professional, nurses have a unique role in delivering safe, high quality, and memorable care. The Nurse/Patient Partnership encompasses a comprehensive approach that prepares both staff nurses and nurse leaders for an organized and accountable approach to improving the patient experience.
Objectives for staff nurse sessions are to:
Define the desired patient experience and raise empathy for the patient and family
Examine how nurses influence the patient experience (and, ultimately, HCAHPS scores)
Explore 4 essentials of a positive, memorable patient experience
Review GREAT CARE as a tool for systematically managing patient encounters
Demonstrate GREAT CARE using role play scenarios
Create a personal action plan for success
Objectives for nurse leaders are to:
Review the Nurse/Patient Partnership curriculum
Examine the nurse leader's unique role in improving the patient experience
Learn a simple, but memorable coaching method to hold staff accountable
Reclaiming Your Personal Passion for Nursing
"Reclaiming Your Personal Passion for Nursing" has been adapted from Kristin Baird's best-selling book. This presentation reminds all nurses of the value and deep history of their profession, as well as the challenges and rewards that come along with being a nurse.
What will you learn?
The power of nursing
How to appreciate every encounter
How to connect with patients and create memorable experiences
From Florence Nightingale to Nurse Ratched...
...and everything in between. The nurse's role in patient satisfaction is pivotal. As those in frequent communication with patients, nurses truly are the keepers of the patient experience. In this presentation, nurse audiences will learn the value of providing great service to their patients and better understand how they can help guide and plan for consistently positive patient experiences.
What will you learn?
What the "patient experience" means
Service's impact on HCAHPS scores
The importance of rounding
G.R.E.A.T. Communication tool
Making the Grade: The nurse's role in shaping the patient experience
Nurses are pivotal in shaping the patient experience, yet many may not see how it's the small things that make or break the experience and resulting satisfaction scores. This presentation is designed to help frontline nurses understand healthcare from the patient perspective and master techniques for engaging patients and their families.
Raising the Bar on Service Excellence
Five leadership skills needed to move your organization from good to great....
Have you ever wondered why some organizations seem to master the art and science of great patient satisfaction and employee engagement while others struggle for years without progress? What is it about the successful organization that makes it rise to the top? On the flip side, what are the poor-performing organizations missing?
In this fast-paced, information-packed session, Kristin Baird reveals the five skills mastered by leaders in some of the most service-centered healthcare organizations in the world. She will highlight some of the key points from her recent book, Raising the Bar on Service Excellence: the Health Care Leader's Guide to Putting Passion into Practice. Participants will gain a better understanding of what actions are needed in order to move their leadership practices from good to great. You'll learn to align priorities, take away tips for holding critical conversations, and the secret to hiring for service behaviors.
Coaching for Service Excellence
The link between management and performance improvement....
It takes more than one training session to build service skills. If your service initiative just isn't getting any traction, maybe it's time to look at leadership. Weaving customer service practices into the fabric of an organization requires on-the-spot coaching between supervisors or managers and their team members. Are your managers equipped to deal with performance issues? Do they understand how coaching is linked to service improvement? Are they committed to leading the initiative and making it work?
Customer Service in Healthcare
Five steps for creating a culture of service excellence....
Baird shares the five most critical steps to creating a service-centered culture in healthcare settings. Her audiences leave energized with a multitude of take-home ideas for implementation.
Baird's passion for excellence stems from over two decades of experience in a variety of healthcare settings as a nurse, manager, and in senior leadership. A skilled an engaging storyteller, Baird shares real-life examples of the good, the bad, and the ugly. This presentation is appropriate for anyone working in healthcare. It is a popular program for helping employees at all levels of the organization see their vital role in customer service.
C.A.R.E. Model Training and Coaching
The Baird Group has experienced and skilled trainers with separate modules for staff and managers to remind them to C.A.R.E. (Comfort, Access, Restroom, and Environment check-ups on each round):
Frontline training using the C.A.R.E. model links service, safety, and quality goals
Nurse leader training on the C.A.R.E. model reinforces hourly rounding through coaching
Building Leadership Skills that Foster Service Behaviors
Leadership skills are the backbone for any cultural change. Baird will get you planning some practical steps for fostering an environment that will help shape positive attitudes among employees and reap the benefits of greater patient satisfaction. Her fast-paced session will leave you with fresh ideas that you can begin to implement today.
CSI Meets The Flintstones: Using new information to change old ways
Baird takes an innovative approach to understanding and managing the patient experience. In her light but informative style, she'll help you see your organization through new eyes. Using case examples from mystery shopping, Baird demonstrates how moments of truth shape the patient experience and impact trust.
Service Recovery: Picking yourself up when you fall short
Whether it's lost information, long wait times, or confusing directions, when something goes awry in a service encounter, your customers are left feeling disappointed and vulnerable. Do your employees understand that they hold the key to winning over a disappointed customer for life? Are they comfortable handling service problems?
Words that WOW
Customer service is the backbone of any healthcare organization, but sometimes time and tasks can get in the way of providing the most compassionate and helpful care to your patients. In "Words that WOW," your staff will learn how to master service situations and keep service top-of-mind during even the most stressful times:
Understand verbal and non-verbal cues from patients
Practice empathy statements
Words that wound
Words that work
Words that WOW your patients
You'll Have Them at "Hello": Phone skills that WOW
Phone communication is often the first part of the patient experience. Over the phone, it takes just seconds for your patients to develop an opinion about your staff's care, knowledge, and willingness to help—areas you can't afford to be downgraded by your consumers. And in today's value-based purchasing environment, your patients' perceptions of these first impressions mean everything.
What will you learn?
How telephone experiences can make or break the first impression and build loyalty
The five essentials of a great phone encounter
Hiring, training, coaching, and performance appraisals with your frontline phone staff
Gold standards to uphold for every current and future phone encounter (reflections of company-wide customer service standards)
Handling Difficult Calls
A consistently positive patient experience means consistently positive scores. And on the phone, consistency is integral to maintaining happy customers and their continued business. This session instructs staff about how to handle phone encounters with difficult situations, when their organization's reputation is on the line.
What will you learn?
How to handle common difficult call scenarios
Understanding a difficult call from the caller's perspective
Understanding a difficult call from the attendant's perspective
Kristin Baird: Service Excellence
Using examples from her own life, customer service expert Kristin Baird explains the difference between good and bad patient service in the healthcare industry: "I'm calling this GYN office, and I've got it in my head that I'm going to make an appointment. I get an automated message, which says 'If you're calling about your medication, please hang up and call your pharmacy. If you are calling to speak to the secretary, press 1. If you would like to speak to a nurse, press 2. And I'm thinking to myself, I wanted to make an appointment… 'I'm sorry you didn't understand, please call again later.'" She explains how essential it is that healthcare practices ensure that they are engaged with patients from the moment of first contact, "If you're calling about your medication, hang up and call your pharmacy–friendly, engaging? I think not."
Kristin Baird: Patient Experience Boot Camp