* Please note that while this speaker's specific speaking fee falls within the range posted above (for Continental U.S. based events), fees are subject to change. For current fee information or international event fees (which are generally 50-75% more than U.S based event fees), please contact us.
Top25 Speaker Voting

Kevin Hall needs 9 vote(s) to make it into the Top 25 speakers on Speaking.com!
Speaker Booking Tip
"Tip: speakers bureaus provide added value that you cannot get by booking speakers directly. "
For Event Planners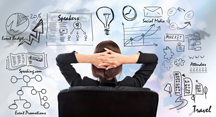 • Keynote Speaker Booking Toolkit.
• Booking a Celebrity Speaker.
• How to Find and Book the Right Speaker.
• Google+ Event Planning Forum.
• Tips for International Clients Booking U.S. Based Speakers.
Similar Speakers
Doug Lipp

Disney University training veteran, Doug Lipp is sought after for his expertise in helping organizations build adaptive, world-class service cultures that fuel growth and long-term…

John Izzo

Leading business expert and adviser, Dr. John Izzo is driving a purpose revolution, helping organizations boost their performance when it comes to sustainability, social responsibility,…

David Nour

Growth strategist David Nour is the creator of the groundbreaking concept, Relationship Economics®, the art and science of strategically investing in people to meet goals…

Our agent was great to work with. Very easy to reach when needed and promptly returned messages. Thank you for making our event such a big success, we are looking forward to working with you again soon!
American Lung Association
About SPEAKING.com
Established in 1994, we are exclusive agents for some of the world's leading experts, celebrities and professional speakers.
We offer event planners a fully staffed speaker logistics planning team, plus a personal SPEAKING.com Account Executive – a knowledgeable and trustworthy partner. We guarantee your satisfaction with your speaker and a smooth booking process.
Contact us today to book your favorite speaker.

Praise for Kevin Hall′s "Power of Words" presentation:

"Kevin, your keynote speech was the highlight of our Kick-off meeting in Orlando. You are by far the best speaker the company has ever had and I have been with the company for 17 years."
-- Denise Werleman, NSE, Montréal, QC

"Kevin, I thoroughly - absolutely thoroughly - loved your presentation! The videos complimented your talk so completely that I found tears streaming down my cheeks. Thanks so much for who you!!"
-- Pat Shadle, NSE, Orlando, Florida

"Having ongoing experiences with major keynote speakers through our Leadership Conferences Division provides a clear benchmark to evaluate and provide my highest recommendation for Kevin Hall. He has been one of our highest rated speakers ever. Kevin′s ability to connect with audiences of all sizes, economic diversity, and most importantly delivering pertinent and useful information is second to none."
-- David Jobe, CSP Information Group, President Leadership Conferences

"Kevin, your presentation at the Nu Skin ′Kickoff′ event in Orlando was one of the most awe-inspiring, yet humble presentations I have ever heard. Over the past 48 years I′ve listened to many inspiring messages but you and Zig Ziglar are right up at the top."
-- Bob Call, NSE, Nebraska

"Kevin, your words touched me deeply. I haven′t cried that much during a presentation in a long time. As a professional coach and student of success for many years, I can honestly tell you that I have heard 100s of speakers, many of them amazing, but I have never heard anything like what you shared - your message was so unique and wonderful!"
-- Pat Morgan, Miami, Florida

Praise for Aspire:

"Just as I broke new ground in human development over 20 ago by uncovering the habits that make for a meaningful and effective life, Kevin Hall is breaking new ground by uncovering and revealing the true intent and meaning of the words that make up those habits."
-- Stephen R. Covey, author of The 7 Habits of Highly Effective People

"This revealing book takes you on a journey of discovery filled with recurring ′wows′ and ′ahas!′ Uncovering the true meaning of a core word is like turning on a light switch. Aspire should be broadly read and generously shared."
-- Jon R. Luther, chairman and CEO, Dunkin′ Donuts

"Kevin Hall shows us the surprising power of words - tools we can use to shape new thoughts and beliefs - to help us change, and create something better for ourselves and our planet."
-- Spencer Johnson, M.D., #1 New York Times best-selling author of Who Moved My Cheese? and Peaks and Valleys

"Kevin Hall′s ability to unlock human potential is rare and extremely valuable. In Aspire, he unveils a completely new paradigm for personal development and growth that is dynamic and life changing."
-- Norman E. Brinker, founder and chairman emeritus, Brinker International

"I love great books that have changed my life. Aspire is one of those truly great books. Kevin Hall is right up there with Og Mandino and Napoleon Hill."
-- Bob Proctor, teacher in The Secret and best-selling author of You Were Born Rich

"I literally had chills as I read Aspire and unabashedly give this work my highest recommendation and support. It′s an absolute winner!"
-- Edna Morris, former president, James Beard Foundation, Red Lobster Restaurants
Aspire!: Discovering Your Purpose Through the Power of Words
An expert recognized for his uncovering the hidden, and often secret meaning of words, Kevin Hall now shares his wisdom with us all. In Aspire! he teaches readers to understand what words mean in their purest sense and unlock their importance as they develop a thoughtful new vocabulary.

As Stephen R. Covey so beautifully elucidates in his foreword, "this masterfully written book will help you understand that words have an inherent power, a force capable of lighting one′s paths and horizons. Used correctly and positively, words are the first building blocks for success and inner peace. Used incorrectly and negatively, they are capable of undermining even the best of intentions. This is true in business, in personal relationships, and every other walk of life."

By focusing on eleven words-one per chapter--Aspire! shows how to use these words as building blocks for success and inner peace. The words, from the very familiar to the very unusual, will become touchstones in personal development and in business.
Order Here





Suggested Programs:
Aspire: Discovering Purpose Through the Power of Words
Leading Through the Power of Words
Selling Through the Power of Words
Serving Through the Power of Words
Demo Video - The Power of Words
"Every thought you think, every word that you speak, creates your future." In this TEDx Talk, inspirational speaker Kevin Hall reveals some of the world's most powerful words.