* Please note that while this speaker's specific speaking fee falls within the range posted above (for Continental U.S. based events), fees are subject to change. For current fee information or international event fees (which are generally 50-75% more than U.S based event fees), please contact us.
Top25 Speaker Voting

Kevin Freiberg needs 6 vote(s) to make it into the Top 25 speakers on Speaking.com!
Speaker Booking Tip
"Tip: find a speaker in your local area to save on travel costs. Most speakers will also reduce their keynote fee for local events. "
For Event Planners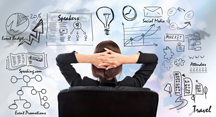 • Keynote Speaker Booking Toolkit.
• Booking a Celebrity Speaker.
• How to Find and Book the Right Speaker.
• Google+ Event Planning Forum.
• Tips for International Clients Booking U.S. Based Speakers.
Similar Speakers
Lynne Lancaster

One of the nation's most highly regarded generational experts and cultural translators, Lynne Lancaster can help you transform your corporate culture and employee relations so…

George Bodenheimer

Starting in the mailroom and rising to become inaugural Executive Chairman of ESPN, Inc., George Bodenheimer is a recognized leadership and corporate culture expert who…

Seth Mattison

One of MeetingsNet's Editors' Picks as a Favorite Speaker, Seth Mattison is known around the world for his expertise in employee relations and communication culture.…

Everyone at your speakers agency were professional and helpful throughout the process, making it easy to book, communicate, and prepare for our event.
Hewlett Packard
About SPEAKING.com
Established in 1994, we are exclusive agents for some of the world's leading experts, celebrities and professional speakers.
We offer event planners a fully staffed speaker logistics planning team, plus a personal SPEAKING.com Account Executive – a knowledgeable and trustworthy partner. We guarantee your satisfaction with your speaker and a smooth booking process.
Contact us today to book your favorite speaker.

"Thanks so much for making such a significant contribution to our new Experienced Hire Orientation Workshop. We certainly appreciated and valued how you simply became a part of our team. Your Keynote presentation was a critical piece and was right on target to the message and feeling we wanted the participants to depart on. Your presentation was informative as well as sincere and meaningful. We had clear expectations for this specific section of the workshop and you exceeded them!!"

John G. Blumberg
Firmwide Recruiting, Arthur Andersen & Co., SC

"Thanks again for another outstanding presentation. I have worked with many speakers and cannot think of one that I have enjoyed listening to more. You were certainly the right choice for our closing keynote speaker.

Kevin, your command of the audience and ability to convey an important message is exceptional. That added with your professionalism explains why you received 10+ on our evaluations."

Betty L. Okicich
Manager, Travel & Convention Services, Associated Grocers, Inc.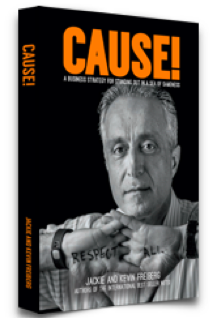 CAUSE! A Business Strategy for Standing Out in the Sea of Sameness
These days everyone is increasingly concerned about people, planet and profit, if your company isn't tied to a heroic cause, your business may be doomed.
Companies that define themselves as cause-oriented stand out! They have better employee engagement, customer loyalty, and ultimately, stronger profitability and growth, all of which the Freibergs document in their new book CAUSE!. CAUSE! documents a fresh approach to leadership and collaboration that drives business success in companies as diverse as TOMS Shoes, Lululemon, Virgin, Southwest Airlines and PepsiCo. But CAUSE! highlights Vermont-based financial services firm National Life Group. The Freibergs take an in-depth look at how National Life built its culture around a clear purpose – its cause – and that sets it apart in a sea of sameness.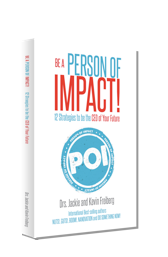 Be A Person of Impact
To everyone in search of more… This book is your unapologetic kick in the butt, it is a reminder that you are a POI—Person of Impact and you have a pocket of influence.
You have been designed to choose and you will be defined by your choices. Your future is in your hands. You can reimagine, rethink, refresh, and even completely reengineer your brand. Why? Because you choose to.
The 12 POI strategies in this book will help pave the way for you to start making intentional choices to step out of the mundane, lead, and stand out to be your best—one choice at a time.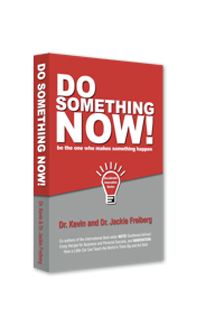 Do Something Now
DSN - Do Something Now! Three simple letters. Three simple words that could change your organization—change your life. The scarcest resource in organizations right now is not money or talent or ideas or power; it's people who DO, people who add value and get things done. This book will inspire Dreamers to become Doers. Everyone wants to add value and this book shows you how.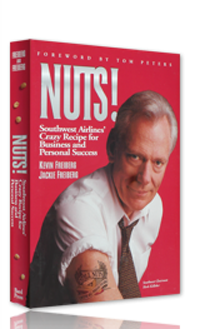 NUTS!
This very detailed, colorful, and authorized story of Southwest Airlines' unmatched success will give you and your organization a blueprint for strategic change in leadership, culture and service. NUTS! gives every reader permission to engage in new patterns of behavior and leadership. NUTS! defines vision as the true boss and offers a how to on creating a culture of service and accountability — a culture that is purposeful not accidental.



Nanovation: How a Little Car Can Teach the World to Think Big and Act Bold
Do you have the eyes, the ears, and the hands to be a Nanovator? You′re about to find out.

In India, entire families- too poor to afford a car- crowd onto a single motor scooter every day to brave the tangled traffic lurching through the streets. One evening Tata Motor′s venerable chairman Ratan Tata witnessed something on those rain-soaked streets that both horrified him and birthed a dream: an overloaded scooter lost traction in a busy intersection and sent several members of the family tumbling across the pavement. In that moment Nanovation took root in Tata′s imagination.

The very idea was supposed to be impossible. A safe and appealing family car for the price of a motor scooter? The experts dismissed it. But Ratan Tata was undeterred. When budget constraints, design restrictions, the rising costs of materials, and political agitation threatened to derail the project, Team Nano pressed on. This is the story of how, in the face of insurmountable odds, Tata Motors created one of the greatest innovations in the auto industry since Model-T.

Nanovation has disrupted an entire industry and changed the game for India forever. Imagine what it can do for your business. Is your company changing the way society functions?

What′s your Nanovative idea? It′s time to get moving!

Warning! Don′t read this book unless you are ready to challenge management dogma, taken-for-granted assumptions, and outdated systems by asking "what if?" and "why not?" to some of your industry′s toughest questions.

But, if you′re ready to revolutionize the products you make, the processes you use, and the companies you build, pull up a seat at the drafting table with the creators of the Nano, the most important car to roll off the assembly line in decades. Discover the thinking that bred their ingenuity and the leadership that encouraged them to overcome adversity, to take risks despite their fear of failure, and to innovate beyond their customer′s wildest expectations.
Order Here




BOOM! 7 Choices for Blowing the Doors Off Business-As-Usual!


You are DESIGNED to choose and DEFINED by your choices.
In front of you are seven choices waiting to be made. Whether you are the leader or those being lead, these choices will determine the quality of your life and the significance of your contribution to the world in which you work.

In BOOM the Freiberg′s have distilled 20 years of collective wisdom into 7 essential choices that cause culture, service, success, and business to BOOM

Choice #1: Be a Player
Choice #2: Be Accountable
Choice #3: Choose Service Over Self-Interest
Choice #4: Focus Forward
Choice #5: Play to Your Genius
Choice #6: Get It Done
Choice #7: Risk More - Gain More


These 7 choices are your wake-up call to freedom, and it′s your invitation to create a community of like-minded people who - together - will create organizations that can blow the doors off business as usual and cure the Dead People Working™ syndrome


Nuts!: Southwest Airlines′ Crazy Recipe for Business and Personal Success


Twenty-five years ago, Herb Kelleher reinvented air travel when he founded Southwest Airlines, where the planes are painted like killer whales, a typical company maxim is "Hire people with a sense of humor," and in-flight meals are never served--just sixty million bags of peanuts a year. By sidestepping "reengineering," "total quality management," and other management philosophies and employing its own brand of business success, Kelleher′s airline has turned a profit for twenty-four consecutive years and seen its stock soar 300 percent since 1990.

Today, Southwest is the safest airline in the world and ranks number one in the industry for service, on-time performance, and lowest employee turnover rate; and Fortune magazine has twice ranked Southwest one of the ten best companies to work for in America. How do they do it?

With unlimited access to the people and inside documents of Southwest Airlines, authors Kevin and Jackie Freiberg share the secrets behind the greatest success story in commercial aviation. Read it and discover how to transfer the Southwest inspiration to your own business and personal life.
Guts!: Companies That Blow the Doors off Business-as-Usual


Kevin and Jackie Freiberg′s previous book, Nuts!: Southwest Airline′s Crazy Recipe for Business and Personal Success, described the unconventional leadership that made Southwest an airline industry dynamo. In Guts!, the Freibergs look at twenty-five gutsy and extraordinarily successful businesses and introduce the chief executives who are creating a new corporate ethos that blows the doors off business-as-usual.

Drawing on five years of research, the Freibergs provide a behind-the-scenes look at these intensely focused, passionate, and unconventional leaders and their companies. Among them:

• James Blanchard, CEO of Synovus Financial, a financial services giant with more than 16 billion dollars in assets
• Roy Spence, Jr., President of GSD&M Advertising, which AdWeek magazine named Southwest Agency of the Year seven times
• James Goodnight of SAS, a world leader in intelligence software


Although the leaders in the book represent a wide-range of industries, they share a common vision: They see business as a heroic cause and understand that good leadership isn′t a matter of position, but of influence. They reject hierarchical rules, rituals, and expectations, and have replaced in-the-box management with a culture based on passion and innovation. They regard their employees not as "human resources," but as individuals with unique gifts and talents. And make everyone in the company responsible for the company′s brand and culture.

An exciting follow-up to Nuts!, which has sold nearly 500,000 copies in hardcover and paperback, Guts! proves that it is possible to have fun, live your values, and still make money.
Innovate or Perish
This presentation has received accolades from business leaders in companies all over the world—primarily because Kevin demystifies innovation and shows you how innovators THINK and what they DO.
Keynote Takeaways: Kevin details how you can…

• Create a culture where people aren't afraid to question the unquestionable.
• Encourage risk by rewarding intelligent failure.
• Build unlikely partnerships that lead to ingenuity .
• Continually load your pipelines with great ideas.
• Challenge teams to use limitations as springboards to creativity.

Change Do Something Now
This presentation shows you what happens in companies that are passionate about growth. If you want to create a culture where people move with a sense of urgency and say "yes" to new ideas, new relationships, new business models, new products and new markets, this presentation is your kickstarter.
Keynote Takeaways: Kevin details how you can …

• Say NO to the "incumbent's mentality" that leads to failure.
• Lead change efforts that are opportunity-led not crisis-driven.
• Say "yes" to NEXT practices not BEST practices to avoid being #2.

CAUSE! Stand Out Through Purpose and Profit
Now more than ever, consumers expect meaningful social impact. In the future, if you can't demonstrate that you are legitimately doing something to make the world better you won't be in business.
Define your business as a cause and watch your people reach higher, move faster and own more—and, make brand fanatics of your customers.
Keynote Takeaways: Kevin details how you can …

• Inspire employees to come to work fully awake, fully engaged, and firing on all cylinders.
• Give employees a chance to solve a problem that really matters.
• Show how your products and services have social value and positive impact.
• Invite Customers to buy BETTER VERSIONS of themselves.

Leadership
Kevin will unpack the character strengths of gutsy leaders and shows you how these strengths play out in some of the world's most admired companies.
Keynote Takeaways: Kevin details how you can …

• Move the organization in bold, new directions to turn average into an exceptional.
• Choose service over self-interest and become stewards of people's potential.
• Invite people to share ideas and create breakthroughs that challenge the status quo and accelerate innovation.

Dr. Kevin Freiberg, Leadership Keynote Speaker: Demo Video
Kevin Freiberg reveals that truly influential leaders don't complain when the unexpected upsets their plans; rather they use problems and limitations to spur creativity. Sharing the story of how Tata Motor's affordable ecologically friendly Nanocar has turned the auto industry upside down and saved lives in the process, Kevin urges people to be the leader that shows everyone else that the impossible can be realized.
"What if you opened the floodgates on value-based reimbursement?" he asks, pushing the audience to stop waiting for the perfect market conditions or changing regulations and simply take action. "We're going to get out in front of it now and we're going to be the ones to open the floodgates," Kevin says, "Because somebody had the guts to question the unquestionable."
Dr. Kevin Freiberg, Leadership Keynote Speaker: How to Accelerate Innovation
Dr. Kevin Freiberg, Leadership Keynote Speaker: Hungry for Change
Dr. Kevin Freiberg, Leadership Keynote Speaker: Heroic Work Inspires Innovation
Dr. Kevin Freiberg, Leadership Keynote Speaker: Innovate or Perish!