* Please note that while this speaker's specific speaking fee falls within the range posted above (for Continental U.S. based events), fees are subject to change. For current fee information or international event fees (which are generally 50-75% more than U.S based event fees), please contact us.
Top25 Speaker Voting

Kenneth Gronbach needs 7 vote(s) to make it into the Top 25 speakers on Speaking.com!
Speaker Booking Tip
"Tip: find a speaker in your local area to save on travel costs. Most speakers will also reduce their keynote fee for local events. "
For Event Planners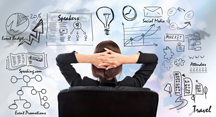 • Keynote Speaker Booking Toolkit.
• Booking a Celebrity Speaker.
• How to Find and Book the Right Speaker.
• Google+ Event Planning Forum.
• Tips for International Clients Booking U.S. Based Speakers.
Similar Speakers
Adrian Gostick

A global thought leader on corporate culture, employee relations and human resources management, Adrian Gostick has published several successful books on employee engagement. These include…

Tasha Eurich

Over the last 15 years, organizational psychologist, Dr. Tasha Eurich has helped make thousands of leaders AWESOME. From start-ups to the Fortune100, the celebrated leadership…

Seth Mattison

One of MeetingsNet's Editors' Picks as a Favorite Speaker, Seth Mattison is known around the world for his expertise in employee relations and communication culture.…

Finding the appropriate speaker for an event is a challenge. Your stellar speakers agency made the process extremely easy. I would recommend your agency to anyone.
Mercury University
About SPEAKING.com
Established in 1994, we are exclusive agents for some of the world's leading experts, celebrities and professional speakers.
We offer event planners a fully staffed speaker logistics planning team, plus a personal SPEAKING.com Account Executive – a knowledgeable and trustworthy partner. We guarantee your satisfaction with your speaker and a smooth booking process.
Contact us today to book your favorite speaker.

"You were a fantastic keynote speaker. Your message, materials, and delivery were superb! Our attendees and I enjoyed and appreciated learning more about the demographics and how it relates to and impacts agriculture. The books were also a hit. You made me look good as an economist and I appreciate that, it was a big job!"
Clark Seavert, NW Agribusiness
"Ken was absolutely fantastic !!! In more than 30 years of hiring speakers and hundreds of events….he was one of the best ever! He was funny, entertaining, optimistic and enlightening. He just made everyone feel better about a lot of things in our country."
Judi Sullivan, Community Bankers of Michigan
"We got great feedback on Ken's presentation. He was terrific!"
AIG
"You gave a brilliant and humorous presentation filled with positive and forward thinking ideas that will help us achieve our goals. For sure, people were buzzing and excited with the presentation based upon the feedback we continue to receive through [the day]."
Anne Danaher, Executive Director, Jewish Family Services
"Over the course of many classes I have used "The Age Curve" as a reference in many different research contexts. Most recently it was a topic of Diversity Management and how to gain a competitive edge through managing a diverse workforce well. My big ending in this case was how dramatically the focus of "diversity" will shift to generational diversity and some of the implications to management. Your work is always a great closer."
Senior Manager: Mercedes Benz
"I just wanted to take a moment to thank you for making me look good in DC by giving a presentation that I hear from numerous sources was well received."
Marc L. Aronson, President & CEO Pennsylvania Association of Notaries
"Your talk at our annual conference is still the talk of the College."
Marci Hosier, Bryant and Stratton College
"I think your lecture alone was worth the cost of the whole conference."
Indar Maharaj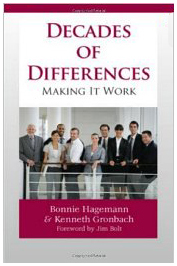 Decades of Differences
The changes going on in today s workplace including diverse generations, shifting demographics and evolving technology are forever changing work and leadership as we know it. Now, with Decades of Differences: Making It Work, leaders have the concrete tools they need to become razor sharp, extremely adaptable and fully prepared to effectively lead and manage both the changes and the change-makers. The authors are leadership and demographics experts who combine years of research and experience to explain shifting demographics in a way we can actually understand. With their insight, you ll also know what to do about it whether you re a top-level executive, current leader, aspiring leader or someone being led. Section one looks at who the different generations are and what they think about each other.
You'll examine how to lead and manage and be led and managed by Baby Boomers, Gen X and Gen Y. In section two, the focus switches to how the demographics shift is impacting leadership and the overall workplace and what companies can do about it. From recruiting and staffing to succession planning and performance management, you ll gain practical strategies for creating a more collaborative and united workplace environment. There s no better way to prepare to meet the demographic challenge.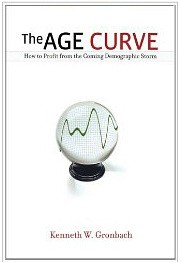 The Age Curve
For years, marketers have held on to unwavering beliefs that have dictated how they market to their consumers. But the hard truth is that the changes we see in marketing and business are based on one undeniable factor—the size of the generations we are selling to. As each generation ages, what they buy and how much they buy will change. Each product and service has a "best customer" that sustains a business. As these customers grow up, the smartest marketers will stay ahead of them—and their money. In The Age Curve, marketing guru Kenneth Gronbach shows executives and entrepreneurs how to anticipate this wave of predictable demand and ride it to success.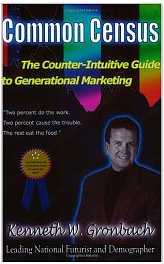 Common Census
Generational marketing is founded on the rise and fall of the size of populations, and their effects on economics, social issues and business -- in whatever geographical confines they may exist. In the United States, generational marketing is particularly pronounced because there is an enormous rise and fall in populations. Huge numbers are preceded by small numbers, and then followed by small numbers. They significantly change things in the economy. They significantly change things in education. They significantly change things in government. They significantly change things in business. And these are all very predictable things. Generational marketing is understanding what's next.

Ken Gronbach Speaker Demo Video
Kenneth Gronbach entertainingly sheds light on what it means to be a demographer borrowing from the definition his daughter gave to a friend who mistakenly thought that a demographer was similar to an economist or an accountant. "'No, accountants and economists count money and stuff. My dad counts people, and people are way more important than money and stuff.'"
Relating how he became a "people counter," Kenneth discusses the turning point in his life that convinced him that demographics is the driving factor behind economics. As a marketing manager in the auto sector during the 1990s he faced a crisis when Japanese motorcycle sales crashed by 80% seemingly overnight. Inspired by a newspaper headline about the laziness of Generation X, he called in his research department to find out everything they could about the generation inheriting the Baby Boomers' spot as prime consumer. "Three days later he comes backs and says 'They don't perform at the level of the Boomers,'" Kenneth narrates his conversation with his research representative. "'Oh, so they're lazy?' [I asked] 'No,' he said. 'There are fewer of them.'"
Keynote Speech
Ken Gronbach Speaks to Idaho Business Leaders
Ken Gronbach - The Age Curve