* Please note that while this speaker's specific speaking fee falls within the range posted above (for Continental U.S. based events), fees are subject to change. For current fee information or international event fees (which are generally 50-75% more than U.S based event fees), please contact us.
Top25 Speaker Voting

Ken Dychtwald needs 4 vote(s) to make it into the Top 25 speakers on Speaking.com!
Speaker Booking Tip
"Tip: speakers bureaus provide added value that you cannot get by booking speakers directly. "
For Event Planners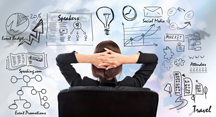 • Keynote Speaker Booking Toolkit.
• Booking a Celebrity Speaker.
• How to Find and Book the Right Speaker.
• Google+ Event Planning Forum.
• Tips for International Clients Booking U.S. Based Speakers.
Similar Speakers
Carly Fiorina

Carly Fiorina obliterated the glass ceiling when she became the first woman CEO of a Fortune 20 company. Regarded as one of the most powerful…

Ray Kurzweil

"The ultimate thinking machine" (Forbes), Ray Kurzweil has an astonishing track record of innovation, particularly in the healthcare field. Inc. magazineplaced him #8 among US…

Geoffrey Moore

As new challenges and opportunities arise, the tech industry has continuously looked to Geoffrey Moore for fresh ideas on management strategy. He has cofounded three…

Our agent was great to work with. Very easy to reach when needed and promptly returned messages. Thank you for making our event such a big success, we are looking forward to working with you again soon!
American Lung Association
About SPEAKING.com
Established in 1994, we are exclusive agents for some of the world's leading experts, celebrities and professional speakers.
We offer event planners a fully staffed speaker logistics planning team, plus a personal SPEAKING.com Account Executive – a knowledgeable and trustworthy partner. We guarantee your satisfaction with your speaker and a smooth booking process.
Contact us today to book your favorite speaker.

"I have been learning from Ken Dychtwald for years and am convinced that he is today's most innovative and original thinker on this important subject."
President Jimmy Carter

"Ken Dychtwald has a unique ability to blend cutting-edge social science and unrivaled knowledge about the marketing and workforce implications of the global age wave with world-class presentation showmanship. The response to his talks to our "Committee of 100" leadership has been tremendous and he has managed to earn the highest speaker ratings in our history of meetings. His presentation style is riveting, his knowledge base grows even stronger with the years and his understanding and insightful solutions are truly visionary. I highly recommend Ken Dychtwald to any organization seeking a show-stopping keynoter."
Thomas J. Donohue, President and CEO, U.S. Chamber of Commerce

"You have a real gift for communicating with others. On a scale of 100, you received an average score of 98%. Obviously, this is just about as close to being perfect as you can get. We have enjoyed many top-ranked speakers over the years, including Dr. Victor Frankel, Mother Teresa, David Brinkley, George Will, Chris Matthews, Cokie Roberts, Congressman Claude Pepper and Senator Ted Kennedy, but no one was ever better received than you."
Val J. Halamandaris, President, National Association for Home Care and Hospice

"In addition to being a gifted social scientist and great and prolific writer on the topic of aging and retirement, Ken Dychtwald's presentation and communication skills, and his ability to engage all forms of media are beyond impressive."
Jay Wintrob, President and CEO, SunAmerica Financial Group

"Ken Dychtwald was a featured speaker at News Corporation's global management conference in July 2006, where he joined a line-up of powerful speakers that included Senator John McCain, British Prime Minister Tony Blair, and former president Bill Clinton. Not only did Ken command the audience, but his was one of the most enlightening, thought-provoking, and entertaining presentations of the conference."
Peter Chernin, President and COO, News Corporation

"I am a Ken Dychtwald fan. In every venue in which I have observed him, he is ruthlessly informative, creatively articulate and immensely entertaining. He is constantly updated and relevant. And he's a nice guy too. When I brought him before our life insurance industry CEOs, he just didn′t talk and run. He stayed. And listened. And learned."
Frank Keating, President and CEO, ACLI, Former Governor of Oklahoma

"I was thrilled to be a part of your Court of the Table presentation. In my opinion, you were by far the best speaker at the meeting. Your presentation was energetic, informative and clearly right on target."
Jennifer Borislow, Chair, Top of the Table, Million Dollar Roundtable

"Ken Dychtwald is a rock-star speaker who captures an audience with exceptional insight, compelling data, and self-effacing humor. Each attendee leaves with information they can apply the very next day."
Laurence Barton, Ph.D., President and CEO, The American College
A New Purpose: Redefining Money, Family, Work, Retirement, and Success
Happiness in life is about more than what′s in your bank account or stock portfolio. Success is more than achieving power and respect. Each one of us has a responsibility for changing the world in a positive, significant, and enduring way—and the challenge is less daunting than you might think.

In this hopeful and motivating book, author Ken Dychtwald shares inspiring stories of people who have made a difference and points us to resources that will enable us to do the same. All it takes is an investment in head, heart, and spirit. For those of us who find ourselves asking, "Now what?" A New Purpose has the answers.
Order Here




Workforce Crisis: How to Beat the Coming Shortage of Skills and Talent


What Companies Must Do Now to Survive the Impending Talent Crisis

Unprecedented shifts in the age distribution and diversity of the global labor pool are underway. Within the decade, as the massive boomer generation begins to retire and fewer skilled workers are available to replace them, companies in industrialized markets will face a labor shortage and brain drain of dramatic proportions.

Ken Dychtwald, Tamara Erickson, and Robert Morison argue that companies ignore these shifts at great peril. Survival will depend on redefining retirement and transforming management and human resource practices to attract, accommodate, and retain workers of all ages and backgrounds. Based on decades of groundbreaking research and study, the authors present innovative and actionable management techniques for leveraging the knowledge of mature workers, reengaging disillusioned midcareer workers, and attracting and retaining talented younger workers.

This timely book will help organizations sustain their competitive edge in tomorrow's inevitably tighter labor markets.
Power Years: A User′s Guide to the Rest of Your Life


At the beginning of the 20th century, the average 40-year-old could expect to live only 6 more years. Now, with average longevity soaring above 77 years, 40-year-olds are barely past the midpoint of their lives. Psychologist and gerontologist Ken Dychtwald has spent decades researching the possibilities and potential pitfalls of aging. The author of Age Power and Age Wave offers readers specific advice about pursuing dreams, deepening relationships, and achieving financial freedom. Required baby boomer reading.

Do you want to stop worrying about money and start having more fun? Do you wish you had more time to spend with family and friends? Do you want to live the life you always envisioned? Then it′s time for your Power Years.

The Power Years is your step-by-step guide to repowerment and personal reinvention after forty. In this unique guidebook, world-renowned psychologist and leading authority on aging Ken Dychtwald and award-winning journalist Daniel J. Kadlec combine their decades of cutting-edge research and reporting to reveal how you can make the Power Years the best years of your life—by far. As we baby boomers move into the next stage of life, we now have the opportunity to experience a mold-shattering period of reinvention and personal growth, career liberation, nourishing relationships, and financial freedom. The Power Years helps us envision and embrace this new chapter of life as we develop a carefully thought-out plan for personal fulfillment.
Note: All of these presentations can be customized to specific audiences and industries.
How the Age Wave Will Transform the Marketplace, the Workplace and Our Lives
Increasing longevity, declining fertility and aging baby boomers are triggering an enormous "age wave." This demographic tsunami has the potential to create ground-breaking marketplace and work/talent opportunities—and equally compelling social and financial challenges.
This informative, motivating and entertaining presentation will explore:
How will people use their newfound "longevity bonus?"
Why will the "cyclic" lifeplan replace the traditional "linear" model?
How will aging boomers change established paradigms of work, leisure, learning and retirement—as well as lifetime brand loyalty?
What's the most effective way to market and sell to "middlescent" boomers wishing to enrich the quality of their lives, while forestalling aging?
Why is managing a four-generation workforce the new diversity mandate?
(Note: This presentation can be shaped to focus either on the US, North American or global Age Wave.)
Re-Visioning Retirement: New Timing, New Purpose, New Planning, New Funding
Everyone's retirement clock has been reset as a result of the recession. But highly acclaimed Age Wave research reveals a surprising finding: This could be a good thing, for individuals, the consumer marketplace and financial planning professionals. This presentation will explore:
Why financial "peace of mind" has become far more important than "wealth" in the new American dream.
How women's rising financial power is transforming their attitudes and behavior toward money, their family dynamics and the field of retirement planning.
How the adult lifestage demands of eldercare, sibling care, grandparenthood, singlehood and rehirement will dramatically impact retirement preparation and funding.
We'll also discuss the products, services and guidance people now seek from financial professionals to safeguard a successful retirement while avoiding the five retirement "wildcards" that could shatter their dreams.
The Cure for Our Aging Healthcare System
Whether we live long lives with vitality and purpose or sickness and suffering will depend to a great extent on our ability to reshape the skills, services and incentives of our current healthcare system. This new presentation provides a visionary glimpse into the future, outlining the critical course corrections required to create healthy aging and productive longevity.
Topics to be covered include:
Why we must accelerate the scientific breakthroughs needed to prevent, delay and eliminate the horrific diseases of aging (such as Alzheimer's);
why training healthcare professionals to become "aging-ready" will both saves lives and money;
how the boomers' proclivity toward control, self-care and connectivity can help make disease prevention and self-care a national priority;
how new technologies and emerging community-based services can enable us to shift the healthcare focus from hospitals and nursing facilities to home-based care;
why establishing a humane and dignified approach to end-of-life care has reached a critical tipping point.
A New Agenda for 21st-Century Aging:
Seven Critical Course Corrections Needed for a Century of Successful Aging
Will the aging of America prove to be a triumph or a tragedy? Based on 35-plus years at the crossroads of demography, gerontology, healthcare and business, Ken Dychtwald provides a big-picture presentation designed to inform, startle, provoke and motivate us toward the seven critical course corrections needed for a century of successful aging.
Questions to be asked—and answered:
Is the longevity revolution over—or is it just beginning?
Can our country afford to have tens of millions of us living to 80, 90 or even past 100?
Are older adults an asset or a liability?
How will boomers age differently than their parents?
When does old age begin—and should old age benefits be indexed to advancing longevity?
How must our current healthcare system change to manage the onslaught of boomers and their chronic degenerative diseases?
Is retirement obsolete?
What should be the new purpose of maturity?
Are we becoming a political gerontocracy?
Are our leaders capable of distributing limited government resources fairly among many generations, each with its own distinct needs, styles, fears, expectations and political priorities?
Optimizing Generational Diversity:
Four Cohorts Rethink Work, Money, Family, Retirement and Success
For the first time in history, four generations of active adults are simultaneously participating in the workforce and marketplace. Each has its own lifestyle values, attitudes about work and money, means of connecting and communicating, role models and marketplace preferences.
This high-impact presentation will examine:
What key social forces have shaped each generation and produced their distinct, core lifetime characteristics?
What does each generation hope to get from—and give to—their jobs/careers?
How do you manage and motivate each generation, from "encore" workers seeking stimulation and self-worth, to older workers looking for balance and purpose, to mid-career workers trying to reboot their enthusiasm for a longer and more demanding worklife, to young workers struggling to enter the workforce during tough economic times?
How does each measure success?
This presentation can focus on how to attract and retain valuable talent and enhance productivity through the creative use of flexible work arrangements, innovative learning, mentoring and sponsoring opportunities, sabbaticals, retraining, re-careering, flex-retirement, and creative compensation and benefits programs. Alternatively, it can orient toward the most effective ways to reach out to—and connect with—Millennials, Gen Xers, Boomers and members of the Silent Generation.

Ken Dychtwald - Speech Excerpt
"How do we match our health span to our life span?" Dr. Ken Dychtwald investigates in a thought-provoking look at the challenges that come with the increasing longevity we're seeing. True, people are living longer, but we're also seeing higher rates of "horrific diseases" such as cancer, heart disease, and Alzheimer's, which affects almost half the population over the age of 85. With life spans expected to increase up to 150 or perhaps even 200 years in coming generations, how do we ensure that half of that time is not spent incapacitated by illness?
Dr. Dychtwald imagines a wide range of hypothetical situations, some in which a privileged few can purchase longevity, some in which Silicon Valley type innovation makes exponential progress in the problems associated with aging in the 21st century, and some in which more and more people begin laying down the terms under which they wish to continue living or end their own life.
Ken Dychtwald- The Future of Aging: Aging in America General Session
Ken Dychtwald- Transforming Retirement: New Timing, Roles, Funding, Challenges/Opportunities and a New Purpose
Keynote Speech