* Please note that while this speaker's specific speaking fee falls within the range posted above (for Continental U.S. based events), fees are subject to change. For current fee information or international event fees (which are generally 50-75% more than U.S based event fees), please contact us.
Top25 Speaker Voting

Ken Blanchard needs 5 vote(s) to make it into the Top 25 speakers on Speaking.com!
Speaker Booking Tip
"Tip: ask your speaker to do a book signing or attend a VIP meal with your guests. "
For Event Planners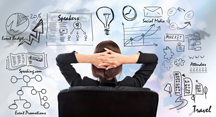 • Keynote Speaker Booking Toolkit.
• Booking a Celebrity Speaker.
• How to Find and Book the Right Speaker.
• Google+ Event Planning Forum.
• Tips for International Clients Booking U.S. Based Speakers.
Similar Speakers
Carly Fiorina

Carly Fiorina obliterated the glass ceiling when she became the first woman CEO of a Fortune 20 company. Regarded as one of the most powerful…

Patrick Lencioni

Nominated by Fortune as "one of the ten new gurus you should know," Patrick Lencioni is founder and president of The Table Group, a firm…

John Mackey

Co-founder and co-CEO of Whole Foods Market, John Mackey has overseen the growth of his company from a single store in Austin Texas to a…

The retreat was extraordinary, professional, and personable. Everyone is still raving about it. They said it was the best experience of their lifetime. And, I would have to agree. I most certainly hope we have the opportunity to work together in the future.
YPO: Young Presidents' Organization
About SPEAKING.com
Established in 1994, we are exclusive agents for some of the world's leading experts, celebrities and professional speakers.
We offer event planners a fully staffed speaker logistics planning team, plus a personal SPEAKING.com Account Executive – a knowledgeable and trustworthy partner. We guarantee your satisfaction with your speaker and a smooth booking process.
Contact us today to book your favorite speaker.

Clients
America Online, American Golf Corporation, Amway, Baxter Healthcare, Chick-fil-A, Dow Corning, Eastman Kodak, General Motors, GTE, Hershey Foods Corporation, IBM, Kmart, Konica, Publix Supermarkets, Inc., Ritz-Carlton, Talbots, U.S. Chamber of Commerce

Testimonials
"You definitely made an impact on our division. Our managers will be creating Raving Fans for many years to come."
—H. "Bob" Moore, Vice President, Publix Supermarkets, Inc.

"Thank you for your presentation at our national sales meeting. You set just the right tone for the meeting. You left a lasting impression on the organization, and during the day that followed you were quoted numerous times."
—Jack McGinley, Baxter Healthcare

"Excellent program. Ken was outstanding!"
—Ronald P. Coupe, Vice President Technical Operations, First USA Bank

"Excellent delivery. Simple, understandable, and practical."
—Peter Calo, Senior Vice President of Global Sales, CARDONE Industries, Inc.

"Great speaker! Dynamic, informative, and relevant!"
—Kim Strauss, RN CNIV, The Children's Hospital of Philadelphia

"The seminar was excellent. I really enjoyed learning more about leadership, but I'm more excited about putting the principles into practice."
—Kim Lee, Computer Specialist, Defense Supply Center of Philadelphia
Leading at a Higher Level, Revised and Expanded Edition: Blanchard on Leadership and Creating High Performing Organizations
From The One Minute Manager to Raving Fans, the Blanchards′ books have helped millions of people unleash their power and the potential of everyone around them. The Ken Blanchard Companies has helped thousands of organizations become more people-oriented, customer-centered, and performance-driven.

Now, in Leading at a Higher Level, Updated Edition, Blanchard and his colleagues bring together everything they′ve learned about world-class leadership. You′ll discover how to create targets and visions based on the "triple bottom line"...and make sure people know who you are, where you′re going, and the values that will guide your journey.

From start to finish, this book extends Blanchard′s breakthrough work on delivering legendary customer service, creating "raving fans," and building "Partnerships for Performance" that empower everyone who works for and with you. Updated throughout, this new edition contains two powerful, important new chapters: one on coaching to create higher-level leaders, and another on creating a higher-level culture throughout your organization. It also offers the definitive, most up-to-date techniques for leading yourself, individuals, teams, and entire organizations.

Most importantly, it will help you dig deep within, discover the personal "leadership point of view" all great leaders possess-and apply it throughout your entire life.
Order Here




Raving Fans
A Revolutionary Approach To Customer Service

This, in a nutshell, is the advice given to a new Area Manager on his first day--in an extraordinary business book that will help everyone, in every kind of organization or business, deliver stunning customer service and achieve miraculous bottom-line results.

Written in the parable style of The One Minute Manager, Raving Fans uses a brilliantly simple and charming story to teach how to define a vision, learn what a customer really wants, institute effective systems, and make Raving Fan Service a constant feature--not just another program of the month.

America is in the midst of a service crisis that has left a wake of disillusioned customers from coast to coast. Raving Fans includes startling new tips and innovative techniques that can help anyone create a revolution in any workplace--and turn their customers into raving, spending fans.



The One Minute Manager


For more than twenty years, millions of managers in Fortune 500 companies and small businesses nationwide have followed The One Minute Manager′s techniques, thus increasing their productivity, job satisfaction, and personal prosperity. These very real results were achieved through learning the management techniques that spell profitability for the organization and its employees.

The One Minute Manager is a concise, easily read story that reveals three very practical secrets: One Minute Goals, One Minute Praisings, and One Minute Reprimands.

The book also presents several studies in medicine and the behavioral sciences that clearly explain why these apparently simple methods work so well with so many people. By the book′s end you will know how to apply them to your own situation and enjoy the benefits.

That′s why The One Minute Manager has continued to appear on business bestseller lists for more than two decades, and has become an international sensation.

The Secret
The Secret of great leaders is one that might baffle many. A great leader serves their followers. Through this program, you will discover and explore the five fundamental ways a manager leads through service- see the future, engage and develop others, reinvent continuously, value results and relationships, and embody values. In understanding these simple principles, you will benefit yourself, your organization, and those that look to you for guidance.
See the Future
What is the purpose of your team?
Where do you want your team to be in five years?
How many members of your team could tell you what the team is trying to become/achieve?
What values do you want to drive the behavior of your team?
How can you communicate your vision of the future to your team?
Engage and Develop Others
How much time do you invest looking for talented people to join your organization?
What are the key characteristics you look for in the people you select?
To what extent have you successfully engaged each member of your team?
What are ten specific things you could do to engage individuals more effectively in the work of the team and the organization?
What have you done to suggest to them that when it comes to Heads Down implementation activities, you work for them?
How are you encouraging the development of your people?
Reinvent Continuously
Who are your mentors?
What are you reading or listening to on tape?
What systems or processes in your area of responsibility need to be changed to enhance performance?
How could the areas under your leadership be structured differently to enhance performance?
Value Results and Relationships
How much emphasis do you place on getting results?
How many of your people would say that you have made a significant investment on their lives?
What are the ways you have expressed appreciation for work well done in the last thirty days?
Embody the Values
How can you better integrate your organizational values into how your team operates?
What are some ways you can communicate your core values to your team over the next thirty days?
How can you alter your daily activities to create greater personal alignment with these values?
How can you recognize and reward people who embody these values?
Servant Leadership
Within the traditional pyramid or business hierarchy, the boss is always responsible and the staff is supposed to be responsive to the boss. When you turn the pyramid upside down, those roles get reversed. People become responsible and the job of management is to be responsive to their people. That creates a very different environment for implementation. If you work for your people, then what is the purpose of being a manager? To help them accomplish their goal. Your job as a manager is to help your staff win.
The Four Dimensions of Servant Leadership
The Heart—Motivation or Intent/Leadership Character

Effective leadership starts on the inside

Are you a Servant Leader or a self-serving leader?

The Head—Assumptions and Beliefs/Leadership Methods

Leadership begins with a clear vision.

Two aspects of leadership

A visionary role—doing the right thing
An implementation role—doing things right
The Hands—Application/Leadership Behavior

Leadership methods and practice

People who produce great results feel great about themselves
The Habits—Daily Recalibration of Commitment to Mission and Values

Five Servant Leadership Disciplines
1. Solitude
2. Prayer
3. Student of Servant Leadership
4. Unconditional love
Support and accountability relationships

Whale Done!
What does the training of killer whales at SeaWorld have to do with motivating people? It's a matter of building relationships. This new training program will teach you why and how to improve relationships by applying the following three key principles: Build Trust, Accentuate the Positive and Redirect the Energy.
Teambuilding – High Five!
What is the essence of a team? According to management gurus Ken Blanchard and Sheldon Bowles, "It's the genuine understanding that none of us is as smart as all of us. Putting your needs, your pride, and your agenda on hold and letting the team's needs, pride, and agenda become your priority is an essential step in developing teamwork," they say.

Speech
Ken Blanchard gives a presentation, which encapsulates his values as set out in his book, The One Minute Manager. Asking his audience to wander around the room greeting each other, he explains, "To run a great organization, great family, great church, great anything, you have to know how to manage people's energy, including your own. Now where was there more activity, in the first activity or the second? The second, right? But all I did to get that was to change what you were thinking."
Explaining further what he has made happen, Ken says, "It says in the Bible, as he thinketh so he becomes; what happened when I said these are unimportant people? Very little eye contact, very little touching… then I said these are long lost friends what happened? Your faces lit up, you started to laugh…"
Offering a startling insight into the ways in which we control behavior, Ken asks, "Have you ever thought that your computer and your mind have a lot in common? Your computer and your mind don't know what the truth is, they only know what you tell it … what do they say with computers, garbage in, garbage out? It's the same with your mind. If you woke up this morning and looked in the mirror and said you are fabulous, your mind is not going to say 'who are you kidding?'"
Speech Clip
Keynote Speech