* Please note that while this speaker's specific speaking fee falls within the range posted above (for Continental U.S. based events), fees are subject to change. For current fee information or international event fees (which are generally 50-75% more than U.S based event fees), please contact us.
Top25 Speaker Voting

Keith McFarland needs 8 vote(s) to make it into the Top 25 speakers on Speaking.com!
Speaker Booking Tip
"Tip: ask your speaker to do a book signing or attend a VIP meal with your guests. "
For Event Planners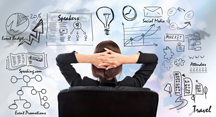 • Keynote Speaker Booking Toolkit.
• Booking a Celebrity Speaker.
• How to Find and Book the Right Speaker.
• Google+ Event Planning Forum.
• Tips for International Clients Booking U.S. Based Speakers.
Similar Speakers
David Rock

Dr. David Rock is the founder and CEO of the NeuroLeadership Group, a global consulting and training firm with operations in 12 countries. He also…

Barry Posner

Barry Posner, Ph.D., is Professor of Leadership at the Leavey School of Business, Santa Clara University (located in the heart of Silicon Valley, CA), where…

Ram Charan

World-renowned consultant, author and speaker Ram Charan has made an extraordinary life journey, from working in the family shoe shop in a small town in…

Everyone at your speakers agency were professional and helpful throughout the process, making it easy to book, communicate, and prepare for our event.
Hewlett Packard
About SPEAKING.com
Established in 1994, we are exclusive agents for some of the world's leading experts, celebrities and professional speakers.
We offer event planners a fully staffed speaker logistics planning team, plus a personal SPEAKING.com Account Executive – a knowledgeable and trustworthy partner. We guarantee your satisfaction with your speaker and a smooth booking process.
Contact us today to book your favorite speaker.

Select List of Clients:

Alpine Confection
Ambrose International
Boeing (BA)
Cigna (CI)
Colorbok
Dedicated Logistics
Dorchester Capital
Eagle Global Logistics (EAGL)
ESmith Group
Evault
NCH
FdG Associates
Foamade
Freescale
Kings Seafood
Los Alamos National Laboratory
LSG Insurance
Miratech
Motorola (MOT)
O2 Ideas
Olson Company
Pepperdine University
Phone Directories Inc.
Prudential (PRU)
Vans (VANS)
Willow
Wingate Partners
Young Presidents Organization

"You were a smash hit at the recent Gettysburg seminar for CEOs—they gave you the highest of ratings. I could gush further, but prefer what Shakespeare would have said, had he been lucky enough to experience your presentation; ′O wonderful, wonderful, and most wonderful wonderful, and yet again wonderful…′"(As You Like It)
Ambassador Kenneth Adelman,
Former U.S. Ambassador to the United Nations

"What a terrific experience! Not a minute was wasted, and all of our independent thinkers came together with clarity on how to reach their individual goals. You can definitely herd cats!"
Margaret Black,
Regional Vice President
Morgan Stanley
Bounce: The Art of Turning Tough Times into Triumph
Why do many people and companies crumble in the face of difficulty, while others use adversity to bounce back even stronger? Here from New York Times bestselling author Keith McFarland is a leadership fable for those wary of fables, a story that rejects pat, heard-it-before advice and shows—in a startlingly fresh way—how to use challenges to make both yourself and your organization stronger.
Order Here




The Breakthrough Company: How Everyday Companies Become Extraordinary Performers
Based on a five-year, 7,000-company study

The vast majority of small businesses stay small–and not by choice. Only the most savvy and persistent–a tiny one tenth of one percent–break through to the very highest ranks. In The Breakthrough Company, technology CEO and Fortune 500 consultant Keith McFarland draws upon an extensive empirical study to reveal exactly how everyday companies become extraordinary, showing that breakthrough success is associated with a clearly identifiable set of strategies and skills that anyone in any business can emulate–from small startup to industry leader.

With powerful and specific action steps concluding each chapter–and invaluable advice on virtually every page from business leaders who've taken their companies to extraordinary levels of growth and profitability–The Breakthrough Company is stuffed with real-world tools and myth-busting insights that can be used by anyone wanting his or her business to join this exclusive circle.
Order Here





McFarland is a nationally-recognized keynote speaker who has given more than 100 major addresses to groups up to 1000 people around the world. He has spoken frequently to YPO (Young Presidents Organization) universities and conferences—known to be critical audiences—and he has often achieved speaking ratings of 9.5 or above. He was recently a keynote speaker at the 25th Annual Inc. 500 conference.

Built for Speed: Driving Your Company's Ability to Adapt
One of the most important distinguishing characteristics of a breakthrough company is the speed with which the company adapts. This session explores how leaders can increase velocity and adaptability by throwing out the traditional strategic planning model and replacing it with a dynamic strategy model that enables the firm to adapt on the fly and to focus the business on the twenty percent of the activities most likely to create eighty percent of the results. (Available as keynote speech or as a four-hour executive workshop).

Olympians, Commandos, and CEOs—Keys to Performance Under Pressure
Rapid growth is stressful, both on the individual and on the organization as a whole. Managing personal and organizational stress turns out to be one of the most important factors in running a high-growth company. Olympic athletic teams and military commando units have for decades used The Attentional and Interpersonal Style (TAIS) Inventory to optimize performance in high-pressure situations. This same tool has proven very effective in also improving the performance of growth company managers and executives (Two-hour workshop).

Bounce: Leading in Tough Times
Great companies aren't built during the good times—they are built in times of adversity—when the old ways of doing things aren't working so well. It is during these times that companies open themselves up to new ways of thinking and are in a position to initiate a step-change that can radically transform their potential. Effective leadership during these periods is the critical factor that determines whether a company will come out of a period of adversity wounded, or stronger than ever. (This session is built around Keith's book Bounce: The Art of Turning Tough Times into Triumph.)

How to Crash an Inc. 500 Company: Lessons Best Learned Vicariously
In his early 30s Keith took over a two-time Inc. 500 Company that was out of cash, was facing a default notice from its bank, and was facing the threat of a lawsuits from its newest shareholders. Over the next eighteen months he and his new management team cut costs by 60%, repositioned the company with a new set of products, and eventually sold the business to a leading private equity firm. The experience taught him four fundamental lessons to managing a company in good times and bad.

Other Suggested Speaking Topics:

Rapid Enterprise Development: Build Strategy Like Software
The Strategic Edge
The Breakthrough Company: How Everyday Companies Become Extraordinary Performers
Managing on the Edge
How to Crash and Inc. 500 Company: Lessons Best Learned Vicariously
Value-Added Investing: Getting at the Facts
The Mind of the CEO
TAIS and Executive Performance
Value-Added Investing: Myth or Magic
Case Study in Adaptive Strategy
Rapid Innovation and Commercialization
Managing Growth: Life on the Edge
Keith McFarland: Interview
Keith McFarland discusses the inspiration and research behind his revealing best-seller The Breakthrough Company. Seeing that most business literature focused on start-ups that had transformed into famous billion-dollar companies – the exception rather than the norm – McFarland felt that no one was exploring how everyday companies get out of the entrepreneurial phase.
After being encouraged by his doctorate professor, Peter Drucker, and fellow speaker, Jim Collins, to examine that area himself, he spent five years looking at 7,000 companies only to discover the top nine fastest growing private companies were relatively unknown to most households and came from less-than-glamorous industries. McFarland admits that prior to writing the book, "You could not have convinced me for all the money in the world that on my list would be a nuts-and-bolt distributor from Minnesota, or a snow mobile manufacturer, or a real estate brokerage company. What we discovered really early in our research is that it's not what you make; it's what you make of it."
Keith McFarland: Keynote Excerpt, Breaking Routines