* Please note that while this speaker's specific speaking fee falls within the range posted above (for Continental U.S. based events), fees are subject to change. For current fee information or international event fees (which are generally 50-75% more than U.S based event fees), please contact us.
Top25 Speaker Voting

Kathy Brown needs 8 vote(s) to make it into the Top 25 speakers on Speaking.com!
Speaker Booking Tip
"Tip: speakers bureaus can provide: speaker fee negotiation, insurance, smooth logistics and value add-ons such as extra sessions. "
For Event Planners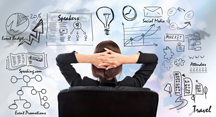 • Keynote Speaker Booking Toolkit.
• Booking a Celebrity Speaker.
• How to Find and Book the Right Speaker.
• Google+ Event Planning Forum.
• Tips for International Clients Booking U.S. Based Speakers.
Similar Speakers
Billy Riggs

At the age of 29, Billy Riggs founded one of America's fastest-growing churches. Since 1995, he has been delivering his secular presentation, "The Magic of…

Chris Westfall

Business coach and U.S. National Elevator Pitch Champion, Chris Westfall dedicates his life to improving the world by teaching his clients the art of authentic…

Michelle Ray

Michelle Ray is a highly sought-after international consultant, author, educator and business keynote speaker. She began her career in the media industry in the early…

Our account rep was great to work with. He helped facilitate some specific requests on our part, kept us in the loop of any issues, and promptly replied to all communications. Thanks for making this a great event!
Foundation for Economic Education
About SPEAKING.com
Established in 1994, we are exclusive agents for some of the world's leading experts, celebrities and professional speakers.
We offer event planners a fully staffed speaker logistics planning team, plus a personal SPEAKING.com Account Executive – a knowledgeable and trustworthy partner. We guarantee your satisfaction with your speaker and a smooth booking process.
Contact us today to book your favorite speaker.

Kathy was energetic, warm, very personable and funny. She could make you tear up one minute, and then holding your sides the next. Would love to have her back again.
Danville Regional Medical Center
(Event booked by Speakers Platform)

Kathy′s presentation not only touched me by making me feel good about myself & what I do, but her real-life comedy helped me shed some stress. Her energy is contagious and she truly cares about people. THANKS, Kathy, for an evening of fun, and thoughts for me to carry into the future.
Waseca Medical Center
(Event booked by Speakers Platform)

She was absolutely great! The clients loved her as our keynote speaker!
Thomson Delmar Learning
(Event booked by Speakers Platform)

Kathy was very well received by our conference participants and was rated as one of the best speakers.
Pennsylvania Home Care Association
(Event booked by Speakers Platform)

You were fantastic, awesome, and your title energetically speaking fits you to a tee! You had the highest scores of a speaker in all of Baptist University history. Our evaluation scale that ranges from 1-5 and you had all fives with the exception that many people put 5+++ or said that you rated off the scale.
Baptist Hospital, Pensacola Florida
Janet Day, HT

You captured the audience right from the start and held them throughout your presentation leaving them laughing and wanting more. I would love to see Kathy at a future conference. Although everyone was great, she was spectacular. It was a pleasure working with you as you were prompt, professional, and a lot of fun. We look forward to having you back!
Sherri Szep
Michigan Health & Rehab Conference

Your variety of interwoven topics, your upbeat presentations, and your unique sense of humor brought your message home to us all. This was the first year that I can remember when everyone of our attendees returned to the auditorium after break instead of wandering away to work on other college related activities. That is a compliment about your ability to stimulate and entertain our employees that I hope you will especially appreciate.
Hennepin Technical College
Marty Patterson, Senior Dean of Instruction

Last year′s convention evaluations requested you back to present on another topic at this year′s convention and you WOWED an estimated 400 attendees again !!!! It was a privilege to be able to feature such an excellent presenter to our Long Term Care professionals. You are such a joy to work with, I certainly hope that we will have the opportunity to work together again.
Health Care Association of Michigan
Linda Munson, Director of Education

Thanks for doing such a great job at our convention. All Ican say is that I′m glad we used you to close the show each day. I certainly wouldn′t want to be the one to follow you on any agenda. You are the proverbial "tough act to follow". It′s not easy to help 3,000 women learn and laugh in the same session, but you did it.
Curves International, Inc.
Mike Raymond, President

I want to thank you for the outstanding presentation you provided at Carle′s Business Health services′ seminar. That may be an understatement since 100% of participants felt your presentation was very good or excellent as indicated on the evaluations. They represented a diverse group of leaders from area business and industries, which makes the survey results even more impressive. Some comments were:

"Very informative. Materials can be used to teach others at my job."
"Over the top - doesn′t get much better than this."
"Superb information - superbly presented!"
Your professional and entertaining style clearly met the needs of our audience of area business leaders.
Business Health Services
Joan R. Zernich, Director

Your presentation at the recent Serono Symposia Fourteenth International Conference for Nurses and Support Personnel in Reproductive Medicine was phenomenal. This was the first time that we had a speaker such as yourself open and close the conference. Your talk was truly inspirational. As I looked around the room on the days you spoke, I saw nurses crying and laughing almost simultaneously. As the chairperson at this conference you more than exceed my expectations. I consider it invaluable for people to be "in touch" with their feelings. Nurses especially. Fertility nurses have to guard themselves against many emotions on a day to day basis due to the roller coaster nature of their work. SOme nurses are stuck in this mode for a long time. You helped us back to our feelings and I believe this is part of a healing process that must take place on a regular basis in order for us to move forward. I heard many nurses say that they had not laughed or cried like that in a long time. Thank you so much for all that you gave to so many people throughout the conference as well as your excellent talks. Thank you for being there and being you!
Ottawa Hospital
Marianne Morrison, Clinical Services Manager,OB/GYN,ADMIN-ACU

Thank you so much for your outstanding presentation. My co-workers were motivated by your energetic and friendly personality. Comments from them were "Kathy was awesome! Very upbeat, positive, and super hilarious. I left feeling very uplifted. You can tell she is full of great wisdom." Thanks for sharing your enthusiasm and laughter with us.
3M Office of Intellectual Property Counsel
Kathy Murray

Thank you for helping us make this year′s Nurses Dinner an unqualified success. Your ability to both move us to tears and push us to laughter is a gift. We are grateful to have received it and for the pleasure of your company in celebrating the wonderful nurses and the great work they do at the Cambridge Health Alliance. Thank you so much for your patience, humor, encouragement and of course your energy!
Cambridge Health Alliance
Rick Lacy, MS, RN, Senior Director of Public Health Nursing Services

You were a great hit with our registrants at the CAHAV Convention. People came out of your session smiling, laughing and saying, "She was great". There were many other compliments, but the bottom line is that you reached our registrants in a very positive way. They loved you!!!!
Colorado Association of Healthcare Auxilians/Volunteers
Meryl M. Johnson, V.P. of Convention
Living Happily Ever Laughter ... A Guide To Thinking Funny In a Fast Paced World
Living Happily Ever Laughter...A Guide to Thinking Funny in a Fast Paced World is a book of illustrations, cartoons and quotes that prompt you to look at yourself and laugh while you learn a deeper truth about the game called life. Laugh attacks common.
Order Here

I Only Have a Minute ... So Let′s Make it Matter!
This book will inspire and motivate you to enjoy your present life more fully and appreciate time as a gift. Time nurtures like food, but with an expiration date as yet to be determined. You will explore a variety of ideas to help you sort through your "busyness" to see which activities will leave a legacy with eternal significance. Discover how to find the good in grief, the power in pain, and the love expressed in laughter while having the "Time of Your Life." This book was written as a living legacy for Kathy′s three grandchildren - Katie Lynn, Matthew John and Natalie Lynn - who are now enjoying Eternal Life after only living a minute. That MINUTE mattered!
Order Here

Serving Smart Is An Art
You will learn how to go from ordinary to "extra-ordinary" in your customer service skills. Excellence awaits as you learn to demonstrate the difference after an internal tune-up. Get your attitude adjusted and your behavior will follow with happy customers as the outcome. Learn how to help your customers "feel" the difference.
How To Work With Humans ... The Happy Factor
This session will teach you how to work together more efficiently with improved morale using creative techniques to build trust, and communicate more effectively. Help everyone feel like a VIP as you discover the tools to build a positive energetic work environment where there is less stress and a lot more laughter.
Do Not Disturb... People At Play
This session will take you from sane to silly as you unwrap your happy factor. You will laugh while you learn ways to improve your attitude, become more playful, build relationships, and cherish the memories you have and will make. Un-fasten your belts and get ready to laugh with life as Kathy takes you on a journey through womanhood. Laugh attacks common.
Don′t Let Time "Tick" You Off
Discover how meaningful moments can be as you slow down to the speed of life. Don′t let "hurry sickness" ruin your health by not recognizing the importance of living fully in the present which is a gift. Get help balancing your life by exploring the benefits and liabilities of managing your time instead of letting the brevity of it "tick" you off.
Be All The "Rage" As You Age
Learn how to look and feel younger as you discover tips on how to alter your inner attitude, adorn your outer self, and laugh with life. T.S. Eliot said, "Have a blast while you last. To idle away your last years is to rob yourself of what could be the best years of your lives." Come alive and drink in the fullness of each day to become an even wiser sage who doesn′t look or act their age.

Speech Excerpt
Kathy Brown talks about time and the way we deal with it. She asks, "What do we do with time? We waste it, we kill it, we spend it, but do we invest it?"
Having introduced the concept of investing time, she then asks, "Do we manage it well, so that we have the greatest return on investment, with long-term benefits, with the greatest value in our lives?"
Answering her own question, she remarks, "I don't think so. I don't think we do a very good job of doing that, so we're going to try and learn some tips and hints to do that. But I would like to carve out this time for something very vital and important, and that is to celebrate YOU."
Speech Excerpt