* Please note that while this speaker's specific speaking fee falls within the range posted above (for Continental U.S. based events), fees are subject to change. For current fee information or international event fees (which are generally 50-75% more than U.S based event fees), please contact us.
Top25 Speaker Voting

Karen Post needs 9 vote(s) to make it into the Top 25 speakers on Speaking.com!
Speaker Booking Tip
"Tip: speakers bureaus provide added value that you cannot get by booking speakers directly. "
For Event Planners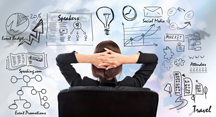 • Keynote Speaker Booking Toolkit.
• Booking a Celebrity Speaker.
• How to Find and Book the Right Speaker.
• Google+ Event Planning Forum.
• Tips for International Clients Booking U.S. Based Speakers.
Similar Speakers
Stephen Denny

Stephen Denny is a competitive strategy + marketing consultant, helping emerging brands define their competitive positioning, communication strategies and go-to-market strategies. He is the author…

Dan Coughlin

Executive coach Dan Coughlin goes the distance to bring your organization outstanding customized service. Dan helps companies achieve higher sustainable profits by working with executives…

Kaplan Mobray

Career expert and author of the acclaimed bestseller, The 10Ks of Personal Branding, Kaplan Mobray's energy and insights drive individuals and organizations to maximize their…

Everyone at your speakers agency were professional and helpful throughout the process, making it easy to book, communicate, and prepare for our event.
Hewlett Packard
About SPEAKING.com
Established in 1994, we are exclusive agents for some of the world's leading experts, celebrities and professional speakers.
We offer event planners a fully staffed speaker logistics planning team, plus a personal SPEAKING.com Account Executive – a knowledgeable and trustworthy partner. We guarantee your satisfaction with your speaker and a smooth booking process.
Contact us today to book your favorite speaker.

American Sales and Marketing Association
American Express
American General Life Insurance
Baker Botts LLP
Beauty and Barber Supply Institute
Bank of America
Chase Bank
Chasecom
Chevron
City of Houston
Fairway Terminal Corporation
Fleming Companies
Florida Restaurant Association
International Food Service Executives Association
Leadership Tampa
Louisiana Foods
Photo Marketing Association International
Florida Association of Convention and Visitors Bureaus
Marcelina, A Place for Women
National Associations of Public Shows
National Association of Women Business Owners/Tampa
Nevada Restaurant Association
Pepsi
Perrier Group of America
Procter & Gamble
Rocket Technologies
Samy Salon Systems
Southdown
Reliant Energy
TEC International
UTMB Healthcare Systems
Vinson & Elkins
Watson Wyatt
Women in Technology/Houston
Wachovia Bank

Brand Turnaround: How Brands Gone Bad Returned to Glory and the 7 Game Changers that Made the Difference
Position your company to handle any brand crisis—instantly and effectively

Toyota, Tylenol, and Goldman Sachs all made the best of serious brand crises. You can, too, with Brand Turnaround!

Brand Turnaround examines a number of brand crises—explaining first what went wrong and then revealing the steps companies took to manage their recovery—all while giving you practical insight and methods you can use to make a positive difference in your brand. You get the tools you need to develop a game plan within eight hours of the incident to prevent the problem from spreading; create a company culture designed to handle situations quickly and effectively; and manage emotions during the toughest days.
Order Here




Brain Tattoos: Creating Unique Brands That Stick in Your Customers′ Minds
Effective branding depends on the ability to leave a lasting (and positive) impression in the mind of the target audience. Brain Tattoos offers a practical approach — no complicated theories, marketing jargon, or unnecessary babble — that lets any business take its brand to the next level.

Packed with tools that help readers identify their brand′s purpose, personality, promise, and point of difference, Brain Tattoos will help readers:


Develop the courage to break the mold and become truly distinct
Discover ways to enlist customers and others as "brand ambassadors"
Grasp their brand′s essence
Master brand building on any scale in any industry
Learn how to identify and use the most effective methods of brand communication
Learn how to leverage limited resources creatively

Filled with creative ways to maximize market impact, Brain Tattoos is a true "how-to" book written with in-the-trenches business and marketing people in mind.
Order Here





Below you will find general topic outlines for Karen's presentations. The final title and program can all be tailored to meet your event's needs, delivery style, length of program and degree of interactivity. Karen's expertise is in branding, marketing, strategy, promotion, Internet marketing, social media, advertising, public relations and the customer experience. Her programs can be tailored to diverse audiences including: C-level leadership, frontline customer service, behind the scenes customer care, managers, entrepreneurs, small business and home-based businesses, students, educational institutions and non-profits.

Frogs, NGOs and Your Bottom Line:
Leveraging new eco-markets for business & planet sustainability
Public opinions, societal values and business models are all experiencing a monumental shift to green products, practices and new challenges. These factors impact the brand, what it stands for, its integrity and how it must navigate in the fast-moving terrain.

Reinvention-U, Your Brand, Your Destiny:
When change calls, pick up your smart phone!
Time to reinvent? Jump-start your business or your career? Today′s economies are forcing businesses and professionals to re- evalutate where they are, what they are doing and where they are headed. This program helps the audience understand the art, science and act of reinvention, so they can transform into a new career, brand or offering.

Odd Fish Finish First:
Distinguishing your brand from the competition
Today′s marketplace is a cluttered, busy mess. The average consumer is inundated with marketing noise, sales pitches, commercials and endless choices in every category. So how do great brands win this fierce battle? They own a unique place in the minds of their market by being distinct, offering brand attributes unlike the rest and consistently communicating these uncommon and compelling stories in all of their touchpoints.

The Freeway to More Customers:
How businesses give and gain more by leveraging the art and science of a freebie.

Businesses need to learn new ways to find and keep customers.

This program is a how-to use the art and science of free stuff to find and keep customers. It explores the new attitudes of all market segments as they seek, high value, no cost offers. The practice of serving up free, no-cost offers in today's highly competitive marketplace is one of the most prolific techniques impacting brands.

This program will open up thinking for businesses; solo-practitioners, small business owners and leadership, and Fortune 100 companies.

Program content addresses:


Finding customers and new revenue, turning around stale business models, and further cementing brand loyalty.
How best to create a strategic free offering, how to manage a customer's expectations and experience, and how to remain authentic to their brand.
And beyond the how-to apply this practice to your business, The BONUS takeaway is: Karen shares at least 10 of her favorite high-value, absolutely FREE biz tools and resources too.

Brain Tattoos, Bigger Better Branding.
This program helps companies and associations embrace the branding process so they can create new brands and/or effectively execute existing ones. This content covers the basics of branding and current trends in reaching diverse and segmented markets. The program can be delivered in a keynote format or in an interactive workshop.

A to Z Creativity, 26 Ways to the Next Big Idea
Most great brands start with and uphold bold creative ideas. They go where competitors fear and create their own markets, new products and different ways to do things. Where do these big ideas come from? The human brain, which --like a competitive horse–-he has so much potential if it's trained and exercised regularly. This creative booster introduces fun and effective methods to increase you and your team's creative output. This program can be delivered in a keynote format or in an interactive workshop.

Born-again Brands
The rebrand of organizations, persons or products
Some brands are timeless: Tiffany's, Kleenex, even Coca-Cola. They're classic icons in our minds. They've stood the test of time. We know what they are and what they stand for. Their brand story is clear and consistent in any day of any decade.

Other brands are tired and don't age as well. Some are born bad and just get worse. Some start off good and then, over time, get sloppy and lose focus. Others are innocent victims of our fast-changing world. Whatever the case, even shaky brands can become "born-again": a brand with a renewed spirit and a relevant connection to the market. This program takes the audience through the entire rebrand process. It is delivered in a keynote format or in an interactive workshop.

Brandtown, USA:
Become a destination magnet
This program helps associations and public and private destinations embrace the branding of places process so they can create memorable brands that attract people to their space. The content covers the downside of committee-driven compromise and the upside of leadership, achieving big goals on a small budget, and new trends in reaching the market. This program can be delivered in a keynote format or in an interactive workshop.

The Brand Inside:
Attracting and keeping the right talent
This program shows you how to attract and keep the right talent with a strong inside brand. Content focuses on building the internal or employer brand. When companies merge, downsize, experience rapid growth or any big change, the inside brand is essential. In today′s competitive market, having a desirable corporate brand is the key to staff recruitment, retention and organizational success.

Brand Moi™: Make Your Mark. Achieve Your Dreams.
Personal Branding for Professionals
The Brand Moi™ presentation dissects "The Brand" for individuals, business and community leaders and sales and marketing professionals. It provokes compelling questions that can cause action and stimulates new, creative ways to maximize your personal mark. This program is designed to help people achieve their goals and dreams with a personal brand. The program includes both online (social media, twitter and email etiquette) along with off line strategies to build a strong personal impression in the minds of your market.

Branding on a Heart String:
Creating a nonprofit Brand
The nonprofit sector is struggling. Giving is down and the need is up. Marketing and branding are more important than ever in this highly competitive environment. This program provides practical, big ideas to brand a cause, a program and/or an organization. If your resources are limited, your volunteers are tired and your mission is great, this program is for you. Attendees will learn story telling, the marketing and how to leverage social media.

Brain Tattooing with Social Media:
How to build and manage an online business brand
By 2011, over 1 billion people will be actively involved in social media. Gone are the days when only teenagers occupied this online world. Today savvy business owners; entrepreneurs and professionals, are benefiting from these Web phenomena. Karen Post, a marketing expert with 25 years' experience, and CEO of a social media company, Oddpodz, takes the myths and intimidation out of this new marketplace. She delivers simple ideas to tap into this new frontier of opportunity to grow your business.

This program covers a social media "overview" and "how-to"; blogging to build your brand, tweeting for success, and reputation management. It can be geared to individuals or company needs. She covers managing your brand online, business development publicity leveraging Facebook, Twitter, Linkedin, www.Oddpodz.com and other popular sites.

The New Face of Retail
Presentation message focus can include: buyer trends on- and offline, the new consumer attitudes, tactics to increase retail sales and how to deliver a fully branded memorable experience. This program can be delivered to executives, management or frontline retail staff.
Karen Post: Speaking Demo Video
Karen Post: Commencement Address
Karen Post: Client Testimonials
Karen Post: Fun Introduction
Karen Post: Intro Speech Video