For the more than over 50 million Hispanics in the United States, Julie Stav is not only a financial expert and educator, she is considered by many as a leader and inspirational role model, creating a following that now wishes to emulate her image and success.
With a revolutionary multi-media communications platform, Julie inspires and empowers people from all walks of life through her popular national radio show, "Tu Dinero con Julie Stav"; her New York Times bestselling books; over 700 appearances on Univision Television as their on-air financial expert.
Julie also as reaches over 11 million readers each month through her Tu Dinero branded content published by Impremedia Newspaper and Communications, where she provides the best and most relevant financial news to the Hispanic community.
But there is more to Julie's story than most people know—unfortunately a troubled childhood threatened to doom her to a life of failure and despair, but thankfully her tenacity and perseverance ultimately propelled her to unbounded success.
Julie's youth was marked by struggle. Her family's life was totally upended the day Fidel Castro took control of the country. From a seemingly perfect life in her native Cuba, in which her father, a well to do factory owner, was forced into becoming the janitor of the factory he used to own, Julie was painfully sent out of Cuba by her parents, for the opportunity of a better life. Immediately upon being separated from her family, she was sent to an orphanage in Mexico and endured a difficult two-year separation from her family.
When Julie was finally reunited with her family in Los Angeles and enrolled in the Los Angeles Unified School District, it seemed like her troubling story's happy ending had arrived, but Julie's educational woes were only just beginning. Speaking no English and unable to communicate successfully, Julie was classified as mentally retarded, cutting her off from many of the benefits the LAUSD could have offered her. Julie's father, though, was certain of Julie's potential and refused to let the school district's misguided perception of his daughter determine her fate. He encouraged her to persevere, but when even her hard work and dedication didn't seem like it would be enough to earn Julie the college education she needed to succeed, he took a desperate step: he went to the bishop of the church in his town in Cuba and told him of his daughter's plight and her bright inner spark. This bishop then went on to write a letter to the Pope asking for his assistance in helping Julie have an opportunity to go to college.
Much to everyone's surprise, the Pope not only responded, but helped secure Julie's admission into Loyola Marymount University. Thanks to the Pope's assistance, Julie earned her bachelor's degree and teaching credential and went on to become an elementary school teacher. In an ironic twist of fate, Julie eventually went on to become a teacher and area advisor to the LAUSD's bilingual education program.
When a divorce left her a single parent with next to no money in her bank account, Julie knew she had to take control of her finances and learn how to make her money work for her. She began to read everything she could about investing and finance, achieving success by a process of trial and error, "investing imaginary money" and then slowly her hard earned savings.
Julie turned her own life around, but being a teacher at heart, she wasn't content to simply improve her own lot. She now wanted to share what she had learned, and provide the average American family, and other Hispanics with the same tools that she had previously found out were not so easily accessible. Her goal was to inspire, and more importantly, empower others like her to turn their finances around in the face of daunting obstacles, but to do so in an everyday language they could all understand. Eventually, Julie earned a stockbroker's license and began educating thousands of people each year—in English and Spanish—through financial planning seminars.
In her first two books, Get Your Share and Fund Your Future, both New York Times bestsellers, Julie took the mystery out of investing and gave readers the tools they needed to make the best decisions so they too could invest wisely… whether in English or in Spanish. When her first PBS television special, based on the principles of Get Your Share, was met with exceptional reviews and ratings, Julie effectively became a household name. Three subsequent and similarly acclaimed PBS specials which aired in both English and Spanish solidified Julie's stature as an approachable and easy to understand media personality and educator.
On October 30, 2008, Julie was the proud recipient of the National Council on Economic Education (NCEE) 2008 Visionary award, an accolade "that honors champions of economic empowerment in all of its many forms, from those who have raised awareness about the need for economic and financial literacy, to those who, having succeeded in their chosen field by using sound economic decision-making, have turned that success into good public works".
The landmark documentary, The Latino List, which includes a tribute to Julie, premiered on HBO on September 29th 2011. Julie was invited to join a select group of American Latinos, who were featured in this important HBO movie highlighting the life and careers of 15 prominent Latino role models.
The Latino List profiled and honored some of the nations leading Latino public figures and acknowledge the accomplishments of Associate Justice of the Supreme Court of the United States Sonia Sotomajor, Gloria and Emilio Estefan, Henry Cisneros, astronaut Jose Hernandez Moreno and Eva Longoria among others.
Julie Stav Speaker Videos
Julie Stav Speech Excerpt
Women of the Year Awards: Julie Stav
Julie Stav: How to balance your personal life and your own business
* Please note that while this speaker's specific speaking fee falls within the range posted above (for Continental U.S. based events), fees are subject to change. For current fee information or international event fees (which are generally 50-75% more than U.S based event fees), please contact us.
Top25 Speaker Voting

Julie Stav needs 5 vote(s) to make it into the Top 25 speakers on Speaking.com!
Speaker Booking Tip
"Tip: speakers bureaus provide added value that you cannot get by booking speakers directly. "
For Event Planners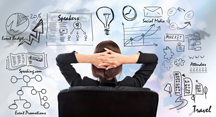 • Keynote Speaker Booking Toolkit.
• Booking a Celebrity Speaker.
• How to Find and Book the Right Speaker.
• Google+ Event Planning Forum.
• Tips for International Clients Booking U.S. Based Speakers.
Similar Speakers
Dr. Deepak Chopra

Dr. Deepak Chopra has written more than seventy-five books and his works are available in more than thirty-five languages. Twenty-three of those works, both fiction…

Tyra Banks

Throughout her entire career, Tyra Banks has broken barriers and smashed glass ceilings. Despite hearing the words "You can't" time and time again, she became…

Nicole Richie

Nicole Richie's role in the reality series The Simple Life alongside Paris Hilton, her best friend at the time, made her an overnight sensation, but…

Our Account Executive was a pleasure to work with to arrange our keynote presenter for the Sustainable Brands Sydney Conference. He was swift to respond and his communication was always clear. If I am looking for international speakers, I will think of SPEAKING.com in future.
Sustainable Brands
About SPEAKING.com
Established in 1994, we are exclusive agents for some of the world's leading experts, celebrities and professional speakers.
We offer event planners a fully staffed speaker logistics planning team, plus a personal SPEAKING.com Account Executive – a knowledgeable and trustworthy partner. We guarantee your satisfaction with your speaker and a smooth booking process.
Contact us today to book your favorite speaker.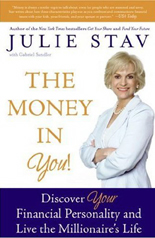 The Money in You!: Discover Your Financial Personality and Live the Millionaire's Life
In The Money In You! Julie introduces us to five different financial personality types. According to Julie, it is our financial nature that drives our financial decisions.
Julie shows readers that no amount of data and market expertise trumps the fundamental truth we all forget—that building wealth, attaining security, and establishing personal success can be achieved only when we recognize our strengths and weaknesses. If we are in touch with our motivations, our desires, and our innate tendencies, we can shed the guilt of making the same mistakes repeatedly; we can halt the vicious circle of overspending, debt, and ruined relationships. It is then that we are able to restructure our lives to fit our individual goals, whether it's learning to play the stock market or just saving up to buy a pair of shoes.
With the myriad pressures involved in building wealth, instilling practical spending habits in ourselves and our kids, Julie shows us how to establish healthy relationships with the people who are affected by our financial decisions, and who affect us with theirs. Endlessly entertaining, this book will initiate feisty discussions over just who we are and how we interact with others. Julie Stav will both delight and inform.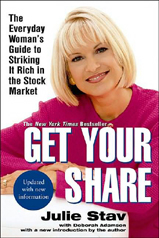 Get Your Share!
Financial planner and broker Julie Stav has been helping women get rich for years—but her inspiring story began when she was forced to leave her native Cuba as a teenager. Penniless, she escaped to America, became a school teacher and married. A divorce left her a single parent with a pile of debts and thirty-three cents in her checking account, so she turned to the stock market. Her investments paid off—and her story provided invaluable inspiration to the tens of thousands of people who eventually joined her at investment clubs.
Now, in her first hardcover and an upcoming TV show on PBS, Julie Stav is ready to share her hands-on techniques with the world. You don't have to a mathematician or money expert, she explains—all you need is your initial investment (no matter how small) and a sound grasp of basic principles that can help you pick winners, recognize opportunities, and ditch the duds before they drain your funds. In addition to guidance on getting started, she offers tips on finding (or founding) an investment club—a support system that can give you a major advantage in the market.
Smart, sensible, and down-to-earth, Julie Stav has accomplished the impossible—she's simplified the stock market, and put a new world of wealth within the reach of every woman.
Julie Stav Speech Excerpt
Women of the Year Awards: Julie Stav
Julie Stav: How to balance your personal life and your own business