* Please note that while this speaker's specific speaking fee falls within the range posted above (for Continental U.S. based events), fees are subject to change. For current fee information or international event fees (which are generally 50-75% more than U.S based event fees), please contact us.
Top25 Speaker Voting

Julie Meyer needs 5 vote(s) to make it into the Top 25 speakers on Speaking.com!
Speaker Booking Tip
"Tip: find a speaker in your local area to save on travel costs. Most speakers will also reduce their keynote fee for local events. "
For Event Planners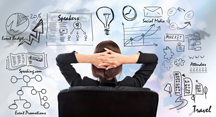 • Keynote Speaker Booking Toolkit.
• Booking a Celebrity Speaker.
• How to Find and Book the Right Speaker.
• Google+ Event Planning Forum.
• Tips for International Clients Booking U.S. Based Speakers.
Similar Speakers
Kevin Abdulrahman

Better known as "the man inspiring millions," international author, speaker, coach, and mind nutritionist Kevin Abdulrahman is the new voice of motivation around the world.…

Terry Jones

Founder of Travelocity.com, Terry Jones has a proven track record of leading companies that have revolutionized their industry. The former travel agent practically put travel…

Scott Duffy

A successful serial entrepreneur, Scott Duffy has had the rare opportunity to learn from some of the most brilliant innovators and business professionals working today.…

Finding the appropriate speaker for an event is a challenge. Your stellar speakers agency made the process extremely easy. I would recommend your agency to anyone.
Mercury University
About SPEAKING.com
Established in 1994, we are exclusive agents for some of the world's leading experts, celebrities and professional speakers.
We offer event planners a fully staffed speaker logistics planning team, plus a personal SPEAKING.com Account Executive – a knowledgeable and trustworthy partner. We guarantee your satisfaction with your speaker and a smooth booking process.
Contact us today to book your favorite speaker.

"You have the power to transform."
Christina Domecq, CEO, SpinVox
"The cofounder of FirstTuesday is bringing the spirit of American venture capitalism to Europe's new breed of Internet startups."
Forbes
"For too long, we British have been a bit sniffy about entrepreneurialism, regarding individual capitalism as something rather vulgar. Well, personal enterprise and innovation among small companies is the only dynamic that will propel us into a prosperous future. Whether at First Tuesday, Ariadne Capital or through Entrepreneur Country, Julie Meyer has long been a charismatic champion of entrepreneurialism in Britain. She's shown us the way through her own endeavours and by broadcasting the achievements of others. Julie knows—Britain's got entrepreneurial talent. She's a superstar."
Matthew Rock, Co-founder and Communications Director, Caspian Publishing
"I just wanted to thank you for your time, energy and intellect last night. You pitched perfectly providing inspirational words without ever patronising. We have received many complimentary emails today and that's down to your significant contribution. I thoroughly enjoyed dinner and enjoyed your company immensely."
Steven Smith, Liverpool Vision
"I just wanted to thank you on behalf of TiE President, Charter Members and general members and guests for speaking on Monday evening. We have had fantastic response to your talk—everyone found it fascinating to hear the real people behind the 'VC' tag which sends shivers down most people's backs. I think most people are quite daunted with the thought of approaching one!"
Jean Drinkwater, TiE Manchester
"On behalf of Crimson, I wanted to thank you so much for your contribution to the Startups Awards—not only as a judge but as an award presenter on the afternoon. All the winners' interviews show you what your judging decisions meant to the winners. Quite touching! We were delighted that you could take part and hope you enjoyed the afternoon. Looking forward to hopefully involving you in our events in the future."
Heather Olhausen, Crimson Business
"It was refreshing to see someone with so much passion and belief in what they do. Have a great day and don't forget to relax occasionally, stay positive."
Andrew Britton, W R Evans
"Thank you so much for your speech and attendance at our Women in Structured Finance event yesterday. I have received so many fantastic comments for the people who attended including 'inspirational,' 'uplifting,' 'simply brilliant' are just a few."
Mia Drennan, MD, SquareMile Connectons
"We are most grateful for to you for sparing your time to participate in the conference and for giving such an interesting and thought provoking address."
Mark Gough, Head of Editorial, Financial Times
"I found Julie Meyer to be a particularly inspiring speaker and it was a great experience to see someone obviously [at] the very top levels, yet still being able to find the time to come along and encourage the rest of us at the workshop."
Delegate, Equalitech: Advancing Women in ITEC
Past Speaking Engagements Include:
Chairman's Network event, London
mWomen Programme at GSMA Mobile World Congress 2011, Barcelona
Monaco Private Equity & Venture Capital Association event, Monaco
bigfish Business Club event, London
Financial Times Intermediary Forum 2011, London
The Economist's The Big Rethink, London
Digital City/Girl Geeks event, Middlesbrough
Internet Retailing Insights Conference, Birmingham
Siemens Enterprise Communications Partner Conference- GoForwardLive!
Comment Conference: Enterprise, London
Entrepreneurs' Summit, London
Business Boot Camp, London Metropolitan University, London
NOIA Annual Conference, Canada
INSEAD MBA Opening Ceremony 2011
Spears Insight Forum, London
Mindtrek 2011, Finland
CompTIA, London
Goldman Sachs, Leadership Academy
Green Strategy, London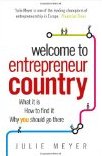 Welcome to Entrepreneur Country
The social contract has changed for ever: whether between government and individual capitalists, start-ups and corporates, or men and women. Many young people want to work for themselves. Feminine strength in the workplace, both in men and women, is in the ascendancy. Government must justify its role within society. Digital and software is replacing manufacturing as the dominant industrial paradigm. Corporates with their cash reserves will be the new venture capitalists.
In Welcome to Entrepreneur Country, Julie Meyer, who has worked closely with many of the biggest technology entrepreneurs over the past fifteen years, explains how society is re-organising itself. She offers a guide to Entrepreneur Country and shows how everyone can embrace the change. Moreover, she shares her own experiences, as well as those gleaned from working alongside some of the world's biggest success stories in the technology world. In this fascinating new book, every entrepreneur and business owner, however large or small, will recognise their own journey and learn how the digital future will affect them.
Speaking Topics Include:
The Digital Transformation of Corporates
Corporate Innovation
Entrepreneurship
Individual Capitalism
Technology and Innovation
Leadership
Women in Business
Investment/Funding
Venture Capital
Speech
Julie Meyer debunks the idea that there is no room left to launch a company. While many people think giants like Google and Facebook have made a "clean sweep" of every industry, she remarks that in her experience, companies change quickly. For example, within a single year, she witnessed Skype go from a small start-up with 5 people to an internationally known brand that was acquired for $2 billion.
History, she claims, has shown that every 60 to 80 years a disruptive technology launches "a new common sense" that results in "Goliaths" like Google and Facebook, but ultimately these Goliaths do not end up squashing every "David" nor do they necessary get slain by the Davids. Rather they "dance."
"Entrepreneurs occasionally win, because Goliath consistently and systematically underestimates him," Meyer points out, explaining that entrepreneurs will always continue to advance, bringing new operating systems and revenue to the market as they do so.
Julie Meyer - Interview - Entrepreneurial Insights
Julie Meyer: Keynote - Oxford Inspires
Julie Meyer: Keynote - CUTEC